Have you ever come across an error saying, "Unfortunately, Facebook has stopped" or "Facebook keeps stopping"? If your answer is Yes then don't panic as you are not alone.
The same issue has occurred to millions of users across the world. As people spend lots of time on Facebook and other social media apps, it becomes frustrating when the app does not work or respond as you want.
Therefore, to deal with the situation in an easy way, I have compiled a few best ways to fix it. In this article, you will get to know some useful and best ways to fix unfortunately Facebook has stopped on Android.
How To Fix Unfortunately Facebook Has Stopped On Android/Samsung
Now, it's time to go through all the possible methods to fix Facebook keeps stopping on Android. Though there can be several reasons behind it there are fixes at the same time.
So let's read further.
Fix 1: Reboot Your Phone
Rebooting is a simple process that solves most of the app crashing issues. So, if you haven't tried it yet, then do it now. Press and hold the Power button of your device. Then choose the Restart option to reboot your device.
When your phone restarts, check if the Facebook app is working as usual or not. If not, then move to the next method.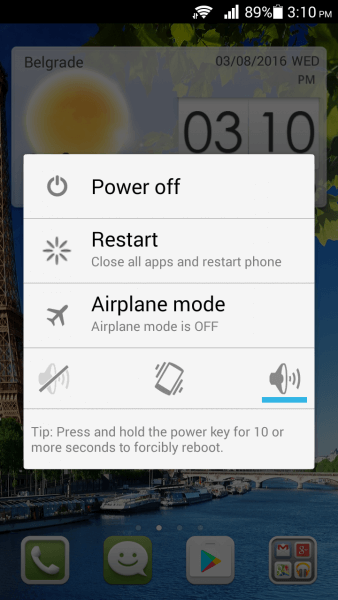 Fix 2: Force Close Facebook App
Most of the time, the Facebook app suddenly stops working while using and you want to leave the app by pressing the back button of your device but it doesn't respond. In that case, you need to force stop the app to get rid of the error.
Follow the below steps to do this:
First, launch Settings and click on Apps
Now, find the Facebook app from the list and click on that
After that, you will find the Force stop option at the bottom of your device screen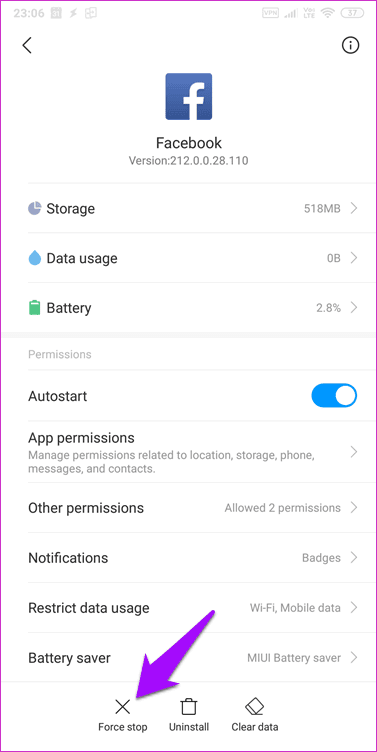 Simply press on that and reopen the Facebook app to check if it is working properly or not
Fix 3: Close All Apps Running
Your Facebook keeps crashing/freezing when you have low RAM capacity and you run multiple apps in the background. It can be fixed by closing all the apps together.
Here are the steps to follow:
Press the Square button on your device to see the recent apps
Then, click on the close button displayed on the device screen to close the running apps
Now, reopen the Facebook app to check whether the issue is resolved or not
Fix 4: Clear RAM On Phone
Clearing the RAM can also fix unfortunately Facebook has stopped on Android. You can clear the RAM in various ways depending upon the device brands you are using.
Here I am showing to clear RAM on the Samsung device:
First, open Settings, > move down and click on Device care
Next, you can check the performance of your device. Click on Optimize now. Wait for a few minutes until the system cleans itself.
After that, the Memory option will appear on the device screen. Simply click on the Clean Now option to make your device faster.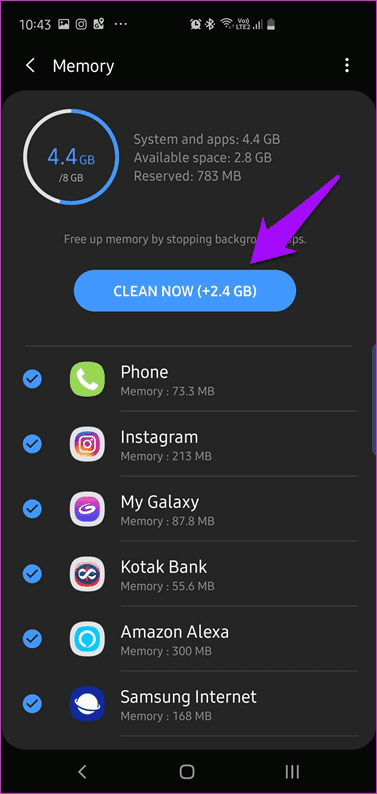 Fix 5: Clear Cache And Data Of Facebook App
Sometimes, various junk files and a lot of caches can create a "Facebook keeps stopping" issue. It can be fixed by clearing those files from your device.
Here are the steps to delete the cache of the Facebook app:
First, open Settings on your phone
Click on Apps and find the Facebook app & then tap on it
Next, tap on Storage, there will be two options Clear Cache and Clear Data. Click on the Clear Cache option to remove junk and cache files from the app.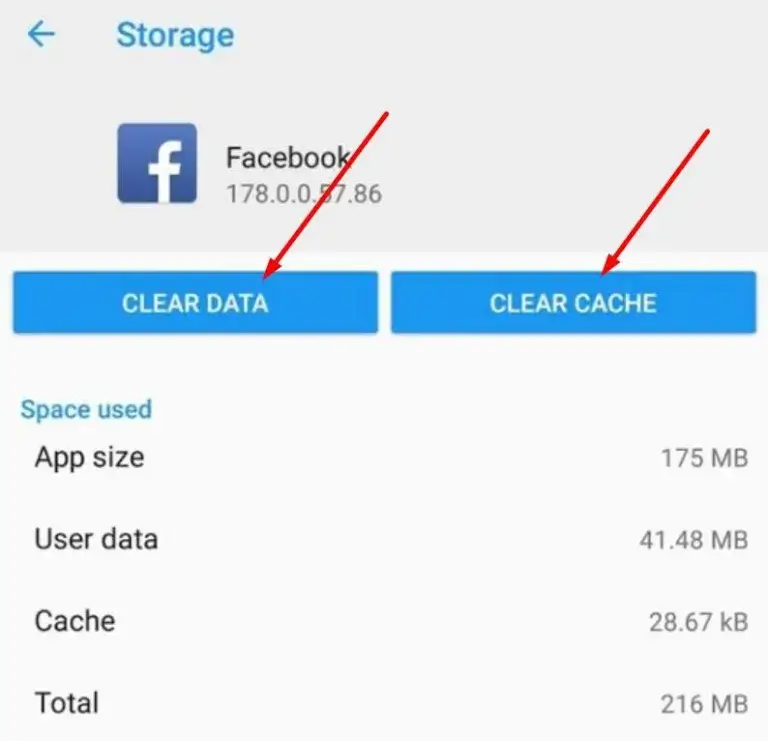 Once the data and cache files are cleared, open the Facebook app and check if it's working as before.
Fix 6: Restrict Data Usage
By using this feature, you can regulate whether you can use Facebook through Wi-Fi or cellular data. If both the options are not enabled then it can show you such an error.
You need to enable this feature as below mentioned steps:
First, launch Settings
Then, move to Installed Apps or app list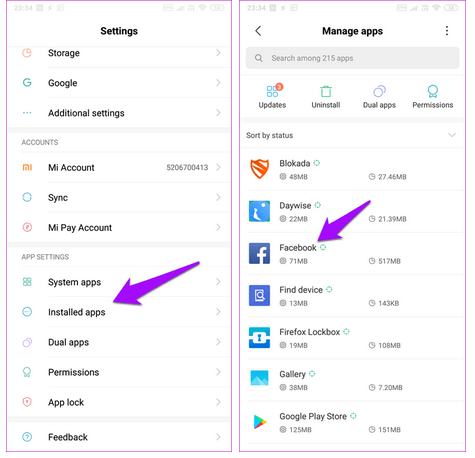 Search Facebook and tap on it
Then, click Restrict data usage option and ensure you have enabled Mobile data and Wi-Fi options.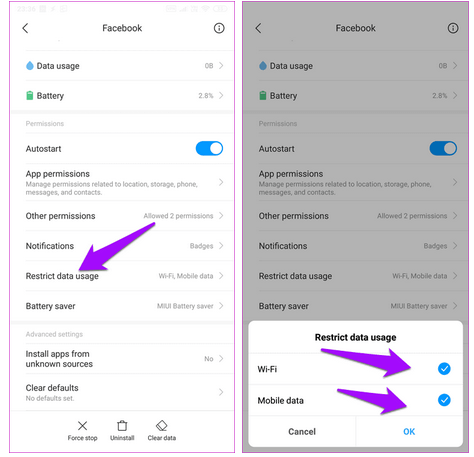 Fix 7: Update Your Facebook App
This type of error occurs when you are using an outdated version of the Facebook app. If you turn off the auto-update option then the app won't able to update itself and you may face unfortunately Facebook has stopped.
That's why you need to update the Facebook app timely to avoid such errors. To update the Facebook app:
Open Google Play Store on your Android device
Then, tap on the Profile icon followed by My apps and games.
Scroll down to the app list and find Facebook
Now, you will see the Update option if available, Tap on that.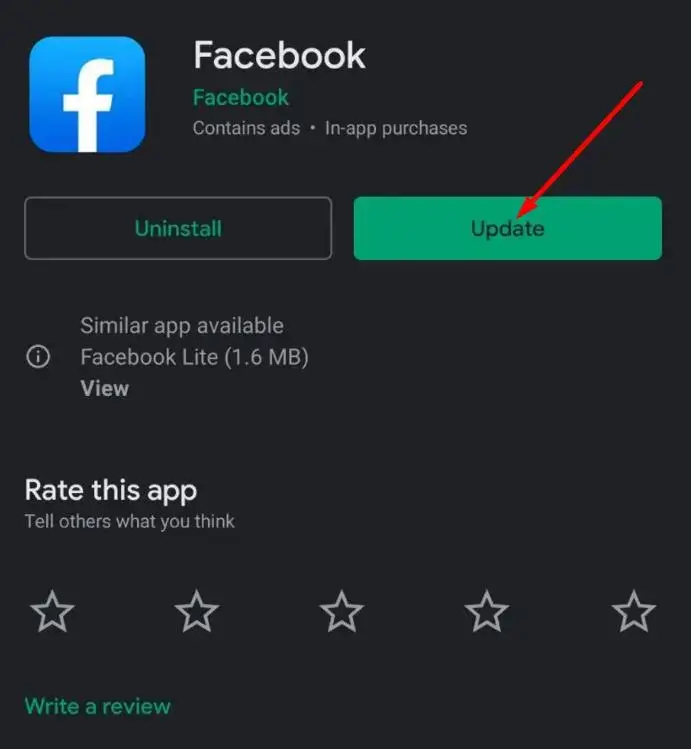 That's it. Now open the Facebook app and check if the app is working without any error.
Fix 8: Uninstall And Reinstall Facebook App
After you have updated the app but still facing the same error then try to uninstall and reinstall the app. This might help to fix the issue.
To uninstall and reinstall Facebook, follow these steps:
First, open Settings > tap on Apps
Then, find Facebook and tap on it
Now, tap on force stop and thereafter tap on Uninstall
Next, tap on OK to confirm
After that, Reboot your device
After completing the reboot process, open Google Play Store
In the search bar, type Facebook
Finally, press on Install button and wait until the process is complete.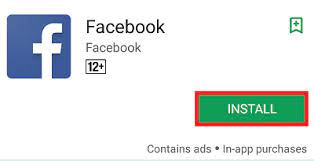 That's it.
Fix 9: Check If Facebook Is Down
Sometimes when the Facebook server is down, you can come across, unfortunately, Facebook has stopped the issue. You can check it by visiting the DownDetector site. It will show you if there is any problem from the server end. If it is then you have to wait until it gets resolved.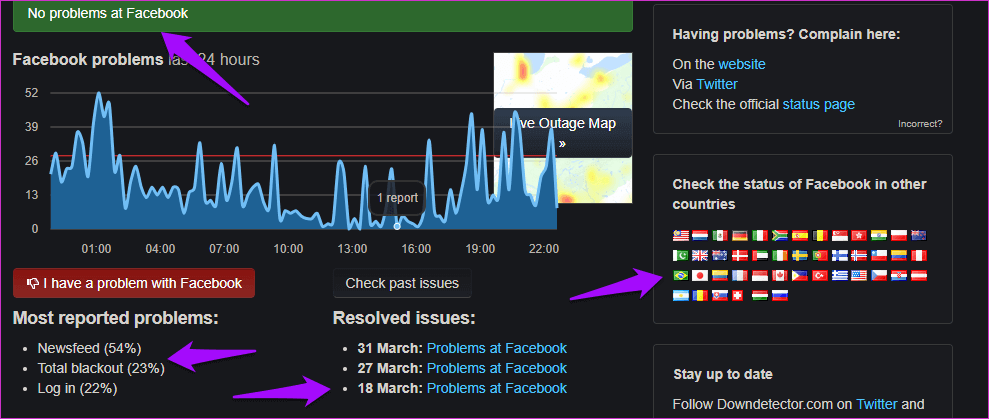 Fix 10: Downgrade Your Facebook App
Even after updating your Facebook app to the latest version, if still the issue continues then, there might be some problem in the latest version that you just installed. In that case, you need to install the previous version of Facebook.
As you know that Google Play Store doesn't allow you to downgrade non-system apps like Facebook. So you have to uninstall the app on your phone and install the downgraded version from APK Mirror.
Follow the below steps:
First, uninstall the current version of Facebook from your phone
Tap this link to visit APK Mirror (https://www.apkmirror.com/apk/facebook-2/facebook/)
After that, scroll the page to search for previous versions of Facebook
At last, Download and Install it

Fix 11: Wipe cache partition
To remove cache partition files, follow the below instructions:
First, turn off your device
Next, long press the Home + Power + Volume Up button
Then, when the logo appears on the screen, leave the Power button but hold the Home and Volume Up button
When you see the Android logo, leave the other keys
After that, press the volume button to show Wipe cache partition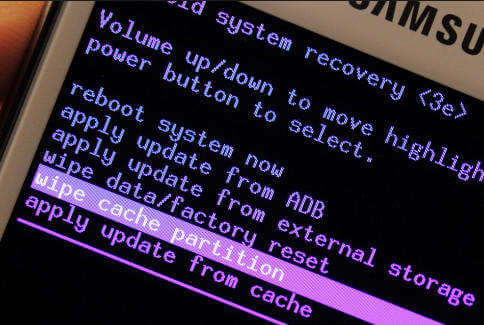 Now, press the Power button to select YES, when its pop-up
After completing the process, choose Reboot system now by holding the Power key
That's it.
Fix 12: Reset Settings
If there is a bug issue, then it can show you a Facebook error. To fix it, you have to reset the settings on your device.
Here are the steps to do this:
First, launch Settings
Then, tap on General management
Next, tap on the Reset option and then click on Reset Settings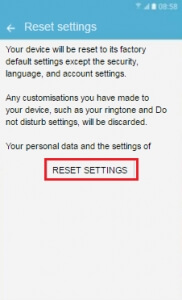 Now, press OK to confirm and reset your phone
Fix 13: Verify Battery Saver Mode
In our smartphones, we have a battery saver feature. If you enable it then some apps may not work properly. Check it whether it is the reason for your Facebook app crashing issue.
Steps to check battery saver mode:
First, go to Settings
Then, open Battery & Performance option
Next, click on Apps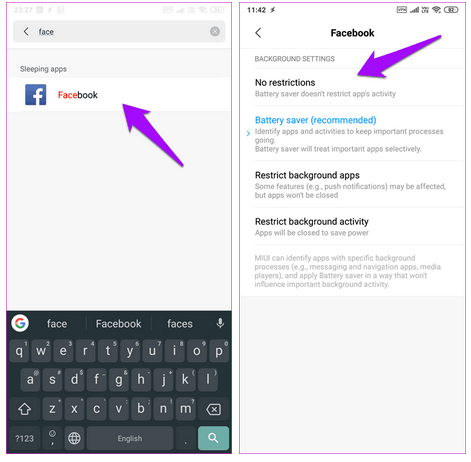 Look for Facebook and launch it. Ensure aggressive mode is not on. Attempt No restrictions to check whether the issue is resolved.
Fix 14: Factory Reset Your Android Phone
This is a unique feature to resolve many problems. As resetting will remove all your data from your phone, I will suggest you take a backup of all your important data before applying factory reset.
Follow the steps to factory reset:
First, open Settings, then scroll and choose the Backup & reset option
After tapping on Backup & reset, the next option will display on your screen
Now, tap on the Factory Data Reset option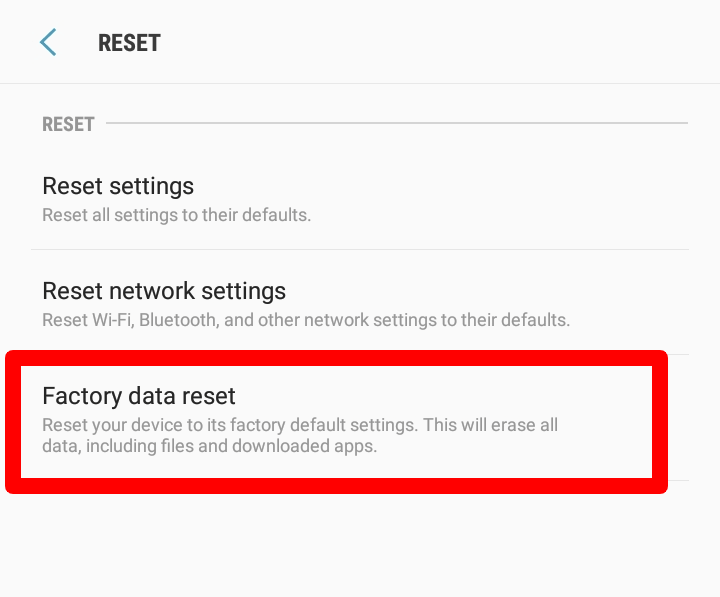 This method will definitely solve your Facebook app crashing issue.
Fix 15: Best Way To Fix Unfortunately Facebook Has Stopped On Android (Recommended)
If you are looking for some ultimate solution to fix the issue then you should go for the Android Repair tool. This professional tool has the ability to fix Facebook keeps stopping on Android and other errors with one click. The tool is easy to use and is highly suggested by experts to use. No matter what reasons lead to such an error, using this amazing tool can easily resolve the error without data loss.
It can also fix other errors such as Android settings has stopped, WhatsApp has stopped, Snapchat keeps crashing, Signal app keeps crashing, Android blue screen of death, etc. Therefore, you have to install this tool immediately and fix unfortunately Facebook has stopped problems on Android hassle-free.
Android Repair- 1 Click Repair Tool For Android
Easily fix any kind of issues or errors on Android by 1 click repair tool. Fixes any Android error without hasslefree:
Ability to fix several Android system issues or errors like Black screen of death, apps keep crashing, stuck in boot loop etc.
Helps to make Android system back to normal without any skills required
Has the highest success rate to fix any types of Android errors

Conclusion
So these are some best and ultimate fixes for "Unfortunately Facebook has stopped" on Android/Samsung. I hope that the problem is resolved now and you can use the app easily. You can also use the Android Repair tool to troubleshoot the error as it is easy to use and fix all types of Android issues with one click.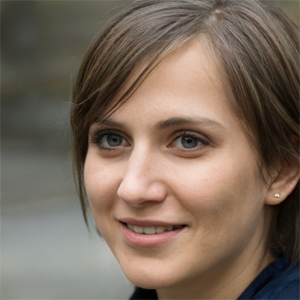 Kim Keogh is a technical and creative blogger and an SEO Expert. She loves to write blogs and troubleshoot several issues or errors on Android and iPhone. She loves to help others by giving better solutions to deal with data recovery problems and other issues.