Photos are the memories captured of a particular moment that can be remembered later, losing them feels like letting go of that precious moment. There are various reasons through which anyone can lose their photos either deleting them accidentally or any issue that occurred on their Android phone.
This article will help you deal with all your issues. Here you will get the proper solutions to recover deleted photos from Android in an easy and effective way.
What To Do Before Using Recovery Software To Get Deleted Photos Back?
When you realize that you have lost your photos and they aren't backup then you have to take the help of Android photo recovery software.
Below are two points for you to keep in mind before using the software to restore deleted photos android.
Do not use your phone for downloading new data or taking new photos or else it will overwrite the deleted photos and chances of getting them back will lessen.
Deleted photos are still present on the device for a couple of days before they are replaced so; restore them quickly with the recovery tool.
The methods mentioned in this article will show you how to retrieve deleted photos from Android as well as recover deleted photos Android internal storage.
Is It Possible To Recover Deleted Photos From Android?
Yes, it is possible to recover deleted Android photos from the Android phone's internal storage. But do you have any idea of why such a thing is possible?
Well, the actual thing here is if any data gets deleted from Android phones, those files still remain in the device. Only the space is marked as "used" because new files can be added. So there is a chance to retrieve those files unless new data is added.
With the use of a powerful recovery tool like Android Photo Recovery, you can easily recover deleted photos from Android gallery. But few things one must know for successful recovery of pictures. They include:
Stop accessing your phone once data loss occurs from your end. This will avoid you from overwriting of data and removing the photos permanently that you want to recover
Turn off your mobile data, Wi-Fi, or even you can put your phone in Airplane mode so that no new data gets saved on the phone.
Look for powerful recovery software to restore lost photos from Android phone
Method 1- Best Way To Recover Lost Photos From Android Without Backup
Android Photo Recovery software is one of the best options that will recover deleted photos from Android without any problem.
This software not only restores deleted photos from Android but also recovers music, videos, call history, contacts, and much more. The software supports all versions of the Android system of various brands. It does not matter for what reasons the photos are lost as this powerful tool scans the entire device to find out missing pictures.
It works on all Android brands such as Samsung, Sony, Xiaomi, OnePlus, Google Pixel, Oppo, Vivo, Nokia, Lenovo, Asus, LG, and many more.
So, without any worries just download this software to recover permanently deleted photos from Android.
Android Data Recovery- Recover deleted data from Android phones/tablets
The best and efficient tool to recover lost, deleted, disappeared, inaccessible data from Android phones/tablets. Some unique features include:
Directly recover various types of data such as photos, contacts, SMS, videos, WhatsApp, call logs, documents, notes, etc.
Recover data in any situation like accidental, water damage, unintentional, factory reset, formatting, virus attack or other reasons
Allows one-click option to "Recover" deleted files without backup

Method 2- Recover Deleted Photos From Android Via Google Photos
Android photo recovery can be easily done via Google photos. Google keeps the deleted photos for 60 days and after that, it removes them permanently.
So be quick to recover the deleted photos before they are gone.
Below are the steps to recover deleted photos from Google Photos:
Open Google Photos on your Android phone
Click on three parallel lines
Choose Trash option
Preview the deleted photos, choose the photos that you want back and click on Restore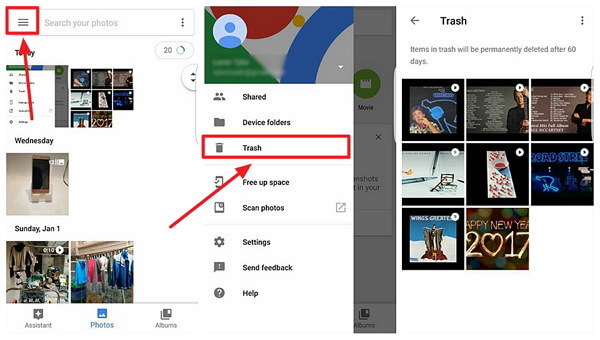 This is the easiest way on how to recover deleted photos from phone with Google photos.
Method 3- How To Retrieve Deleted Photos From Android Via Dropbox
To recover deleted Android photos you can use Dropbox that stores the deleted photos for 30 days. Follow the steps to retrieve photos from Dropbox:
Login to Dropbox
Go to the files
Select deleted files
Now, choose the photos you want to restore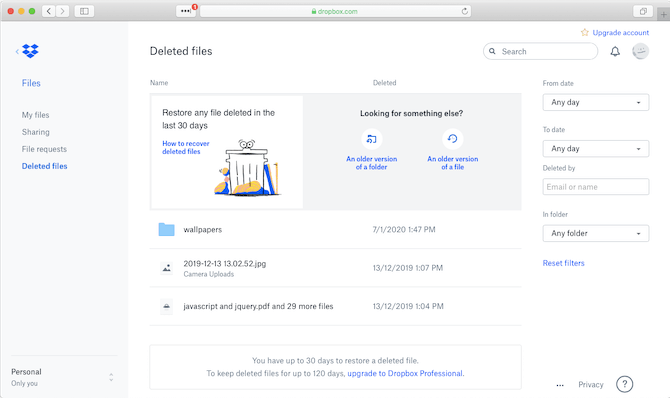 This shows that backing up your data is so important to tackle the loss.
To backup and restore your Android data to the computer try any tool that will save your photos to your PC. Make a copy of it so that even you delete the photos you will still have a copy of that.
Method 4- Recover Deleted Android Photos Without Root
Many apps claim to recover Android deleted photos without root. It is hard to recover deleted photos Android internal storage without rooting.
Deleted photos that are stored in the system folder are unable to access if the device is unrooted. To get complete control over your phone and find lost photos you have to root your device.
Still, you don't want to root your device then it is better to back up your photos on the cloud, SD card, or computer storage to find the deleted photos on your Android phone.
Method 5- Recover Deleted Photos From Cloud
Many clouds and other photo apps offer that they will back up the photos in the background. If you have turned on the app then there is a possibility that the photos are still present on your device.
Deleting any photos from the phone gallery won't get deleted from the cloud backup. To recover the photos you just have to log in to your cloud app and download it from there.
If in case you deleted the photos from cloud backup, you can even restore it by going to the recycle bin of the cloud and get back your deleted photos.
Method 6- Recover Deleted Photos Via Microsoft Onedrive
Microsoft Onedrive can also recover deleted photos from phone. The deleted photos are store in Onedrive for 30 days but it can soon delete them before if the storage space of the recycle bin is more than 10%.
So be quick to restore your photos. Here are the steps for recovering images from Onedrive:
Open Microsoft Onedrive
Go to Me and select Recycle bin
Choose the photos to restore and click on the restore icon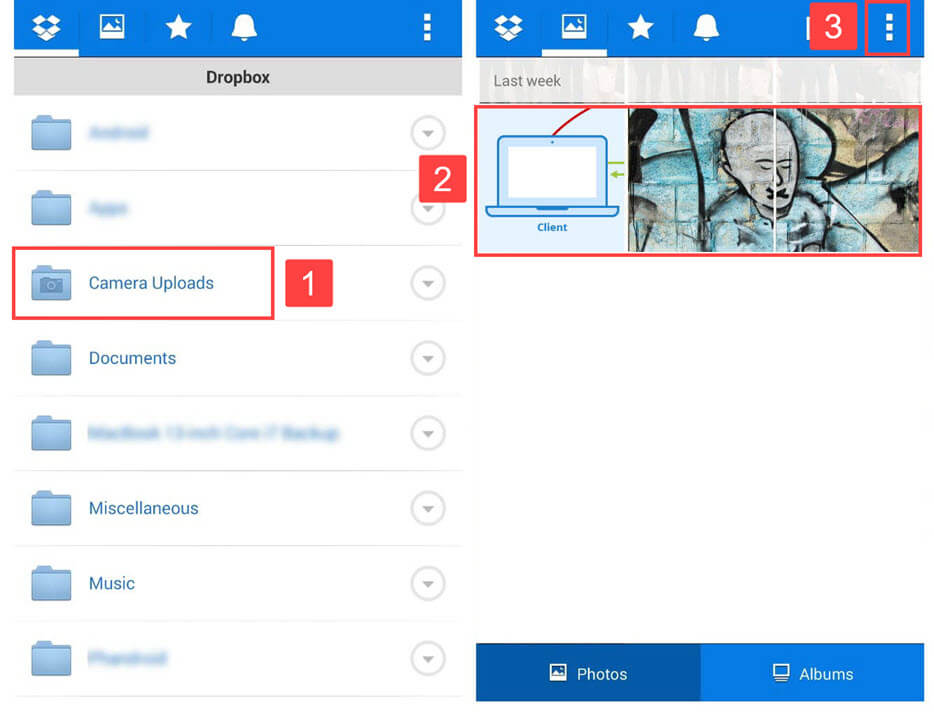 That's it. Now all your photos are restored.
Method 7: Recover Deleted Photos On Android Using Android App
There are several apps available on Google Play Store that can help to retrieve deleted photos from Android. One such app is DiskDigger that allows you to restore photos from Android phones. You can easily get it on the Google play store.
Here are the steps to follow:
Now, launch the app and choose scan methods among two
Next, wait for some time until DiskDigger finds your pictures
After that, select the pictures you want to recover
At last, tap on Recover option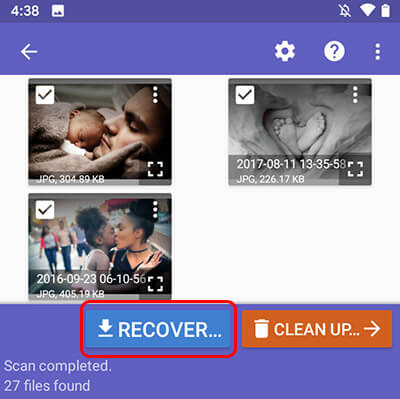 FAQ:
How do I recover permanently deleted photos from Android?
In order to recover the permanently deleted photos from Android phone, simply download Android photo recovery software and then connect your device to the PC with a USB cable. Let the software recognize the device and that's it the rest of the work will be done by the software to get back your photos.
Can I recover deleted photos from my Android?
Here is a simple solution for you to recover deleted photos from Android phone. Open the gallery of your phone go to the Trash option, click on the photos that you want back and then select the restore option. If it is more than 60 days after deleting the photos then you can download recovery software to get the photos back
Can you retrieve deleted photos from Samsung phone?
If you are wondering how to retrieve deleted photos on Samsung phone then here is the solution. ES file explorer (file manager) can help you get deleted photos back which are in the Recycle bin of the phone
Conclusion
Losing photos can be really a shit movement and getting them back is a relief. So, to give you this relief movement I have provided the methods on how to retrieve deleted photos from Android.
Perform the method one after the other and see which one turns out to be helpful for you in getting back your deleted photos from Android.
I hope you liked this article and all your queries are solved. If you have anything to ask then please let us know we'll be happy to assist you.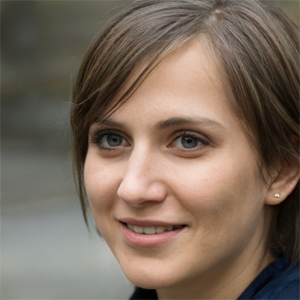 Kim Keogh is a technical and creative blogger and an SEO Expert. She loves to write blogs and troubleshoot several issues or errors on Android and iPhone. She loves to help others by giving better solutions to deal with data recovery problems and other issues.