Did you accidentally lost or deleted text messages on Android? Willing to know how to Android SMS recovery after factory reset? If yes then read this article completely.
Many people accidentally delete an important SMS from their Android phone and then regret it later.
Many Android users have this question in their minds, "can I recover deleted text messages on Android"? Well, yes you can recover deleted text messages on Android either with the manual solution or with the software recommended.
If you have also done the same mistake and looking for Android SMS recovery then this article is for you. Here you will get the complete solution that will help you in recovering deleted text messages on Android easily.
So, what are you waiting for? Let's begin this article and recover text messages.
How Long It Takes Before Deleted Texts Messages Are Overwritten?
Well, there is no way through which you can find out the time before the deleted text message is overwritten, but if you try to recover the messages as soon as possible then the chances of getting them back increase.
Once you got to know the important text messages that are deleted, here is what you should do:
Put the Android phone in Airplane mode. Turning off the network connection on the phone prevents the deleted text messages from being overwritten by the new messages, calls, or any other data.
Do not create new files on an Android phone. Try not to use your phone to take new data, and photos, download any new files, etc.
After you have done the above things quickly recover deleted text messages in Android before it is overwritten.
Below are the methods stated that will help you to recover text messages on Android with ease.
How To Recover Deleted Text Messages On Android Phone Using Best Methods
Now, let us go through this entire blog and check out all the possible ideas to do Android phone deleted SMS recovery. So let's go ahead.
Method 1- Best Way To Recover Deleted Text Messages On Android (Recommended)
Android Data Recovery software is one of the hassle-free ways to recover deleted text messages in Android. This Android SMS Recovery tool will easily retrieve not only text messages but also other data like contacts, photos, documents, notes, call history, videos, WhatsApp messages, etc, and others.
This software recovers text messages from various Android phones and tablets such as HTC, Vivo, LG, Samsung, Oppo, OnePlus, Realme, Nokia, Vivo, Sony, Xiaomi, and many others. It also supports every version of Android OS.
So without delay just Download Android Data Recovery tool and get back deleted text messages from Android without backup.
Android Data Recovery- Recover deleted data from Android phones/tablets
The best and efficient tool to recover lost, deleted, disappeared, inaccessible data from Android phones/tablets. Some unique features include:
Directly recover various types of data such as photos, contacts, SMS, videos, WhatsApp, call logs, documents, notes, etc.
Recover data in any situation like accidental, water damage, unintentional, factory reset, formatting, virus attack or other reasons
Allows one-click option to "Recover" deleted files without backup

Method 2- Restore Text Messages On Android With Google Drive
You might think how can I retrieve deleted text messages from my Android for free, it's simple just check your Google drive. In case you have backup your Android phone to Google Drive then there can be a possibility that you can get back the erased text message.
Follow the steps to check whether your phone is back up or not:
Open Google drive on the phone
Click on three lines on the left panel
Select Backup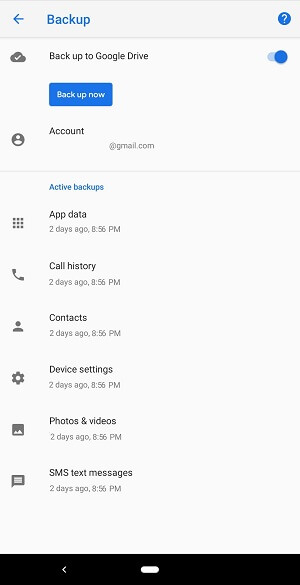 Check whether your data is backup or not. If yes then follow the below steps to recover deleted text messages Android without pc.
Sign in to your Google account on a different device
While setting up the device, click on Restore
Now, wait for the setup to get completed. It will restore all the backup data of your phone and you will get back your deleted text messages.
Method 3- Get Your Deleted Text Messages From Carrier
You can give it try this method to recover deleted SMS from Android phones. You can contact your carrier to help you get back your data.
There are many providers that stores record of messages and other data for a certain period of time. But there might be a problem as they are not allowed to give away the information just because you deleted a message.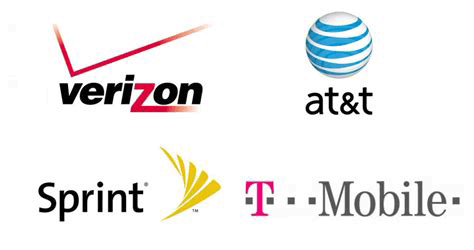 If the data is very important for you then they can cooperate if you get permission from the authority. This might be a hassle way too if you are in a hurry to get your deleted text message.
Method 4: How To Recover Deleted Text Messages On Android Via Third-Party Apps
Apart from the above ways, you can try other third-party SMS recovery tools. Get the best SMS recovery app for Android available in the Google Play Store for recovering deleted text messages.
Some of the best SMS recovery apps for Android include:
SMS Backup+– This is one of the useful tools that helps you to automatically back up your SMS or MMS and call logs from your Android phone to Google. So whenever you lose SMS from your phone, this app will help you to restore deleted text messages from Gmail.
But don't forget to backup the messages to Gmail previous to deletion otherwise you will not be able to retrieve erased messages.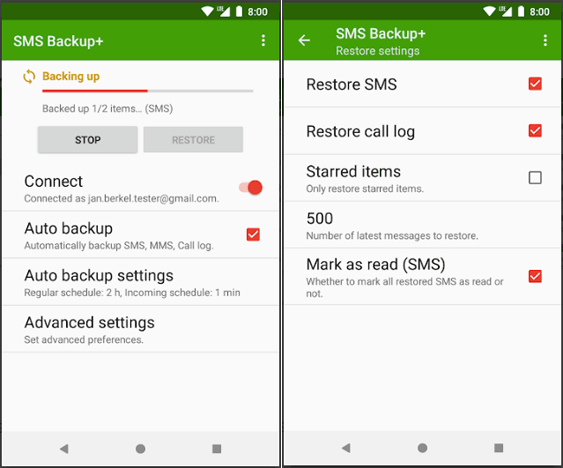 SMS Backup and Restore– This is also another helpful app that can restore lost text messages on Android easily. After you install it, you have to back up all your essential texts through this app without any hassle. And whenever you face a data loss situation then going through the below steps will allow you to restore SMS from Android.
First, run this app and then click on the "Restore" option
Now tick mark the "Text Messages" to restore
And then click on the Restore button
Here you will get a popup that if you want to restore the SMS then you have to set SMS Backup & Restore to the default messaging app and then tap on OK
After the restoring process is over, simply click on the "Close" option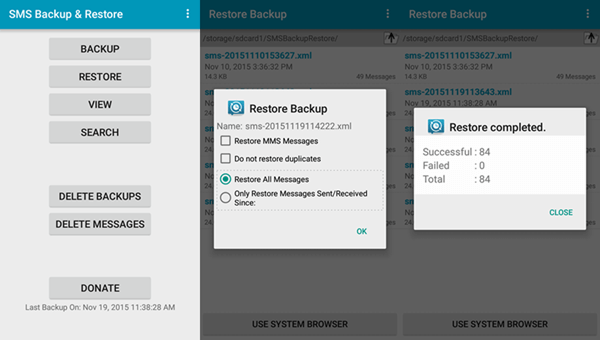 Bonus Tip: How To Back Up Text Messages
Do you fear losing your messages in the future? If yes then the best way to avoid such a situation is by creating a backup of those messages.
Here I have mentioned a few  backup ideas:
Way 1: Backup Your Messages On Your Android Phones
Back up your text messages to protect them from getting deleted again. Backing up the Android SMS means having an extra copy of the important text saved.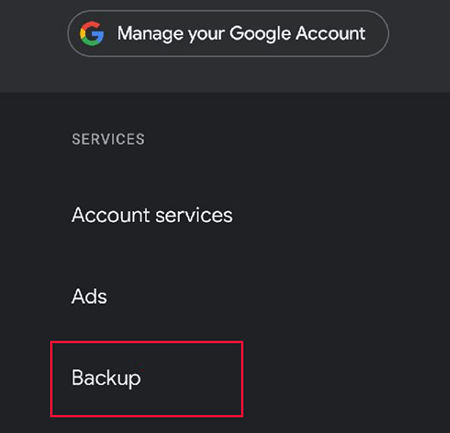 Way 2: Back Up The SMS Text Messages To Your Google Drive
Open Google Drive on your phone, go to Settings > Google backup > SMS messages and enable the SMS backup. That's it your text messages are back up to Google drive.
Way 3: Back Up The SMS Text Messages To Your PC 
Here's another option to back up the text messages to your PC. Android Data Backup & Restore software will also allow you to back up & restore your text messages. In case you mistakenly deleted SMS messages from your Android phone in the future, then you can always find them on your PC and restore them easily.
FAQ:
How can I retrieve deleted text messages from my Android without a computer?
You can easily retrieve deleted text messages from Android without a computer just by going to Google drive of your Android phone and restoring the back. Or you can also use the Android data recovery tool.
Can I recover deleted text messages Android?
Recovering deleted text messages on Android is possible. There are various Android SMS recovery software available online which will help you to get back your erased/deleted SMS text messages with ease.
Are deleted text messages stored anywhere?
Maximum phone carriers do not permanently save the massive amount of text message data which is every day between the users. But if the deleted text messages are off the carrier's server, then there are chances that your SMS are not gone permanently.
Conclusion
All right, here I am concluding my article. I have listed down the solutions that will guide you on how to recover deleted text messages on Android with ease. In case you are not so advanced in performing the methods then simply go with the Android SMS Recovery tool.
After going through this article, it is expected that you are able to get back your deleted text messages and you are relieved.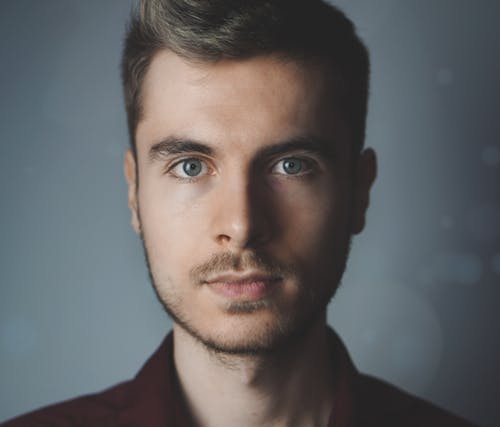 Steve Peterson, an SEO Expert as well as a technical writer. He loves to gather information about Android & iOS operating systems and write content about it. Whether its the matter of data loss situation, error or issues, broken or damaged problem, latest new going through, and several others. He guides to deal with all such things with his articles.