Several WhatsApp users are using this application because it has countless outstanding features. But, sometimes you may come across some error messages while using your WhatsApp App.
Nevertheless, you don't have to worry about it, as there're various possible ways to resolve unfortunately WhatsApp has stopped working on Android. Here I have mentioned some of the best tricks that will surely help you to fix GB WhatsApp has stopped error.
So, read this whole article carefully. Before learning the solutions, check out the reasons responsible for the occurrence of this error.


What Causes Unfortunately WhatsApp Has Stopped?
There is a number of factors that are responsible for the "Unfortunately, WhatsApp Has Stopped" issue.
Some of the potential reasons are listed below:
Malware or virus infection in your Android phone
Interrupting while upgrading your WhatsApp App
Not having sufficient storage on your device
Using an outdated version of the WhatsApp app or your operating system.
Now, you must want to know how to solve unfortunately WhatsApp has stopped on Android.
Let's see…
How To Fix "Unfortunately, WhatsApp Has Stopped" On Android?
Simply try out these methods one after another and see, which will work in your case to repair GB WhatsApp has stopped.
Solution #1: Restart your Android device
Restarting your smartphone is one of the simplest methods that helps many users get rid of several kinds of issues. So, first, you should try to fix unfortunately WhatsApp has stopped error by simply rebooting your device.
Restarting the device has the power to fix all types of minor issues and glitches.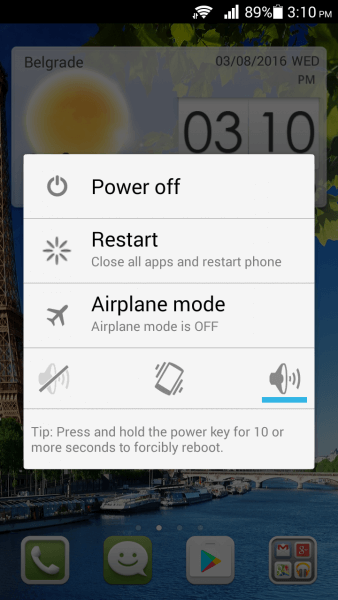 If restarting does not help you then move to the next method.
Solution #2: Force Stop Your WhatsApp App
The next solution that you should try in such a situation is – force stop your WhatsApp app & then again opens it.
Here are the easy steps to force stop the WhatsApp App:
Open your phone's Settings App first
Then, go to the App & Notifications and simply click on See all apps.
Now you need to choose the problem causing the app
At last, under the App info page, click the Force stop option.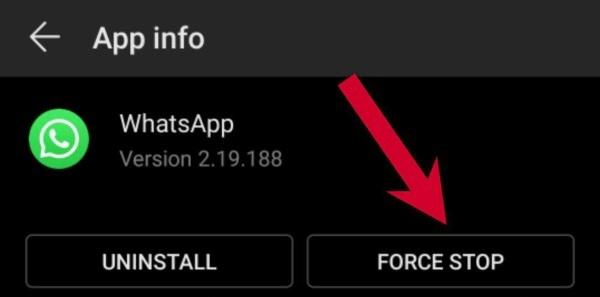 You may also tap and hold to any of the app icons and then go to the App info. After the force stop, open your WhatsApp app again to check if the method works or not.
Solution #3: Clear WhatsApp Cache
When you are using your WhatsApp app, lots of unwanted files get stored on your Android phone. In this situation, you need to clear out the cache or junk files of the WhatsApp app.
Follow out the below-given steps and clear out the cache files of your WhatsApp app.
Open your Phone's Settings app and then click on Apps
Now, find the WhatsApp from the apps list
As it opened, click on "Clear Cache".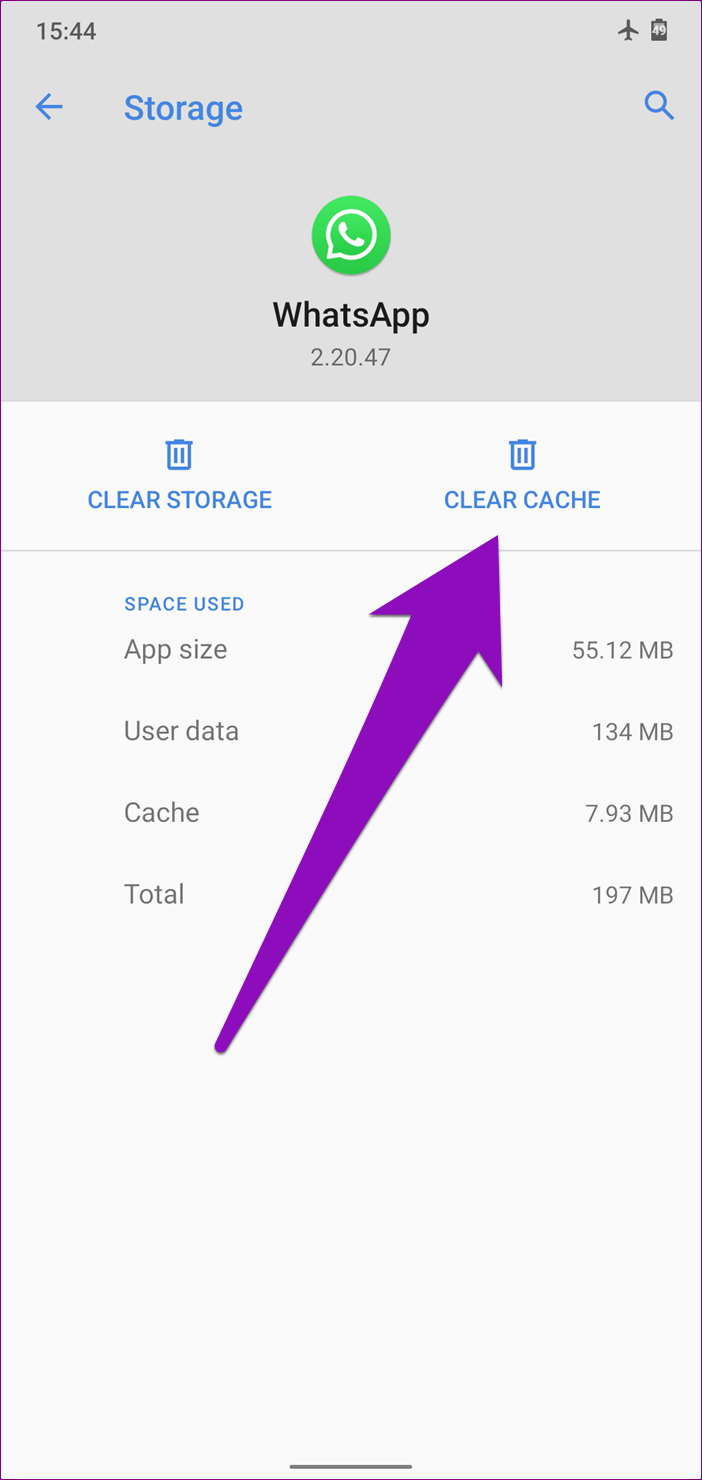 Then, restart your mobile phone and check if the issue is fixed.
Solution #4: Sign Out And Sign In Again To Your WhatsApp Account
Unfortunately, WhatsApp has stopped Samsung error might have occurred due to some minor problems related to your account.
They can be session expired or you might have logged in on different devices. So, here you need to sign out from the WhatsApp account & again try to sign in to it. Doing this may help you to resolve the problem.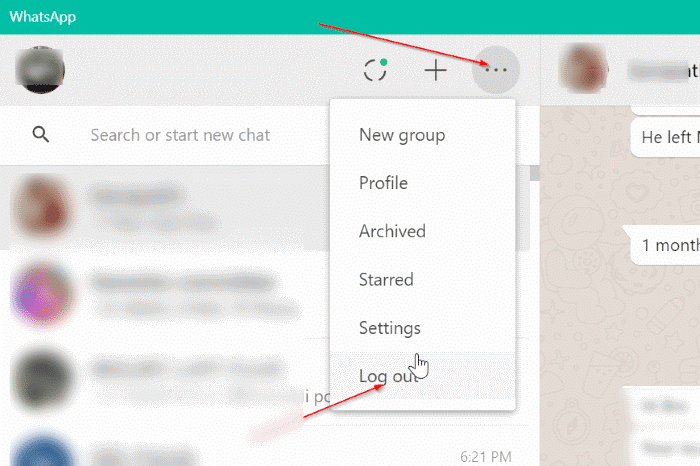 Solution #5: Check for The Recent Updates
If the above-discussed solutions don't work then you may try this method. Several times, it happens that some users are using the outdated version of WhatsApp Messenger. Because of this they come across such kinds of error messages.
Consequently, In this situation, you should check if any update is available.
Use the below-given procedures to check for the WhatsApp update on your play store app.
Open the Google play store on your phone.
Then, move to my apps section & check for the latest updates
If any update is available to your WhatsApp messenger app then simply tap on the updates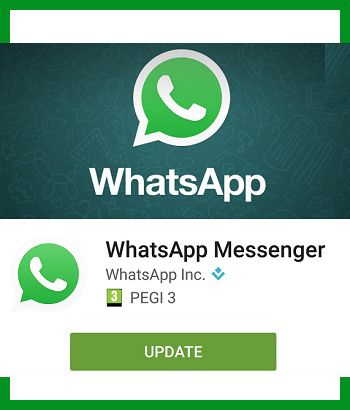 Now, wait for a few minutes for the latest version of WhatsApp will be installed on your Android phone as soon.
Solution #6: Shortage Of Storage On The Device
Not having sufficient space on your device can be another reason why your WhatsApp messenger app has stopped. Whenever your phone starts running low on space, some of the applications are not able to work properly.
And most probably your WhatsApp app is one such app. If the storage is the real culprit for this issue then I will suggest you follow the below given two things.
The first step is, to open your Settings app and check out your phone's storage. Be sure that it has enough storage space for up to 100 – 200MB.
Or you should start eliminating those apps which are of no use.
This will free up the storage in your Android device and also let your app work properly.
Solution #7: Automatic Solution to Fix "Unfortunately, WhatsApp Has Stopped" Error
If you've tried out all the above solutions and are still unable to solve the "unfortunately, WhatsApp has stopped" error then I will suggest you use a powerful Android Repair program. It is one of the best and most advanced software that uses high-level mechanisms & powerful algorithms in order to perform the complete scanning.
As soon as the process is over, this will fix all the Android phone errors permanently. This software is very helpful for novice users because it comes with a user-friendly interface.
Apart from this error, it can solve other errors as well as the Android setting has stopped, Fitbit versa has stopped, Snapchat has stopped, IMS service has stopped, etc.
So, just simply download the Android Repair tool now and fix unfortunately WhatsApp has stopped error easily.
Android Repair- 1 Click Repair Tool For Android
Easily fix any kind of issues or errors on Android by 1 click repair tool. Fixes any Android error without hasslefree:
Ability to fix several Android system issues or errors like Black screen of death, apps keep crashing, stuck in boot loop etc.
Helps to make Android system back to normal without any skills required
Has the highest success rate to fix any types of Android errors

Time to sum up
Now it's time to end up… After going through this complete post, you must have got enough information on how to fix unfortunately WhatsApp has stopped working on Android.
You could try any of the above-outlined solutions to solve unfortunately WhatsApp has stopped error. But, the Android Repair Tool is the best among all of them. So, once you should try it.
That's all…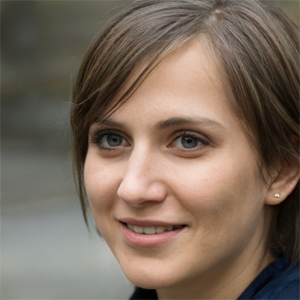 Kim Keogh is a technical and creative blogger and an SEO Expert. She loves to write blogs and troubleshoot several issues or errors on Android and iPhone. She loves to help others by giving better solutions to deal with data recovery problems and other issues.