Did you ever come across a "mobile network not available" error on Android or Samsung phones? Willing to know why does my phone say mobile network not available Android.
Android phone users come across several kinds of issues and network issue is one of them. We can see that most of the time, the network signal fails to connect and this is very irritating. However, there can be several reasons for this error but nothing to panic.
In this article, I will guide you through some best ways to fix mobile network not available error on Android phones.
How To Fix Mobile Network Not Available On Android Phone
As this error can trouble you a lot, it's better to find some ways and apply them to get rid of the error. So let's read further.
Fix 1: Restart Your Phone
The first trick to fix mobile network not available error on your Android device is to reboot your device. By Restarting, all your junk files and bugs will be removed from your phone, and it will also enhance your performance.
To restart your phone; Press and hold the Power key choose Restart and confirm it. Once done, check if the error is resolved.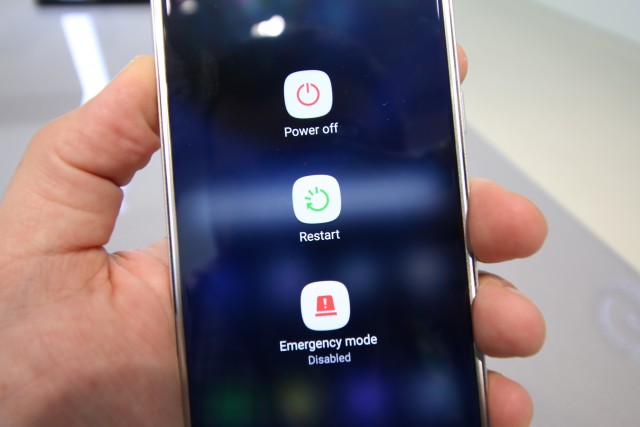 Fix 2: Move To Another Place For Better Signal
Due to poor signal, the mobile network may also not be available on your Android device. So, all you need to do is to move to a different place where the network signal is strong enough and you will not face network error again.
Fix 3: Enable/Disable SIM
If you are using a dual SIM card on your device then there is a high chance that frequency may change anytime. Although it can be fixed by enabling and disabling SIM.
For that, Go to Android Settings > Move to connections > choose SIM card manager > choose the SIM (if you are using dual SIM) > now, swipe the button to the right to disable SIM card reception > after waiting 30 seconds enable it again.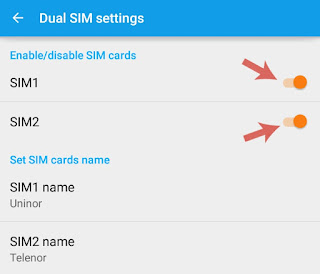 Fix 4: Remove SIM Card
Most of the time, this trick solves mobile network not available on Android issues. Sometimes in a hurry, we put our SIM cards in the wrong way resulting in this error. So, removing and reinserting your SIM cards might help you to fix your issue.
Just take a SIM ejector pin and insert it into the SIM tray hole to take out your SIM card tray. Now remove your SIM cards from the tray and after blowing your SIM tray place your SIM cards as it was and push them back.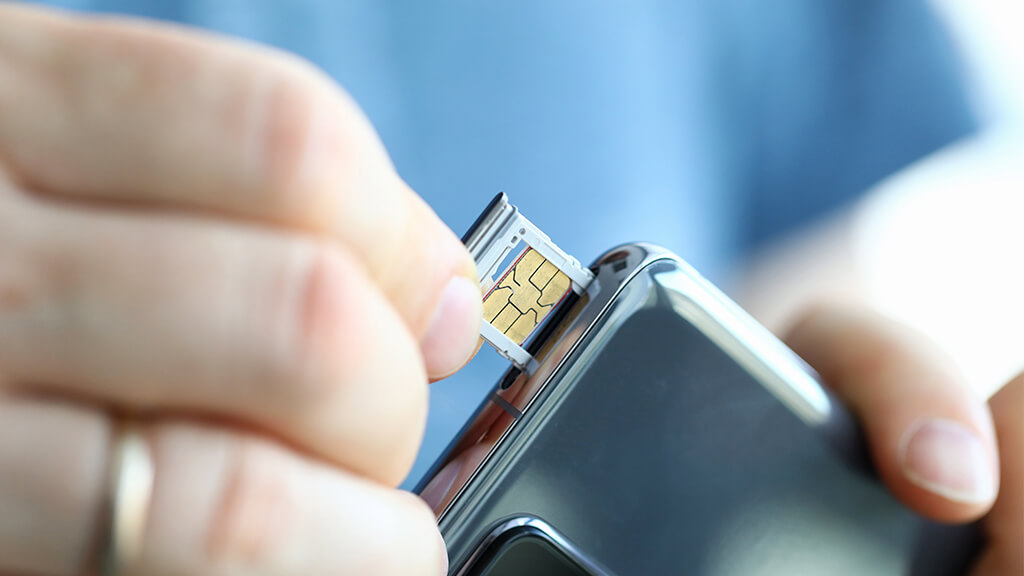 Hope this trick will resolve your issue. if not, then move to the next step.
Fix 5: Enable/Disable Airplane Mode
If you don't have mobile data, then you need to check if you have turned on Airplane mode or not. If you've enabled airplane mode then for that, reason mobile network may not be available on your device.
To turn off airplane mode:
First, move to Settings and tap on Connection
After that, scroll and reach Airplane mode and swipe right to enable it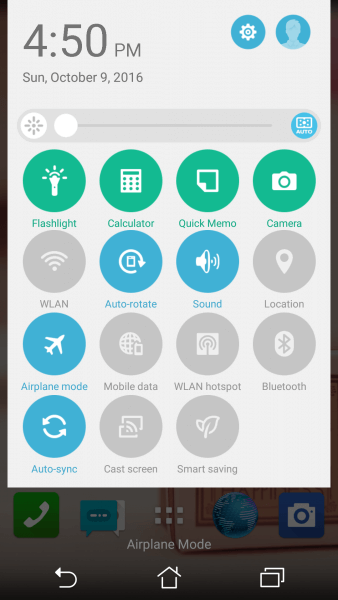 Next, click on the airplane sign again to disable it. Now see if your issue has been solved or not
Fix 6: Check & Update Firmware
This kind of problem can also occur when you haven't updated your device for a long time. Updating your device can help to avoid many kinds of errors on Android or Samsung phones.
Steps to update your device:
Navigate to Settings followed by Software update
In some devices, go to Settings first and then move to About Phone
If there is any update, the Download and Install button will appear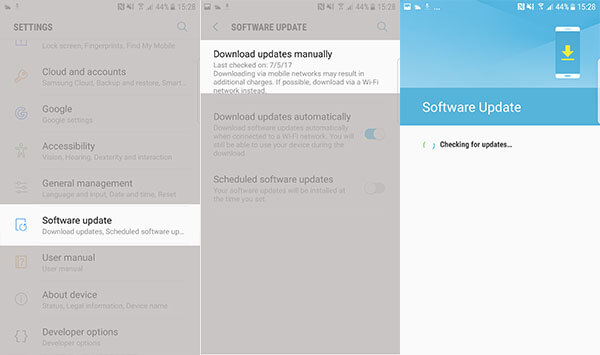 After your device updates, check if the issue is resolved or not
Fix 7: Verify For SIM Card Damages
If there is any fault in your SIM card, you may get a message like a mobile network not available on Android. A damaged SIM can be easily identified. In the network signal place, it will show NO SIM card.
To avoid this problem just, pull out your SIM card from the SIM tray and reinsert a different one. If this fixes the error then you can insert your own SIM now.
Fix 8: Disable VPN
If you are using any VPN services, kindly disable it because it can also lead to a mobile network not available error on Samsung.
Follow the steps to disable the VPN service:
First, go to Settings
Click on Connections
Move down to More Connection Settings
Now, choose VPN
After that, click on blue settings beside the VPN name
Finally, choose Delete VPN profile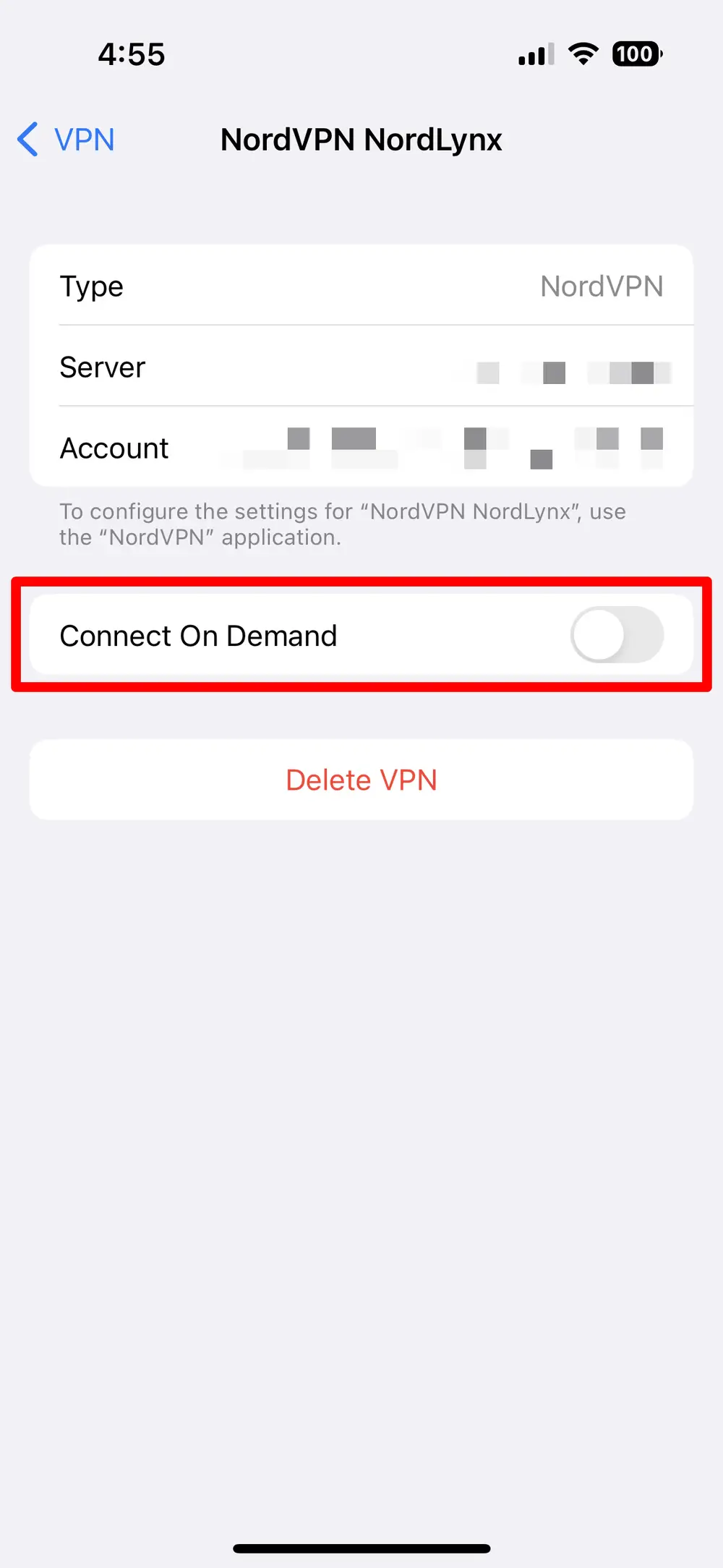 Fix 9: Restrict Data Roaming
Data Roaming is when you are outside of your local network coverage area and your phone is using services of present network carriers. Generally, it happens when you are traveling outside of the country.
However, you don't need to use this feature when you are in your own area. So, simply turn off this feature in the following way:
First, go to Settings
Then, move to Network & connections
Next, choose Mobile Networks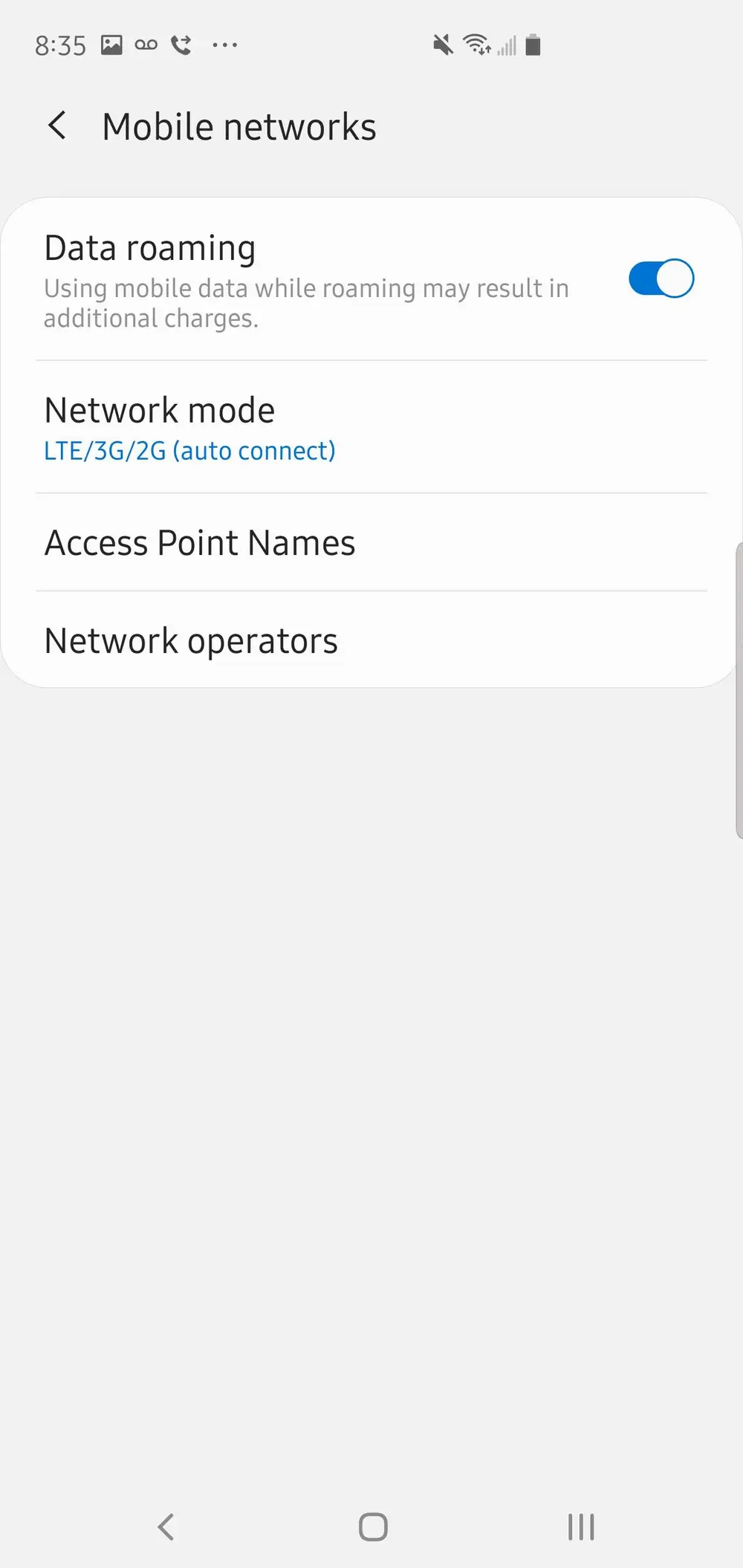 Now, look for the Roaming option and turn off it
Fix 10: Check For Radio Signal Issues
Your device radio signal may be disabled due to a conflict with the Wi-Fi network connection. You must remember that when you download any apps from an unknown source, it might have some malfunction issues and could affect the radio signal of your device.
Therefore, you need to first delete those apps before proceeding further. Here is what you have to do:
First, open your dial pad and put this code: *#*#4636#*#*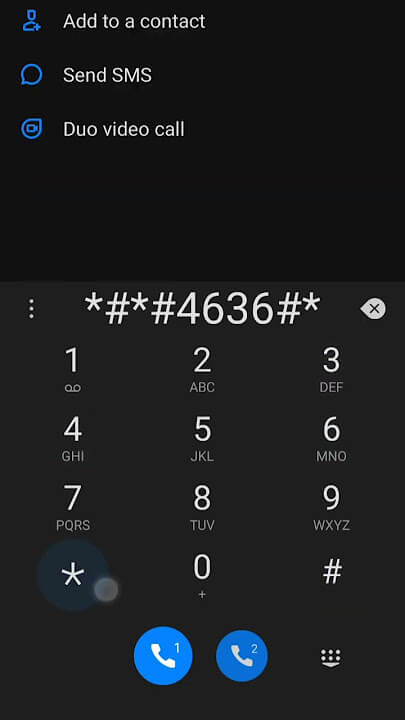 A testing menu will be displayed on your screen when you enter the last digit
Click on Phone information
Now, choose RUN PING TEST
Click on GSM Auto (PRL) from the drop-down list
Then, choose Turn off radio
Lastly, restart your phone
This technique will reset radio signal settings. You can check if your issue is solved by doing a phone call.
Fix 11: Switch Mobile Network Operators
You can also switch between your mobile operators to get rid of the error. Here is what you have to do:
Navigate to Settings and open Mobile networks
Next, move to Network operators. You may need to choose a SIM card if you are using dual SIM.
Here, you will have options to choose Automatic or Manual Select Automatic (if it is already in Automatic mode, then first choose Manual, and after that return to Automatic).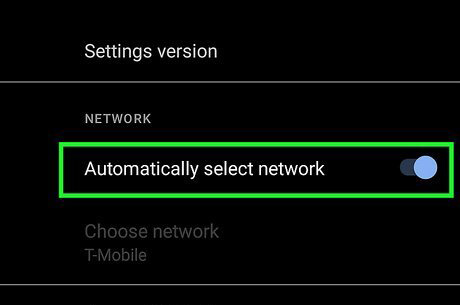 Fix 12: Reset Network Settings
Reset your network if you are still having issues with network errors. Resetting will not harm your device and there is no data loss. Instead of that, you can easily connect your network and will overcome network issues.
Check the steps as guided:
Open Settings in your Samsung device and click on General management
Next, tap on Reset and choose Reset network settings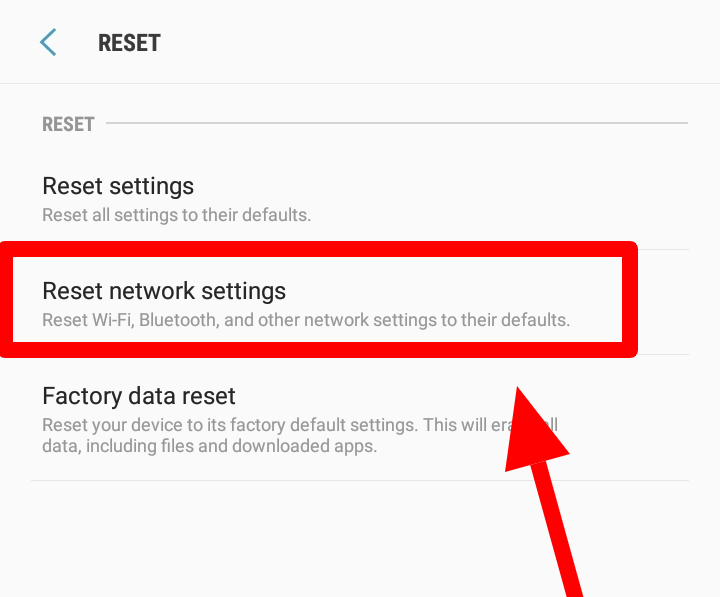 Read the information and click on Reset settings. Put password, PIN, or pattern if any
To confirm your action, read the information and click on Reset
Fix 13: Perform Factory Reset
Factory reset is the last method if the above solution won't work to fix mobile network not available on Android. But ensure you have taken a backup of your files before proceeding further.
Follow the steps to factory reset your Android phone:
First, open Settings on your phone
Look for Backup and Reset option
Find the Factory data reset option and tap on it when the backup is completed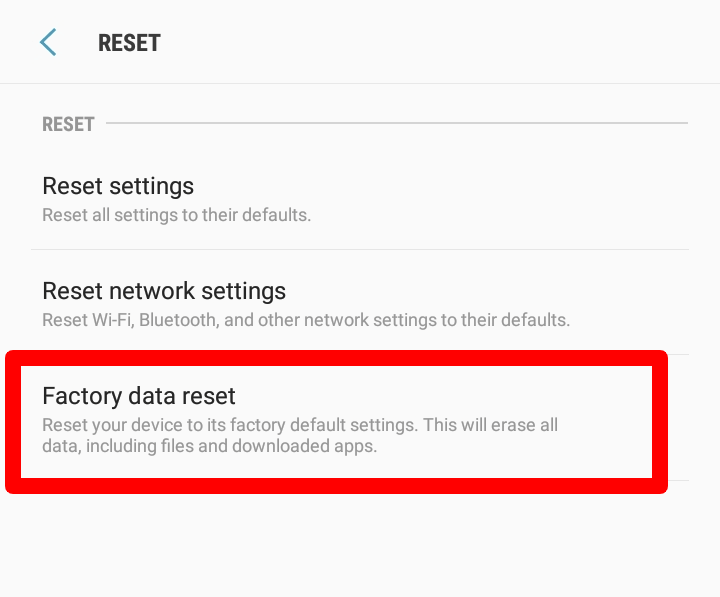 That's it.
Fix 14: Contact Your Network Partner
I will also suggest you to have an interaction with your network partner. They will assist you and let you know if there is any issue with your network area or if your SIM card is damaged. You can reach your service partner over phone calls, e-mails, or by visiting their store.
Fix 15: Effective Way To Fix Mobile Network Not Available On Android/Samsung
If you want to fix the issue without following manual methods, go for the Android Repair tool. It's a highly suggested and advanced software that easily fixes several Android errors including mobile network not available errors. It is easy to use and capable of repairing every Android phone issue with one click.
Some other errors it can fix include settings has stopped, vertical lines on Android, Pandora keeps crashing, no sim card error, no command on Android, etc. It can easily troubleshoot the issue and does not matter what reasons have led to it.
Simply download and install the amazing software to get rid of the error. Check the complete step-by-step guide to fix the problem on Android/Samsung devices.
Android Repair- 1 Click Repair Tool For Android
Easily fix any kind of issues or errors on Android by 1 click repair tool. Fixes any Android error without hasslefree:
Ability to fix several Android system issues or errors like Black screen of death, apps keep crashing, stuck in boot loop etc.
Helps to make Android system back to normal without any skills required
Has the highest success rate to fix any types of Android errors

Conclusion
Finally, I have discussed several methods to fix mobile network not available errors on Android or Samsung phones. The issue can be due to some network glitch or other reasons but nothing to panic. Following the above fixes will surely troubleshoot the error. Also recommended to use the Android Repair tool to fix the error with one click.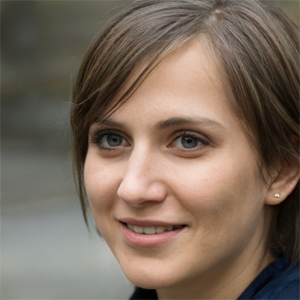 Kim Keogh is a technical and creative blogger and an SEO Expert. She loves to write blogs and troubleshoot several issues or errors on Android and iPhone. She loves to help others by giving better solutions to deal with data recovery problems and other issues.