Are you coming across a "No command" error on your Android phone? Wondering how to fix no command error on Android? If yes then you are not alone to experience such kind of error.
Android phone's recovery mode is used to solve various kinds of issues. In case, if your phone starts freezing or has been configured the wrong way, you can simply resolve the problem by entering into its recovery mode. Generally, it is used to reset your phone or clearing the cache partition.
However, sometimes it happens that no command error in recovery mode error occurs on Android and halts the entire process. This error restricts the Android users to get the support of recovery mode.
Therefore, if you're also encountering the same issue then do not worry anymore. This article covers the best solutions on how to fix no command error in recovery mode on Android.


Why Does Recovery Mode Say "No Command"?
Well, you may get a "no command error in recovery mode" error message whenever you are trying to access your recovery mode or during installing a newly updated software. In many cases, your device is waiting for this command to simply access the recovery options.
Although, in some unusual situations, you might get stuck in the boot loop with the Android no command error that starts showing all the time while you start your Android phone.
So, here are the major causes of no command error in recovery mode error–
Whenever Super User Access has been denied.
While trying to reset your Android device
Many times, computer glitch during updating the operating system software
Interrupting during the installation process continues.
After knowing the common reasons for this error, now it's time to learn the possible ways to solve Android recovery mode no command error.
How To Fix No Command Error In Recovery Mode On Android?
In this section of this post, I have mentioned some of the best approaches to troubleshoot Android recovery mode no command problems easily.
Solution #1: Reboot Your Device
You must be familiar with this solution as this is one of the oldest tricks to fix any kind of issue that is- restarting our gadgets. You must have noticed that this solution works every time. Rebooting the Android phone may help you to solve no command in recovery mode Lenovo k8 note as well.
So, let's try out the below-given steps:
Begin with pressing & holding the Power key & the Volume Down key together till your phone turns off.
Again, press & hold the Power key till your Android phone turns on and booting up.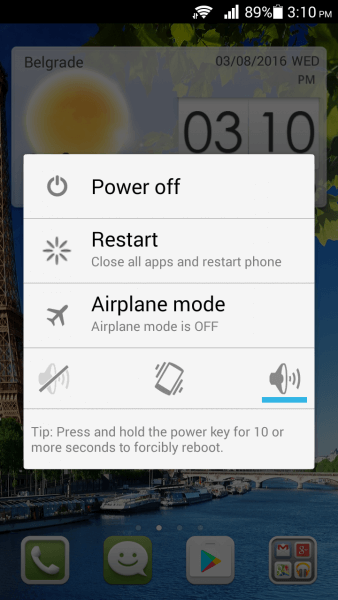 Solution #2: Remove The Battery Of Your Android Phone
You can try to fix the fix no command error in recovery mode issue simply by removing your Android phone's battery. If it's possible to replace your phone's battery then just remove a back cover of Android by turning your device off & remove the battery.
Wait for some time & again input your battery in it. Turn on your device and see if the error has been fixed or not.
Solution #3: Fix No Command Error In Recovery Mode Via Key Combinations
Several people come across this error/bug while booting up their device in recovery mode. In such a situation, you must know that this may need some of the commands to move ahead.
It simply means that the combination of some keys can resolve android recovery mode not working error.
Here are the key combination lists that will definitely help the users to fix the error. Make sure that you have to hold the keys for only 20 seconds.
At first, press & hold the Power + Volume Up button together.
After that, again press & hold the Power + Home + Volume Up
Press & hold the Power button +Volume Down
Then, press & hold the Power +Home +Volume Down
Press & hold the Power key + Home key
Solution #4: Install The Update Manually
If you are getting the error message after updating the software or at the same time then you need to update your software manually.
Start following the steps to do so:
Firstly, use the Volume Down button to go to "Apply update from cache" opt & then again press the Power key to open it.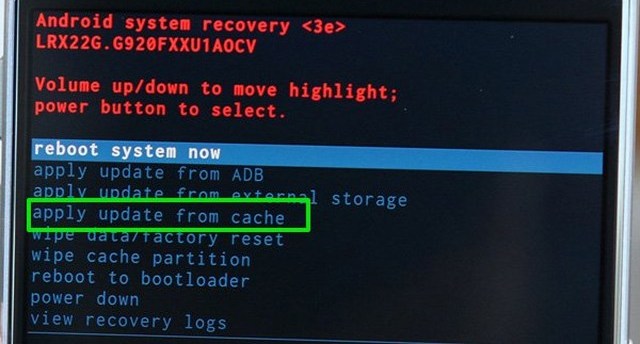 Now, you've to see that the software update is available or not & select it & again press the Power key to install the update manually.
If you still come across through no command error during flashing custom ROM
Then, go to the "Apply update from external storage" & choose the 'Updater' option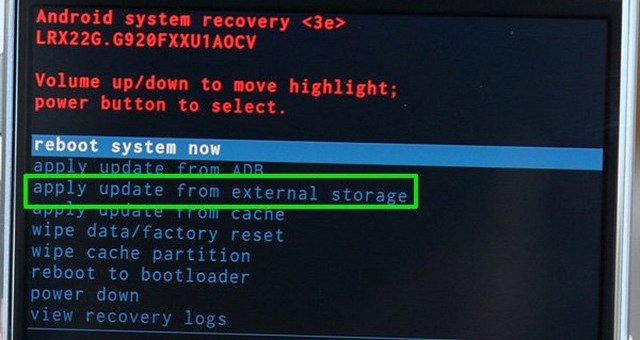 After that, select the software file which you've downloaded.
Solution #5: Wipe The Cache Partition
This is one of the simplest ways to solve the 'No command Android' issue – wipe out the cache partition. Here are the steps you need to follow:
Press the Volume Down button & simply move to the option "Wipe cache partition".
Again, press the Power key to confirm cache deletion.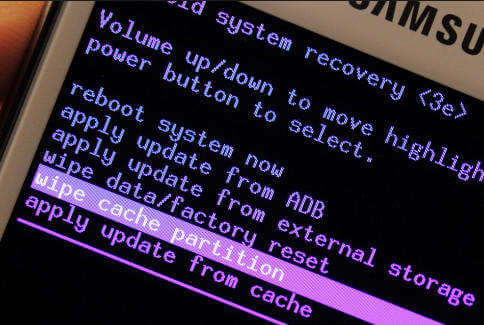 If this approach won't solve the mobile recovery mode issue, then you can try the next solution.
Solution #6: Factory Reset Your Phone
If you have used all the above-highlighted solutions but still unable to fix this error then now it's a time to adopt strong measures.
Doing a factory reset on Android is a very troublesome solution. As after performing this all your existing data will be deleted permanently.
However, sometimes it is needed to perform a factory reset whenever you faced an awful situation where the phone is stuck on to boot loop. How to do so:
At first, turn off the Android phone and press & hold Volume Up key & Power key together.
Let the Power button go when the Android logo seems on your screen, but you should continue to press the Volume Up key.
Here, on the menu of Android recovery, use the Volume Down key as the navigator to move your marker down to wipe data/factory reset opt.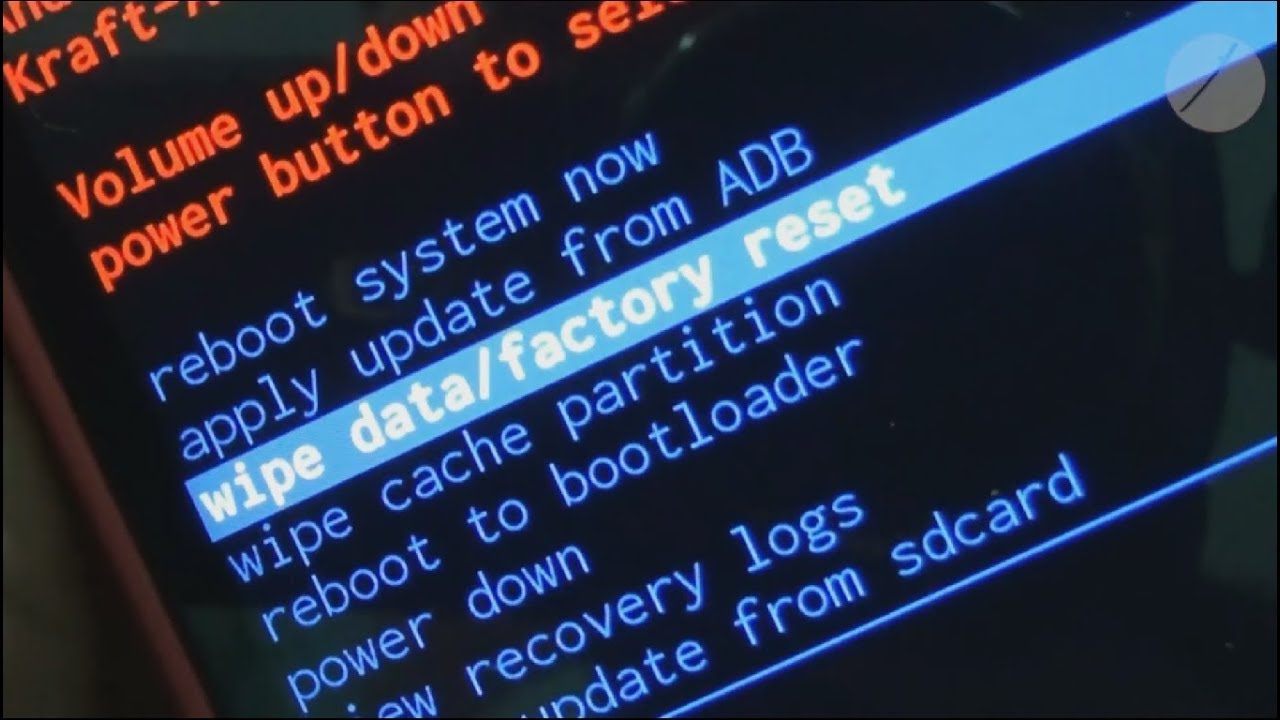 Again, use the Volume Down key to choose Yes — delete all user data, & press the Power key to confirm.
Wait for sometimes until the factory reset process is completed & press Power key when it prompted with message to reboot system now opt.
Solution #7: Send Your Phone To Service Centre
Even after trying the above methods, if you are still unable to fix no command error in recovery mode, you should instantly take your Android phone to the service center.
I am advising you of this solution because your Android recovery mode no command issue can be only fixed by the experts. They'll analyze your mobile and repair the issue in no time.
Solution #8: [Automatic way] How To Fix No Command Error In Recovery Mode On Android?
Last but not the least, one more option left for you is Android Repair Tool. This is one of the best and recommended programs that you can try to fix several types of errors and bugs on the Android phone.
With the help of this excellent tool, Android recovery mode not working error can easily be fixed without any trouble.
The best part about this software is – it is easy to use and you don't need any technical skills to use it. This amazing program has the ability to solve other Android phone issues like Android black/white screen of death, Android stuck in Boot loop, Android apps keep crashing etc. with ease.
So, without wasting any time just download & install Android Repair to get rid of no command in recovery mode on Android hassle-free.
Android Repair- 1 Click Repair Tool For Android
Easily fix any kind of issues or errors on Android by 1 click repair tool. Fixes any Android error without hasslefree:
Ability to fix several Android system issues or errors like Black screen of death, apps keep crashing, stuck in boot loop etc.
Helps to make Android system back to normal without any skills required
Has the highest success rate to fix any types of Android errors

Conclusion
I hope that this blog will prove helpful for Android users to fix no command error in recovery mode error.
Hence, in order to get rid of this error, I have provided you the most effective on how to fix no command error in recovery mode. Nothing you have to do, simply start applying the given solutions one after another and fix this bug quickly. For the quick and best way to solve no command on Android, go for Android Repair software.
If you are unable to fix the error by trying the manual ways, then you can simply go with the most reliable Android repair tool.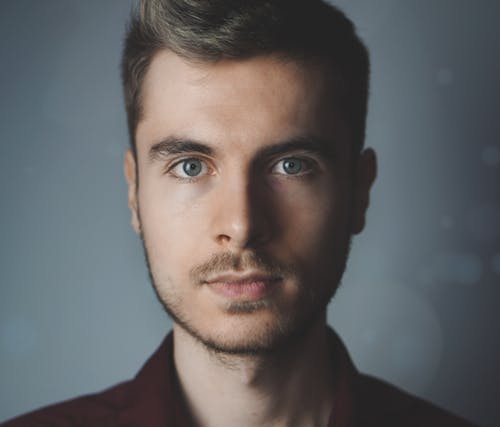 Steve Peterson, an SEO Expert as well as a technical writer. He loves to gather information about Android & iOS operating systems and write content about it. Whether its the matter of data loss situation, error or issues, broken or damaged problem, latest new going through, and several others. He guides to deal with all such things with his articles.