Airdrop is one of the best and easiest ways to transfer data between iPhones and other devices. However, this app sometimes does not work and the transfer process stops. This kind of issue really irritates users.
Many users have reported that they were facing issues with the Airdrop app and they are coming across the "Airdrop not working" error. If you are also facing the same error and looking for fixes then don't panic.
In this blog, we will share you with some best ways to fix Airdrop not working on iPhone so that you can easily transfer data from iPhone to iPhone/iPad.
Reminder: AirDrop is compatible with all iPhone models running on iOS 7 and later, iPad with iPadOS 13 and above but ensures both devices are compatible with Airdrop.
Reasons For Airdrop Not Working On iPhone 14/13/12
When you fail to transfer data between the devices then you might want to know "why is my Airdrop not working on iPhone"? There are many reasons for AirDrop not working on your iPhone.
Here are a few of them:
Using an older version of iOS
You have disabled Bluetooth
Due to bugs or glitches in your current version of iOS
AirDrop is not compatible with your iOS device
DND is turned on
There is a long distance between the sender and the receiver
You have disabled receiving and sending files through AirDrop
How To Fix Airdrop Stopped Working On iPhone 14/13/12
After knowing the reasons for the above error, now it's time to check all the possible methods to fix Airdrop not showing up on iPhone. So let's read further.
Method 1: Restart Your iPhone
Your Airdrop not working on iPhone 14/13/12 issue can be solved by just a simple restart. It can occur due to some bugs or glitches in the system for which it stops working.
Follow the steps to restart iPhones for different models:
iPhone 8 and above: Press and release Volume Up and Down keys quickly. Long press the Side key until the iPhone logo appears on the screen.
For iPhone7 and 7 Plus:  Long press the Side and Volume Down key together to see the iPhone logo
iPhone 6s and before: Long press the Side and Home keys together to see the iPhone logo. Hold the power key for a few seconds to see the slider on your device screen. Thereafter, move the slider to the right and switch off your iPhone. Wait for a minute and after that, restart your iPhone by pressing the power button.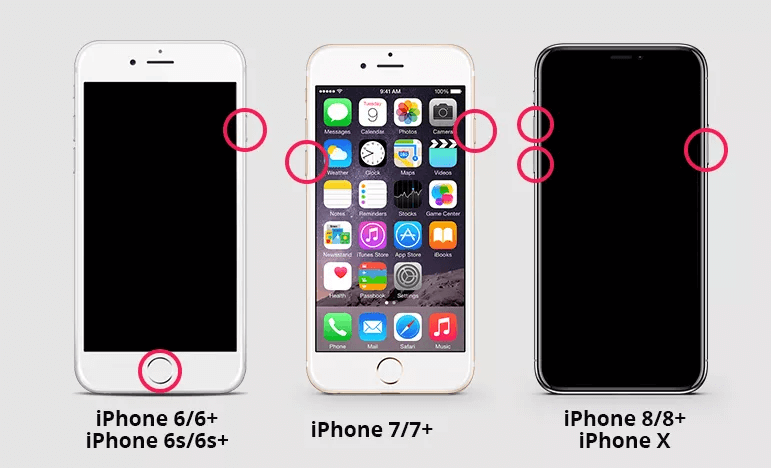 Method 2: Check Compatibility Of Your Device With Airdrop
The next reason for AirDrop keeps crashing could be when both devices are incompatible with AirDrop. Check whether your iOS devices are compatible or not by following way:
For iPhone: You need iPhone 5 or above which runs on iOS 7 to use AirDrop
For iPad: Need a 4th generation iPad that was released in 2012 or above. The device must run on iOS 7.
For iPod touch: You need to have a 5th generation iPod touch released in 2012 or afterward. It must run on iOS 7 or above.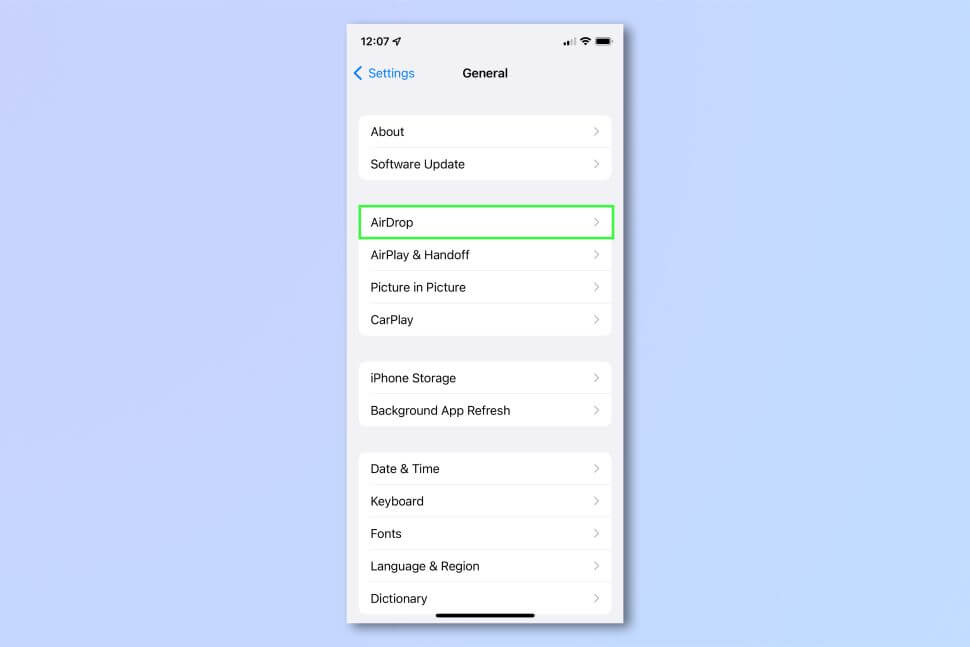 Method 3: Turn On Bluetooth
Along with Wi-Fi or Mobile Network, AirDrop use Bluetooth also to find nearby devices. So, ensure that your Bluetooth is turned on on both devices. If it is disabled, enable it in the following way:
First, open Settings followed by Bluetooth and turn on Bluetooth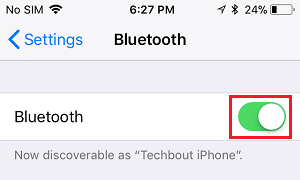 After turning it on, you will be able to send and receive files via AirDrop
Method 4: Log In To iCloud Again
iPhone users know about iCloud which is an in-built service. Sometimes, iCloud interferes with other services and can lead to AirDrop not working issue. It can be fixed by logging out and logging in to iCloud again.
Follow the steps:
First, open Settings and go to your profile picture
Next, click on the Sign Out option
Now, after waiting for a few seconds, again re-login to it
Method 5: Ensure Airdrop Device Is Discoverable
You have to ensure that your AirDrop is discoverable to other devices. On your iOS device, move to Settings followed by General, and tap on AirDrop to choose discoverability mode.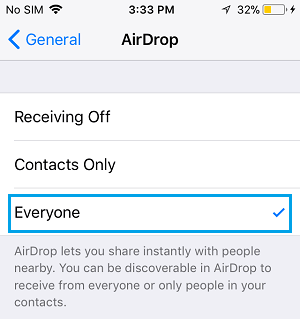 To control who can send you or to whom you want to send files, use the following points:
Everyone: This option will allow your nearby devices to see you are using AirDrop. This is suggested to every user.
Contacts Only: This option will only allow your saved contacts to see your iPhone. Both devices need to sign in to iCloud, email addresses, and phone numbers related to Apple ID. This option keeps your device private and no unknown AirDrop request will come to you.
Receiving Off: This option will not allow anybody to see your device but you can send AirDrop items to another device
Method 6: Enable/Disable Bluetooth And Wi-Fi
If there is any issue with Wi-Fi and Bluetooth, this could lead to the iOS 15 Airdrop not working. In such cases, you need to disable WI-Fi and Bluetooth and re-enable them.
Here are the steps to follow:
First, move to Settings on your device
Now, click on Wi-Fi and turn off the Wi-Fi slider. After a while, re-enable it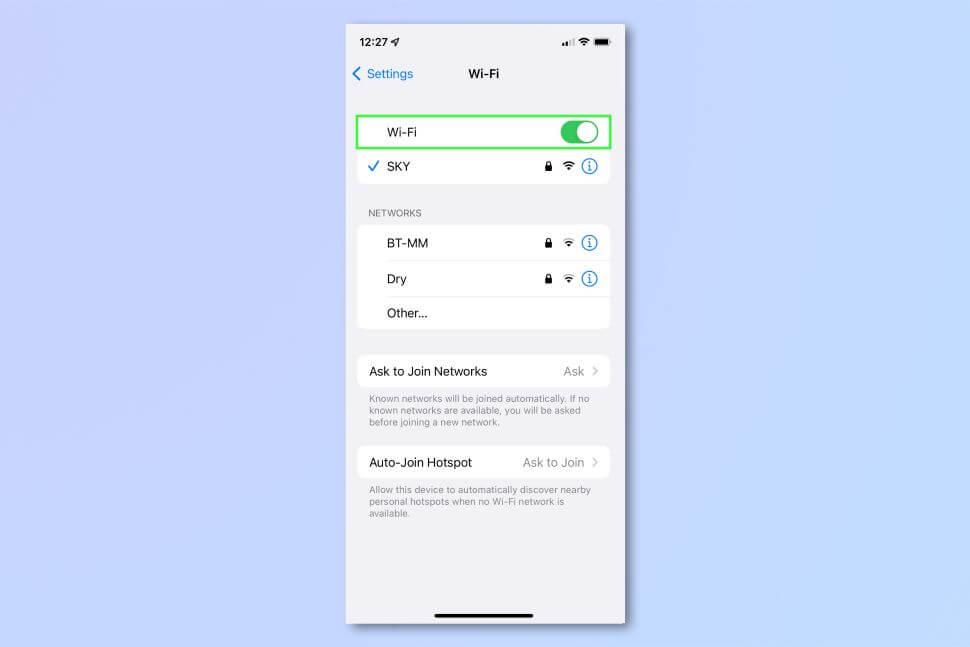 Follow the same steps for Bluetooth as well
Method 7: Disable Do Not Disturb Mode
Files transfer will not happen if the receiver has turned on DND mode. So in such a situation, you should check and turn off DND mode.
Steps to turn it off:
Open Settings then tap on Focus. After that, click on the Do Not Disturb option and swipe the toggle button beside DND to turn it off.
Once you follow the above steps, you will be able to transfer files through AirDrop.
Method 8: Check Airdrop Settings
AirDrop offers three options: Contacts Only, Everyone and Off. Among the three, Contacts Only needs to verify others. It's better to use Everyone and again try it. You can adjust these options according to your moods and needs while transferring files.
Steps to adjust settings:
First, open Settings
Now, tick on General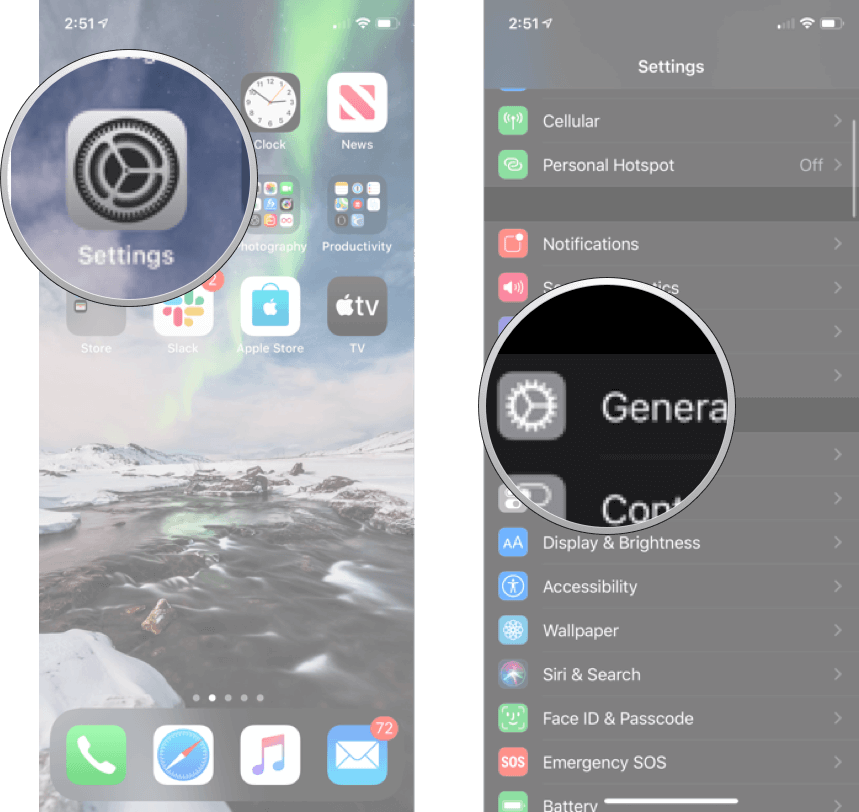 Then, tap on AirDrop
Now, click on the level which you need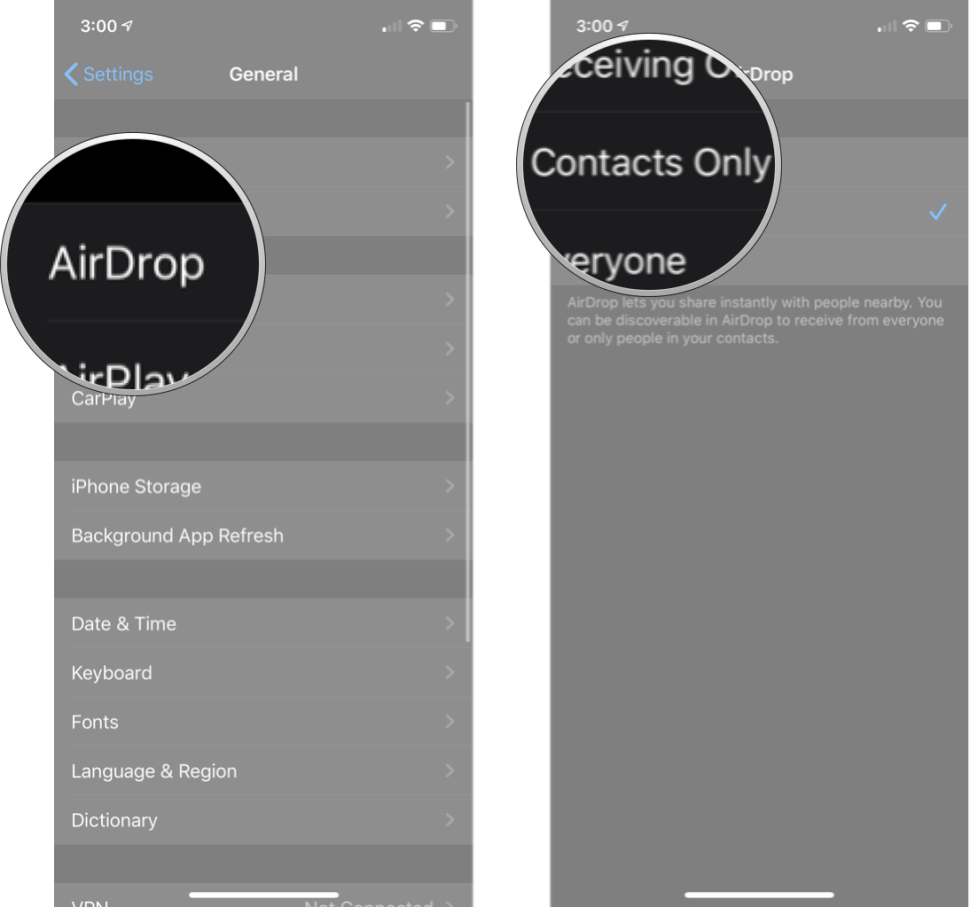 Method 9: Update Your iPhone
To avoid any kind of crashing issues, you must ensure that your device is running on the latest version of iOS. If AirDrop is not working, an update on your OS might fix it.
Follow the steps to update your iOS device:
Open Settings and click on General
Now, choose the Software Update option and install the latest version if not done yet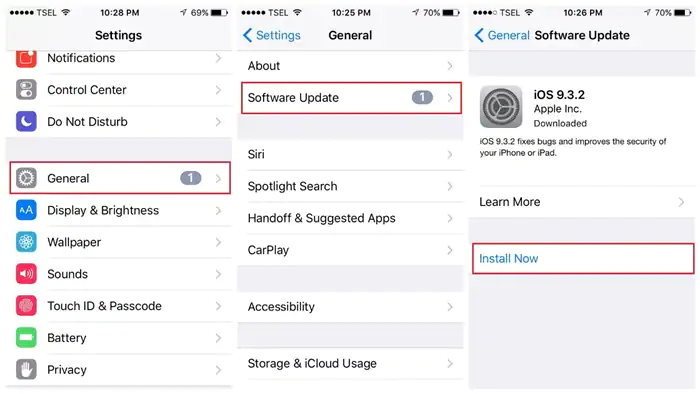 Method 10: Turn Off Personal Hotspot
Personal Hotspots and AirDrop use Wi-Fi to work. So, when you use both services via WiFi then there is a chance to clash between them. In such a situation, you need to disable Personal Hotspot to avoid a warning showing "AirDrop is not available when using Personal Hotspot".
To disable this feature; open Settings and tap on Personal Hotspot to turn off it. Tap on the Wi-Fi sign if required and choose the option to disconnect Wi-Fi from Personal Hotspot.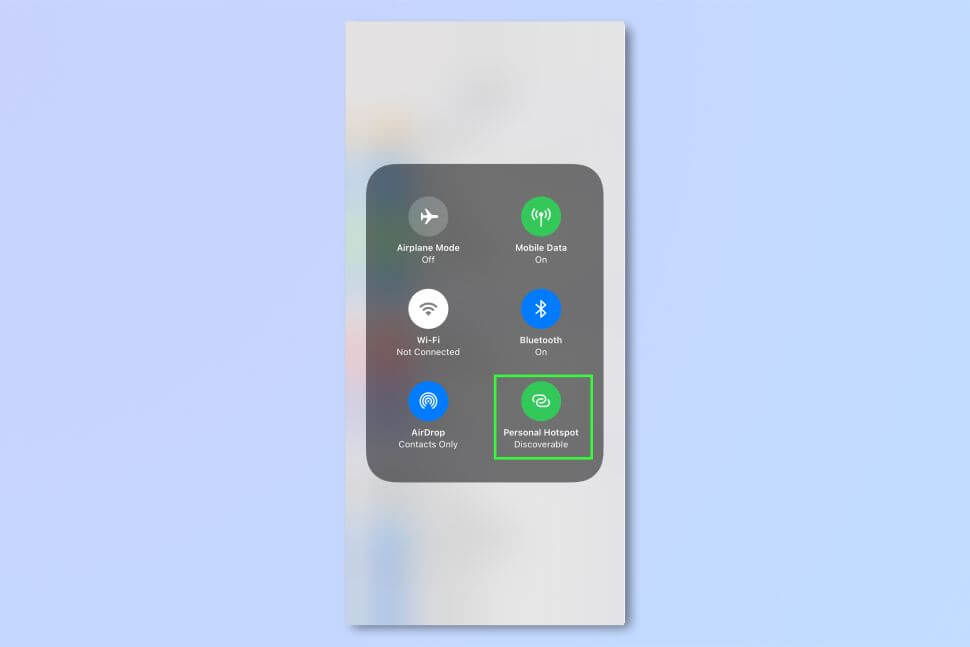 Method 11: Switch Off Focus mode
Turning on focus mode will help you to transfer files using AirDrop but the device will not be discovered and it will also disable another device to see the request of AirDrop.
Follow the below steps to turn off focus mode:
First, open Control Center by moving down from the top right of your device screen on FaceID or by moving up from the bottom edge of your screen on the TouchID device
Next, click on Focus mode if it shows turned on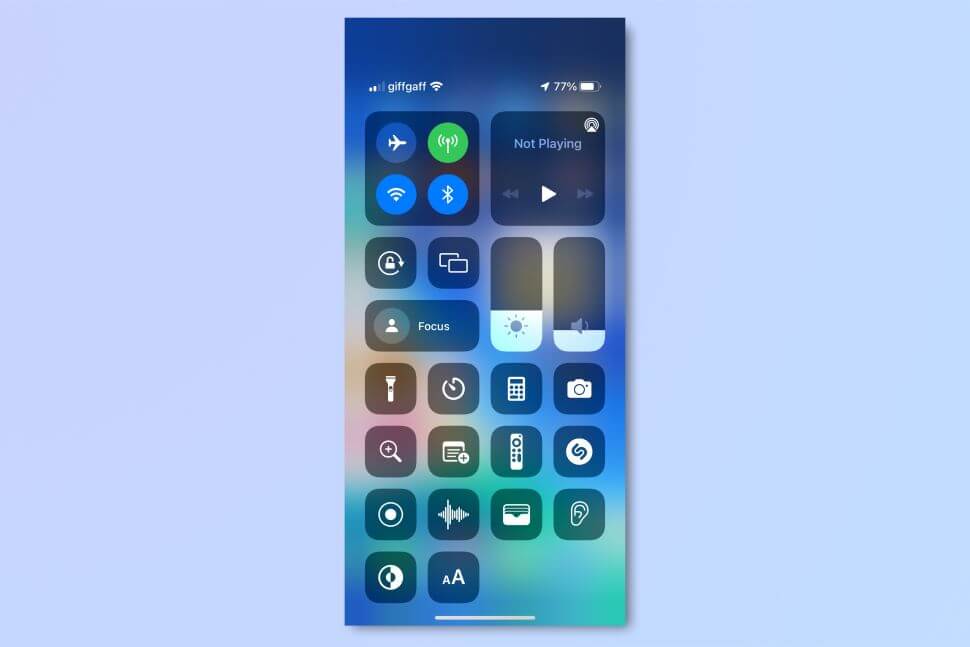 At last, click on Focus to disable it
Method 12: Reset Network Settings
As AirDrop needs both Wi-Fi and Bluetooth to enable both devices, so if any problem occurs regarding the Wi-Fi connection that could be the reason for AirDrop keeps stopping on iPhone. In that case, you can fix the issue by resetting the network settings by following the below steps:
First, navigate to Settings and tap on General
Now, select the Reset option and click on Reset Network Settings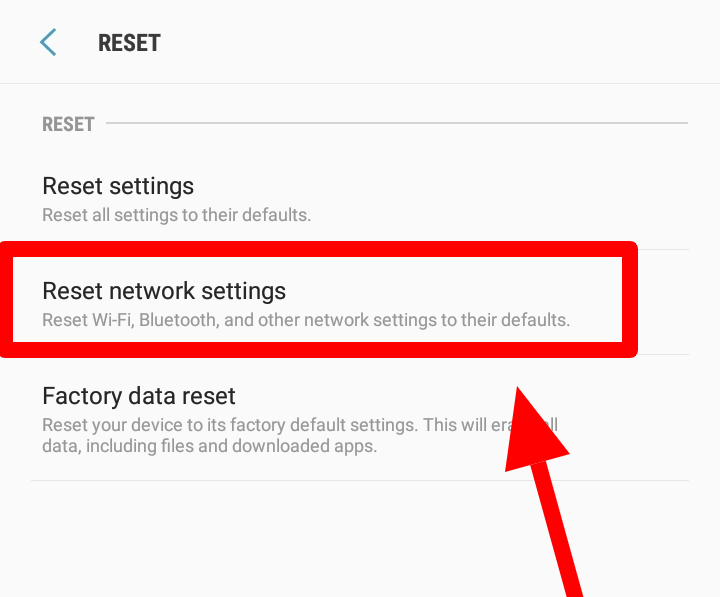 That's it.
Method 13: Contact Apple Support Team
The last option left you is to contact the Apple Support team if nothing works to fix Airdrop not working on iPhone. Contact Apple Support and they will assist you to resolve the issue. Professionals can fix this kind of issue and you can use the app as usual.
Method 14: Best Way To Transfer Data Between iPhone With One Click (Suggested)
If you are unable to use the AirDrop feature to transfer data between iOS devices then you have several other options. iOS Data Transfer is one of the best and most convenient tools that allow users to transfer files between iPhone/iPad and PC or other devices. This software provides the same feature that AirDrop does.
It lets you transfer all types of files like contacts, photos, videos, notes, text messages, and others. No matter whatever reasons the AirDrop is not working or crashing or stopping, you don't have to bother transferring files from one phone to another. Simply download and install this software and then transfer whatever data or files you want to share with other devices.
Conclusion
AirDrop is really a helpful and smart way to share files between devices like iPhones/iPad. However, similar to other apps, it can also go through some unwanted situations and fails to work when you need it. In this article, I have discussed the best ways to fix AirDrop not working on iPhone 14/13/12/11. I hope, following them has helped you to overcome the situation without further issues.
When you encounter AirDrop not showing up on iPhone and what to do when Airdrop is not working then use iOS Data Transfer. It's one of the easy and advanced ways to transfer files between iPhone/iPad.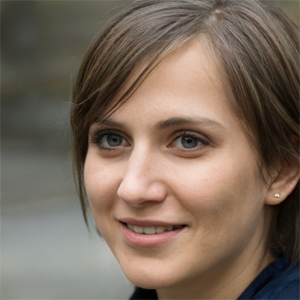 Kim Keogh is a technical and creative blogger and an SEO Expert. She loves to write blogs and troubleshoot several issues or errors on Android and iPhone. She loves to help others by giving better solutions to deal with data recovery problems and other issues.