Did you just come across Minecraft keeps crashing error while using it on an Android phone?
Well, we are familiar with Minecraft Pocket Edition which allows building block games to explore and create their own empire. It is played by all ages of people. But many users have recently reported that they were experiencing Minecraft crashing or freezing issues on Android devices.
If you are also getting the same error, then don't worry as this blog will help you to get rid of the problem. In this tutorial, I will guide you on some effective ways to fix Minecraft keeps crashing on Android phone.
What Are The Ways To Fix Minecraft Keeps Crashing On Android 12/11
Now, let us go through this blog completely to know all the possible ways to stop Minecraft from crashing.
Solution 1: Restart Your Device
The easiest solution that I am going to tell you is to restart your device. Sometimes, restart solves many of our problems in a very quick way. So, try out this step in the following way:
First, press and hold the Power button of your device
Then, click on the Power off option displayed on the screen.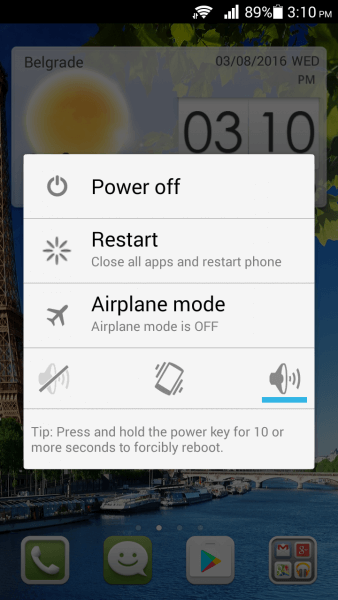 Your phone is now switched off. Again, to switch on your device press and hold the Power button until the device logo or name appears on the screen. Now, after back on the home screen, open the Minecraft game again to check if the crashing problem has been resolved or not.
Solution 2: Clear The Cache Of Minecraft App
Whenever we started using an app it gathers lots of cache files. When these cache files are corrupted, your app starts behaving abnormally like stops working, taking a long time to open, etc. So, you need to clean these cache files as it helps the app to run smoothly on your device.
You can delete those cache files in the following way:
First, launch Settings on your device
Now, go to Apps
Find Minecraft
Select Storage and click on Clear Cache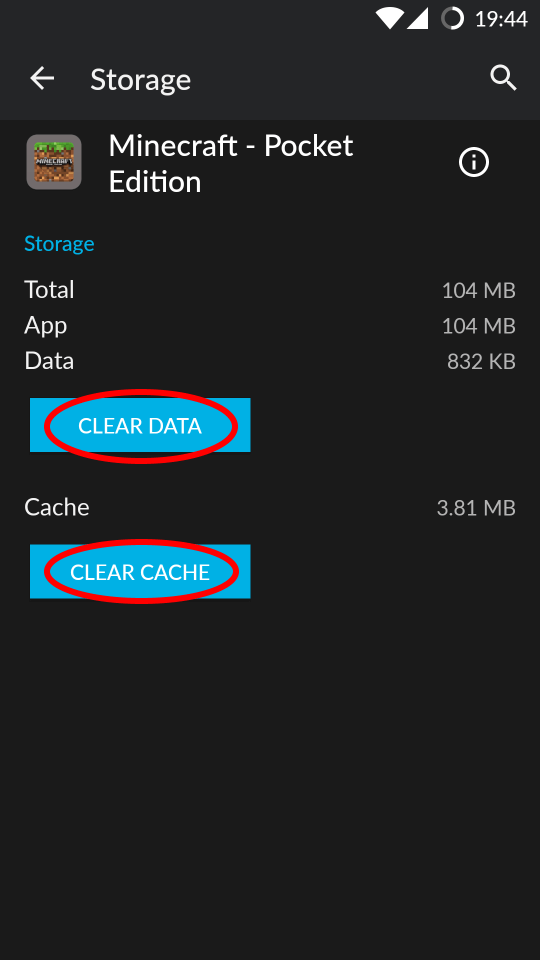 That's it.
Solution 3: Update The Minecraft Game App
If clearing the cache won't help to resolve your issue then, you can try this one. Sometimes, updating the app helps the app to stop crashing.
Follow the below steps and check whether you are using the latest one or not:
First, go to Google Play Store
Click on Profile Icon
Tap on Manage Apps and device
Here you can check if any updates are available for your said app.
If UPDATE is available beside the Minecraft app then do update immediately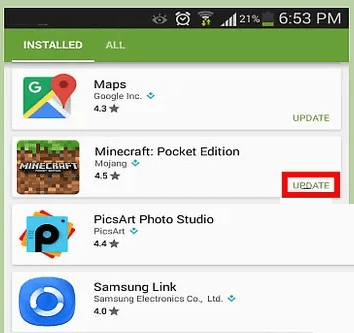 Solution 4: Uninstall And Reinstall Minecraft App
If updating the app didn't resolve Minecraft keeps crashing on Android 12, then you can try this method. Try to uninstall your app and reinstall it. Then check if Minecraft keeps crashing on Android has been resolved or not.
Here is how you can do that:
First, launch Settings on your phone
Now, go to Apps and find Minecraft
Then, click on Uninstall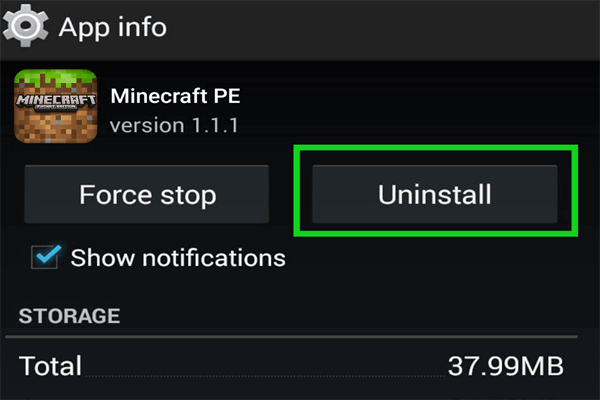 Now your app will be removed from the device
Thereafter, Open Google Play Store and search Minecraft app
Tap on Install and your app will be reinstalled on your device.
After this, open the Minecraft app on your phone and check if it is working without error.
Solution 5: Update The OS
If you are facing the same issue then this is because your Operating System might be outdated. Sometimes app crashing issues occurred when you are using an older version of the OS for a long time. Do check if any kind of OS Updates is available on your device in the following way:
Launch Settings on your device
Tap on About Phone
Then tap on System update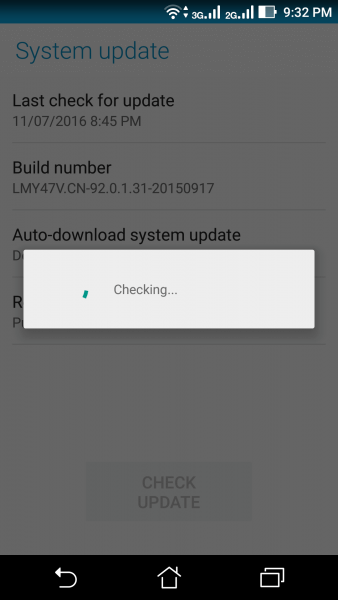 Here, you will see an Update option if available.
Click on it and then see if everything is working as usual.
Solution 6: Disable VBO Settings
If VBO settings are turned on in Minecraft PE, then that might be the reason for your app crashing issue. In such a situation, you need to turn off it by following steps:
Launch Minecraft PE app
Move on to Settings
Then go to Video settings
Disable VBO settings on the app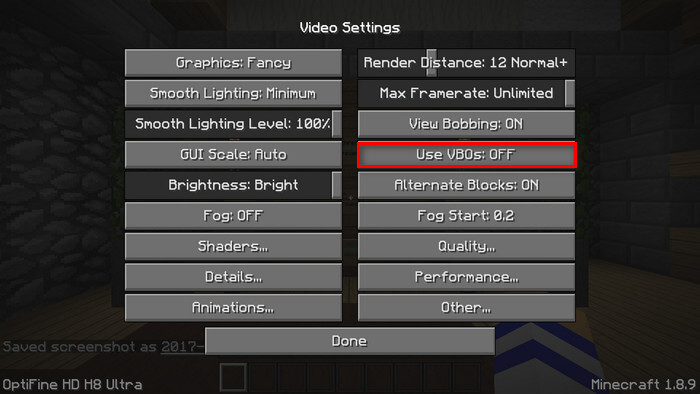 Now, restart your phone and open the game again.
Solution 7: Clean Up Storage Space
Your device always needs some space to run any gaming app. If your device's internal storage is full, then you need to clear it to run your Minecraft game. It is suggested that if you are a game lover, then always check your RAM while purchasing a new phone (3GB/ 4GB and more will be better).
More space means every app will work smoothly without freezing or crashing the app.
Solution 8: Update The Game Patches
If Minecraft keeps crashing issue continues after using the above solutions, then ensure that your game patches are updated.
This is one of the easiest solutions, which may help many users to overcome such errors. Do check if you have updated your game patches or not.
Solution 9: Check For Any Mods Running
Many users use some kind of modification while playing Minecraft games. These mods are available on third-party websites. But they are risky as they can delete content from the game and leads to such kind of error.
Therefore, it is suggested to check properly whether any shaders, custom launchers, etc are creating such issues. If they are available then disable all those changes and then play the game.
Solution 10: Fix Minecraft PE Keeps Crashing/Freezing Without Data Loss (Suggested)
If manual solutions do not resolve the error then you can go for an automatic solution. Android Repair is one of the best and highly suggested tools that let users fix Minecraft keeps crashing on Android phone. It is easy to use and troubleshoots any kind of Android error with one click.
This powerful tool can fix other errors like Android settings has stopped, Android blue screen/black screen, Roblox keeps crashing, Signal app keeps crashing, ghost touch on Android, etc.
Therefore, if this kind of error is troubling you then simply download and install the Android Repair tool to stop Minecraft from crashing.
Android Repair- 1 Click Repair Tool For Android
Easily fix any kind of issues or errors on Android by 1 click repair tool. Fixes any Android error without hasslefree:
Ability to fix several Android system issues or errors like Black screen of death, apps keep crashing, stuck in boot loop etc.
Helps to make Android system back to normal without any skills required
Has the highest success rate to fix any types of Android errors

Conclusion
Minecraft PE is a popular game played by all ages of people. But similar to other apps, it also keeps freezing or crashing while playing. But there is nothing to fret as there are ways to get rid of it. Follow all the above-mentioned solutions to fix Minecraft PE keeps crashing on Android. Also suggested going for the Android Repair tool and fixing the error with one click.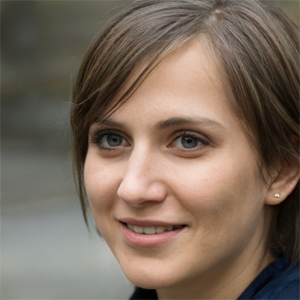 Kim Keogh is a technical and creative blogger and an SEO Expert. She loves to write blogs and troubleshoot several issues or errors on Android and iPhone. She loves to help others by giving better solutions to deal with data recovery problems and other issues.