Does your Android phone screen turn black and unresponsive?
Facing difficulty while trying to fix Android black screen of death issue?
If so, then read this post to get some proven solutions to get rid of it without any trouble.
But before moving ahead towards the fixes, let's check out the common reasons first behind the black screen of death on Android phone.
What Causes Black Screen Of Death Android?
Unfortunately, numerous factors can cause a black screen of death error on your device. But, you should know some of the most common causes of this error in order to fix this issue.
Thus, I am going to summarize some of the root causes of the Black Death screen error in the below section:
You may not have cleared the app cache
Because of installing some incompatible applications in your device
Not charging the device with the original charger
Your phone LCD connectors of the screen might have loose
You might have charged your phone for a long time
Keeping the phone in excessive heat temperature
Using an old battery in the device
As you have known the common causes, let's proceed to know how to fix black screen on phone.
How To Fix Black Screen Of Death On Android Phone? [Best Methods]
Now, it's time to go through some of the tried & tested techniques that can help you to fix Android black screen of death error.
Just follow the straightforward ways as guided and troubleshoot this error quickly.
Solution 1: Remove SD Card & Battery From The Device
It's quite possible that your micro SD card might cause the black screen of death phone error.
Therefore, if nothing goes in your mind then you can try to resolve this issue by taking out the memory card & battery (if removable) from your Samsung/Android device and waiting for at least 5 to 10 seconds.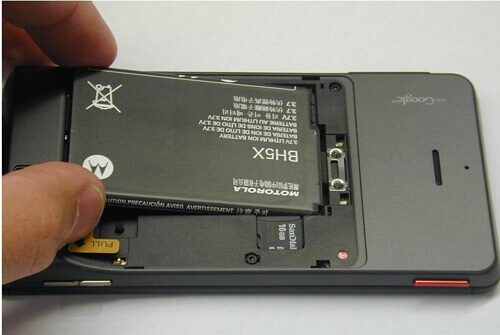 After some time, re-insert them (SD card and battery) from your phone & put the device in charge. Now just restart your device and check if the Android black screen of death problem is fixed.
Solution 2: Disable The Dark Screen Mode
In this method, you need to check whether the dark screen mode of your device is turned on or off.
If you find that it is enabled on your device, you need to disable it quickly.
Here's the process to disable the dark screen mode of the device:
Open Settings -> Accessibility -> Vision -> Dark Screen
Here, you need to disable the Dark Screen Mode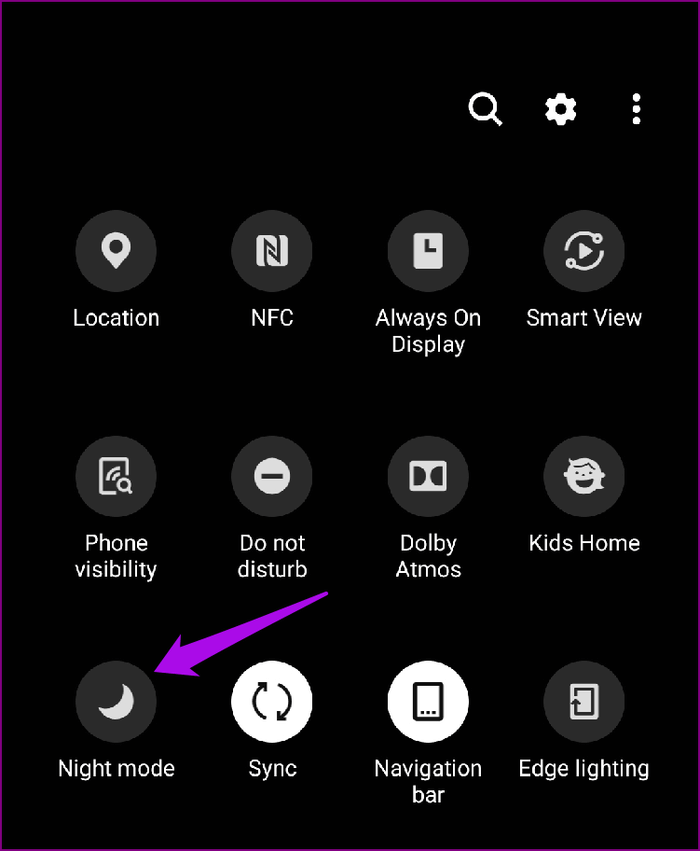 If this method won't help you to fix Android black screen of death, try the next one.
Solution 3: Wipe Out The Cache Partition
Clearing the cache partition of your device is one of the common and effective ways to get rid of the black screen of death on Android phones.
Because continuously using the device creates cache files that will not only affect or slow down your device but also interrupts the system running.
So, you should try to fix this issue by wiping out the cache partition of the device.
Check out the below-guided instruction now:
Turn off your smartphone first by pressing & holding the "Power" key.
After that, press the "Power" & "Volume Down" keys together to enter into a Recovery Mode.
Now choose "Wipe Cache Partition" from a list & simply press the "Power" key in order to confirm the process.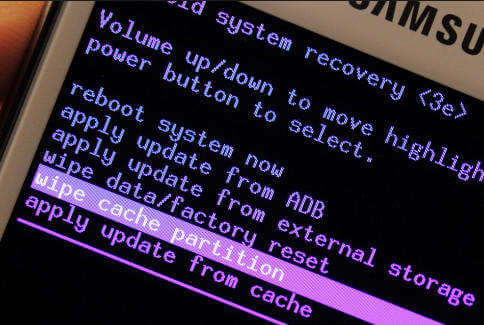 Once the wiping process is over, you have to use a Volume up & down key to choose "Reboot System Now" opt. to reboot the device.
Solution 4: Remove Incompatible Apps
You might have installed unusual or unwanted apps on your device that is infected by viruses or bugs. Installing this kind of suspicious apps can lead to several serious issues just like Android's black screen of death error.
If you will uninstall this problem causing apps from your device, the Android black screen of death phone error can be fixed.
Here's what you have to do:
Firstly, turn off your device & then turn it on again
Once you see the phone's logo during restarting, just press & hold a Volume Down key till the lock screen displays.
Here, you'll get the Safe Mode option at bottom of the left corner of the screen, tap on it.
Now open "Settings" & choose "Application manager",
Find out the incompatible applications, tap on them, and then hit the Uninstall option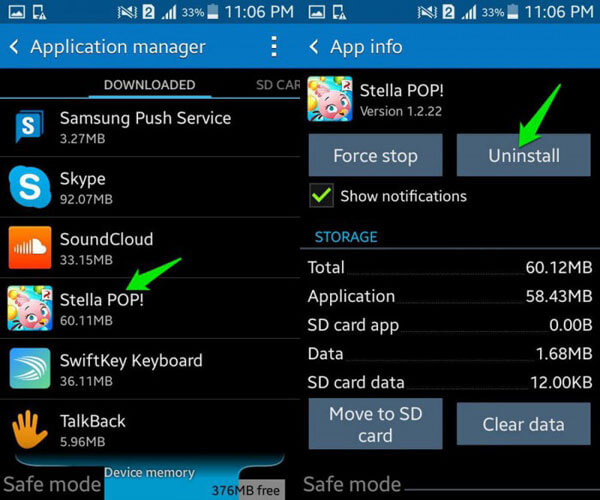 After finishing the uninstallation process, reboot your device & let it begin in a normal mode.
If the black screen error on Android has been caused due to the incompatible apps, then the problem will resolve itself.
Solution 5: Use Best Tool To Fix Android Black Screen Of Death Without Data Loss (Recommended)
If you are still unable to fix Android black screen of death error even after applying the above fixes, then you can use the best Android Repair tool to tackle the situation.
It is an advanced program, which is specially developed to troubleshoot a large number of errors or bugs on Android devices.
The software is not only used to solve black screen of death error but also repairs other issues as well as device stuck in the Download Mode, water-damaged Android, Android stuck in headphone mode, Tinder app not working, Android app keeps crashing & others.
So, quickly download & install this Android Repair Tool and solve how to fix black screen of death error on Android phone with ease.
Check the complete user guide to know how to use the software.
Android Repair- 1 Click Repair Tool For Android
Easily fix any kind of issues or errors on Android by 1 click repair tool. Fixes any Android error without hasslefree:
Ability to fix several Android system issues or errors like Black screen of death, apps keep crashing, stuck in boot loop etc.
Helps to make Android system back to normal without any skills required
Has the highest success rate to fix any types of Android errors

How To Avoid Black Screen Of Death Phone Error? [Useful Tips]
These are some of the helpful tips which can help you to avoid black screen of death error on Android:
Do not charge your phone anymore when your battery is fully charged.
Take the backup of your data from time to time.
Make use of good antivirus software in order to protect the device from a virus attack.
Immediately replace the battery of your phone if it's not working properly.
Always update your Android phone with safe firmware.
Do not install any suspicious third-party applications on your device.
FAQ:
What causes the black screen of death Android?
There can be several reasons for Android black screen like incompatible apps, malware attack, not having charged on phone, update issues, overheating, and others. Once all these are resolved, the issue will get fixed.
Is the black screen of death fixable?
The black screen issue on Android phone can be fixed without facing much trouble. There are several manuals as well as automatic fixes. If the issue is not resolved easily then it's a hardware or software issue and you need to contact its service center.
Final Thoughts
In this post, I have discussed 5 different tricks on how to fix black screen of death on Android/Samsung phone.
So, you must try all the solutions provided in this blog until your problem is resolved. All the methods are very easy and effective hence one of them will surely help you.
Additionally, you'll get one of the advanced tools to fix Android black screen of death error that is – Android Repair tool. This software can troubleshoot the Black Death screen in a single click and fix this issue in a hassle-free manner.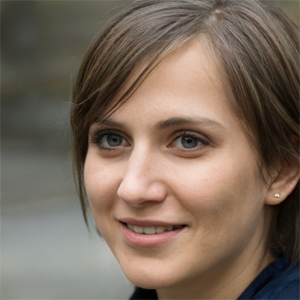 Kim Keogh is a technical and creative blogger and an SEO Expert. She loves to write blogs and troubleshoot several issues or errors on Android and iPhone. She loves to help others by giving better solutions to deal with data recovery problems and other issues.