Did you notice some unwanted things happening on your phone without your consent?
Or you have experienced your phone touch screen pressing itself?
If yes then it might trouble you because the same thing has happened to lots of users. According to them, their phone was accessed on its own and you can call it "Ghost Touch".
So this article will help you to fix ghost touch problem on Android.
What Is Ghost Touch?
"Ghost Touch" is one of the deadly and irritating problems that occur on screen. This kind of issue occurs more when the screen is broken. In this situation, it feels like someone is pressing the touchscreen.
Some random touch occurs in the phone without user concern. However, there is nothing to worry about because this type of error can be resolved.
What Causes Ghost Touch On Android?
Generally, the ghost touch problem is not a software issue but it can occur due to several other reasons. Some of them are mentioned below:
Bad charger– When your phone starts to click on its own while putting it in your charger then it may be the culprit. You should check your charger as it may not be compatible.
Poor screen protector– You may see your phone touch screen pressing itself due to a faulty screen protector. Sometimes, the screen guard is not attached properly or maybe some dust or dirt remains.
Overheating or cold weather– Your phone has to face temperature change and this is also the reason for the ghost touch issue. When the phone overheats or faces extremely cold weather then it affects the phone screen.
Software update failure– There can be software issues as well that can lead to ghost touch error on Android.
How To Fix Ghost Touch Problem On Android – Best Ways
Well, after knowing about ghost touch and its causes, now let us go through how to fix the ghost touch problem on Android device.
So let's go ahead.
Fix 1: Restart Your Android Phone
The first solution that can easily help you to get rid of ghost touch on Android is by restarting the device. It has the power to fix any kind of glitches or bugs that lead to such errors.
This is an easy way to tackle the issue without any problem. But if restarting of the phone does not help you then move to the next solution.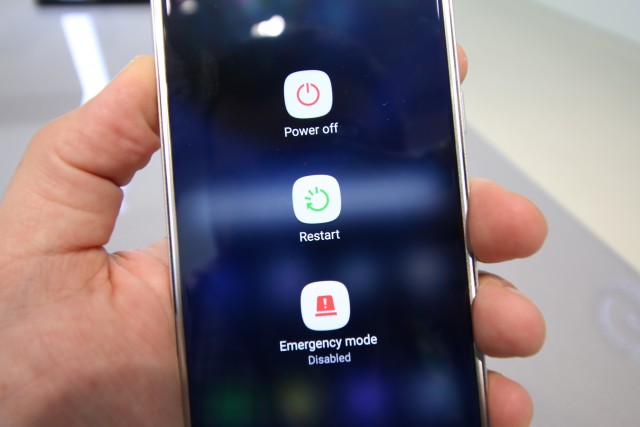 Fix 2: Use A High-Quality Charger
As I have told earlier that faulty charger is one of the reasons for such issue so you should check it once. Maybe the charger is not compatible or is damaged, therefore you should use another charger.
Check your phone by using a high-quality charger to get rid of the issue. Or even you can use a popular brand's charger.
Fix 3: Replace The Phone Screen
The phone screen is yet another reason to come across ghost touch problems on Android phones. So, it's time to change the screen as it may have gone weak, or have other issues.
Therefore, you should opt for a service center to change or fix the screen to resolve phone touch screen pressing itself.
Fix 4: Scan Your Device
Most of the time, your device is affected by malware or harmful virus and resulting in ghost touch errors. So you should do a simple solution and that is by scanning your device once.
There are several malware scanning apps available in Google Play Store to check for harmful viruses or apps. Also, you can go to Settings > Storage > choose a Cleanup option and remove junk files, unwanted app data, and duplicate files.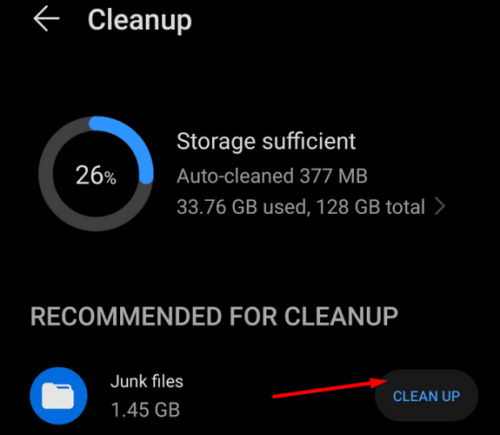 Fix 5: Remove Screen Protector And Phone Cover
It's a common thing to every phone user to use a screen protector and phone cover to protect them from any kind of dust or damage. But at the same time, these both can cause ghost touch on Android errors.
Some kind of moisture or dust enters into the phone case or in the screen protector and results in the problem.
Therefore, you should once remove the screen protector and phone cover both to fix the issue.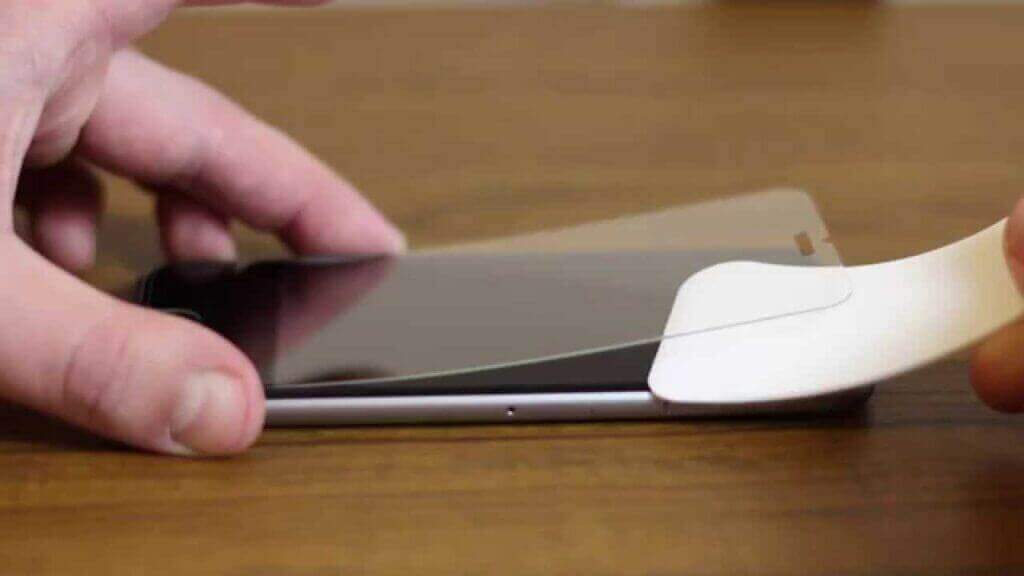 Fix 6: Update Android OS
Another thing that users should check is whether the device is running on the latest OS or not. It may happen sometimes and you should simply go to Settings > choose System > click on System Update. If any update is available then do it immediately.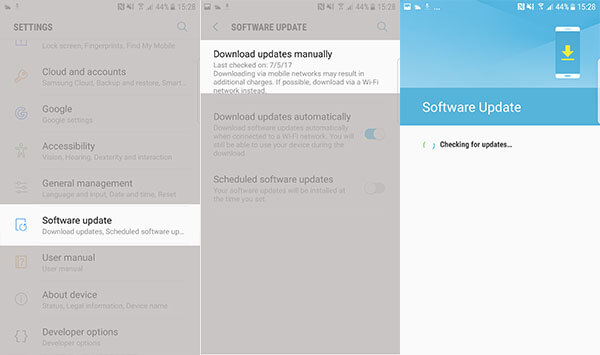 After that, open Google Play Store and click on the profile picture. From there, choose Manage apps and devices and update all pending updates.
Fix 7: Stop Using Your Phone Continuously
Continuously using the device generally heats up and this somewhere leads to a ghost touch problem on Android. Therefore, you should keep your phone at a normal temperature and also stop using it regularly.
If any call takes long or watching something for a long time then it's better to take a break. This will cool down your device and also don't keep your phone in sunlight.
Fix 8: Disable Gestures
If you have enabled Gestures on your phone then switch it off. This is yet another reason for the phone touch screen pressing itself. Just open Settings > System > click on Gestures and disable all options.
Now, it depends on your phone model to access gestures. Remember to turn off all of them including three-finger screenshots, double-tap to wake, misoperation prevention, etc. After all these, once reboot your device and see if the error is resolved.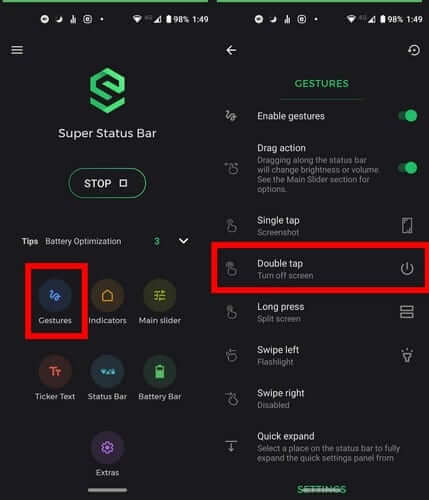 Fix 9: Clean The Phone Screen
Lots of dirt or water droplets enter into the phone screen and create a chance of a ghost touch issue. These small particles stop the phone from charging properly and pop up an error.
So what you need to do is properly clean your entire device to get rid of the issue.
Fix 10: Perform A Factory Reset
It may be some harmful software is inside that is creating issues, so in that situation, you have to factory reset. Doing this will restore your phone to factory settings. No matter for whatever reasons the issue was occurring, a factory reset can solve it.
Note– Before resetting your phone, kindly back up all your important stuff from the device to avoid data loss scenarios.
Here are the steps to follow:
First, open Settings on the phone
Then, move to Backup & Reset > Factory data reset > Reset phone > Erase everything.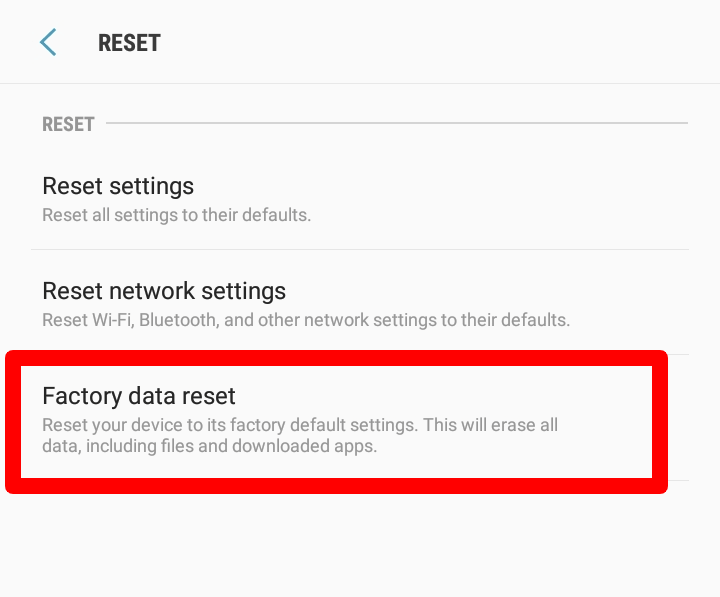 Fix 11: Take Your Phone To Service Centre
At last, when nothing works for you then it's time to take the device to the service center. Here, they will check the entire device for the culprit whether it's a hardware issue or due to a cracked screen.
Professionals can handle it in a better way and hopefully, you will now be able to get rid of ghost touch errors on Android.
FAQ:
Why do ghost touches happen?
Generally, ghost touch happens by the device itself. Sometimes, a wrong fit on the motherboard or some faulty component can lead to ghost touch issue on your mobile.
Why is my phone clicking on things by itself?
Your phone is pressing by itself because of losing components, damaged or defective screen, bad grounding or sometimes a bad grounding. In addition, a screen protector is yet another cause for the issue.
Can water damage cause the ghost touch problem on your phone?
Yes, water droplets sometimes enters into the device screen and creates a problem. Some hardware-related issue occurs when water enters it and the user can face a ghost touch error. If its so then you should replace the screen to avoid such issue.
Conclusion
So this article completely introduces the best 11 ways to fix ghost touch issue on Android. Generally, users experience such a kind of ghost touch problem on their devices at some instant. The reasons can be several but nothing to panic about as the issue can be resolved.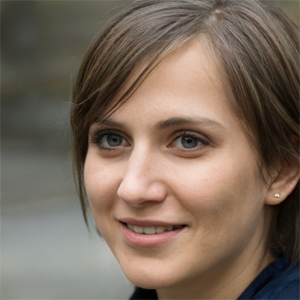 Kim Keogh is a technical and creative blogger and an SEO Expert. She loves to write blogs and troubleshoot several issues or errors on Android and iPhone. She loves to help others by giving better solutions to deal with data recovery problems and other issues.