Did you get stuck on the "Chrome keeps stopping" error on Android phone and willing to get rid of it ASAP? Don't panic and go through this blog as all your questions will be answered.
We all use Google Chrome browsers on phones as well as on PCs. It has excellent features and it's already installed on all Android phones by default.
On the other hand, many users have reported recently that they were coming across Google Chrome keeps stopping or crashing errors. If you are also getting troubled with this then don't panic, hopefully, there are fixes for it.
In this article, we will discover some easy and effective ways to fix Chrome keeps stopping/crashing/freezing issue on Android phones.


How To Fix Google Chrome Keeps Stopping On Android
After coming across the error, it becomes important to find out the fixes for the issue. However, you don't have to go anywhere as I have gathered the best methods to fix the error easily.
So let's read further.
Fix 1: Restart Your Android Device
Restarting your device is the first step you must take to resolve any app crashing error. When you reboot your Android device it will remove all the glitches or bugs from your phone and your app crashing issue will be solved.
To reboot your Android device, long press the Power button and tap on the Restart option. After restarting, relaunch Google Chrome and check whether the error is fixed or not.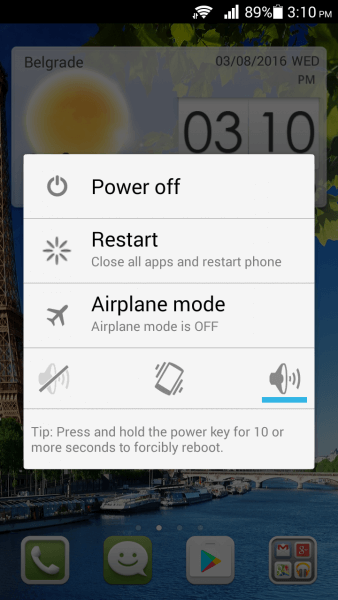 Fix 2: Restart Google Chrome
Your next fix is to restart the Chrome app if rebooting the device fails to resolve your issue. If there is any malfunction with the app, it will be resolved by restarting the Chrome app.
Steps to restart the Chrome app:
Open Settings followed by Apps & notifications and tap on See all apps
Then, locate and choose Chrome in the app list
Next, tap on Force Stop to shut down the app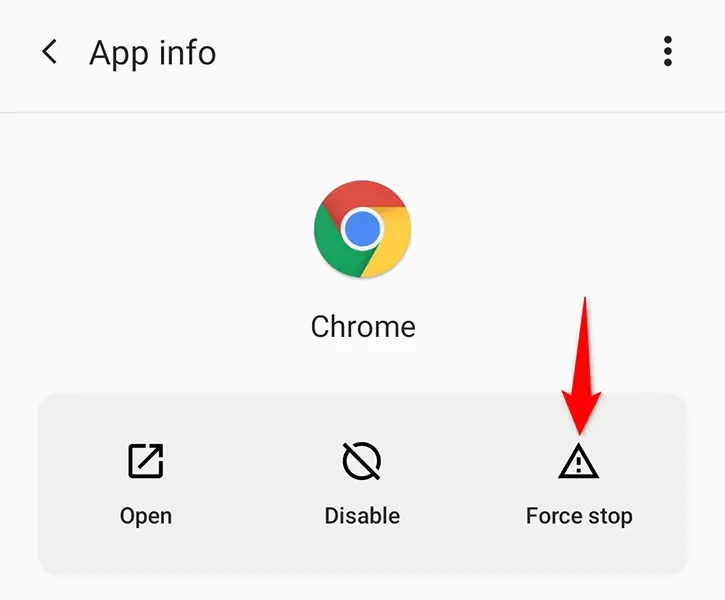 After that, return to the home screen and launch Google Chrome again
Fix 3: Close Unused Tabs
Most of the user has a habit of running multiple apps at the same time. This habit may help in your daily work, but it might create a lot of issues including a slowdown of your device performance.
When you run multiple apps in the background, it takes a lot of RAM off your device. In such a situation, you need to close all the irrelevant tabs, shut down the app, and relaunch it.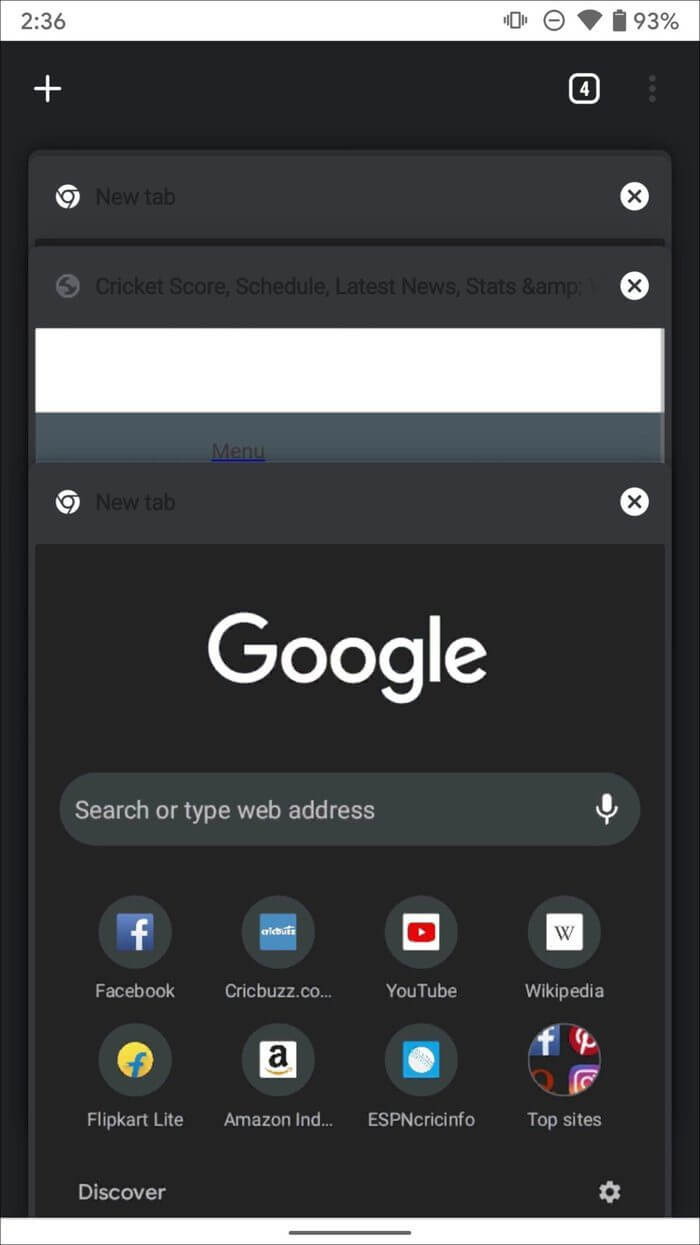 Fix 4: Delete Google Chrome Browsing Data
Another way to fix Chrome keeps stopping is to clear out caches and data of the Chrome app. Sometimes corruption of caches and data creates a lot of issues on your device. All you need to do is to clear those caches to fix it.
Follow the below steps:
Launch Google Chrome on your Android device and click on the three at the top right of the page
Next, click on History and choose Clear browsing data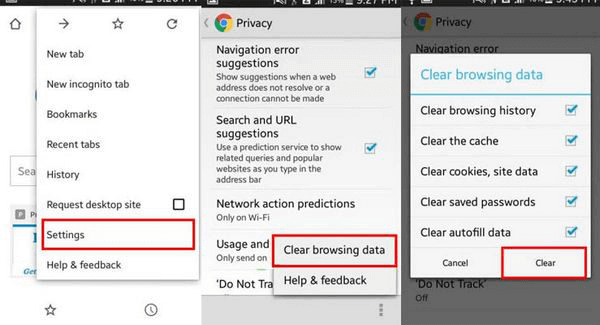 After that, choose the types that you need to clean and click on Clear
Fix 5: Ensure You Have A Good Internet Connection
Google Chrome needs a good internet connection to run. When your internet connection is not stable, you might encounter this kind of error. The best method to get rid of this problem is to change your mode of internet.
That means when you are using cellular data, try to switch to Wi-Fi or vice versa or you can contact your network provider to assist you.
Fix 6: Update Google Chrome
App crashing issues can also occur when you have not updated the app for a long time. Sometimes an outdated app may not perform well and it stops responding.
So, all you need to do is update the Chrome app in the following way:
Open the Google Play Store on your device
Look for Google Chrome and tap on that
Now, press Update button to start the process
To enable auto-update, click on the three-dot option at the top right corner of the page and select Enable auto-update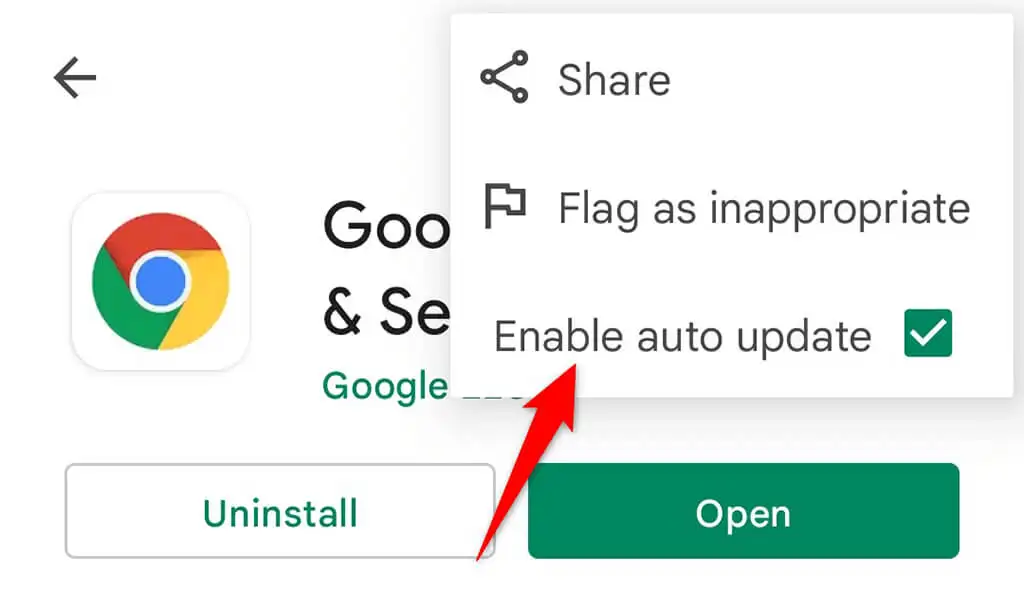 Fix 7: Uninstall Updates For Chrome
We basically update the apps to enhance performance and also fix several bugs. But updates can also become the reason for app crashing issues. So, in that case, you need to uninstall updates of the app to avoid crashing issues.
Here is how you can do that:
Launch Settings on your device
Navigate to Apps & notifications and tap on the Chrome app
Next, choose three dots menu on the Chrome page
Now, select the Uninstall Updates option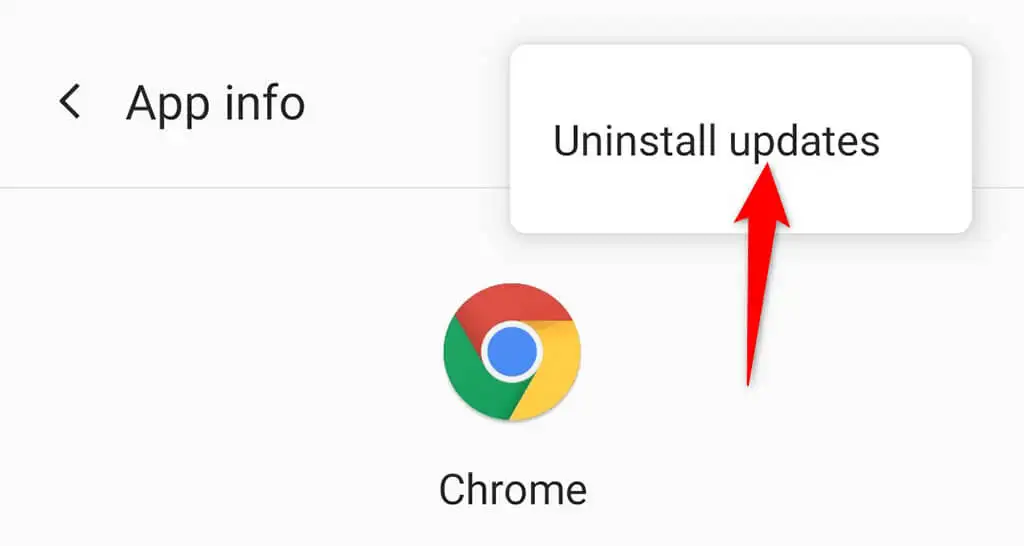 Choose OK to confirm
After you uninstall updates, reopen Chrome I hope your issue has been resolved now
Fix 8: Update Android OS
If updating Chrome does not help you to fix the issue, then you can update your Android OS. Sometimes an outdated OS can also be the reason for Chrome keeps freezing Android.
Follow the below steps:
First, open the Settings menu on your device
Now, click on System
Choose the System Updates option
Wait for a while to check if there is any update for your device
If updates are available, click on Download and Install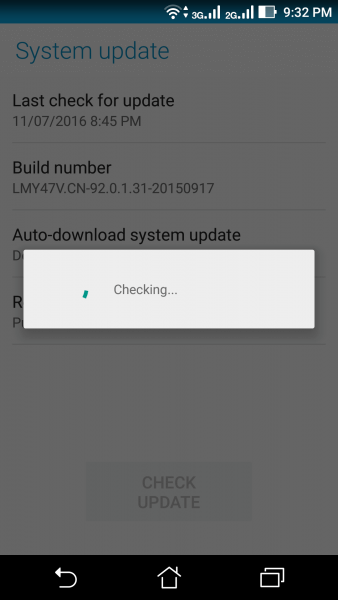 Fix 9: Uninstall And Reinstall Chrome App
If the current version of the Chrome app is corrupted then it can also lead to the app-stopping issue. To fix this, you need to uninstall the present version and then install a new version of the Chrome app from the Play Store.
Here is what you have to do:
Open Settings on your phone
Choose App menu
Click on Google Chrome and click on Uninstall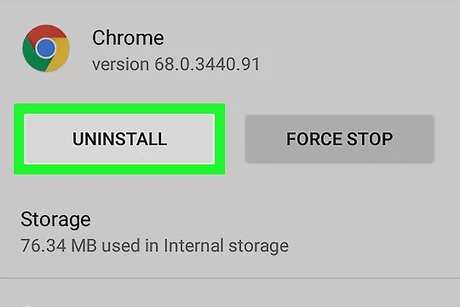 Next, launch the Google Play Store and find the Google Chrome app
Now, click on the Install option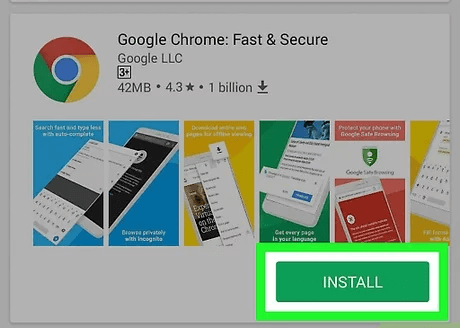 Once done, launch the app and check if Chrome keeps stopping Android error is fixed.
Fix 10: Try Another Browser
If there is any problem with the installation page then, try opening the installation page in another browser. If the page opens in another browser, then wait for a while and check your network connection, or wait until the page is back online.
You can also connect with the website developer to let them know your issue or contact Chrome help community forums.
Fix 11: Update Android System WebView
Android System WebView is an essential app for all Android devices to run other apps. If there is any fault in this app, an update can fix it. [Read Android System Webview not updating error]
Update the app by following the below steps:
First, Open the Google Play Store
Click, on the Profile icon option
Next, click on Manage Apps and tap on Updates available option
Now, search for Android System WebView from the list and click on Update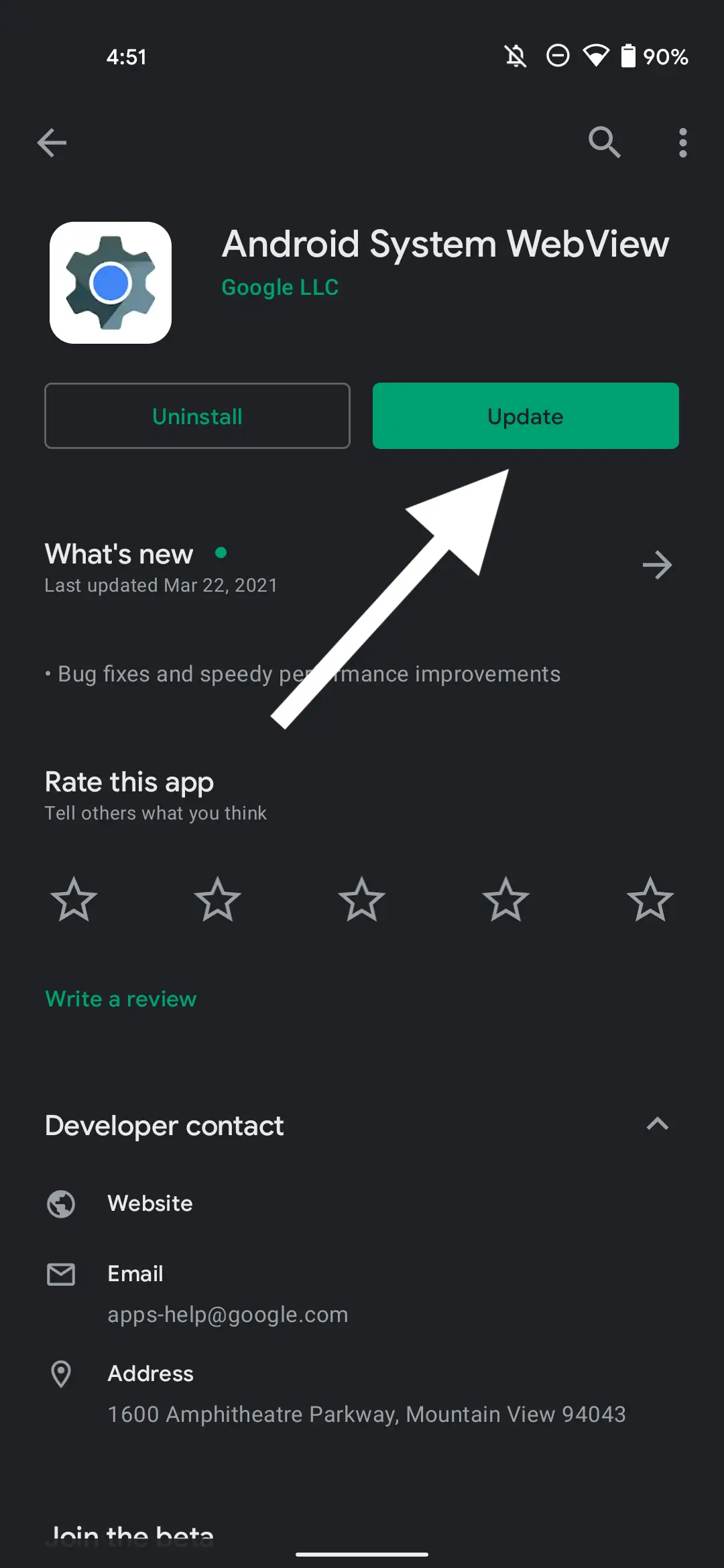 Finally, reboot your phone
Fix 12: Do Factory Reset
When you still face Chrome not responding on Android device even after following all the solutions provided above, then it's time to reset your device to factory settings.
Remember, a factory reset will erase everything from your phone, so it is suggested to take a backup of your important data to avoid data loss.
Follow the below steps:
First, open Settings and choose Factory Data Reset
Now, after analysis of your data choose the Reset option to confirm and your device will start the process.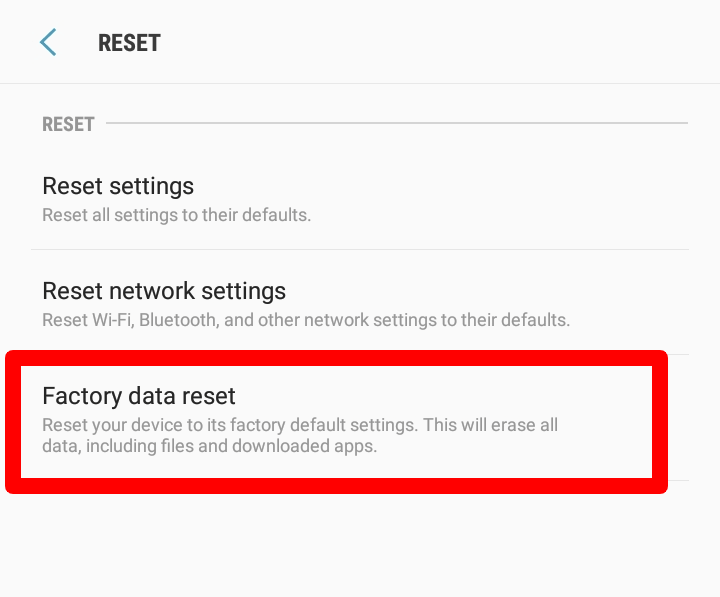 That's it.
Fix 13: Ultimate Solution To Fix Google Chrome Keeps Stopping On Android
When you want to fix the issue ASAP then you should go for the Android Repair tool. It is an ultimate solution to fix Google Chrome keeps stopping or freezing issue on Android devices. This is highly suggested by professionals as it fixes all types of errors without data loss.
It is 100% secure and works effectively without any technical knowledge. It's a complete solution that fixes other issues like WhatsApp has stopped, Samsung frozen screen, apps keep crashing, camera has stopped, black screen of death, Signal app keeps crashing, etc.
Hence, this amazing tool is recommended by many experts and users because it has successfully fixed the error without further problems. Go through the complete user guide and follow the step-by-step steps by step to troubleshoot the issue.
Android Repair- 1 Click Repair Tool For Android
Easily fix any kind of issues or errors on Android by 1 click repair tool. Fixes any Android error without hasslefree:
Ability to fix several Android system issues or errors like Black screen of death, apps keep crashing, stuck in boot loop etc.
Helps to make Android system back to normal without any skills required
Has the highest success rate to fix any types of Android errors

Conclusion
Finally, I hope whatever solutions discussed above has helped you fix Google Chrome keeps stopping error on Android. However, the error can occur to any user and prevent them from accessing the app. But at the same time, there are various methods to tackle it. Also, you can go for the Android Repair tool if you want the error to get fixed instantly.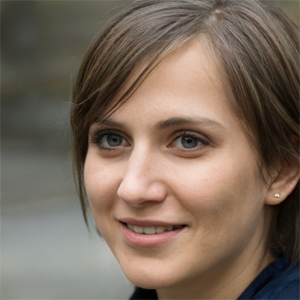 Kim Keogh is a technical and creative blogger and an SEO Expert. She loves to write blogs and troubleshoot several issues or errors on Android and iPhone. She loves to help others by giving better solutions to deal with data recovery problems and other issues.