Have you come across an Android System WebView not updating error? Willing to know why is my Android system webview not updating. If your answer is Yes then don't worry, you are not alone.
You are aware that Android System WebView is one of the best apps that plays an important role in running Google Play Services applications smoothly. However, according to lots of users, they were not able to update Google Chrome and Android System WebView.
Other apps were updating except these two. So, this kind of situation is very much irritating especially when users don't know how to overcome it.
If you are also dealing with the same situation and looking for fixes the no need to panic. In this tutorial, I will guide you on some best ways to fix Android System WebView not updating errors.
How To Fix Android System Webview Can't Update
Now, it's time to check the possible solutions to solve Android System WebView can't update error.
Method 1: Reboot Your Device
When the Android System WebView is not updating, you must try rebooting your device. A simple reboot will help to fix your system WebView can't update issues easily. Just press the Power button of your device and tap on the Restart option.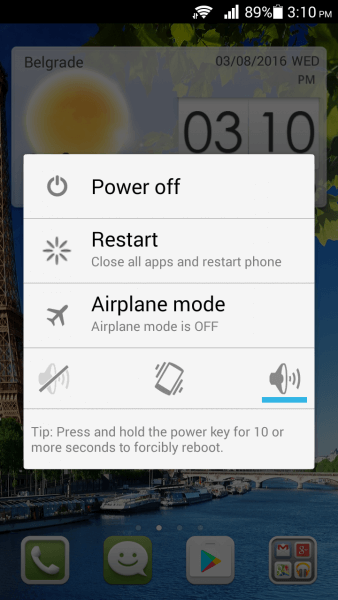 If restarting your phone does not resolve the issue then move to the next method.
Method 2: Force Close WebView App
When rebooting can't fix the issue, then you can try to force close the WebView app.
Steps to force stop WebView:
Go to Settings
Then click on Apps
Next, click on the Filter option and choose Also ensure that you have turned on Show system apps
Now, look for the Android system WebView app and press on it
Finally, click on Force Stop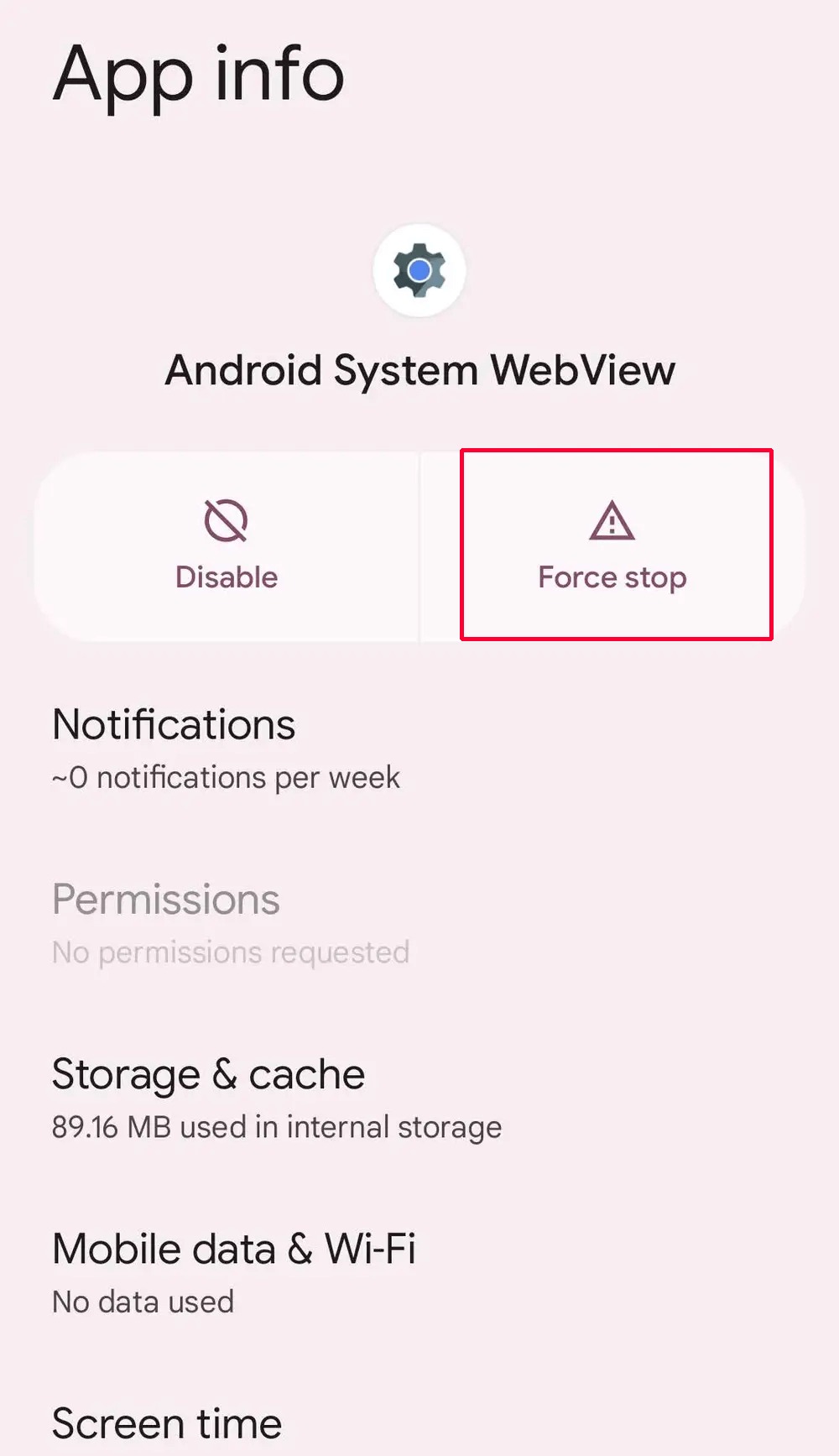 Method 3: Clear Android System WebView Cache & Data
Corrupted cache files can also be the reason for WebView not updating. It can be fixed by removing those cache files from your phone.
Here are the given steps:
First, open Settings
Tap on Apps and choose Android system WebView
Go to Storage and tap on Clear data
Now, move to cache and choose Clear data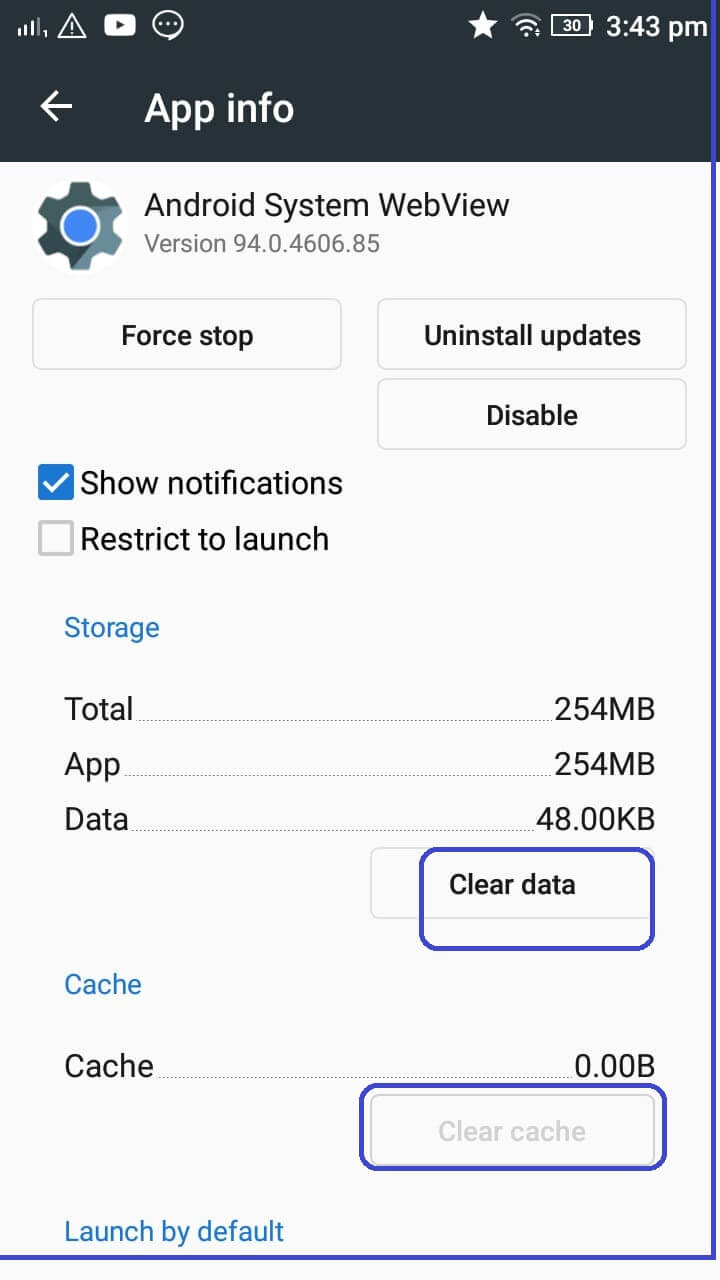 If clearing cache files does not help you to get rid of the issue then follow the next step.
Method 4: Check the internet connection
System WebView update may fail due to poor internet connection. To check your network speed, you can do a speed test. Speed testing will show you your network condition as well as download and upload speed.
Method 5: Turn Off All Apps Auto Update
Turning off Auto-Update for all apps can help you to fix Android system WebView not updating error. This method has helped lots of users to get rid of the issue.
To turn off Auto update:
First, go to the Google Play Store.
Then, tap on vertical three lines to open the menu
After that, tap on My Apps & games
Thereafter, tap on the Stop option
Now, adjust Android System WebView to fix the error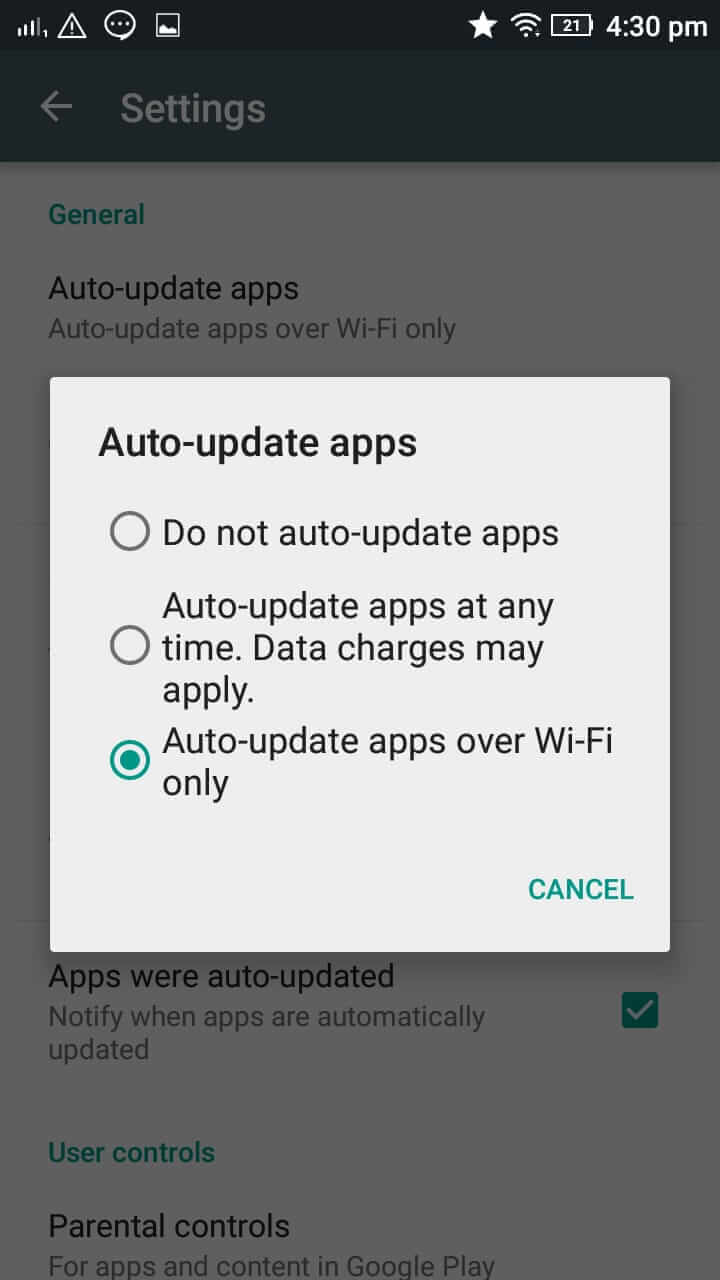 Method 6: Uninstall Android WebView
As Android WebView is a default app it cannot be removed from your device. However, you can uninstall its updates. This method can also fix your problem.
It can be done by visiting the Play Store and looking for Android System WebView. Next, press on that and click on the Uninstall button. Wait for a while to uninstall and then click on Update.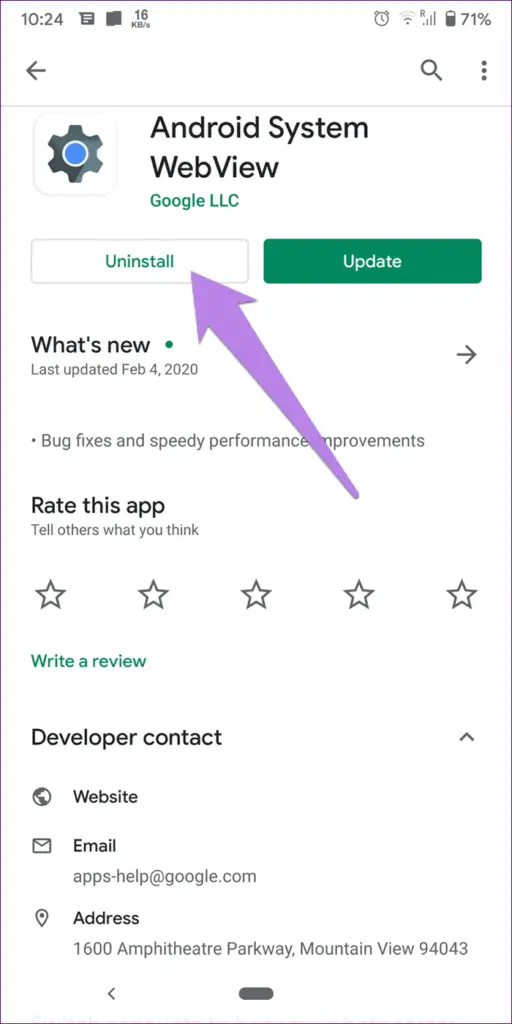 Method 7: Clear Google Play Store Cache And Data
Another method to overcome Android System WebView Won't Update is by deleting the cache and data of the Google Play Store. Unlike System WebView, you need to first clear its caches. Then go to Play Store and check the issue.
Follow the steps:
First, navigate to Settings and move to Apps & notifications.
Next, under All Apps, click on Google Play Store
Then, click on Storage. After that, click on Clear cache or Clear data option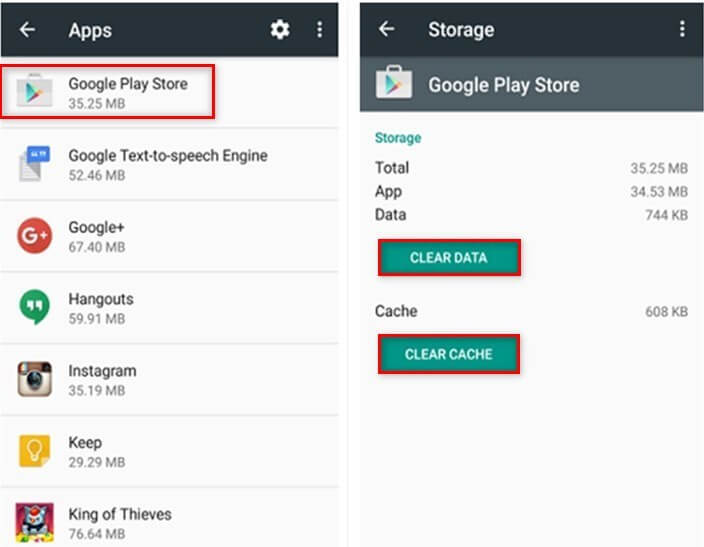 Now, restart your device and update WebView again
Method 8: Uninstall Updates For Google Play
Another method you can try is to delete updates of the Google Play Store if WebView is not updating. As Play Store is a system app you cannot remove it but you can uninstall its update to fix WebView not updating.
Here are the steps to follow:
First, move to Settings followed by Apps & notifications
Click on Google Play Store
Click on the three-dot signs at the top and choose the Uninstall updates option.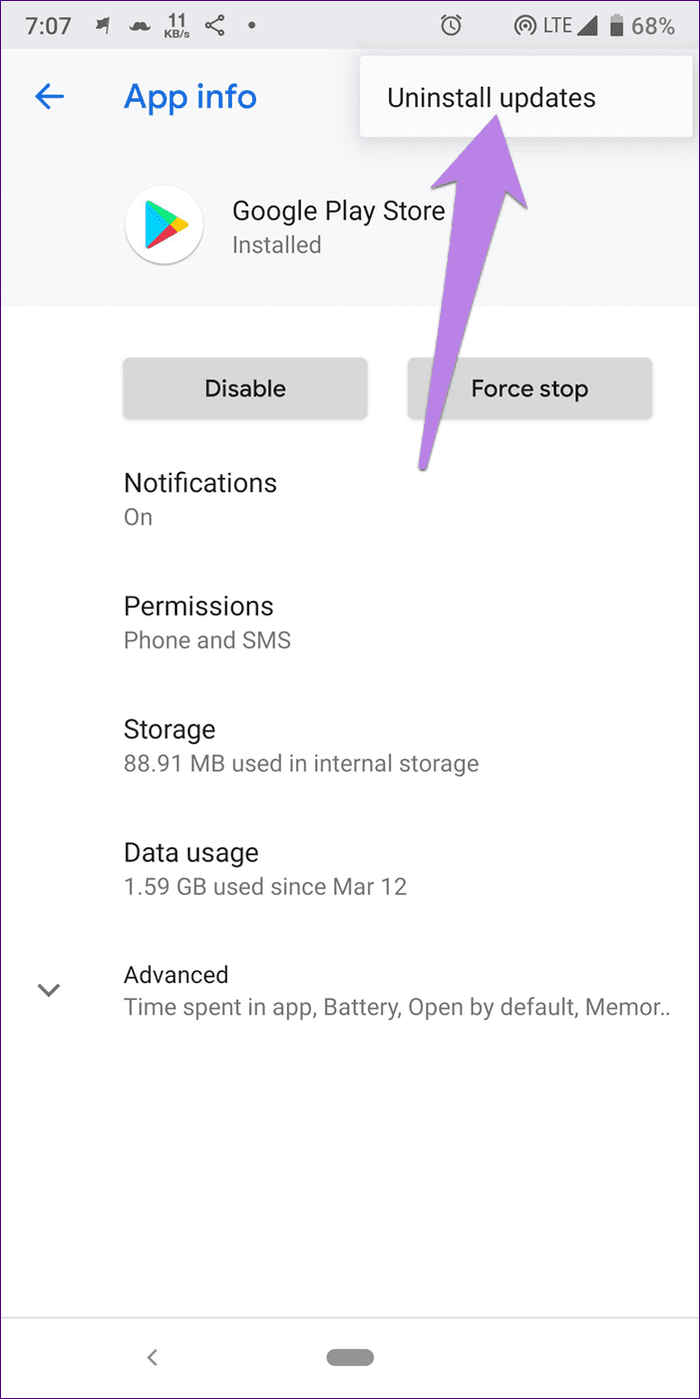 After that, restart your device. After waiting a few minutes, the Google Play Store will update itself automatically. Next, try to update WebView.
Method 9: Enter Into Safe Mode
You can use safe mode to prevent app crashing or not loading issues. If Android System WebView is not updating, you can try safe mode in the following way:
Long press the Power key of your device > long press Volume down key until screen Animation ends > then your device will enter into safe mode. Safe Mode will appear at the bottom of your device screen.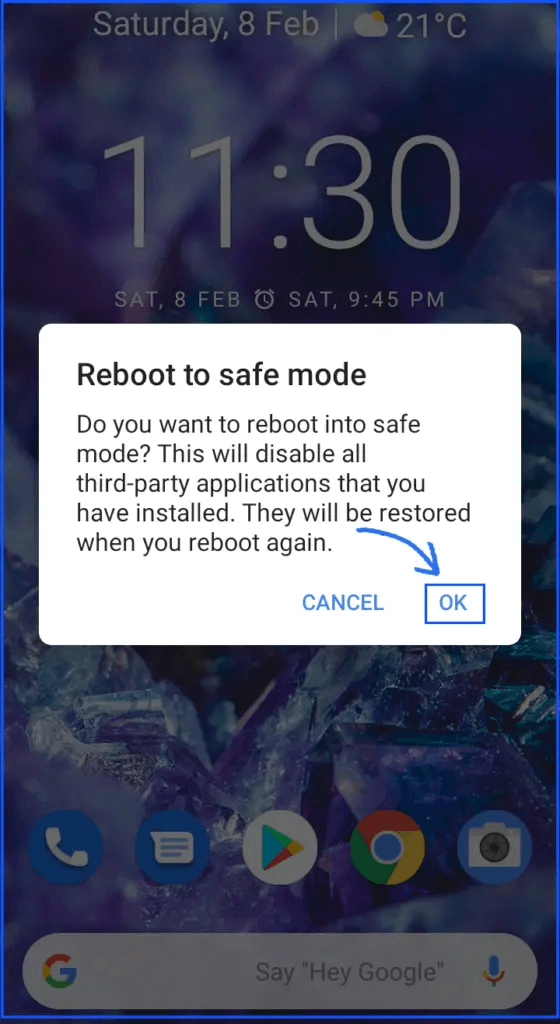 Hope this method will resolve WebView's not updating error.
Method 10: Update Other Apps
If the Android System WebView update still continues, then you must cancel all incomplete updates.
First, tap on the Stop sign at the top or the X sign which is in front of the apps
When all updates are stopped, click on the Update option separately and exclude the WebView app
After updating the app, restart your device
Now, update the WebView app
Method 11: Download Updates Manually
If the above methods are unable to fix the WebView update error, then you need to update the Android System WebView by yourself.
Check out the complete steps:
Look for Android System WebView on APKmirror.com
Then, move down to see the different versions in the list
Click on the download sign
Move down to choose Version depending on your Android device
Then, click on the Download option to download the APK file
Lastly, tap on Install of the APK file
Conclusion
Android System Webview won't update error occurs to many users but unfortunately, lots of users are unaware of what to do and how to fix it. So, in this article, I have discussed the best ways to fix Android System Webview not updating problem. I hope, following them will help to get rid of the error easily.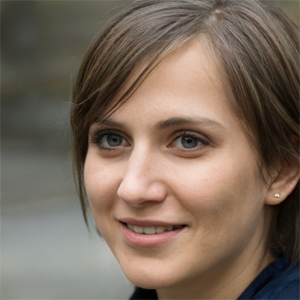 Kim Keogh is a technical and creative blogger and an SEO Expert. She loves to write blogs and troubleshoot several issues or errors on Android and iPhone. She loves to help others by giving better solutions to deal with data recovery problems and other issues.