Have you dropped your iPhone into the water and are unable to access it? Did you see iPhone screen horizontal lines after water damage? If this kind of issue is irritating, then don't fret as this article is for you.
Many users' phone gets dropped on water accidentally or gets wet. But the worst part is when the screen shows horizontal lines. This is a very bad experience from the user's end as they never thought of coming across such an unexpected error.
Many users have reported rainbow-colored vertical lines problems, especially the older models of iPhone. Therefore, if you are also dealing with such a situation and are willing to get rid of it then this is the perfect place.
Here, we will guide you through the reasons behind horizontal lines and how to fix horizontal lines on iPhone after water damage.
Practical scenario:
So on Sunday I dropped my iPhone 3G in the toilet.

I grabbed it out, lovingly towel dried it, sat it in rice, hairdryered it then put it in a vaccum desiccator for 12 hours!

Today I turned it on for the first time at IT WORKS! It still has all my data, surfs the net and can make phonecalls but…

The screen looks grey. I can still see all the icons (in colour) but everything looks grey. On closer examination it seems like there are loads on tiny white horizontal lines on the scree.

Has anyone else had this happen to them? Is this fixable with a new screen?

Any advice would be greatly appreciated.

Source: https://forums.macrumors.com/threads/iphone-tiny-white-horizontal-lines-on-screen-following-water-damage.1221112/
Reasons For Horizontal/ Vertical Lines On iPhone Screen
As we know the common reason for horizontal lines is water damage. But there are other causes as well that can lead to such issues.
Here are a few of them:
Hardware issues: That means the default is inside your device, maybe some connectors are loose. You need a professional technician to fix this problem.
Software issues: If your device has some software issues, they can be fixed by updating your software.
Liquid damage: If you have dropped your phone into water or water goes inside by accident, your device screen may get damaged.
Overheating issues: Screen problems can also occur when you are using your device for a long time or under sunlight.
How To Know If Your iPhone Is Water Damage? 
When your device gets water inside it then it may work or may not. However, there are a few things that can help you to identify water damage on your iPhone.
Check if there is any water present behind the iPhone screen
You should also check the Discolored Liquid Damage Indicator. It's present in a headphone jack, SIM tray slot, etc. When your device gets water inside it then LDI will change its color to red or maroon
Even you can check any kind of corrosion marks in the ports
How To Fix Horizontal Lines On iPhone After Water Damage- Best Ways
After knowing the reasons, it's time to apply all the possible methods to fix lines on iPhone screen after water damage.
So let's read further.
Fix 1: Force Restart Your iPhone
If horizontal lines are displayed on your iPhone screen, the best method to overcome the issue is to force restart your iPhone. A force restart is a process to fix any kind of software glitches that may occur including horizontal lines on your device screen.
Here is how to force-start your iDevice:
For iPhone 8 or Later: press and release the Volume Up key rapidly, next press and release the Volume down key. After that, long press the wake or sleep key and wait until the Apple logo is displayed on your device screen.
For iPhone 7 & 7 Plus: long press the wake or sleep key and after waiting for a few seconds press the Volume down key. Release them when the Apple logo is displayed on your screen.
For iPhone 6 Plus & Earlier Models: long press the home and side keys for at least 10 seconds and release them after appearing of Apple logo.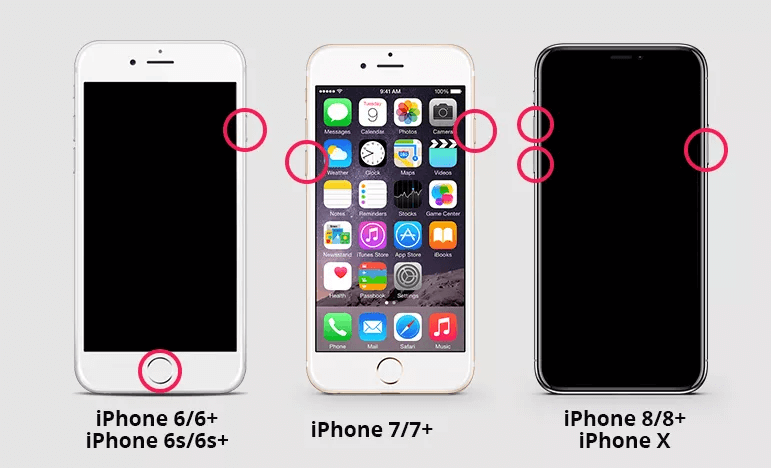 Fix 2: Go For Battery Cycle Process
The next solution if white lines appear on the screen is by cycling your device's battery. Battery cycling is a  process in which you have to charge your battery to 100% and leave it to drain to 0%. Generally, these lines are displayed as soon as you charge your device fully.
Fix 3: Use Safe Mode
If your device is showing horizontal lines due to defective software or app, it can be recognized by entering into safe mode.
To go into safe mode, follow these steps:
First, long press the Power key of your device
After the Power off sign occurs, press and hold it for a few seconds
Now, tap on the Reboot to Safe Mode option, then choose OK and your device will reboot itself
 Now, check if still the issue persists then move to the next step.
Fix 4: Put Your iPhone In DFU Mode
Still, you are getting horizontal lines on iPhone screen? If yes then you can put your device in DFU Mode. By enabling DFU Mode, you can recover your iPhone data even though white lines appeared on your screen or it is not booting.
Steps to put your device in DFU mode:
First, connect your iPhone 13 to your computer and then launch iTunes
After that follow the below instructions:
   For iPhone 8 and later:
Press Volume Up and Volume Down keys at the same time and then long press the Side key unless iPhone gets black
After the screen turns black, long press the volume down key but don't leave the side key
After a few seconds, release the side key but keep on hold the volume down key unless your device shows iTunes or Finder

   For iPhone 6 and 7 series:
First, long press the Sleep button and Home button (for iPhone 6 & below) / press the volume down key (for iPhone 7) at the same time for a few seconds
After a few seconds, leave the Sleep button but keep on hold the Home button (for iPhone 6s & below) / volume down key (for iPhone 7) unless your device display iTunes/ Finder.

Lastly, tap OK on the iTunes window when it popup and after that, tap on the Restore option to recover your iPhone in DFU Mode.
Fix 5: Reset All Settings
This method is very crucial to resolving any software issue. By resetting all settings on your iPhone, you can overcome horizontal lines errors on your iPhone.
Follow the steps to fix the issue:
First, open Settings on iPhone
Next, move to General
Then, scroll and click on the Reset option
After that, click on Reset All Settings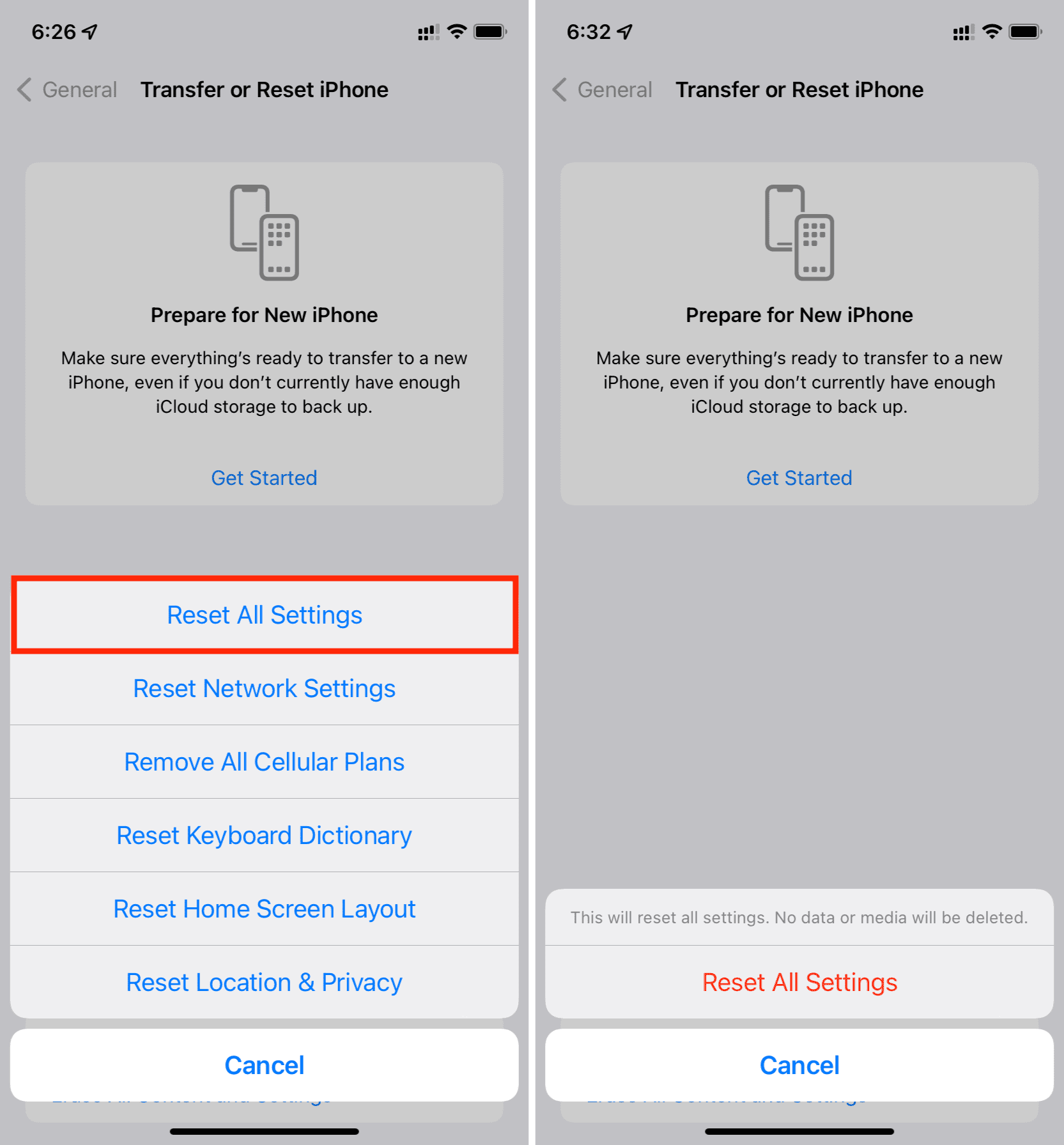 Thereafter, confirm the process and click on Reset All Settings option again
Now, your iPhone will reboot, check whether the horizontal lines on iPhone screen is fixed or not
Fix 6: Push iPhone Screen Down Slightly
Your iPhone screen lines can also appear due to some fault in the hardware. Your iPhone display is connected to a logic board by a connector. When you drop the device, it can lose the connector, and due to this, you may encounter this issue.
Press down the screen slightly and you can reconnect your firm again and your issue can be resolved. But remember, don't apply high pressure otherwise it can harm your device.
Fix 7: Update Your Software
Another best way to fix horizontal lines on iPhone after water damage is by updating your iPhone OS to the latest version. Sometimes, due to bugs and glitches, your device may create some errors but a simple update can fix it.
So, try to update your iPhone software to the latest version immediately and see if your issue has been resolved.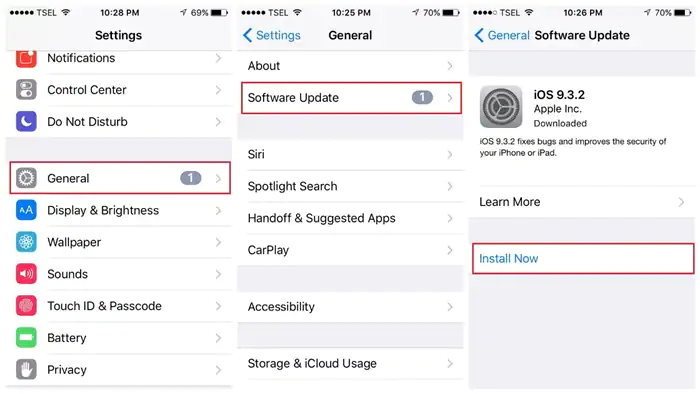 Fix 8: Factory Reset Your iPhone
Sometimes, a factory reset is required to fix software glitches. This is the last option when all other method fails to overcome the issue. But remember, it will clear all your data from your device, so it is suggested to take proper backup of your files to avoid data loss.
Steps to factory reset your iPhone:
First, go to Settings on your iPhone
Now, choose the General option
Next, move to Reset and select Erase all Content and Settings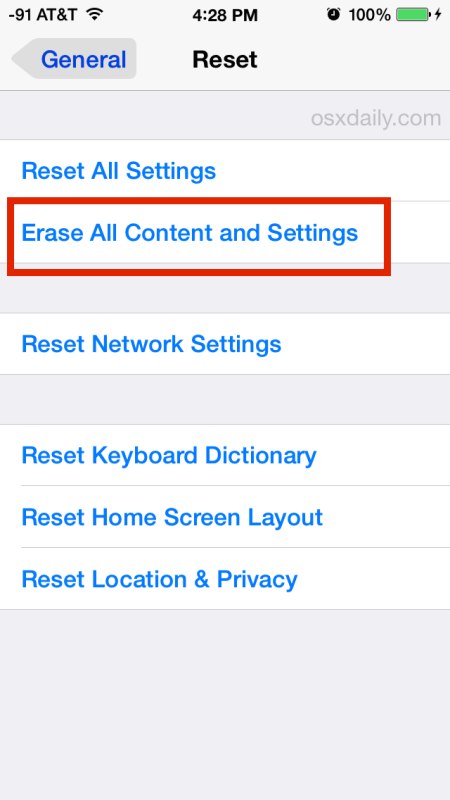 Then, a pop-up will appear to take backup, just click on Backup then Erase
Now put in your passcode to confirm. After entering the passcode and pressing Ok your device will erase everything.
After the process is complete, check if your device is showing any kind of horizontal/vertical lines on iPhone.
Fix 9: Repair iPhone Screen
After following all the methods, it may happen that your screen issue is not resolved. So, this is the time to change your iPhone screen or you can repair it by visiting Apple Store. Take your device to the nearest store and they can help to get rid of the issue.
Fix 10: Advance Solution To Fix Horizontal Lines On iPhone Screen With One Click
In addition, I will also suggest you go for a professional tool like iOS System Repair to fix this kind of issue. Using this tool, you can easily fix horizontal lines on iPhone screen after water damage. The software is easy to use and troubleshoots every kind of error on the iPhone with one click.
It does not matter whether horizontal lines are in grey, white, green, purple, or other colors, this tool works effectively in any situation to overcome the error. Apart from horizontal lines, the tool fixes other issues also like vertical lines on iPhone, settings has stopped, iPhone stuck in recovery mode, iPhone stuck on headphone mode, etc.
Therefore, one can go for download this amazing tool and use it to fix grey horizontal lines on iPhone screen.
iOS System Repair - Get iPhone/iPad/iPod Touch To Normal
Repair any kind of issues or errors on iPhone/iPad/iPod Touch and make it normal without any skills required.
Has the ability to fix iOS issues without data loss
Fix various iOS system issues like white Apple logo, boot loop, etc
Compatible with iPhone/iPad/iPod Touch & Supports iOS 16/15/14/13/12

Conclusion
Horizontal lines on the iPhone screen can occur to any user and this stops users from accessing the device. However, there is nothing to worry about, as various ways are available to get rid of the issue. In this article, I have discussed several useful ways to fix horizontal lines on iPhone after water damage.
I hope the error is resolved after trying the above methods. Also suggested using the iOS System Repair tool when you don't want to follow the manual methods and want to fix the issue hassle-free.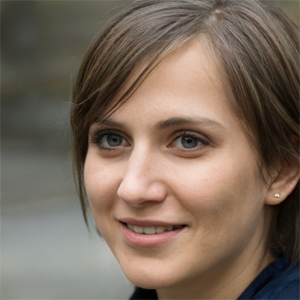 Kim Keogh is a technical and creative blogger and an SEO Expert. She loves to write blogs and troubleshoot several issues or errors on Android and iPhone. She loves to help others by giving better solutions to deal with data recovery problems and other issues.