Have you come across the "Unfortunately, Messaging has stopped" error on Android/Samsung phones?
Probably, many users have come through it and all are looking for solutions, right?
Don't worry, this is a common error that many of us experience while sending or viewing an SMS. But according to some users, this error occurs randomly when the messaging app runs in the background.
Therefore, whatever the issue is, I will guide you to get rid of it. In this blog, I will discuss various ways how to fix unfortunately messaging has stopped on Android.
So let's move ahead.
How Do I Fix Unfortunately Messaging Has Stopped On Android?
Now, it's time to go through different solutions that will help you to fix Android messaging app not working.
Method 1: Re-Start Your Device
The first and easy way that I mostly suggest to users is to restart their device once. Sometimes, doing this simple step solves the error. And there is no harm in trying it.
So what you have to do is:
Press and hold the "Power" button unless the menu appears
Now, select the "Power off" option from the screen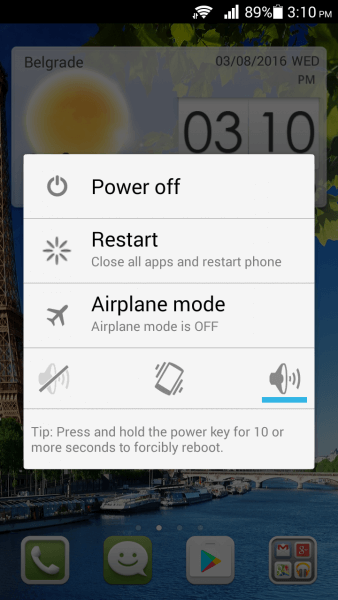 Here, wait for some time and again turn on your device to see if the issue is resolved.
Method 2: Force Stop Messaging App
If restarting the phone does not help you then I will suggest you force close the messaging app once. Doing this can help you to solve the issue and hopefully, you can again access the app.
First, go to Settings > Apps > select All Apps option
Now, move down and click on Messaging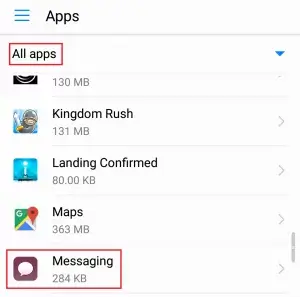 Then click on Force Close (Force Stop) and wait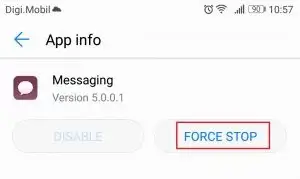 At last, open the Messaging app and see if the error occurs again
Method 3: Clear Data And Cache From Message App
Clearing cache files of the particular app sometimes work the best. This is because continuously using the app gathers lots of unwanted files that need to be clean.
So clearing the cache and data of the messaging app can help you to fix messages has stopped Samsung. You don't have to worry as this process will not delete any messages from the phone.
Here are the steps to follow:
First, go to Settings > Apps
Then choose All Apps filter and select Messaging app
Now, choose Storage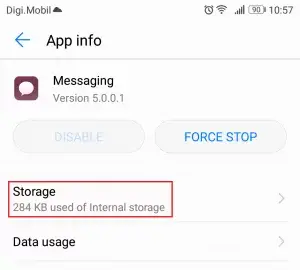 Here, click on Clear Data and after that, click on Clear Cache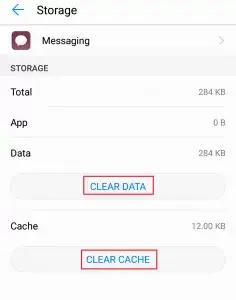 At last, restart your phone and check the messaging app is working or not
Method 4: Update Message App
You should also check if your Message app is updated or not. Many times, the old version of the app begins to show such kind of error.
So it becomes important to check and update the app to the latest version.
Here is what you have to do:
First, open Google Play Store and click on 3 horizontal lines to open My Apps and Games
Here, you will get a list of installed apps and an UPDATE option beside each app (if available)
Look for the Message app and click on the Update option beside it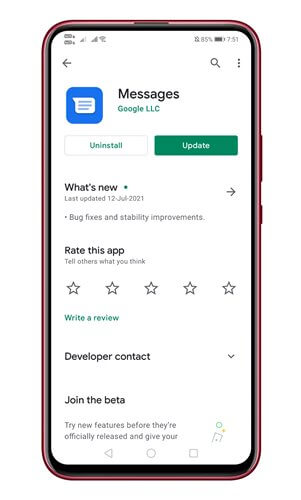 After the app is updated, open the Messaging app and see if the issue is resolved or not.
Method 5: Use Safe Mode
Most of the time, I have noticed that due to some third-party apps installed on phone, such kind of issue occurs. To identify it, you should start your phone in safe mode.
Here, all third-party apps will be disabled and you can easily detect if the culprit is any third-party app.
Just follow the below steps:
First, press and hold the Power button
Then you will see various Power options on the screen
Press and hold the Power Off option constantly
Now, you will see a popup asking to restart your device in Safe mode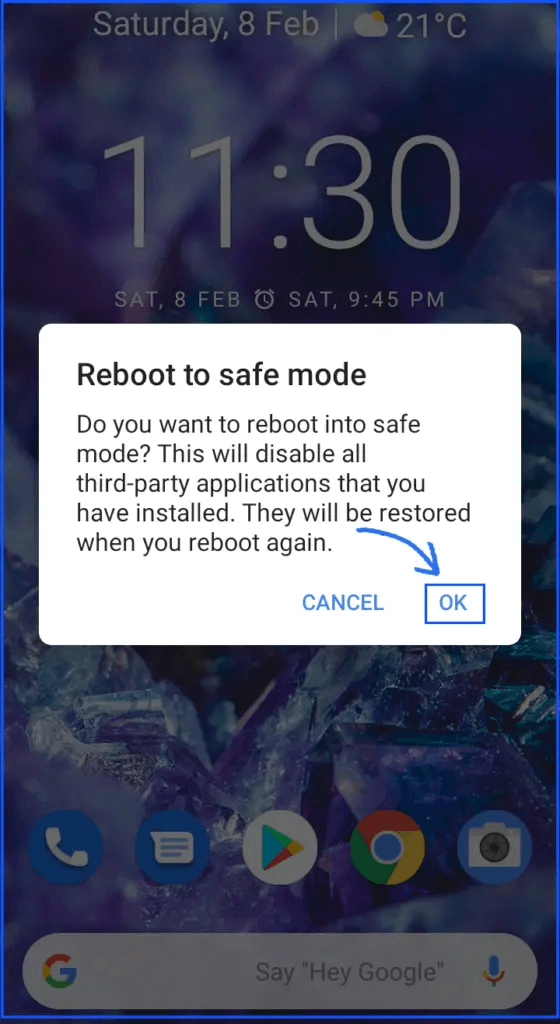 Next, click on the OK option
Once your device enters Safe Mode, you should check if the error is fixed or not. If you don't see any error then make sure some third-party app is the culprit.
Therefore, you should begin to uninstall all apps one by one to check the issue.
Method 6: Delete Cache Storage
It is also important to clear the cache memory that will help you to avoid any kind of errors on phone. This will reset all settings to their default.
Here are the steps to follow:
Open Settings on your Android device
Now, click on Storage
Next, you will see the cache memory your phone has. Then click on Cache Storage
After that, you will get a popup box that will ask you to confirm deleting cache files
At last, click on the OK or Accept button to wipe it
Method 7: Wipe Cache Partition
Many users have reported that after they have wiped cache partition, they have successfully resolved Messaging app has stopped working.
In this, you have to put your device in recovery mode.
You have to follow the below steps:
First, switch off your Android/Samsung phone
Then press and hold the Power + Home + Volume Up button
When you see the logo on your phone, leave the Power key
And after some time when you see the Android logo then release all the buttons and wait for 30-60 seconds
Now, choose Wipe Cache Partition via the Volume down button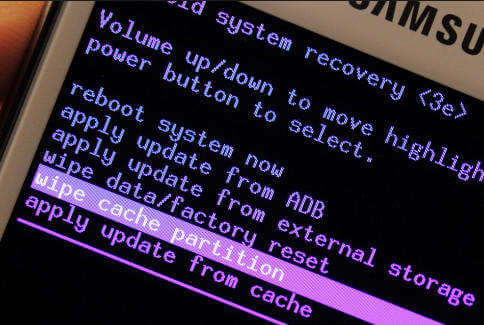 After that, use the Power key to confirm
Here, you have to wait unless the wiping cache partition process is over.
Then, select "reboot system now" and confirm it using the Power button
After all, these, check messaging app whether it's working or not.
Method 8: Use Alternate SMS App
If your messaging app is still not working then in my opinion, you can go for alternate SMS apps. There are lots of third-party messaging apps in the Google Play Store that can help you to deal with such situations.
If you don't know which apps to use then no need to worry about. I have mentioned some of the best apps that you can use.
Remember, some of the apps may require some customization than the default app
Method 9: Performing A Factory Reset
When nothing works for you then it's time to perform a factory reset. This can successfully help you fix unfortunately messaging has stopped on Android.
But before you proceed with this step, kindly back up all important data in a safe place. This can help you to deal with data loss situation that usually occurs while doing factory reset.
Here is how to do a factory reset on an Android phone:
First, open Settings > Backup & Reset
Now, click on Backup and Reset and ensure Backup my data is enabled. If it is not enabled then do it
After that, move down to Factory data reset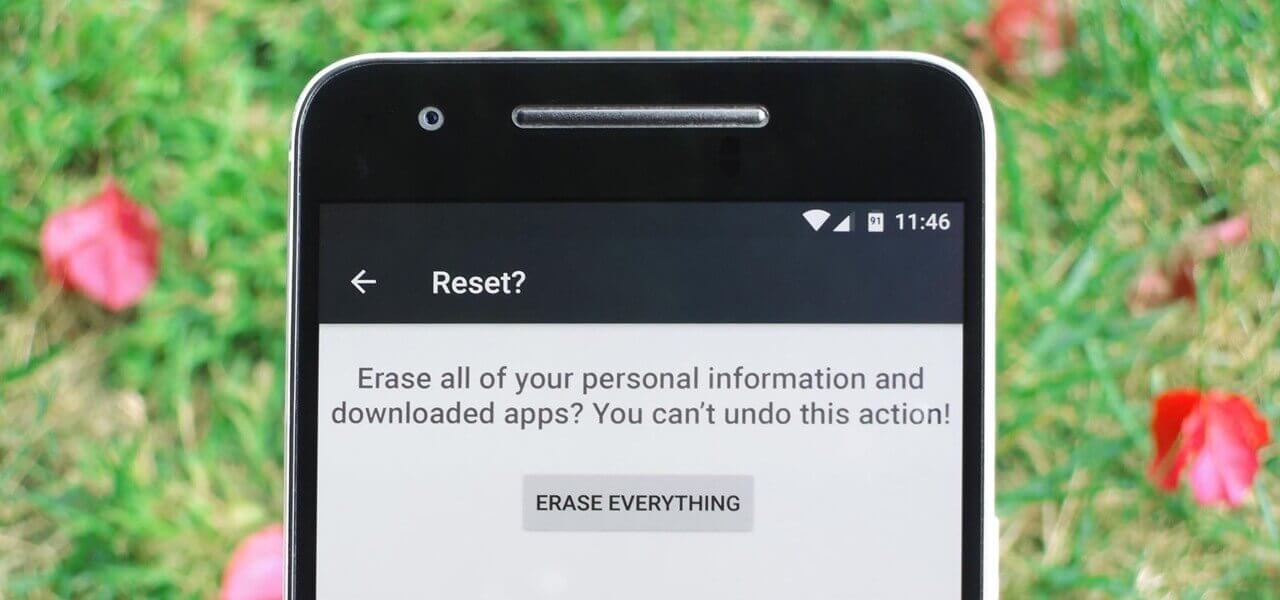 Next, confirm the option by clicking on Reset phone (reset the device)
Here, as soon you click on Erase everything, the process of factory reset begins
The process may take some time and your phone will restart
After this, open the messaging app and see if the error is resolved or not.
Method 10: Best Way To Fix Unfortunately Messaging Has Stopped On Android/Samsung
Apart from all the above methods, if you are looking for an instant way then go for Android Repair software. This is a professional tool that allows users to fix messages has stopped working on Android or Samsung phones.
It does not matter whatever the reasons are for such error but using this tool works effectively to repair any kind of Android error with ease.
Besides messaging app error, it resolves other issues as well such as Android setting has stopped, contacts has stopped, WhatsApp has stopped, vertical lines on Android/Samsung, and many more.
Therefore, I will suggest you download this amazing tool and fix unfortunately messaging has stopped Android hassle-free.
Check out the complete user guide to know how to use the tool.
Android Repair- 1 Click Repair Tool For Android
Easily fix any kind of issues or errors on Android by 1 click repair tool. Fixes any Android error without hasslefree:
Ability to fix several Android system issues or errors like Black screen of death, apps keep crashing, stuck in boot loop etc.
Helps to make Android system back to normal without any skills required
Has the highest success rate to fix any types of Android errors

Conclusion
So, this blog has come to the end and I am very much sure that whatever methods discussed here will help you to fix unfortunately messaging has stopped on Android/Samsung phone.
Though this kind of error can occur anytime to any user but the good news is that there are ways to deal with it.
For a quick and advanced solution, go for the Android Repair tool and get rid of the error without data loss.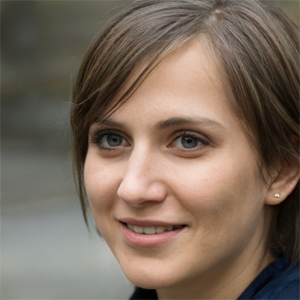 Kim Keogh is a technical and creative blogger and an SEO Expert. She loves to write blogs and troubleshoot several issues or errors on Android and iPhone. She loves to help others by giving better solutions to deal with data recovery problems and other issues.