Did you encounter the "Couldn't refresh feed" error while accessing Instagram? Wondering why do my Instagram keep saying couldn't refresh feed? Well, if this error is irritating you then I must tell you that this is not your problem only but plenty of others are facing the same situation.
We all know about Instagram, one of the popular photo and video-sharing social platforms. You can post your short videos, photos, and gifs for your followers. All in whole, it's a highly used platform to keep in touch with one another.
However, sometimes it shows an error of "Couldn't refresh feed". If you are also going through the same error and looking for fixes then this article is for you. Here, I will guide you through some easy-to-use methods on how to fix couldn't refresh feed on Instagram Android.
How To Fix Instagram "Couldn't Refresh Feed" Error On Android
Now, it's time to check all the possible ways to fix Instagram not refreshing Android. Remember, all the methods are tried and tested and have proved successful in resolving the error.
So let's read further.
Fix 1: Restart Your Android Phone
Most of the errors can be solved by restarting your phone. Restart can fix Instagram couldn't refresh feed on Android issue. You can do that by following way:
Press and hold the Power button of your Android smartphone and choose Reboot. Once the phone restarts, check if the issue is resolved or not.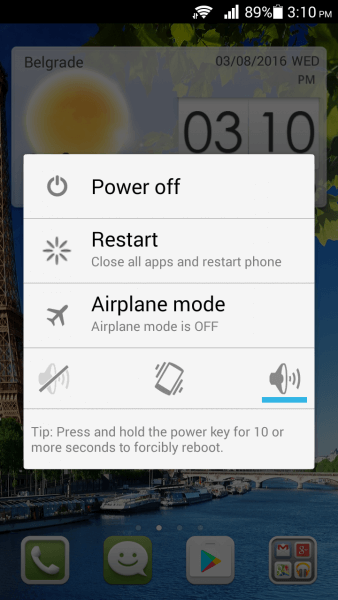 Fix 2: Check Your Internet Connection
The second solution is to check your internet connection if Instagram shows a "couldn't refresh feed" error. If you are using mobile data, make sure you have a stable connection. You can also contact your service provider if didn't get the proper speed.
If you are using a Wi-Fi network, see if the signal is not prevented due to some problem. In both cases, you can check your internet speed by visiting Speedtest.
Fix 3: Restart Instagram App
If restarting the device doesn't work then try restarting the Instagram app. Press the back button of your phone to exit Instagram or click on the home button to clear the app from the home screen. After a few minutes, relaunch the app and check whether the error persists.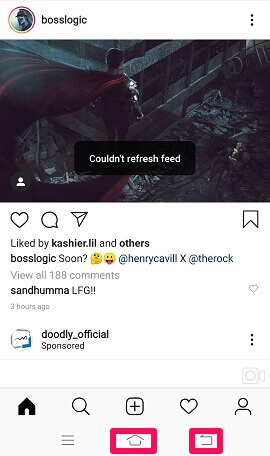 Fix 4: Clear Instagram Cache
Sometimes due to cache corruption, this kind of error may occur. So, couldn't refresh feed Instagram Android can be fixed by clearing the corrupted cache files from your phone.
Follow the below steps:
Open Settings and go to Apps
Then, look for Instagram and tap on that
Now, tap on Storage and click on Clear Cache
After that, launch Instagram again
Fix 5: Set Correct Date & Time
If you have an incorrect date & time on your device then, you may see this error. So, ensure that you have the right date & time on your device. If the date & time is incorrect, you can correct them in the following way:
Go to Settings
Then, move to Additional Settings
After that, click on the Date & Time option
Lastly, turn on Use Network-Provided Time and Time Zone
Fix 6: Update Instagram App
Another reason Instagram couldn't refresh feed issue could be because you have not updated the app for a long time. Most of the users enable auto-update so that the app can update on its own and when required can give you better performance.
If you have a disabled auto update then update it manually in the following way:
Open Google Play Store
Type Instagram on the search bar
Tap on the app, press the Update option and wait until the process is completed.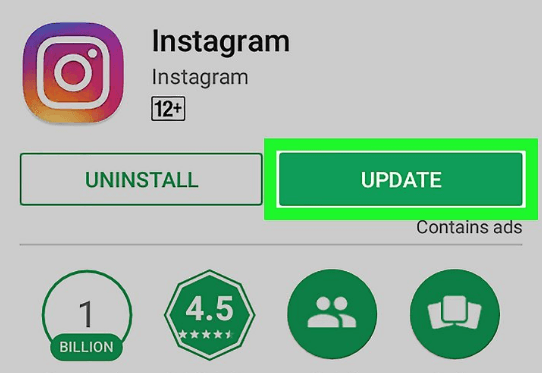 Fix 7: Check Network Connectivity
The poor network connection can also lead to Instagram not refreshing Android. Therefore, you should check your network connectivity to ensure that your network is not weak. Especially when you use WiFi then make sure it's stable.
Fix 8: Log Out And Re-Login Instagram
If still you are getting Instagram couldn't refresh feed error, then try to log out and re-login to your Instagram account.
Here is what you have to do:
Launch Instagram on your device
Click on your Profile icon
Now, press the Hamburger icon, which is at the top right corner
Then, tap on Settings
After that, move down and choose Log out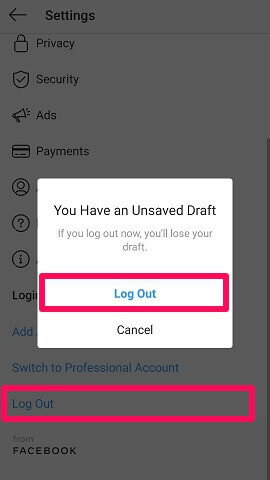 Lastly, exit the app and relaunch it and log in to your account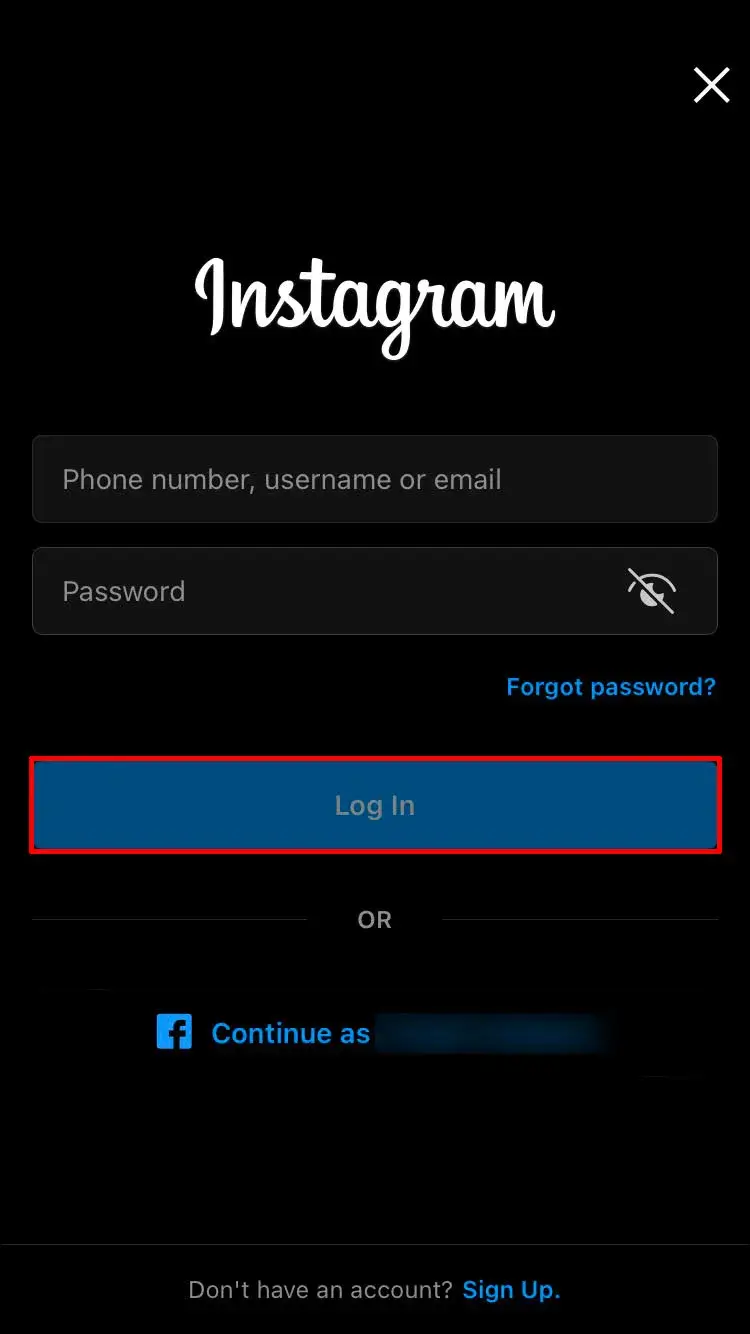 Fix 9: Check Instagram Servers
Sometimes, due to server problems, Instagram couldn't able to refresh its feed. A lot of users around the world use Instagram, so the app can get crashed due to server issues. You can check their server condition by visiting the downdetector website.
If the server is down then you can't do anything instead of waiting. The Instagram team will fix this and you will be able to use Instagram again. You can follow their Twitter handle to get the latest updates from Instagram.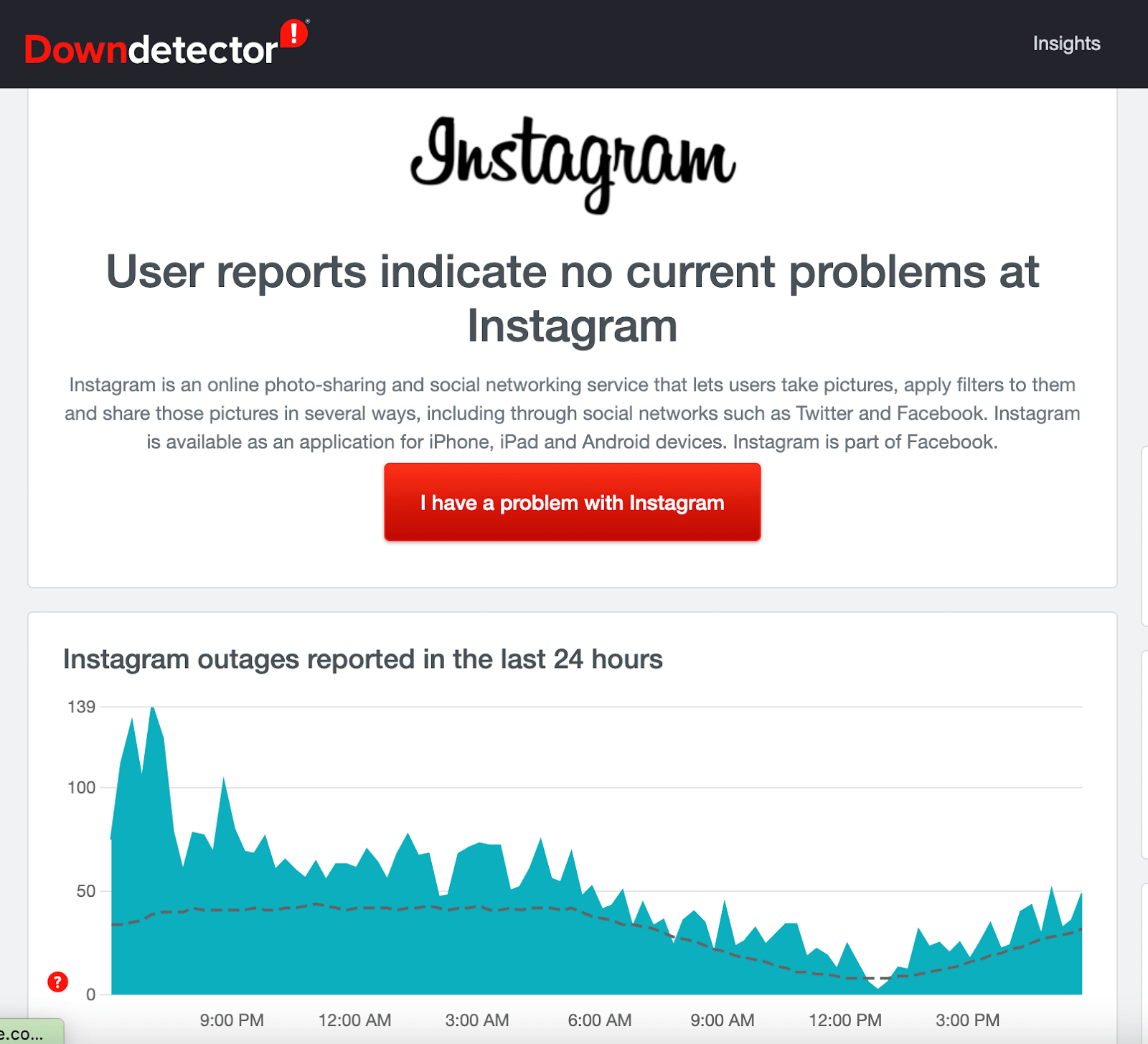 Fix 10: Uninstall/Reinstall Instagram
If the error is coming only from your Instagram app, then we recommend you Uninstall and reinstall the app. I hope your issue will be resolved when you re-install the app.
To do this:
First, click on the Instagram app
Then, tap on Uninstall button to remove the app from your device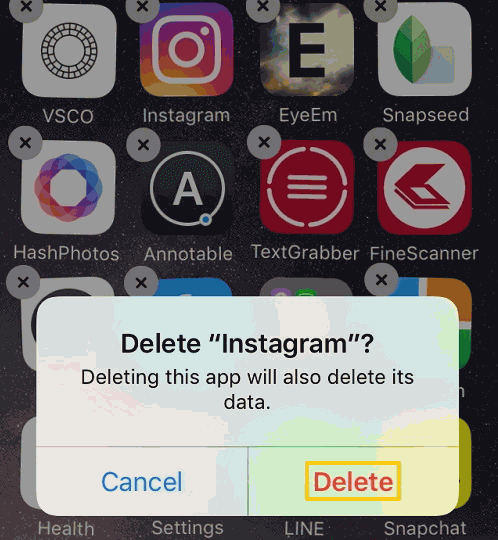 Thereafter, open Google Play Store and type Instagram on the search bar
After tapping on it, press the Install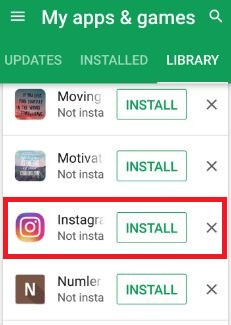 Now, open the app and log in to your account to see if the issue is gone or not.
Fix 11: Check Data Limit
You have a stable internet connection but still, you can see this error. In such a situation, you need to check your data limit. If you have exhausted your daily limit, then this kind of error can occur.
So, in that case, the only solution is to buy more data to use Instagram. Along with that, you can disable those apps that consume more data.
Fix 12: Try Instagram On Another Device
If the problem is regarding your device, then you can try Instagram on another device to see whether other devices have the same issue. If Instagram refreshes its feed on another device, then the main culprit is your device or your own app.
Login to your account on another phone and hopefully it can help you to solve the error easily.
Fix 13: Check Data Saver Mode On Android
Android has this amazing feature to put restrictions on data usage. When this feature is enabled, Instagram may not be able to use the required data and you may see Instagram couldn't refresh feed messages.
You do not require to turn off this feature for other apps but only give unrestricted Instagram from using data to run smoothly even after the data usage restriction is on.
For this, you need to follow the below steps:
Press and hold an Instagram app and go to the app info section
Next, navigate to the Mobile data & Wi-Fi section and turn on the Unrestricted data usage option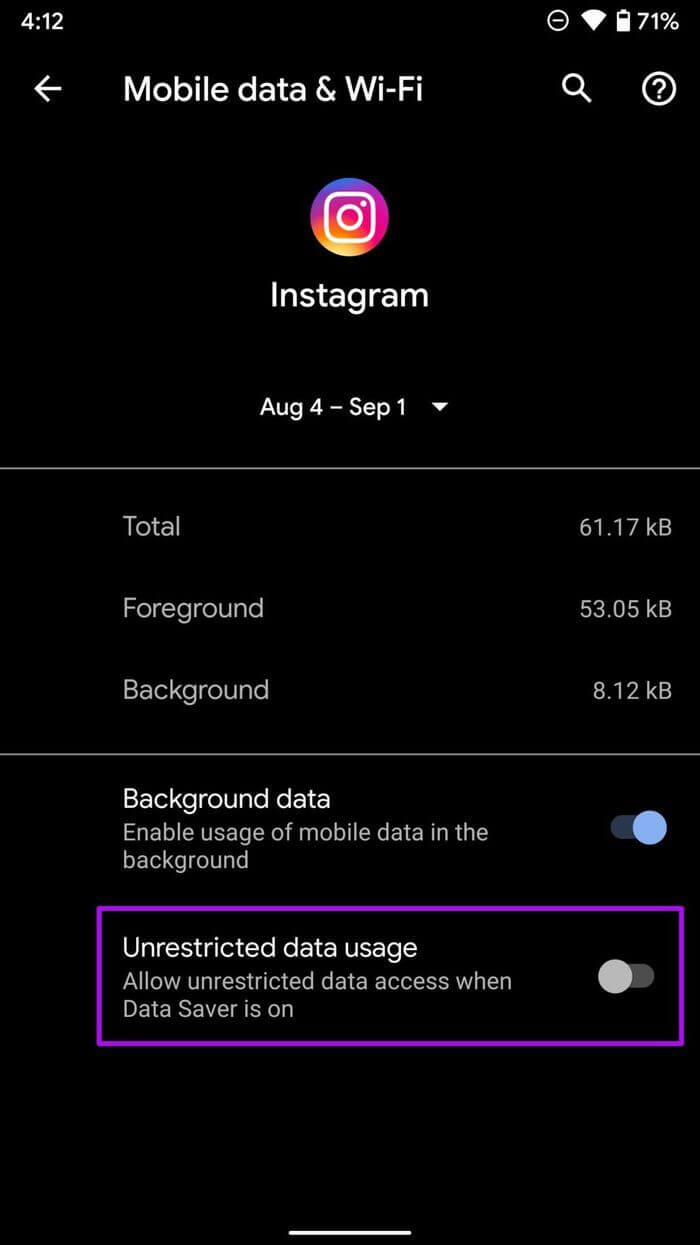 Fix 14: Check For Block Issue On Instagram
Another very important reason is if you are blocked by Instagram then, Instagram could not be able to refresh its feed.
You will be blocked by Instagram when you use any third-party app to increase your followers or some other activities to be popular on Instagram in a very short span of time. In this condition, Instagram will block your account and restrict you to use your account.
In such situations, the only option you have left is to submit a request to the Instagram support team to unblock your account and solve Instagram couldn't refresh issue.
Fix 15: Contact Instagram Support Team
If still you face the same issue, then you need to contact its support team to assist you. Here is how to connect them:
First, launch Instagram
Click on the Profile icon at the bottom right corner.
Then, click on the Hamburger icon at the top right corner of the page and tap on Settings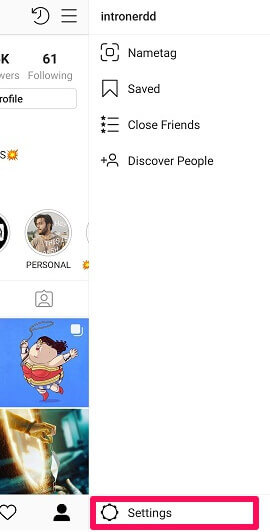 Now choose Help and select Report a Problem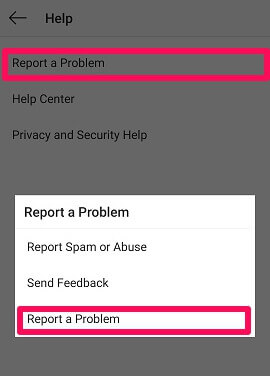 After that follow the instructions one by one and send your request
Fix 16: Ultimate Solution To Fix Instagram Couldn't Refresh Feed On Android (Suggested)
In addition to the manual methods, there is another advanced way to get rid of the error and that is by using Android Repair Tool. It's professional software that allows users to fix Instagram couldn't refresh feed error on Android and repair all types of errors or issues on Android phones.
The tool is easy to use and does not require any technical skills to operate. It's a one-click repair tool that helps to fix several other issues as well as Instagram has stopped, WhatsApp keeps crashing, Snapchat has stopped, Settings has stopped, and many more.
Therefore, you simply need to download and use this tool to fix couldn't refresh feed on Instagram on Android. To use the software, check its complete user guide.
Android Repair- 1 Click Repair Tool For Android
Easily fix any kind of issues or errors on Android by 1 click repair tool. Fixes any Android error without hasslefree:
Ability to fix several Android system issues or errors like Black screen of death, apps keep crashing, stuck in boot loop etc.
Helps to make Android system back to normal without any skills required
Has the highest success rate to fix any types of Android errors

Conclusion
So this blog ends here and I hope the solutions have helps you to fix Instagram couldn't refresh feed on Android. There can be several reasons for this error but nothing to worry about as it happens to most users of Instagram. To get rid of the error, you can go using the Android Repair tool. This is an advanced solution to fix Instagram not refreshing Android.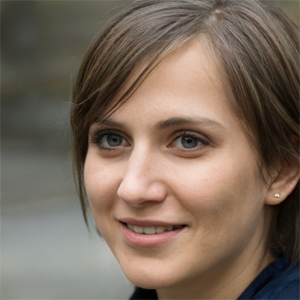 Kim Keogh is a technical and creative blogger and an SEO Expert. She loves to write blogs and troubleshoot several issues or errors on Android and iPhone. She loves to help others by giving better solutions to deal with data recovery problems and other issues.