Are you getting annoyed with the iPhone screen flickering issue after dropping? Worried about why such kind of error is coming across and how to get rid of it? No need to panic as you will get some of the best ways to deal with it.
Well, iPhone users face several kinds of issues and screen flickering is one of them. This becomes worse when the issue occurs due to the phone drop.
However, you don't have to worry about it as there are tricks that can help to fix it easily. In this article, we will go through the best methods to how to fix iPhone screen flickering after dropped.
Why iPhone Screen is Flickering?
Before entering the detailed solutions, you need to know why the problem has occurred. I have found some common reasons mentioned below:
Memory glitch: if your iPhone is running out of storage, it can create various issues such as crashing, lagging, screen flickering, and other impassive things
Software issues: software issues can be another reason for your problem. Sometimes an update of your software can cause a screen flickering issue
Corrupted hardware: if there is any physical damage on your iPhone such as you have dropped your device accidentally, it might damage your screen and motherboard
How To Fix iPhone Screen Flickering After Dropped- Unique Methods
After knowing the reasons, let us check some of the methods to troubleshoot screen flickering errors on iPhone 14/13/12/11, etc.
Fix 1: Restart Your iPhone
Most of the time, a simple restart can resolve your major issues. This is a very easy and quick method to fix any kind of error like screen flickering after dropping phone. Depending upon the model of your iPhone and your restart, the option can vary.
Follow the below step as guided:
For iPhone 8, X, 11, and later: long press and release Volume Up and Down After that, long press the Side key. Then, let go of the button after the Apple logo appears on the screen
iPhone 7 & 7+: Long press the Sleep and Volume Down keys until you see the Apple logo on your screen
For iPhone 6s & before long press the Sleep and Home buttons together. Release both the buttons after Apple logo appears on your screen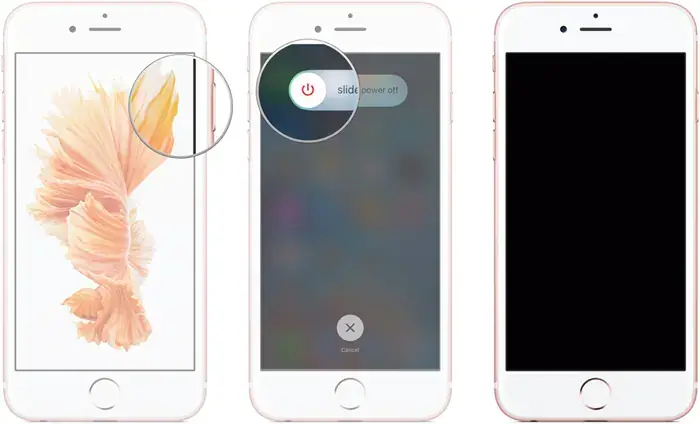 After restarting your iPhone, check if your display is working fine now. If still you see the flickering issue on your screen, then move to the next solution.
Fix 2: Disable Auto Brightness Option
Disabling Auto Brightness is yet another option to fix iPhone screen flickering error.
Try out the below steps to do this:
First, open Settings
Then, click on Accessibility
After that, click on Display and Text Size
Next, turn off Auto Brightness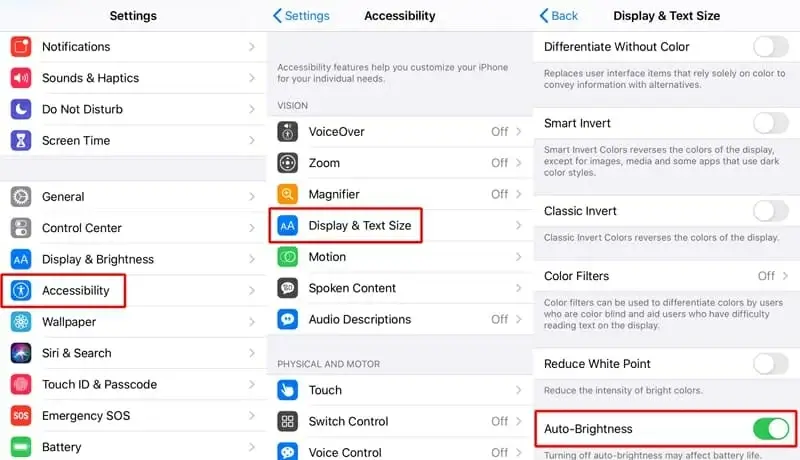 That's it, hope your iPhone screen will not flicker now.
Fix 3: Check Your Internal Storage
When your device is running out of storage, it may affect the processing of other features of the device. In such a situation, you need to remove your unnecessary files from your device and you can create more space.
Simply check for unwanted data or files that you don't need further and make space for your device.
Fix 4: Enter Into DFU Mode
DFU is Device Firmware Update, an option that allows you to make changes to your Operating System. However, different iPhone models have different methods.
Follow the below steps to learn how to enter DFU mode:
For iPhone 7, iPhone 8, and upcoming models:
First, connect your iPhone to your PC by using a USB cable, then open iTunes and switch off your iPhone
After waiting a few seconds, press the Power and Volume Down buttons together
Now, hold both buttons for 10 seconds, and let go of the Power button
When the screen becomes dark, that means you are in DFU mode, and your device screen flickering issue will be resolved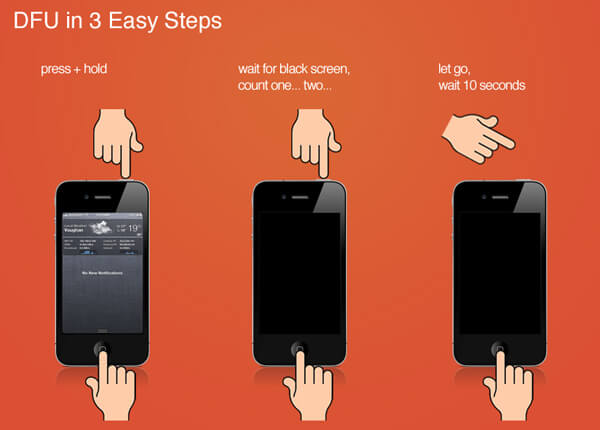 For iPhone 6s and earlier models:
Press the Side key and home buttons at the same time. Then release the Side key but hold the Home button and then follow onscreen instructions.
Fix 5: Turn On Reduce Transparency Option
By enabling reduce transparency option, you can easily fix random flickering on your iPhone screen.
Here is how you can do this:
First, open Settings on your iPhone and click on the General option
Next, scroll down to find Accessibility and click on that
Then, click on Increase Contrast tab
Finally, enable Reduce transparency option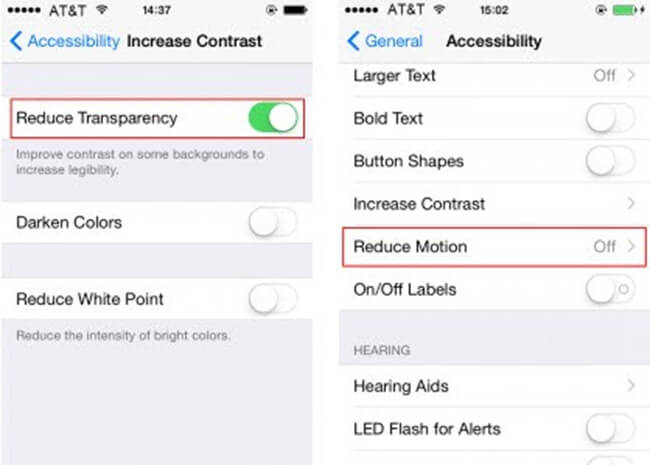 That's it.
Fix 6: Disable HDR On Photos App
If you see iPhone screen flickering lines after dropping then, you can resolve it by disabling HDR mode on your Photos app. This trick has resolved the issue successfully for many users.
Here are the steps to follow:
First, launch Settings on your phone
Then, click on the Camera option
Now, disable the Auto HDR option from here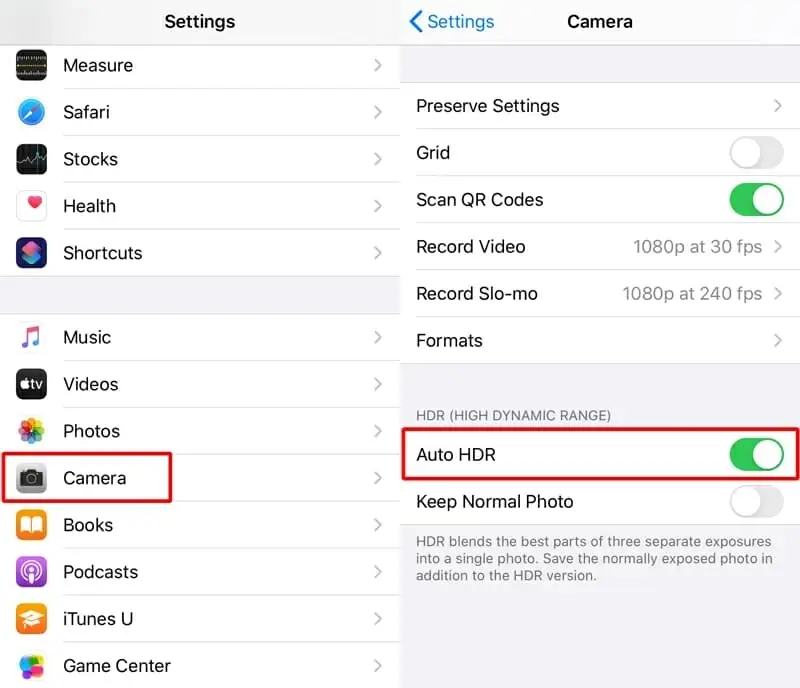 Fix 7: Close Or Uninstall App
When you are using a particular app on your phone and its screen starts flickering, in such cases the problem might be in your app. So, all you can do is leave the app and see if it stops flickering on your screen.
To leave an app on your iPhone, follow the below steps:
On your iPhone X or before, swipe up your screen on the home screen to start the app drawer. For iPhone 8 or before, press twice on your home key
Move right or left on your recent app section to look for the app that you want to close
Then, move up the app preview to leave the app
If screen flickering continues after you open that app again, then you need to uninstall and reinstall the app again. Here is how to do this:
Press and hold the app for a few seconds on your home screen until it shakes
Next, click the X sign that appears on the top left corner of the app sign
Now, press Delete. Then visit Apple App Store and install the app again
Fix 8: Check For Device Update
Sometimes, an iOS update can also fix iPhone 11 screen flickering after water damage. Most of the time, an old version of the OS can trouble you by throwing such kind of issue.
Here is how to update your iPhone:
First, open Settings on your iPhone
Then, go to the General section
After that, tap on Software Update
Next, choose Automatic Updates
Enable Download iOS Updates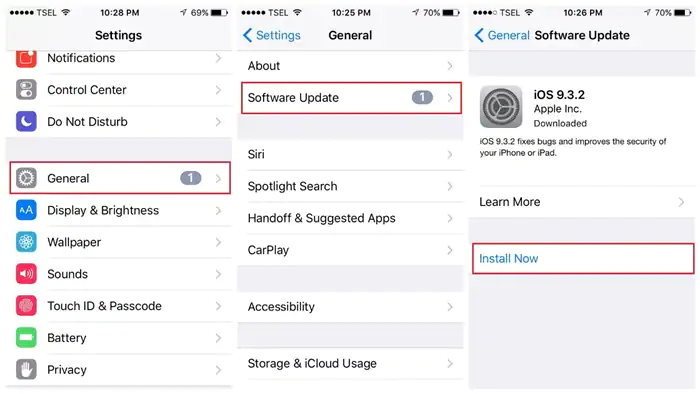 Now, toggle on the Install iOS Updates option
That's it. Your device will update to the latest version of iOS automatically. After that, check if the same issue persists again.
Fix 9: Check Hardware Issue
If the issue is with your hardware, then check it out and fix it. If the warranty period is not over yet, you can return it, but before that, try this:
Clean your device screen. Due to dust on it, your screen might not be responding
Replace your LCD screen. You are advised to do that by taking the help of a professional otherwise it can be physically damaged
Fix 10: Factory Reset Your iPhone
Even after following every process, if your screen flickering issue continues then it's time to factory reset your iPhone. But this method can erase all your data from your device if you do not take a backup.
So, before applying factory reset, take a backup of your files and then follow the below steps:
First, open Settings on your iPhone
Next, select General
Then, move to the Reset tab
Thereafter, scroll down and tap on Erase All Content & Settings option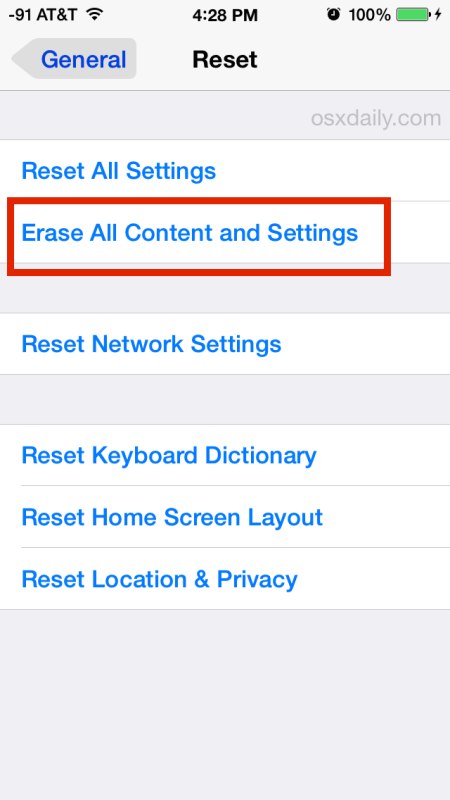 Now, you might be asked for a passcode to confirm
Thereafter, restart your device and check if everything is working fine without any errors.
Fix 11: Ultimate Solution To Fix iPhone Screen Is Flickering After Dropped Without Data Loss
If you are looking for an automatic method to get out of such an error then you can go for the iOS System Repair tool. This professional and highly effective program works to troubleshoot any kind of errors on iPhone including flickering errors.
It's a reliable software that does not need any technical skills to operate and that too without any data loss. It can solve other issues as well such as iPhone stuck on white screen, phone stuck on Apple logo, iMessage not working, apps keep crashing, and several others.
This powerful tool allows users to fix the issue with one click. It works on all iPhone models like iPhone 14 series, iPhone 13 series, iPhone 12 series, and iPhone 11 series, along with iOS 16/15/14/13/12/11 versions. So you just have to use this tool by downloading it on your system and fixing the issue hassle-free.
Check out its complete user guide to learn how to use the software.
iOS System Repair - Get iPhone/iPad/iPod Touch To Normal
Repair any kind of issues or errors on iPhone/iPad/iPod Touch and make it normal without any skills required.
Has the ability to fix iOS issues without data loss
Fix various iOS system issues like white Apple logo, boot loop, etc
Compatible with iPhone/iPad/iPod Touch & Supports iOS 16/15/14/13/12

Conclusion
So I hope this article has helped you to fix iPhone screen flickering after dropped issue. No matter what reason the issue occurs but there is nothing to worry about. Every error has a solution and so does it also has.
Also, suggested going for the iOS System Repair tool if you are looking for an advanced solution without data loss.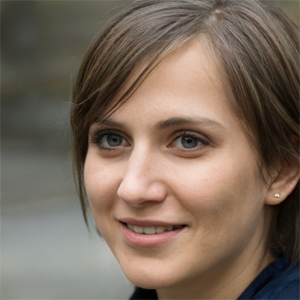 Kim Keogh is a technical and creative blogger and an SEO Expert. She loves to write blogs and troubleshoot several issues or errors on Android and iPhone. She loves to help others by giving better solutions to deal with data recovery problems and other issues.