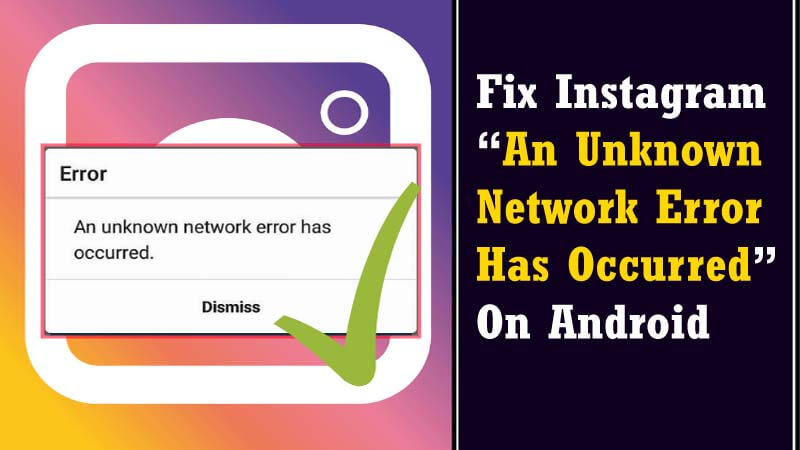 Welcome to this blog guys…..!! As you can see, this article provides you the quick methods to fix Instagram "an unknown network error has occurred". Apart from that, you will also get the major causes of this error in this blog.
Well, if you're a regular Instagram user then it's obvious that you are dealing with such kind of error every day. If it is really so, then you need to continue this blog till its end.
Usually, this kind of error arises while logging in or out from the Instagram account. However, there are some other reasons too, which is creating trouble for you to use Instagram.
Android Repair- 1 Click Repair Tool For Android
Easily fix any kind of issues or errors on Android by 1 click repair tool. Fixes any Android error without hasslefree:
Ability to fix several Android system issues or errors like Black screen of death, apps keep crashing, stuck in boot loop etc.
Helps to make Android system back to normal without any skills required
Has the highest success rate to fix any types of Android errors

Why Is My Instagram Saying Unknown Network Error?
Major causes behind the occurrence of "an unknown network error has occurred" error on Instagram:
Due to poor or weak connection of network
It may happen that the IP address has changed or conflicted
Some harmful attack of virus can cause this error which stops your app to work properly
After knowing the scenarios which can lead to this error in your Instagram app, now it's a time to know its possible ways to fix Instagram "an unknown network error has occurred".
How to Fix Instagram "An Unknown Network Error Has Occurred"?
Solution #1: Check The Internet Connection Of Your Device
Many times weak or slow Internet connection can cause this kind of unknown security errors. In order to get rid of this error, you are required to check your Wi-Fi or internet connection. If it's already turned on, simply move towards the next solution that is- Rebooting your Android phone.
Solution #2: Restart the device once
The straight forward way to fix Instagram network error is- Restart your Android phone. Perform the below-given steps:
Hold the Power key of your mobile & simply tap on restart/reboot
After restarting the device, try to login to your Instagram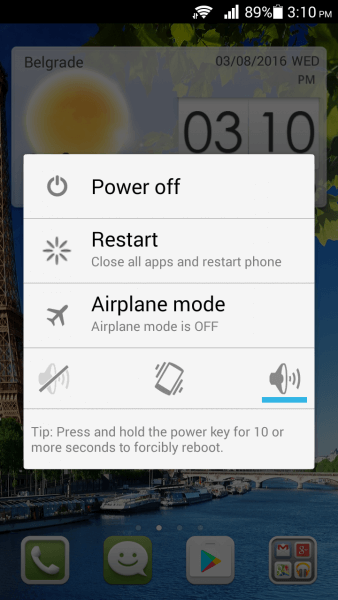 Now, if you're allowed to log in to your Android phone then the problem has been solved. If it isn't then execute the next solution.
Solution #3: Reinstall your Instagram App
If the above two methods aren't able to fix this issue, you should try this method that is- reinstall your Instagram app. I am saying you to do so because it can be possible that your app has some default itself. So, these are the steps you need to follow:
At first, uninstall the Instagram application from your device
After that, simply go to your Google Play Store app
Find your Instagram app and install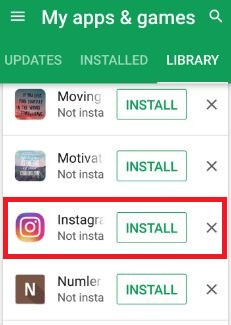 Again, you should try to login to your Instagram to see if the error is fixed or not.
Solution #4: Update your Android Instagram app
Have you update your Instagram app to its latest version? If yes, then there may be some other reason behind the unknown network error occurrence but if not then you should immediately update your app and check whether the problem has been solved or not. How to do so:
Go to the Google play store to update your Instagram app.
Here, you can see the update option, simply click on it.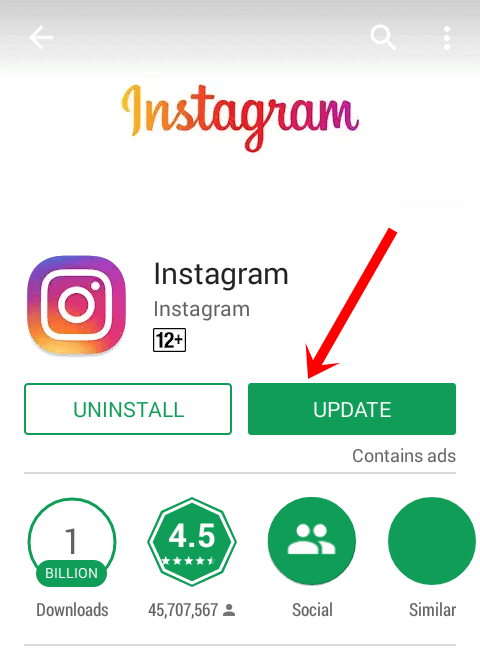 Solution #5: Clear all the cache files on Instagram
You should try to fix this issue by deleting all your Instagram cache files. It may happen that the cache files present in your Instagram app are responsible for this error. Let's try this way to solve this issue by following the simple steps:
Go to setting app >> Application Manager >> All tabs >> Force stop
After that, simply click on clear cache or clear data
Solution #6: Reset the application date & time
Sometimes the wrong setting of date and time can cause this kind of error issue. Thus, you are required to reset your date and time of the Instagram app.
Set your date & time according to its recent time zone by trying the below steps:
At first, go to the setting app and then click on the date & time
Enter the current date and time
Now, you need to check whether the date and time have been automatically activated or not. If not then try to activate it offline
Solution #7: Clear the Storage of your device
Well, if you are continuously getting "an unknown network error", then you need to clean up the storage of your device. Because clearing the unwanted files makes your device free of space and error-free too.
 Here are the easy to clear the storage of your device:
Step 1: Open your setting app then choose applications & then click on apps
Step 2: Then, scroll down the cursor & choose Instagram from the given app list
Step 3: Click on the storage option and select the clear storage
Step 4: Now, you'll be asked to delete your app data
Step 5: Click ok to make it confirmed
Solution #8: Check the Instagram Server
Sometimes, you might get "an unknown network error has occurred" when the server of an Instagram is down. This issue would be resolved only when Instagram's server gets up and starts working fine.
When you're waiting then you can use the websites such as DownDetector, in order to check the status of the Instagram server. If it's reporting that the app is down, you will have to wait until the Instagram servers are up & start running again.
Solution #9: Resetting the APN configuration
Another option that you can try to fix such an error is to reset the APN configuration. To do so, you need to follow the below steps:
Step 1: First, drag down your notifications panel & make a tap on the "Settings" icon.
Step 2: Choose the option "Wireless & Network" & click on the "Mobile Network".
Step 3: After that, you have to tap the option "Access Point Names (APN)"
Step 4: Next, go to the "Three Dots" which you can see in the right side top corner.
Step 5: In this step, click on "Reset to Defaults" & restart your phone.
Step 6: At last, try to sign in to your Instagram & check if the error persists or not.
Solution #10: Reset the App Preferences
In case, your App Preferences has been incorrectly configured then there is a chance to occur the unknown network errors. Consequently, you will have reset them to their defaults. Here are the steps to be followed for this:
In the first step, you've to scroll down your panel notification
Now, tap on setting & choose application & simply click on app
Here, click on three dots which you can see at top of the right side
Choose the "Reset App Preferences"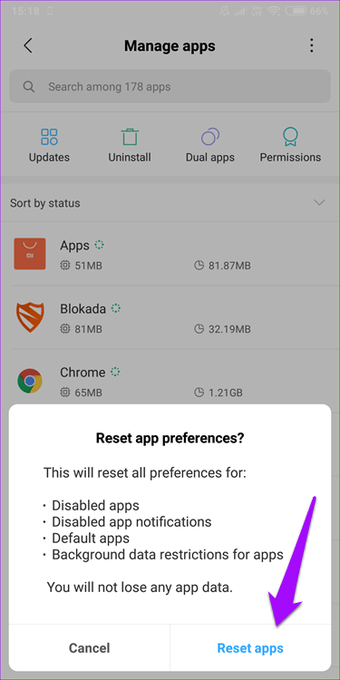 Restart your Android phone & launch the app. Try to sign in to your Instagram account and check the issue has been fixed or not.
Solution #11: Do Factory Reset of your phone
Even after trying the above 10 manuals, if you are still unable to fix Instagram saying unknown network error then one only last option left for you that is factory reset. Yes, doing a factory reset will definitely help you to troubleshoot numerous types of errors and problems on your Android phone.
First of all, go to the Settings and then search the Factory Reset Device
Next, tap on the General >> Reset
After this, you have to choose the option to Erase All Content and Settings& move forward to reset the device
Now, wait for a few minutes till the completion of the factory reset process
Then, go to the Google Play Store& download an app on the Android
At this time, sign in to your Instagram account
Finally, you can easily access your Instagram account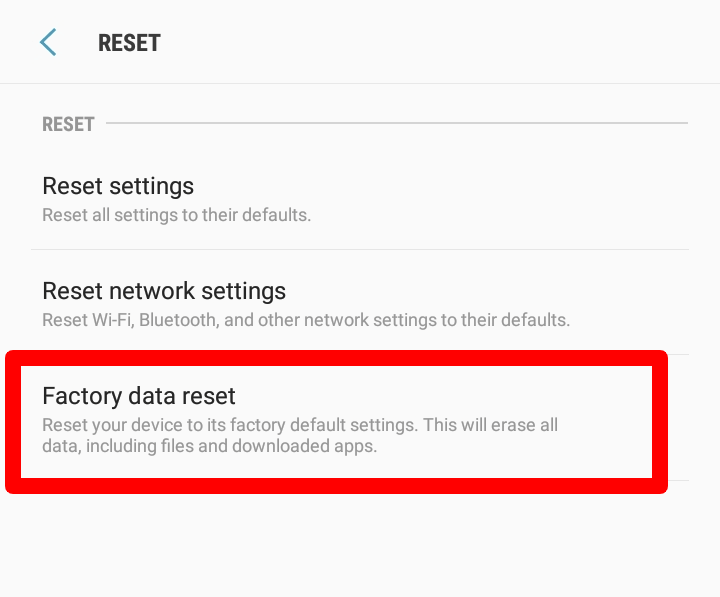 Please Note– Before performing the aforesaid steps, you must remember one thing that is – do not forget to take a backup of the existing data to any secure place.
Solution #12: Automatic Solution To Fix Instagram "An Unknown Network Error Has Occurred"
After applying the above-mentioned methods, if you are still getting the same error then you have one more option that is Android Repair Tool. This software is a professional tool and has the ability to resolve all kinds of issues along with "Instagram saying unknown network error" on Android devices.
I am recommending this amazing program because it is easy to use interface & can fix any type of Android phone issues and errors without any data loss.
So, without wasting any time, just Download Android Repair tool & repair the unknown network error on Instagram.


To Sum Up
In this post, I have talked about the different circumstances which may lead to the unknown network error has occurred issue. I have also suggested some of the best ways to troubleshoot "Instagram error an unknown network error has occurred". But if you want the instant resolution to solve this issue, then you can go with the advanced Android Repair Tool.
I hope you find my blog helpful. And if you've any query, then you can share with us in a comment section of this article.