Snapchat is one of the popular social networking app used by millions of people. It allows users to share their special moments, stories, pictures, etc with their friends, families, and followers.
But sometimes, the chats or messages are deleted from the app and you don't know actually how.
You can have eager to recover those chats, but don't know whether there is a way to recover deleted Snapchat messages, right?
Well, if your Snapchat messages are deleted due to any reason then don't worry.
In this post, I will share with you some efficient methods on how to recover deleted Snapchat messages on Android using manual and automatic solutions.


Is It Possible to Recover Snapchat Messages?
After losing important messages from Snapchat, a common question occur "can deleted Snapchat messages be recovered"?
Well, the good news is that the deleted Snapchat chats can be retrieved easily. The actual fact behind it is when the messages are lost then they are still present in the device in hidden form.
However, if anyone has not saved those chats then they can be deleted forever.
You might know that Snapchat chats that you share over the chatbox will be automatically deleted or expire after the recipient views them. After viewing them, if you don't save them then within 24 hours, they will disappear.
But if you don't save them then also there is a chance to get back those chats with .nomedia extension or by using powerful recovery software.
How To Recover Deleted Snapchat Messages On Android- Best Methods
Here, I have discussed a few of the best methods to retrieve deleted Snapchat messages on Android.
Follow them and find out which one works for you.
Method 1: Best Way To Recover Deleted Snapchat Messages On Android Without Backup
If you don't want to waste any time and even you don't remember whether there is a backup or not then I will suggest you use Android Data Recovery. This is one of the best Snapchat messages recovery software to retrieve deleted Snapchat messages on Android without backup.
Many experts suggest it as it has the highest success recovery rate and consists of lots of advanced features to help you.
Using this powerful tool, you can restore several data like contacts, photos, videos, WhatsApp chats, call history, audio files, Snapchat photos, text messages, and others. It does not matter for what reasons the chats are deleted. The software works in any situation like unintentional deletion, device failure, virus attack, system crash, OS rooting, water damage, etc.
The best part is this recovery program supports all Android phones like Samsung, LG, Sony, HTC, Huawei, Motorola, Lenovo, Oppo, Vivo, Xiaomi, OnePlus, Google and others.
Therefore, without wasting much time, simply download Android data recovery software and restore lost Snapchat messages on Android with ease.
Check out the complete user guide step by step to recover Snapchat messages hassle-free.
Android Data Recovery- Recover deleted data from Android phones/tablets
The best and efficient tool to recover lost, deleted, disappeared, inaccessible data from Android phones/tablets. Some unique features include:
Directly recover various types of data such as photos, contacts, SMS, videos, WhatsApp, call logs, documents, notes, etc.
Recover data in any situation like accidental, water damage, unintentional, factory reset, formatting, virus attack or other reasons
Allows one-click option to "Recover" deleted files without backup

Method 2: Recover Deleted Snapchat Messages Android From Cache
Another way that can help users to restore deleted Snapchat chats is from the cache. You can find the stored media on an Android phone.
You simply have to go to Android > data > com.snapchat.android > cache folder and choose messages. Here, you will see all the lost messages.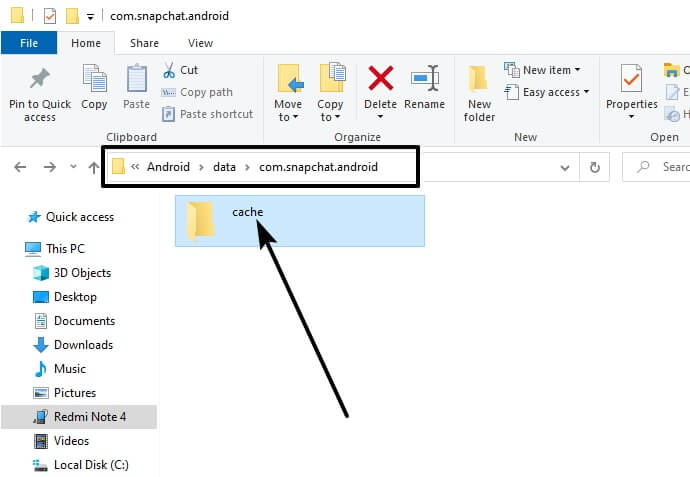 From here, choose those messages required and tap on the Recover option.
Using this process, all photos and videos will easily restore.
Method 3: Restore Disappeared Messages From File Manager
The chats that are deleted get stored on the internal memory of the device under the ".nomedia" extension. It means that whatever messages are missing from Snapchat will be present in the device.
Here are the steps to follow:
First, open File Manager on your device
After that, open Android/data/ and open snapchat.android folder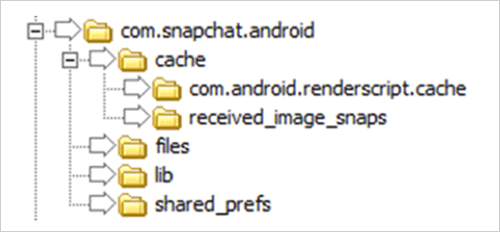 Next, find .nomedia extension
You can see the deleted files here
Now, rename every file by removing nomedia extension to recover Snapchat messages on Android
And here, all the files will be visible in a thumbnail format
Now dig more and all chats from Snapchat will restore
Method 4: Recover Snapchat Messages Using Dumpster App
You will get several third-party apps in the Google Play Store that can help you in this kind of situation. One such app is Dumpster that can help you to retrieve deleted Snapchat messages on Android phone.
Not only Snapchat chats but other data like audio, videos, photos can also restore. In fact, this is the best way to recover deleted Snapchat messages on Android without computer.
You have to follow the below steps:
First, you have to download and install the Dumpster app on your phone
Now, open the Snapchat app
Next, open the Dumpster app and check all the messages including photos and videos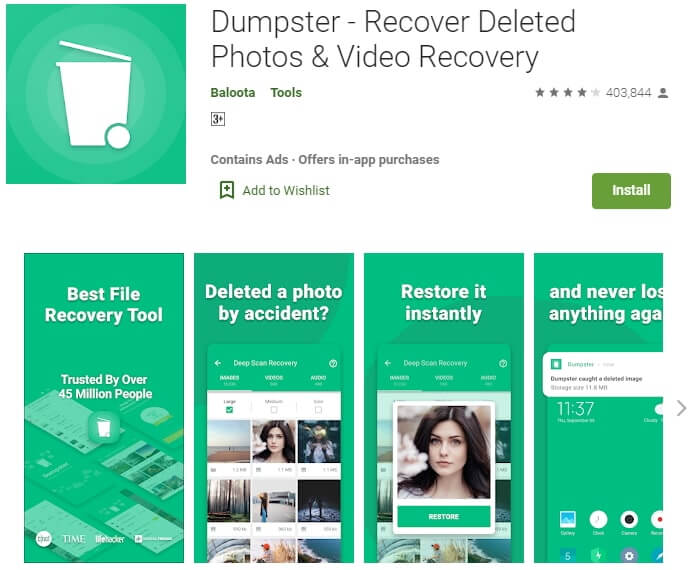 Here, enable the Dumpster app so that whenever any data loss happens then you don't face any trouble in searching them
FAQ:
How To Save a Message in Snapchat?
You can save your Snapchat messages on Android using simple steps.
Open the Snapchat app and open the chat that you wish to save
Now long-press the message and it will get saved automatically
The message will highlight in grey color.
Can Snapchat messages ever be recovered?
Snapchat messages can be recovered if you have saved them previously. However, the expired snaps will not get restore from the server for any reason. In fact, the Snaps you open will delete automatically once they are expired or been viewed by the person.
Does Snapchat really delete everything?
Well, Snapchat server is designed in such a way that it deletes all the data from it automatically after you view. In addition, those snaps that are not opened will delete on their own after 30 days from its server. And in the Group chat that is unopened will gets deleted after 24 hours.
Does Snapchat look at your snaps?
No, the snaps that you send or receive is only visible to you and the recipient and vice versa. It clearly means that any Snapchat employees cannot view your snap memories.