Did you encounter a camera and flashlight not working Android issue? Wondering how to fix camera error on Android? If yes then I am sure this blog will definitely help you.
Through the camera, we capture our beautiful moments with just one single click. But the problem occurs when the camera app doesn't open or get crashes after it launches.
It's very irritating when you are going to capture a beautiful moment but your camera stops working.
But you need not worry, I will guide you on some best ways how to fix camera not working on Android device.
So let's move ahead and check the possible fixes.
How To Fix Camera Not Working On Android- Best Methods
Now, let me show you some effective and possible methods to fix camera error in Android phone. No matter whatever reasons has led to such issue but there are ways to tackle them.
Fix 1: Reboot Device
The first method that I am going to tell you to solve your problem is by restarting your device once. When you launch the camera app and a pop-up message shows "camera not working", don't hesitate to restart the device.
Rebooting will give a fresh start to your device's system, and clean out the RAM. This has shown positive results for many users.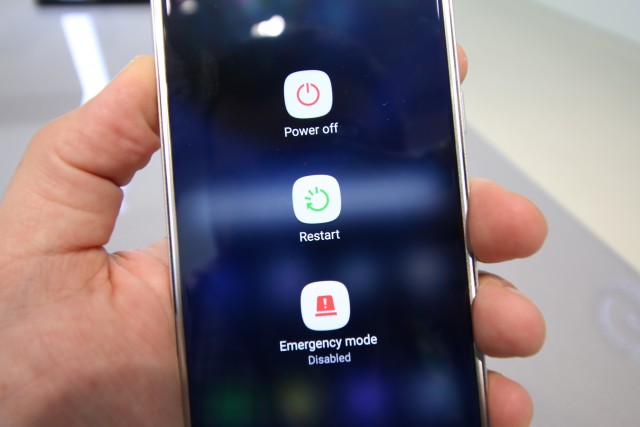 However, if this process does not helps you then move to the next solution.
Fix 2: Check Camera App Permissions
Your camera app will automatically stop or get crash if it doesn't have permission to access camera hardware. So, check whether you have given the permission or accidentally denied the permission.
To enable camera app permissions- open Settings on your device > permissions > select camera > change it to Allow if not done yet.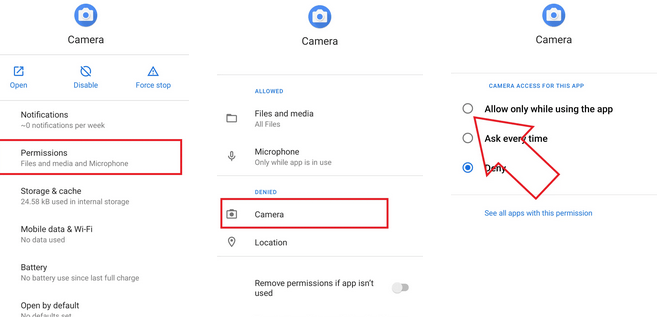 Hopefully, this will help you to get rid of the camera not working on Android.
Fix 3: Check Whether Any Other App Is Actively Running In The Background Using Camera
If after launching your camera app, you got a pop-up message saying "another app is using the camera". Simply tap on the phone's Recent App icon and close all the open applications.
This is yet another way to get rid of the error. It may happen that some other apps is using your camera and you are coming across an unexpected error.
Fix 4: Force Stop Camera App
Sometimes after a long time of use, the camera app gets stuck or stops working. In that case, you can force stop the app and start again.
Follow these steps-
First, open Settings > Apps & notifications > see all apps > scroll and select Camera app > click Force stop. Now, see if the camera is working properly or not.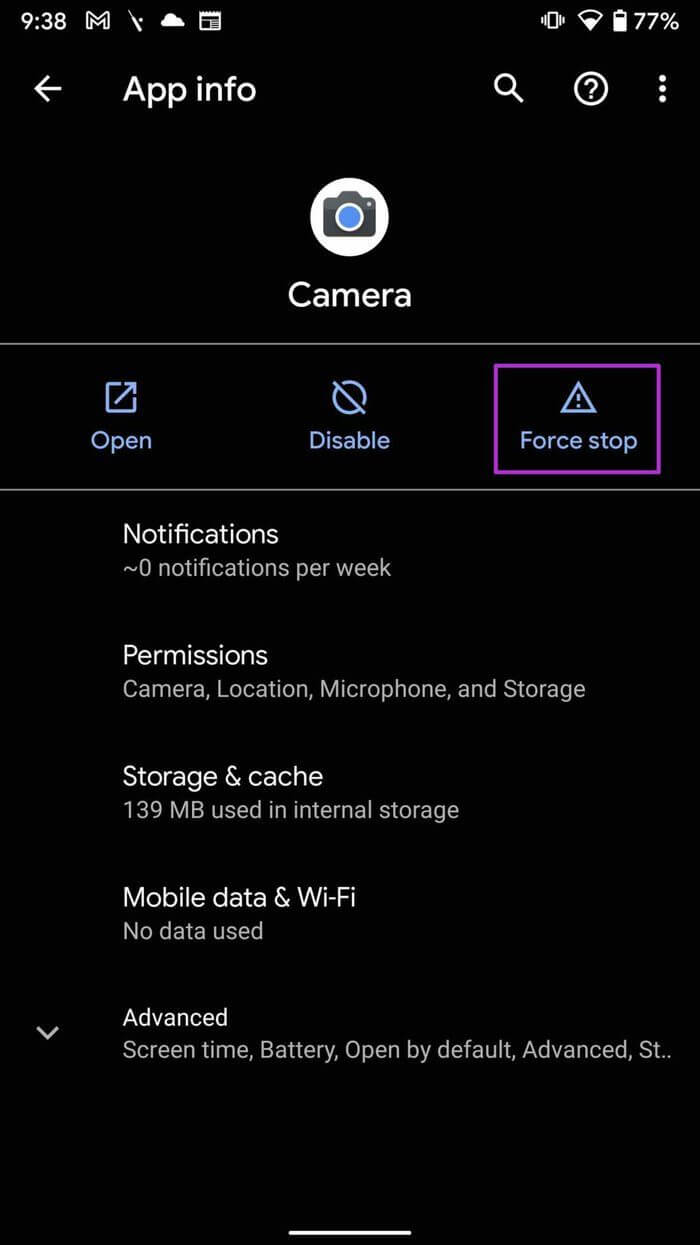 Fix 5: Clear Camera Cache And Data
If the camera is not working on your device, you can clear your phone's camera cache and data. This will automatically reset your camera's system and it may start working as before.
You can do it in the following way-
Open Settings on your phone
Now, open apps & notifications
After that, select camera storage
At last, click clear data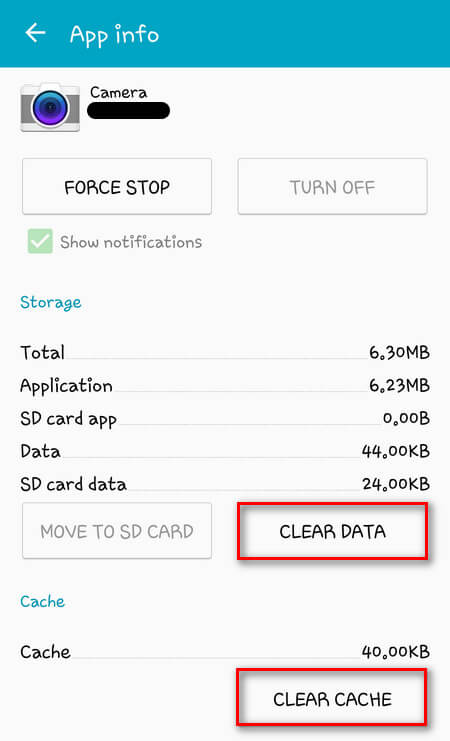 Now, see if the camera failed on the Android error is resolved or not.
Fix 6: Charge Device Battery If Low
Before opening the camera app, check whether your phone's battery is properly charged or not. Sometimes when your phone's battery is significantly low, your camera may not work properly.
However, if your phone's battery is draining, it will notify you to charge the device. So, charge it immediately if your phone's battery is down and then see if the Android 11 camera not working error is solved or not.
Fix 7: Free Up Device's Storage
Sometimes with a lot of data in our phone's storage, apps don't work smoothly. If the storage is almost full, the phone may start hanging and so does the camera app. In such a situation, you need to check and delete unwanted data or files from the app.
You can check your phone's storage by opening Settings > Storage. You can then remove unwanted files and make some space.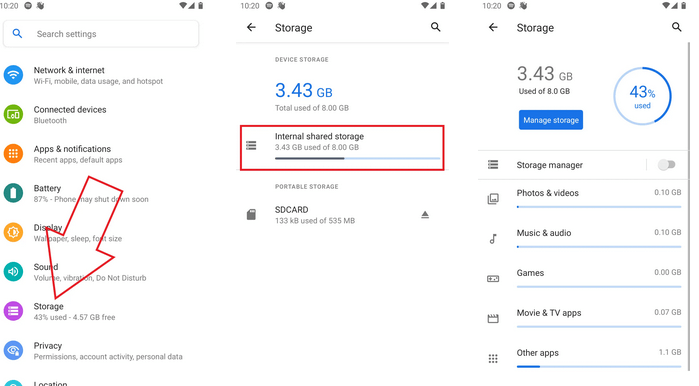 Fix 8: Remove Third-Party Camera Apps
There are lots of camera apps available on the Google Play Store. Users download them and use them in any situation. However, these apps also sometimes popup error and stops you from using the camera app.
If you have given permission to any third-party app to access the camera app, simply remove them. This is because one or more of these alternatives may prevent the system camera to stop working.
Fix 9: Update Camera App
The system update is also an option to fix any kind of app problem. System updates are sent to the device owner by the device manufacturer to fix any kind of bugs and also enhance its performance to work smoothly on your device.
So, check your device if any updates are available. To check it go to Settings > open System app updater > check if any UPDATE option is available and then update it immediately.
Fix 10: Perform Factory Reset
When a system update is not available, your next option is to reset your device. It will erase all your data and your device will become new.
Although your other installed app will remain other than the pre-installed app. It will give your device a new look as you purchased a new device.
Here is what you need to do: First, open Settings > system > reset option > factory data reset > reset phone.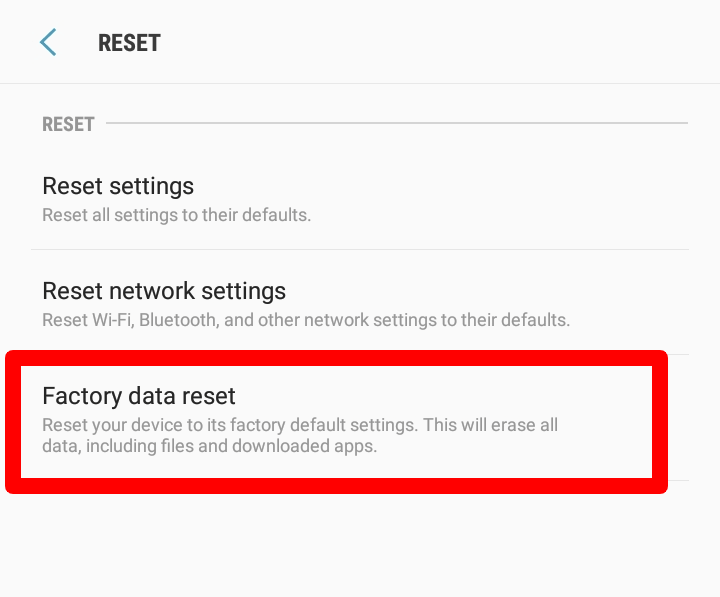 That's it, hopefully, this process will help you to get rid of the error and you can access your camera app once again.
Fix 11: Visit Service Center
If nothing works for you then it's time to take your phone to the service center. You have to explain the issue and it may get resolved soon. The service center will resolve the problem of the back camera or the front camera not working Android.
Fix 12: Alternative Way To Fix Camera Not Working On Android
Every Android phone user might look for a quick solution that can help them to get rid of any kind of error. For them, I will suggest using the Android Repair tool. This is a professional repair software that helps you to fix camera not working on Android and other issues with ease.
It is suggested by professionals and can repair the issue with one click. Some other errors it can fix include Android settings has stopped, Bluetooth has stopped, Snapchat keeps crashing, and others.
Therefore, you just need to download this amazing tool and fix phone camera not working on Android.
Android Repair- 1 Click Repair Tool For Android
Easily fix any kind of issues or errors on Android by 1 click repair tool. Fixes any Android error without hasslefree:
Ability to fix several Android system issues or errors like Black screen of death, apps keep crashing, stuck in boot loop etc.
Helps to make Android system back to normal without any skills required
Has the highest success rate to fix any types of Android errors

Conclusion
So this blog describes how to fix camera error in Android phone. There can be several reasons behind such issues but there are ways to resolve them. In this blog, I have mentioned the best 12 solutions to fix camera not working on Android, whether it's the front camera or back camera.
For an advanced solution, you can go for the Android Repair tool and fix the issue with one click without losing any data.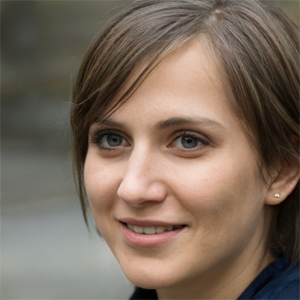 Kim Keogh is a technical and creative blogger and an SEO Expert. She loves to write blogs and troubleshoot several issues or errors on Android and iPhone. She loves to help others by giving better solutions to deal with data recovery problems and other issues.