Are you worried that your iPhone voicemail was deleted by mistake? Or do you want to retrieve a deleted voicemail on iPhone?
Voicemails play a crucial role in day-to-day life. Voicemails are basically messages sent over the telephone in audio format. But sometimes, the user deletes their voicemails and wants to undelete them.
In this article, we'll talk about ways to recover deleted voicemails from iPhones without backup, and offer effective ways to recover deleted voicemails on iPhone 13/12/11/X/8/7/6s/6.




Can You Recover Deleted Voicemails On iPhone?
Do you also have the same question: "can deleted voicemails be recovered on iPhone"? If yes then do remember that there is a possibility to recover deleted voicemails from iPhone.
What happens is your iPhone comes with an in-built feature that let you restore voicemails. This also depends on your carrier about how long it will keep your voicemail messages.
It is suggested to ensure the inbox about how long the voicemail messages are kept. Only this is the way that can help you to retrieve missing voicemails from your iPhone. But at the same time, you can check iTunes backup and iCloud backup for your important voicemails.
How To Recover Permanently Deleted Voicemails On iPhone- Best Methods
Now, it's time to check all the best and possible ways to recover deleted voicemail from iPhone 13/12/11 with and without backup.
So let's move ahead.
Method 1: Recover Voicemail From Recently Deleted Folder
Once the Voicemail is deleted from your iPhone, it moves to the "Deleted Messages" folder. It means that you can retrieve lost voicemails from this folder. But before you jump to the steps, remember that the deleted stuff is available in the recently deleted folder.
Here are the steps to follow:
Open your phone app and tap "Voicemail" on the bottom right
Tap the "Deleted Messages" folder
Select the voicemail you want to save, and hit the "Undelete" button.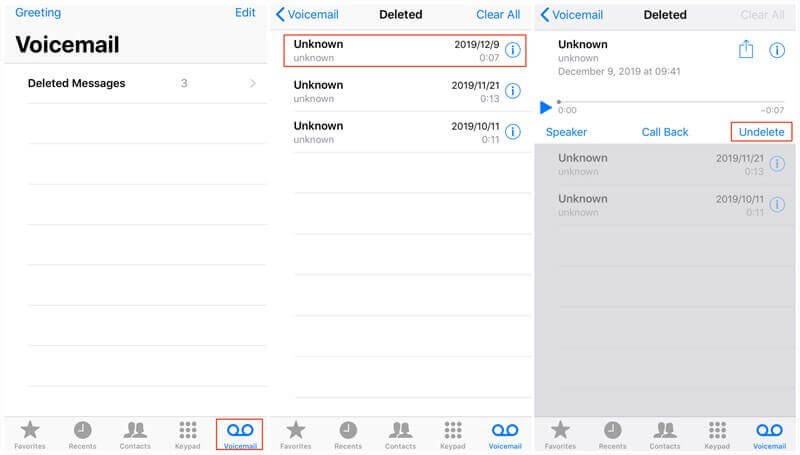 Remember– This method works only if your voicemail messages are still on your iPhone.
Method 2: Restore Permanently Deleted Voicemail From iPhone Using iCloud
iPhone users have several ways to create a backup of their user data. This is where iCloud comes that automatically backups up data from a device whenever connected to a WiFi network. It allows for the restoration of any data easily.
Follow the steps to recover deleted voicemails on iPhone via iCloud:
First, open Settings > click on Apps and Data screen > Restore from iCloud backup
Now, login to iCloud using your Apple ID and password
Next, choose the latest backup from the device after you check the date and time.
When asked, enter your Apple ID and password once again to retrieve apps and purchases
At last, when the restoration process is over, all data from iCloud will be restored and you can access the voicemail on your iPhone easily.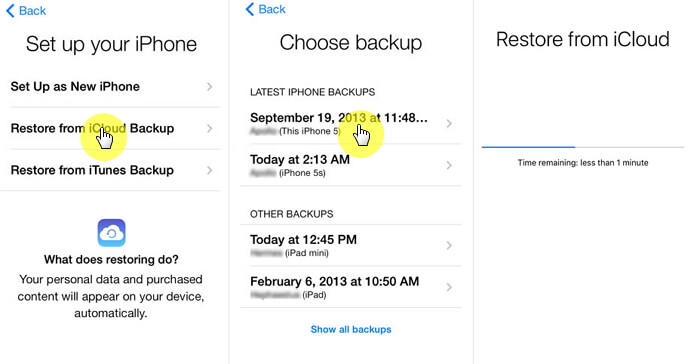 Method 3: Retrieve Voicemail On iPhone Via iTunes
Apart from iCloud, iPhone users also get another backup option and that is iTunes. So if you have created a backup of your voicemail to iTunes then they can be restored.
But remember, you have to delete all previous data from the phone and you cannot only restore voicemail. All files on iPhone will get replaced with iTunes backup.
Check the below steps to restore deleted voicemail on iPhone via iTunes:
First, launch iTunes on your PC and then connect your device to it
Now, tap on the device icon and select "Summary"
Next, tap on the "Restore Backup" option
From here, choose the backup which you want to restore
Finally, tap on "Restore" and your backup files will get restored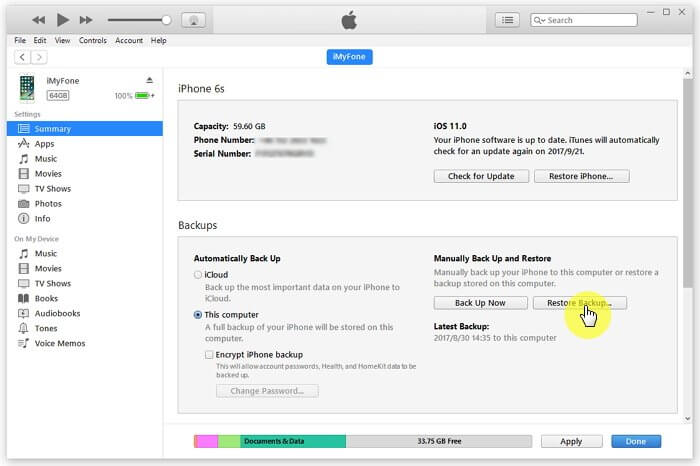 That's it, now you can check all your voicemails on your iPhone.
Method 4: Best Way To Recover Permanently Deleted Voicemail On iPhone Without Backup
Apart from all the above methods, you can also use a professional tool like the iPhone Data Recovery tool to restore lost voicemail from iPhone. This software is easy to use and helps in recovering deleted voicemails on iPhone without backup.
Not only voicemail but other data are also restored such as contacts, photos, videos, documents, text messages, notes, music, WhatsApp chats, Viber messages, Kik messages, and many more. It is suggested by experts as it has helped millions of users tackle the situation.
The software supports all iPhone models including iPhone 13/12/11/X/XR/XS/8/7/6 and is compatible with the latest iOS 15/14/13/12/11 version.
Here is the complete user guide to recovering deleted voicemail on iPhone without backup.
iOS Data Recovery- Worlds Best Data Recovery Tool For iPhone/iPad/iPod Touch
Get back lost or deleted iPhone/iPod/iPod Touch data without any backup and in a quick time.
Has the highest data recovery rate in the industry
Recovers several data like contacts, photos, messages, notes, videos, etc
Compatible with latest iPhone 14/14 Pro/13/13 Pro/12/12 Pro/11/11 Plus/XR & supports iOS 16/15/14/13/12

Bonus Tip- How To Avoid Voicemail Deletion In Future
It's very important to create a backup of all your essential stuff so that you don't stick in unexpected situations. Regular backups can help you access the files anytime from anywhere.
Several backup ways can help you in this situation and iCloud is one of them.
Check out the below steps:
First, ensure you have connected your iPhone to strong WiFi
Now, go to Settings > [Your Name] > iCloud
Next, tap on the Backup Now option and wait until the process is over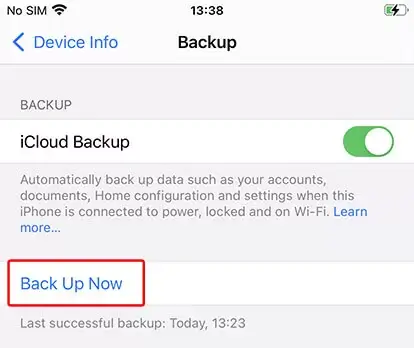 Once the backup is successful, you will see your device with the current date and time.
FAQ:
Is it possible to recover deleted voicemail on iPhone?
Yes, there is a possibility to retrieve deleted voicemail from iPhone. There are ways to do so as users keep a backup in several ways like using iTunes or iCloud. If not then using professional software like Voicemail recovery can restore voicemail on iPhone.
Can you recover voicemail when there is no 'Delete Messages' folder?
Yes, there is a chance to restore voicemail when you don't see delete messages folder. You need to act ASAP and use professional software like iPhone Data Recovery to scan the device and recover permanently deleted voicemail on iPhone without backup.
Conclusion
So here is all about how to recover deleted voicemail on iPhone. No matter what reasons lead to such incidents but there is nothing to worry about. In this blog, I have discussed the best 4 ways to recover permanently deleted voicemail from iPhone 13/12/11.
For advanced solutions, do use iPhone data recovery as it helps to restore voicemails and other files without any backup.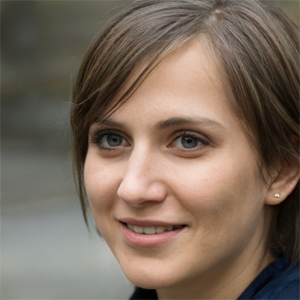 Kim Keogh is a technical and creative blogger and an SEO Expert. She loves to write blogs and troubleshoot several issues or errors on Android and iPhone. She loves to help others by giving better solutions to deal with data recovery problems and other issues.