Have you ever come across the "white screen of death" error on an Android phone? Are concerned about what causes white screen of death and can white screen of death be fixed or not? If yes then I can understand how much frustrating it can be to deal with. But at the same time, it's also important to fix it ASAP.
We generally see that Android phone users come across several errors or issues on their devices. And the white screen of death (WSOD) is one of them. If this issue has occurred on your phone then it will make your device useless. In this situation, you need to fix it immediately so that you can access the phone once again.
So, I will suggest you read this entire post as here you will come to know about some useful methods to fix Android white screen of death error.


What Is Causing White Screen Of Death (WSOD) On Android?
You might wonder why your Android phone screen has become white as you don't know what happened. You completely don't know whether the problem is big or small, and whether it needs to be fixed or not. Well, the error is not a malware attack but it is due to other possible causes mentioned below:
Faulty apps can lead to white screen errors on Android/Samsung phone
Your external SD card is infected with a virus
The phone dropped from a height and turns the white screen
Insufficient memory on the phone
Damaged or clogged up memory
The phone is too old and suffers from hardware or software issues
How Do I Fix Android White Screen Of Death Error?
Here I have mentioned a few best and simple solutions on how to fix white screen of death on Android phone. If you are a Samsung phone user and wondering to fix Samsung white screen of death then also these methods are best.
Solution 1: Restart Your Samsung/Android Phone
Whenever your Android phone suffers from any kind of errors or glitches then restarting the device can help you to deal with it. It has worked for many users and is a simple solution to follow.
When your device restarts, it close all background apps running and allows any apps to run smoothly. If restarting the phone does not solve white screen issue on Android then move to the next solution.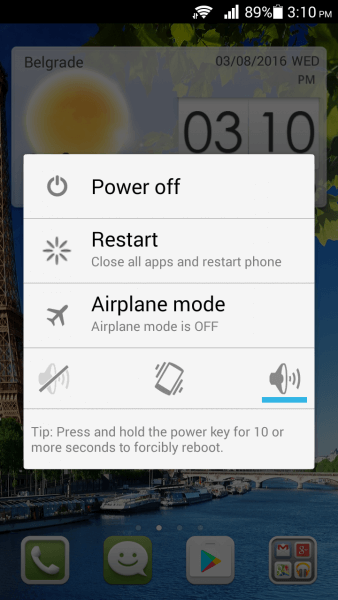 Solution 2: Delete Cache And Data Of App
Many users have reported that they have come across a white screen of death while using an app on the device. In that case, you need to clear the data and cache of the particular app.
Here is what you to do:
First, go to Settings > select Application Manager
Then select the app that is causing an error on phone. Now on app info, choose the "Clear Data" and "Clear Cache" option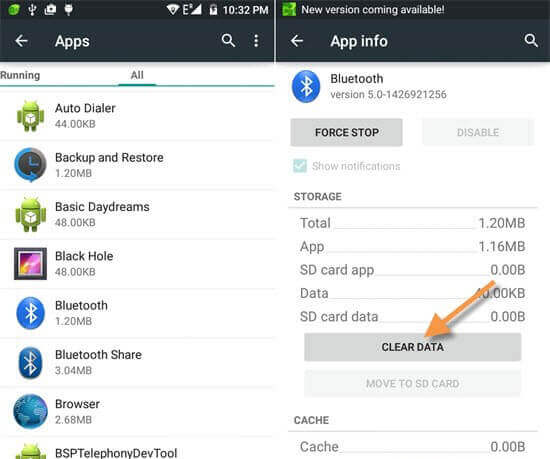 That's it.
Solution 3: Delete the Problematic App
There may happen that after clearing the cache and data of the app, you can delete that particular app from your phone. If you need that app later on then simply install it from Google Play Store.
Follow the steps:
Open Settings > Choose Apps & notification
Now find the app that you want to remove
Then click on Uninstall option to delete the app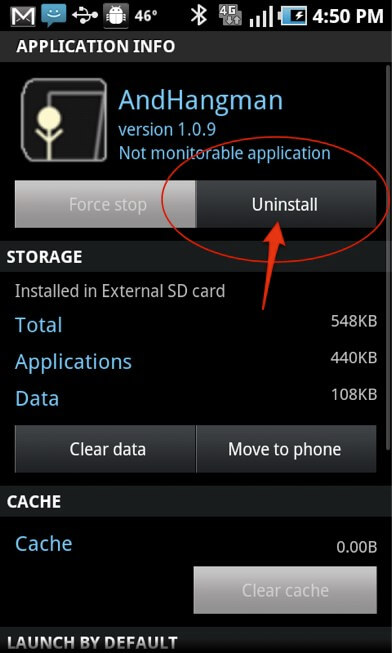 Solution 4: Move Apps From SD Card To Phone Memory
If the apps are causing issues on phone then check if that app is stored on an SD card or not. If the app is on external memory then you should move it to internal memory to solve Samsung white screen of death.
Simply go to Settings > open Apps. Here you will see the list of apps.
Select the problematic app on the SD card and move to internal memory. Choose "Storage" and click on "Move to internal memory"
That's it.
Solution 5: How To Fix White Screen On Phone After Dropping?
If you are experiencing a white screen after dropping the phone then it can be an internal problem. In such a case, you need to follow the below steps to get rid of it:
First, switch off your phone/tablet and then remove the back cover from it. If requires then remove the battery as well
Now use a thin and delicate tool to remove the LCD Ribbon by unlocking it. Here you should check carefully of the connector for any kind of dust or dirt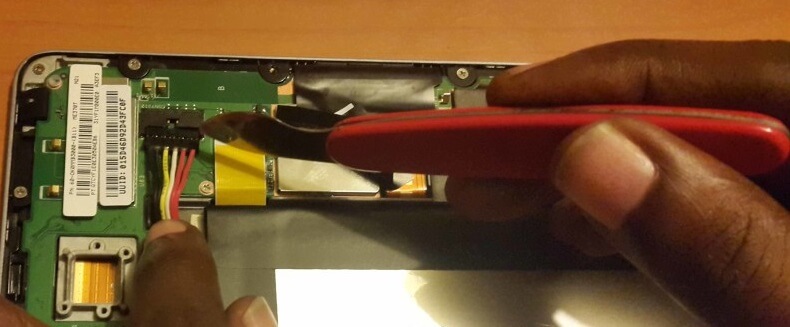 Next, lock the ribbon again
And then insert the battery again and turn on your phone
Solution 6: Factory Reset Android Phone
When nothing works for you then the last option left is doing a factory reset of the device. You need to do a hard reset so that everything clears and make your phone a new one.
Follow the below steps:
Press Power + Home + Volume down buttons unless the options list occurs and your phone enters Recovery Mode.
Now select the "Wipe data/factory reset" option via the volume down key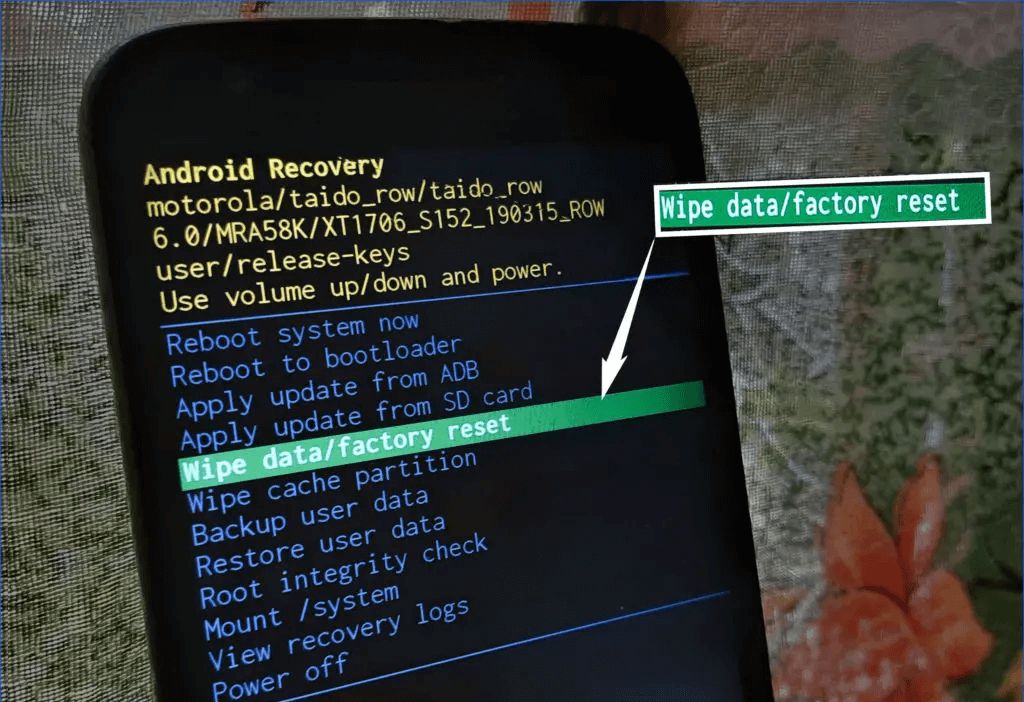 Confirm the action by pressing the Power button
When the entire process is over, your phone will automatically reboot and the white screen on the Android phone will be resolved
Note– All data and settings will be deleted from the phone and everything will be new. But your phone will be resolved the WSOD error.
Solution 7: Take Your Phone To Repair Center
You can also take your phone to a repair shop where your phone will get a better repair option. The technical team will check everything and will try to solve white screen of death issue on the Android phone. Remember, this is the last option left when nothing works for you.
Solution 8: How To Fix Android White Screen Of Death Using Professional Tool
Apart from the above-mentioned solutions, I will suggest you go for the Android Repair tool. If you have tried manual ways but still looking for a quick fix then this is a highly suggested tool. It can easily fix various Android errors or issues apart from the white screen of death. Whether the issue is on Android phones/tablets or Samsung devices, this effective tool is just amazing.
I recommend this efficient tool because it can resolve any kind of error on Android/Samsung phones and makes it normal. Some other issues include settings has stopped, Android no command error, Pandora keeps crashing, Android stuck in headphone mode, etc.
Therefore, simply download Android Repair software and remove the white screen in Android.
Android Repair- 1 Click Repair Tool For Android
Easily fix any kind of issues or errors on Android by 1 click repair tool. Fixes any Android error without hasslefree:
Ability to fix several Android system issues or errors like Black screen of death, apps keep crashing, stuck in boot loop etc.
Helps to make Android system back to normal without any skills required
Has the highest success rate to fix any types of Android errors

Conclusion
So, I would like to conclude to all users that if you are experiencing Samsung tablet white screen or white screen after dropping the phone then this is the best blog to read. Here I have discussed some valuable ways to get rid of the white screen issue. To fix the issue without any technical knowledge, go for the Android Repair tool.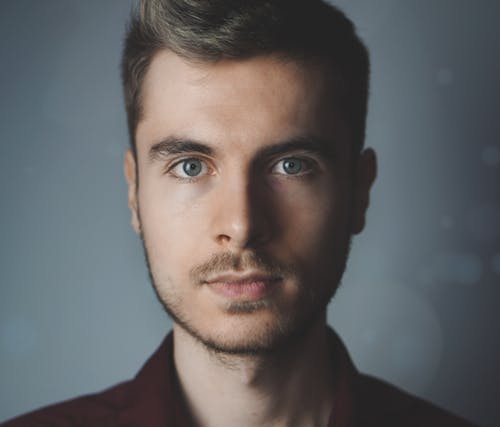 Steve Peterson, an SEO Expert as well as a technical writer. He loves to gather information about Android & iOS operating systems and write content about it. Whether its the matter of data loss situation, error or issues, broken or damaged problem, latest new going through, and several others. He guides to deal with all such things with his articles.