Did your important files are deleted or lost from your Samsung phone? Wondering how to recover deleted data from Samsung devices? If your answer is yes then do read this blog carefully.
Here I am going to guide you on some effective ways to retrieve deleted files from Samsung phones using Samsung data recovery and other DIY methods.


Data loss is a common situation to come across by almost every phone user in which photos, videos, music, text messages, call logs, etc. are deleted due to several reasons. Users don't know what to do as for most of them this might be the first time.
But now, there is nothing to worry about as this article will guide you to do Samsung Galaxy data recovery easily to get back lost files from Samsung phones.
So let's walk through it.
Is It Possible To Retrieve Deleted Data From Samsung Phone?
Yes, you can recover deleted data from Samsung phone.
But I am sure, lots of users will not believe it and they ask how is this possible?
Let me tell you that the lost or wiped data from the phone is not permanently deleted. Those files are still available in the internal storage of the phone. Unless the disappeared files are overwritten, you have a chance to restore the files.
Once deleted, the space allocated by data is released and new data can be stored. Unless you save new data in that place, all your wiped files can be retrieved.
Therefore, you are suggested to follow a few important tips for successful recovery:
Stop accessing your phone after data loss as it can overwrite the files and can lead to permanent loss
To increase the chance of recovery, turn off all mobile data, hotspot, Wi-Fi, etc
Find out the best recovery tool like Samsung data recovery tool to recover Samsung phone data effectively
What Are The Ways To Recover Deleted Data From Samsung Phone?
Below are some of the methods given that can retrieve your deleted photos, videos, documents, and other data from your Samsung phone.
Method 1- Recover Deleted Data with Samsung Data Recovery
Samsung Data Recovery is the best option to recover lost data from Samsung phone. Yes, that's right. Whether you have your Samsung phone with you or not, you can easily recover all your deleted data.
This Samsung data recovery software retrieves every lost data from Samsung phones without any backup. Some of the user data it retrieves includes contacts, text messages, videos, photos, call logs, photos, documents, WhatsApp, audio files, and others.
Another important thing is this software works in any data loss situation. Whether your phone screen is broken or dead, this Samsung data recovery program easily restores data from Samsung broken or dead phone.
This software supports all versions of Android on your Samsung and makes the recovering task easier for you without the need for a third person. It works on all Samsung Galaxy devices without any backup.
You just have to Download Samsung Data Recovery software and let it scan your device. After the scanning is done you can simply download and restore your data.
To know how to use the software, check the user guide.
Android Data Recovery- Recover deleted data from Android phones/tablets
The best and efficient tool to recover lost, deleted, disappeared, inaccessible data from Android phones/tablets. Some unique features include:
Directly recover various types of data such as photos, contacts, SMS, videos, WhatsApp, call logs, documents, notes, etc.
Recover data in any situation like accidental, water damage, unintentional, factory reset, formatting, virus attack or other reasons
Allows one-click option to "Recover" deleted files without backup

Samsung data recovery software supported devices:
Samsung Galaxy Note 20 Ultra 5G, Samsung Galaxy Note 20, Samsung Galaxy M01 Core, Samsung Galaxy M01s, Samsung Galaxy M31s, Samsung Galaxy M01, Samsung Galaxy A21s, Samsung Galaxy J2 Core, Samsung Galaxy M11, Samsung Galaxy A31, Samsung Galaxy M21, Samsung Galaxy S20+, Samsung Galaxy S20 Ultra, Samsung Galaxy Z Flip, Samsung Galaxy M31, Samsung Galaxy S10 Lite, and many more.
Method 2- How To Recover Deleted Photos/Videos From Samsung Phone
To restore deleted photos from Samsung phone or any other phone you need to open your Google account and for that simply follow the below-given steps. Google Photos is one of the best ways to retrieve deleted photos or videos. In fact, this is the best way on how to recover deleted files from phone memory Samsung without pc.
Follow the below steps to recover photos from Google Photos:
Open your open and go to Google photos
Select the Trash folder
Now, choose the video or photos that you want to restore and hold it
Click on Restore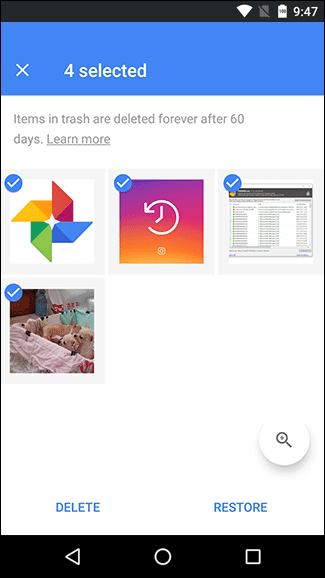 Now, you can check your phone's gallery and see whether the photos or videos are restored or not.
Method 3- Samsung Cloud To Get Back Deleted Data
To recover deleted data from Samsung phone or any other files you can try the Samsung cloud. There is a feature in the Samsung phone named Samsung cloud that backup your data and even restores the deleted one.
Follow the steps to restore data from the Samsung cloud:
Open the settings of your Samsung phone
Click on Accounts & backup
Select Samsung cloud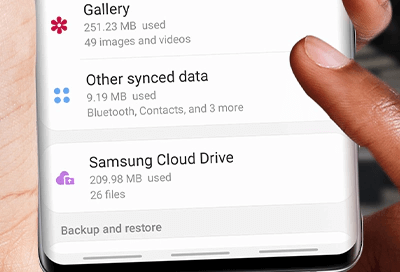 Now, click on Gallery> Trash
Choose the photo or video that you want back and then click on Restore
Wait for some time to get the data back to your gallery. This is a simple way to restore photos, videos, music from the cloud.
Method 4- Recover Deleted Data via Google Drive
Here is another way through which you can recover deleted data from Samsung phone via Google drive. Follow the below-given steps to do so:
Open your Google account
Go to Google Drive
Click on storage and then click on backup
Choose the files that you want to restore
Click on Download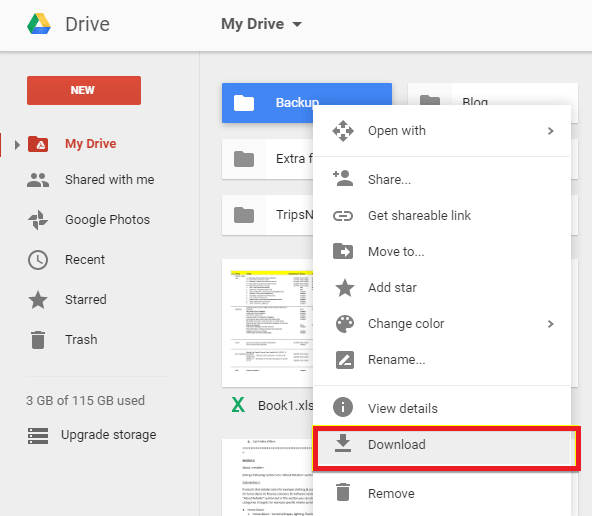 Wait for a couple of minutes and then go to your phone's gallery to check whether you got your deleted data.
Method 5: How to recover data from Samsung dead phone?
Many times, the Samsung device becomes dead due to several reasons and the data stored inside becomes inaccessible. In such a situation, how to access the data is not an easy task.
However, if you want to get back data from a dead Samsung phone, the best option is to use Samsung data recovery software. This program will allow you to do Samsung data recovery from dead phone in an easy way. It can be used by any user and helps to recover lost files from Samsung without any backup.
Method 6: How to recover data from broken Samsung phone?
Are you struggling to recover data from a broken Samsung phone? If yes then you are not alone as plenty of users are looking for the same solution. Well, I must say that if you have created a backup then use it to restore the files. If not then go for Samsung Galaxy data recovery.
This is an easy-to-use tool that helps to recover disappeared files from the Samsung phone without any backup. This is the best Samsung data recovery broken screen tool to retrieve files from Samsung devices.
People Also Ask:
Can you recover data after factory reset Samsung?
To do Samsung data recovery after factory reset, just follow the simple steps given below: Go to Settings > Backup and Restore. Now, choose the Restore option, and select the backup file that you have created before resetting the phone. Select the files and restore all of the data on your Samsung phone.
How can I recover my data from Samsung Mobile?
To recover data from Samsung mobile, download the Samsung data recovery and connect your phone to your PC. It will start analyzing and scanning your device for data loss. Once the scanning process is done you can preview the data such as photos, videos, SMS, music & others and restore them.
How can I recover deleted files from Samsung internal memory?
Download the free trial version of Samsung Data Recovery program to recover deleted files from Samsung internal memory: First, connect the Samsung phone to your PC > Enable the USB debugging before starting the scanning of your phone > Now analyze and scan the deleted data from the Samsung phone > Preview and restore all the data from Samsung.
Conclusion
So here it comes to the end of this article where I have discussed several ways to do Samsung Galaxy data recovery to recover deleted data from Samsung phone.
Now, it's your turn. Try the methods stated above and see which one suits you in recovering the deleted data from Samsung phone.
In case you are unable to recover data with the methods then simply go with Samsung data recovery. This is the hassle-free and the easiest way to get back your files back in Samsung phone.
I hope that you liked this article and it helped you in data recovery.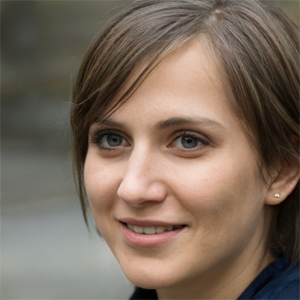 Kim Keogh is a technical and creative blogger and an SEO Expert. She loves to write blogs and troubleshoot several issues or errors on Android and iPhone. She loves to help others by giving better solutions to deal with data recovery problems and other issues.