Are you getting annoying incoming text messages from an unknown or unwanted source on an Android phone? If you are saying yes, then obviously you want to get the answer to this common question – How Do I Block Unwanted Text Messages On Android?
Usually, there are several ways to block text messages from a number you are getting from. Android phones commonly have a spam filter that is built-in & can perform a brilliant job at filtering messages.
Apart from that, you also have other options in it. This app is specially designed to filter the text message which comes to your mobile phone.
What Happens When You Block A Number And They Text You?
The number you have blocked tries to message you ever, but the send text message will not reach you. In such a case, only the blocked number will be able to see that the message is sent to you but couldn't receive it.
And thus, if he/she will apply to call you, the call rings only once and then goes to your voicemail.
But you will notice that the blocked contacts apply a call to you.
Part 1: How To Block Text Messages On Android?
Here, I am going to show you how to stop receiving SMS on Android. Go through them and apply those to make it work.
Method #1: Directly block the number from message box
One of the simplest ways to block messages from a particular person is – directly block their number from the message box.
To know how to do so, try out the given steps:
First, open your message box
Click on the menu options that are present in the upper right side corner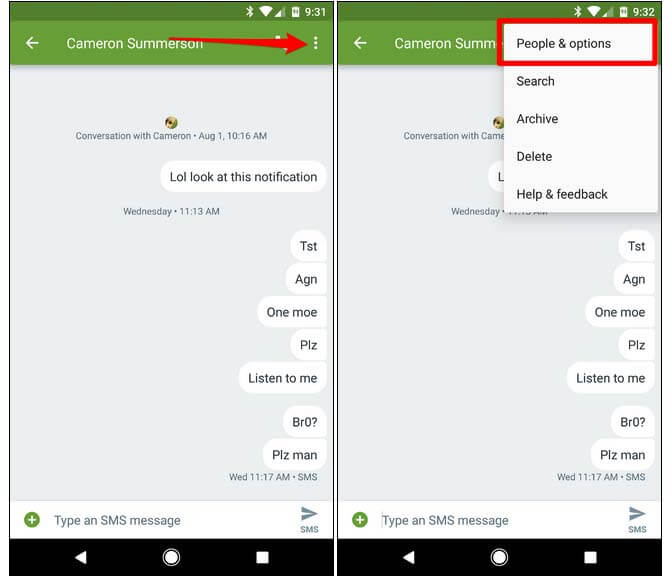 Now, choose the block contacts/block number
You'll see that a pop-up will appear on your Android screen which will ask whether you want to block the contact or not.
After that, simply tap on block opt to confirm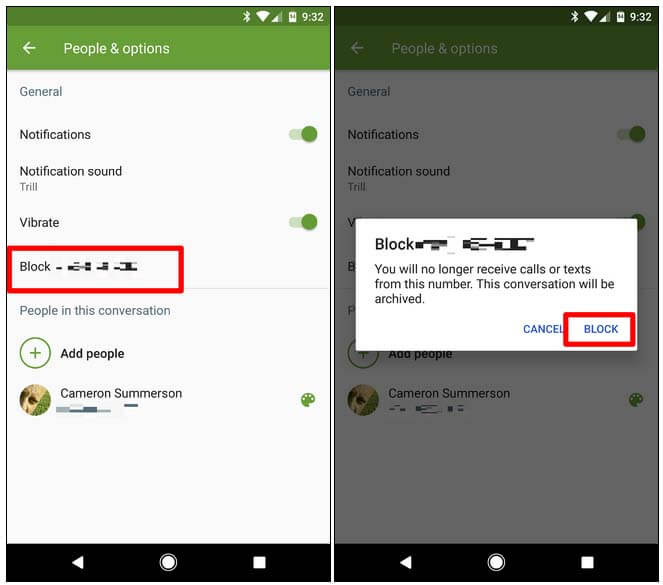 After performing the above steps, the person will not able to call or SMS you.
Please note– Sometimes, if you want to remove the number from the blacklist, just go back to the block contacts/number screen and click on unblock.
Method #2: Block The Person From The Contacts
There is yet another method that you can try to block incoming text messages on a cell phone from a person messaging you. Simply block text messages from a certain number on Android.
Now, just check out the below steps:
Go to your contacts from the Android phone
You'll see more options at the top right corner, click on it.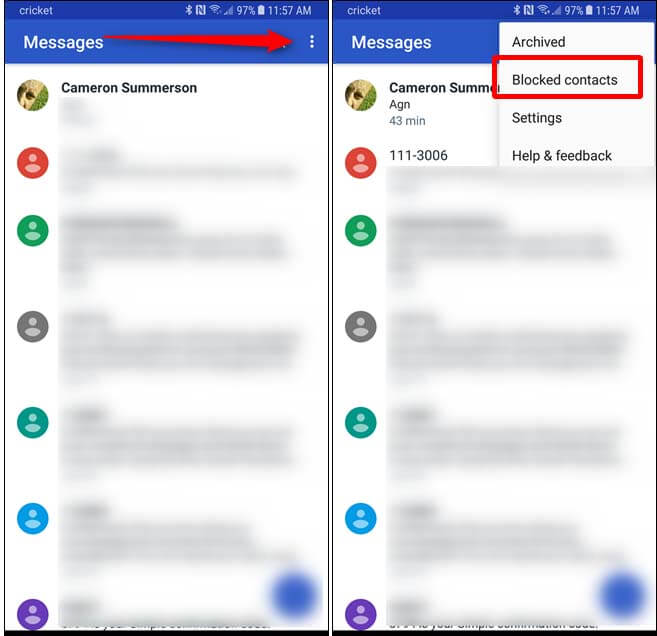 As you will click on block/unblock a number, a pop-up will appear to block contacts or block messages
Simply hit on block messages or contacts you want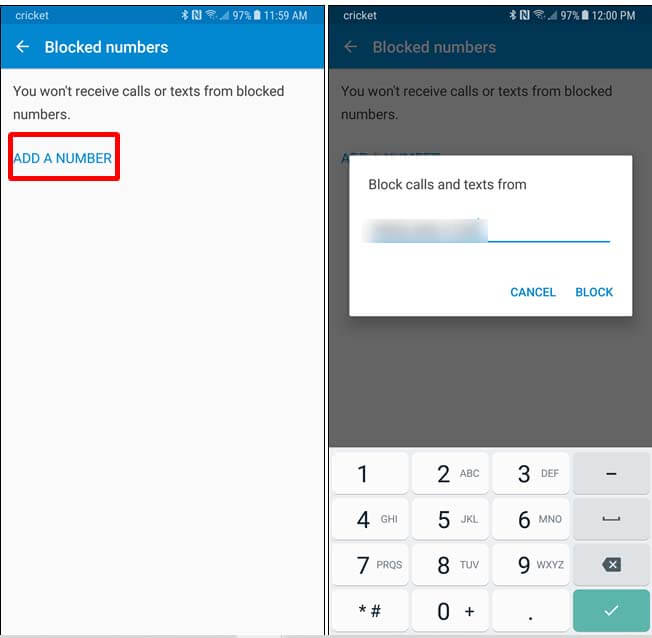 After executing these steps, the blocked number will no longer be able to call or text you.
Method #3: Add The Number To The Spam List
If you really want to block the person who keeps texting you continuously, just directly add that contact to the spam list. For this, you will have to try the below instructions:
Step 1: Just go to the list of text messages.
Step 2: From there, you have to hold a message, which is coming from an unknown number.
Step 3: Doing so will prompt the menu with the options three dots, at the bottom you can see the "Add to spam numbers" option.
Step 4: After choosing that you'll have to make tap on "Ok" in order to verify the unwanted number so that the specific person will not be able to text you anymore.
Method #4: Contact To Your Service Centre
After performing all the above three solutions, if you're still unable to block the particular person who keeps messaging you then you can try this solution.
Last but not least one & only option left for you that is – immediately contact your service carrier. In order to do so, go to the carrier's website. But, if you cannot navigate that site then you can give the service centre a hotline call.
After that, they will favourably block a number for you.
Part 2: How To Block Incoming Text Messages on iPhone
Typically, there are several methods to restrict text messages on iPhone from any number.
Doing so will not only block the SMS but also blocked the calls from the sender.
Method #1: How To Block Number From An Existing Text Message
Go to your Messaging app & click on the conversation in which the number is also included which you need to block.
In this step, you need to select the small (i) you'll see on the top right side of the screen. If you can't get that, just choose text at top of the text box which is followed by info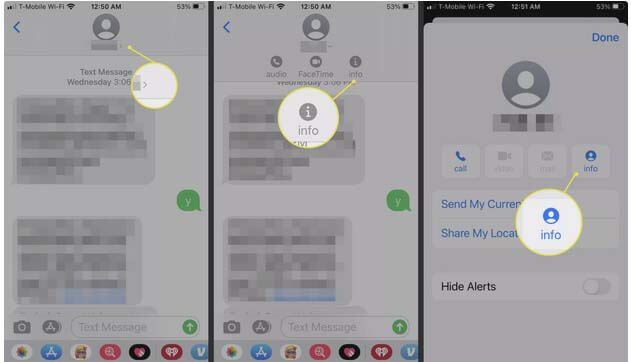 Now, choose the arrow at the right side of your contact.
Lastly, you need to Scroll down & then tap on Block this Caller, and again select the Block Contact to simply confirm it.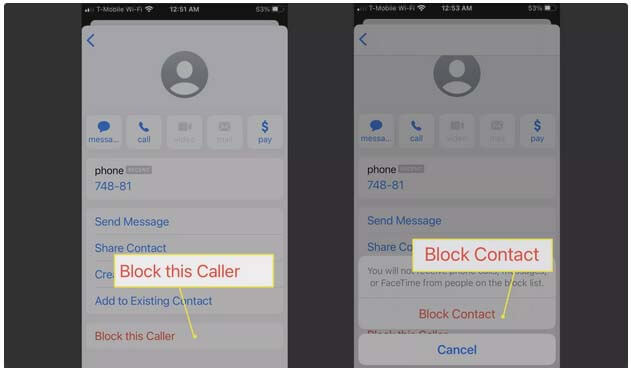 Method #2: Blocked The Number From The Recent Calls
The same steps will be followed to block the call/text messages on iPhone as you have followed in the case of Android. Well, nothing to worry about because again I am going to provide you with the simple steps to block the number from your recent calls.
Step 1: First of all, open the call list on your iPhone
Step 2: Then, make a tap on the (i) icon after the unwanted number
Step 3: Choose the Block this Caller option.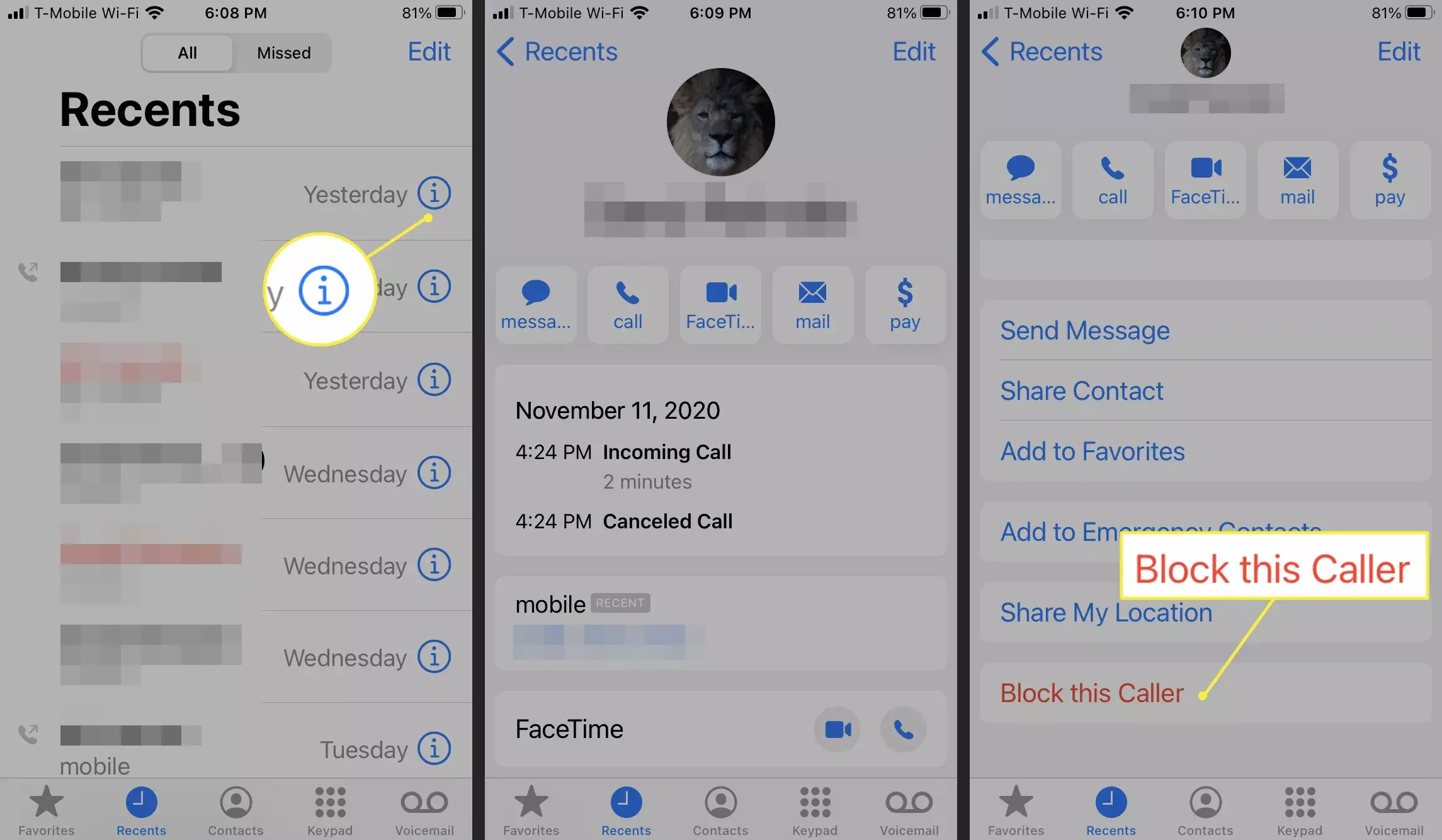 Method #3: Block The Number From The Setting
If you do not have any existing messages or recent calls from the person you need to block, then you can directly set up a call & text block from Settings.
Firstly, go to your Settings
From that, tap on Messages opt & then again click on Blocked.
Now, hit on Add New. Here, you have to scroll down if you have a lot of blocked contacts.
Select the number from there that you need to block.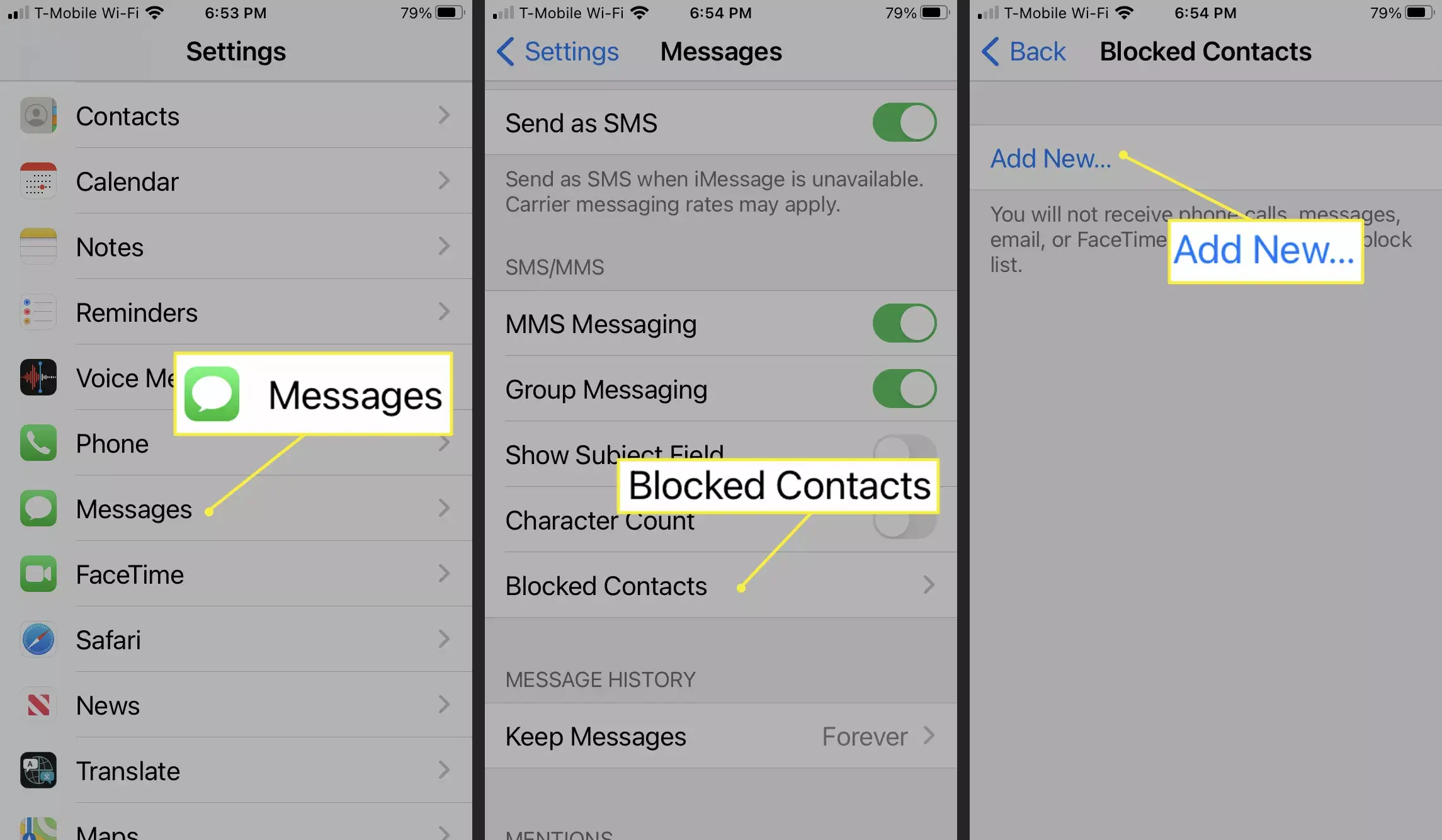 Final Thoughts
In this tutorial, I have gathered the best as well as most effective methods using which you'll get rid of getting frustrating text messages by blocking them permanently.
Nothing you have to do, just try out the above-mentioned methods to block text messages on Android/iPhone.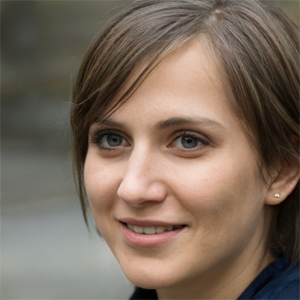 Kim Keogh is a technical and creative blogger and an SEO Expert. She loves to write blogs and troubleshoot several issues or errors on Android and iPhone. She loves to help others by giving better solutions to deal with data recovery problems and other issues.