Have you accidentally or unintentionally lost your photos from Samsung Secure folder? Wondering if "can you recover deleted photos from Samsung secure folder"? If yes then go through this blog and learn the best ways to recover files.
Samsung users generally use the Secure folder to keep their vital pictures, videos, & other files. But sometimes, they end up losing those photos due to some reasons. However, many questions come into my mind about lost files from the folder.
If you are also looking to retrieve them then there is no need to worry. In this tutorial, we will guide you about the Samsung Secure folder and how to get back deleted photos from Secure folder on Samsung.
Can You Recover Deleted Photos From Samsung Secure Folder?
After losing data from a phone or secure folder, a common question that generally comes to mind "is it possible to recover deleted photos from Samsung secure folder"?
The answer is Yes, you can recover the disappeared pictures from the secure folder.  Though many users believe that once the data are deleted, they are gone forever. But it is not true. If you have created a backup then it can be restored by Settings > Backup and Restore > Restore > choose Secure folder settings.
However, if there is no backup then using a recovery tool like Samsung Data Recovery can help you to retrieve deleted photos. But remember, you should act immediately because if the deleted files are overwritten by another file then it will become impossible to restore files.
About Samsung Secure Folder
 Secure Folder is extra protection for your files provided by Samsung. It is a secure vault where you can store your personal data without any worry.
Secure Folder is designed only for Samsung devices. It has secure encryption where you can save your photos, videos, or any other files. It is like a private locker in your mobile and nobody can have access to it without your permission.
How To Retrieve Files From Samsung Secure Folder- Best Methods
Now, let us read further and check all the possible ways to retrieve pictures from the secure folder.
Method 1: How To Recover Deleted Photos From Secure Folder Without Backup (Recommended)
If there is no backup with you for the missing photos then you should go for Android Data Recovery software. This is the best tool suggested by experts to Android/Samsung users to restore all types of data and files from phones. Using this software, users can easily get back deleted photos from Samsung secure folder without backup.
It deeply scans the device to find the missing photos and restores them easily. Apart from recovering photos from the Secure folder, other data are also restored like contacts, pictures, videos, documents, notes, WhatsApp chats, music files, call logs, text messages, etc. This Samsung Data Recovery is a quick recovery tool that also retrieves data from forgotten PIN/password/pattern or locked/damaged phones.
Therefore, you simply need to download and install this amazing Samsung secure folder recovery to restore photos and files from it. Just follow the complete user guide to use the software hassle-free.
Android Data Recovery- Recover deleted data from Android phones/tablets
The best and efficient tool to recover lost, deleted, disappeared, inaccessible data from Android phones/tablets. Some unique features include:
Directly recover various types of data such as photos, contacts, SMS, videos, WhatsApp, call logs, documents, notes, etc.
Recover data in any situation like accidental, water damage, unintentional, factory reset, formatting, virus attack or other reasons
Allows one-click option to "Recover" deleted files without backup

Method 2: Use Samsung Account To Retrieve Photos From Secure Folder
You can retrieve your lost images from Secure Folder through your Samsung account. Before that, ensure you had a backup of your files to Samsung Cloud. Furthermore, you can restore your data from Secure Folder if you have multiple Samsung devices. For that, you need to add those multiple accounts to store backup files to Secure Folder.
If you have taken a backup of your files, here is how you can restore them from Secure Folder:
Go to the menu by simply tapping on three dots
Then, tap on Backup and restore, thereafter tap on Restore.
Next, select the items you want to rescue
After that, click on RESTORE NOW and you will be redirected to the server and a backup will be installed on your Samsung phone.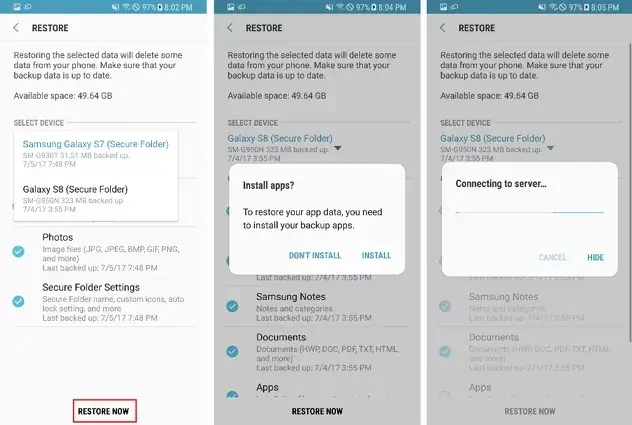 Bonus Tip- How To Backup Samsung Secure Folder?
Though, the name indicates itself that all data and files are kept safe and secure but still data loss happens because of various reasons. However, if you want to avoid this kind of situation then it's better to create a backup of the Secure folder.
Follow the below steps to upload your files to Secure Folder:
First, put your password to open Secure Folder, then tap on three dots
Now, move to Settings and tap on the Backup and restore option
Next, choose an account and log in.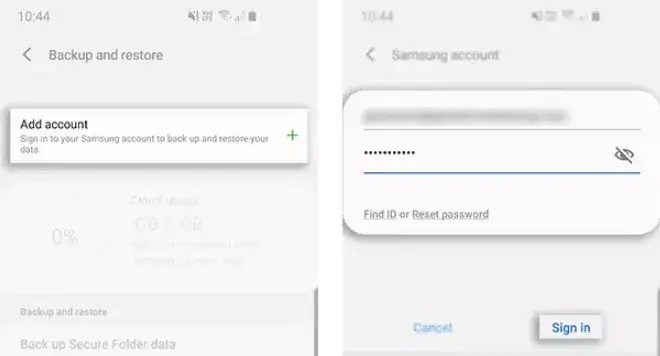 Thereafter, you will go back to Backup and restore to select data to Secure Folder
Finally, contents will appear that you want to take backup. Simply tap on backup and continue.
FAQ:
Where is Samsung secure folder data stored?
The data of Samsung secure folder gets stored on your device and they can be accessed by using the app. You need to enter the correct password to access the folder.
Is it possible to recover deleted photos in a secure folder?
Yes, there is a possibility to restore deleted photos from Samsung Secure folder. You must know that the lost data are not permanently removed. So if you have taken a backup previously then it is easy to restore otherwise you need to use professional Samsung secure folder photo recovery.
Is Samsung's secure folder private/safe?
Samsung secure folder is a safe place where users can store their useful photos, videos and other files undoubtedly. The folder is secured by Samsung Knox which is a defense-grade security infrastructure this guards your data completely. In addition, users can use biometric lock or passcode to secure their data more.
Conclusion
Data loss is a common situation and losing photos from Samsung secure folder is also a common thing. However, when you have taken a backup of all user data then there is nothing to worry about. In this blog, I have discussed the best ways to recover deleted photos from Samsung secure folder. But if there is no backup then go for Samsung data recovery software.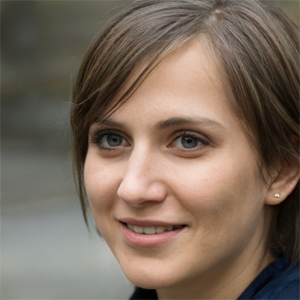 Kim Keogh is a technical and creative blogger and an SEO Expert. She loves to write blogs and troubleshoot several issues or errors on Android and iPhone. She loves to help others by giving better solutions to deal with data recovery problems and other issues.