Did you unexpectedly deleted your VITAL PHOTOS from your iPhone? Are you wondering how to recover deleted photos from iCloud?
Well, we all know that losing our important pictures is very much heartbreaking. Nobody wants to lose those moments but some of the other reasons lead to such kind of situation.
Therefore, if you are looking to get rid of the issue then this blog is for you. Here, I will guide you through some easy ways to recover permanently deleted photos from iCloud.
What Are The Photo Loss Reasons From iCloud?
There can be several reasons for photo loss from iCloud or you might delete some data from your device to fix storage space running out the problem.
Go through some more reasons:
Due to a malware attack
Mistakenly deleting your photos from iCloud
Formatting or resetting your device
App crashing issues after installation, resulting in data loss
By physically damaged of your device
Best Ways To Retrieve Permanently Deleted Photos From iCloud
After knowing the reasons behind the loss of photos, now it's time to go through this complete blog to know the recovery methods.
So let's move ahead.
Method 1: Get Back Deleted Photos From Recently Deleted Album
If you accidentally delete your important photos from your phone and are now worried about whether you can recover them or not, then don't worry. You can restore them from the Recently Deleted folder.
Here is what you have to do:
First, visit icloud.com and log in to iCloud
Now, click on Photos, choose the recently deleted folder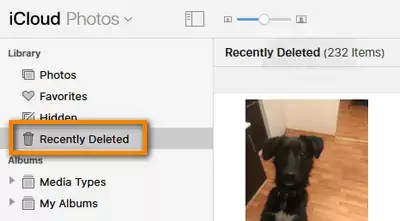 Next, choose photos that you want to restore and click on Recover
Remember- To make this method successful, you should have a backup of the data in iCloud.
Method 2: Retrieve Deleted Photos From The iCloud Backup
If you fail to restore pictures from the Recently Deleted album then you can get them from iCloud. Follow the below steps to retrieve deleted photos from iCloud backup:
Visit https://www.iCloud.com on your phone
Enter your login id and password when asked
After signing in, move to the Photos option

Go to the Recently Deleted tab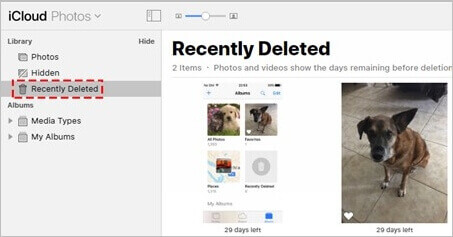 Tap on the Recover option after selecting the photos you want to restore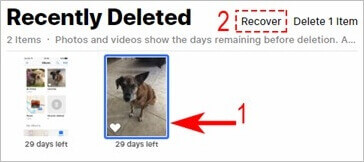 That's it.
Method 3: Restore Deleted Photos Using iCloud Photo Stream
If your issue has not been resolved by the previous solutions, you can follow this method to recover permanently deleted photos from iCloud Photo Stream.
Here is how you can follow this method:
First, go to Settings > iCloud > Reset > Erase All Content and Settings
Now, switch on your device and move on to Apps and Data Screen followed by on-screen instructions.
Thereafter, select iCloud Backup and then click on the Restore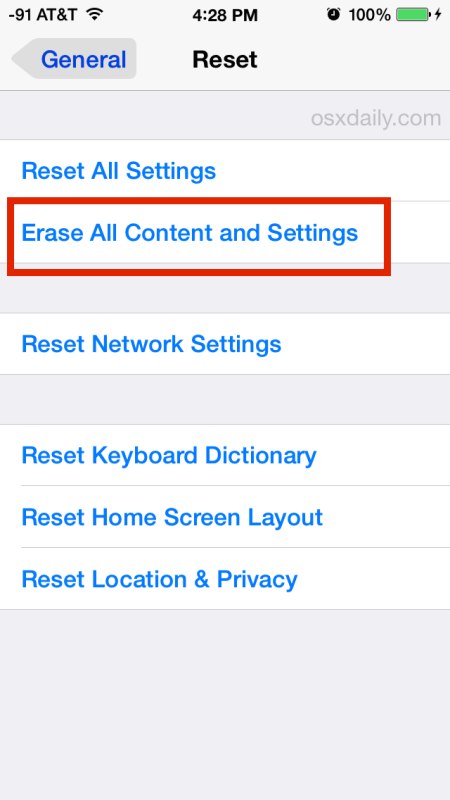 Remember– If you used iCloud backup earlier, then you can use this method to recover photos from iCloud Photo stream.
Method 4: Recover Lost Photos From iTunes Backup
Still, you are unable to find your lost photos! No problem, you have the option to restore them by using iTunes backup.
Here is how you can restore your lost photos using iTunes backup –
Open iTunes on your computer (make sure iTunes is running in the latest version)
Connect your iPhone using a USB cable
Click your device icon to choose when iTunes occur and tap on "Restore Backup"
Then, look for the recent backup and click on "Restore"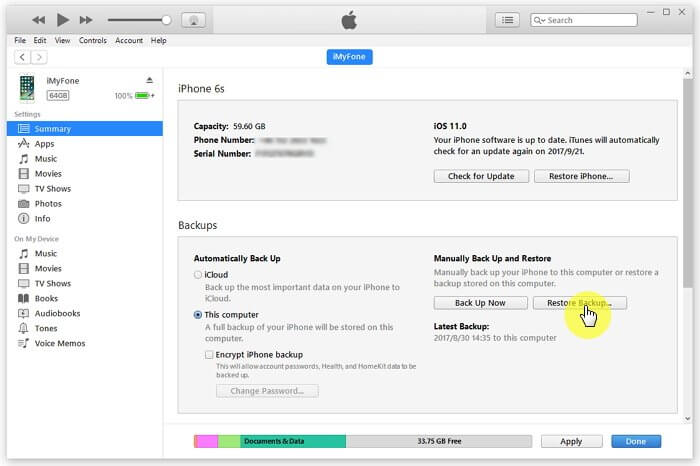 Finally, you can see those pictures and can access them as before
Method 5: How To Recover Permanently Deleted Photos From iCloud Without Backup (Recommended)
Whenever any kind of data loss happens then we always have a fear of them losing them forever. But, in today's time, there is no need to worry. With the use of iPhone Data Recovery software, you can recover permanently deleted photos from iCloud without backup. This is easy to use and with one click, you can recover deleted photos from iPhone.
Not only photos from iCloud but other data from iPhone can be retrieved like contacts, text messages, WhatsApp chats, call logs, notes, videos, pictures, and others. It supports all types of iPhones like iPhone 13/12/11/X/XR/XS Max/7/6 and the latest iOS 15/14/13/12/11 version.
Therefore, it's suggested to download and install this iPhone Data Recovery tool to get back lost photos from iCloud easily.
Follow the complete user guide to know how to use the software.
iOS Data Recovery- Worlds Best Data Recovery Tool For iPhone/iPad/iPod Touch
Get back lost or deleted iPhone/iPod/iPod Touch data without any backup and in a quick time.
Has the highest data recovery rate in the industry
Recovers several data like contacts, photos, messages, notes, videos, etc
Compatible with latest iPhone 14/14 Pro/13/13 Pro/12/12 Pro/11/11 Plus/XR & supports iOS 16/15/14/13/12

FAQ:
How Do I Recover Permanently Deleted Photos from iCloud After 30 Days?
After your photos are deleted, you have 30 days to retrieve those data. Once the time period is over, they are permanently removed. However, if the data like photos are stored on the device then there is a chance to get back them using professional software.
How do I upload photos to iCloud?
If you want to upload photos to iCloud then you have to enable automatic sync option on the device. Simply go to Settings > Apple ID > iCloud > Photos and then enable the iCloud Photos option. Or if you want to upload the photos from a PC then go to iCloud.com > Photos > and choose the Upload icon.
Can I recover permanently deleted photos from my iPhone without backup?
Yes, there is a possibility to recover deleted photos from iPhone without backup. The photos deleted remains in the device itself but they are in hidden form. To restore them successfully, you need professional software like iPhone Data Recovery. This will help you to restore permanently lost photos from iPhone without backup.
Summary
We all know that data loss is one of the common scenarios users occur in their daily life. However, some moments users never want to lose but due to some reasons, they are deleted. However, there is nothing to worry about as this article has discussed various ways to recover permanently deleted photos from iCloud with/without backup.
If you don't have a backup then go for iPhone Data Recovery software as this is a professional program that does not require any knowledge.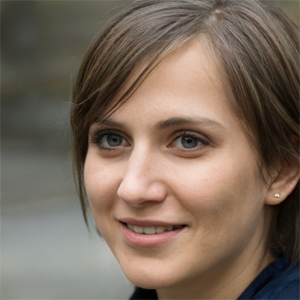 Kim Keogh is a technical and creative blogger and an SEO Expert. She loves to write blogs and troubleshoot several issues or errors on Android and iPhone. She loves to help others by giving better solutions to deal with data recovery problems and other issues.