Are you looking for some ways to recover deleted Facebook messages on iPhone as you have lost them accidentally? Willing to know "is there a way to recover deleted Facebook messages on iPhone"? Don't worry, you will get all your questions answered here.
Losing Facebook Messenger chats or conversations is like a disaster as Facebook doesn't provide any recovery option. But there are other ways that can help users to retrieve the disappeared messages from Facebook.
So in this blog, I will guide you on some best ways how to recover deleted Facebook messages on iPhone.
Is It Possible To Recover Deleted Facebook Messenger Messages On iPhone?
When a message gets deleted from Facebook Messenger, it is possible to archive it. Archiving conversations is not visible and gets hidden from your chat history. In such a situation, you can find your archived messages through various methods.
But many users have a question in their mind, what if lost or deleted Facebook messages are not archived? Is there a way to recover deleted Facebook messages on iPhone?
The answer is YES! The fact is deleted messages are not permanently removed so there is always a chance to retrieve them. In addition, users can go for a professional tool to restore lost Messenger messages on iPhone.
How To Recover Permanently Deleted Facebook Messages On iPhone 13/12/11?
Without wasting much time, now let us read further and check all the possible methods to recover deleted Facebook messages on iPhone.
Method 1: Restore Deleted Facebook Messages Via Search
This is a very simple method to recover lost messages from Facebook Messenger on iPhone by simply doing a search. But this is only possible if you have archived those messages on the Messenger app.
Here is how you can do that:
Launch the Messenger app on your iPhone
Now, click on recent conversations displayed on the screen
Type keywords linked to the messages on the Search bar and search the conversation you want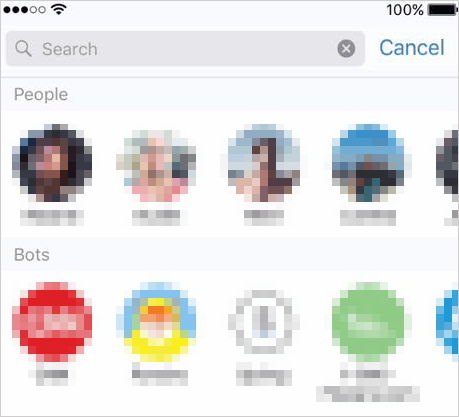 That's it. If this method does not work for you then move to the next one.
Method 2: Recover Facebook Messages On iPhone Through Settings
This is the second easiest step you can follow to recover deleted Facebook Messages on iPhone.
Follow the below steps to get back your deleted messages:
First, log in to your Facebook Account
Then go to Settings and Privacy
Under General Account Settings, move to Your Facebook Information > tap on Download your information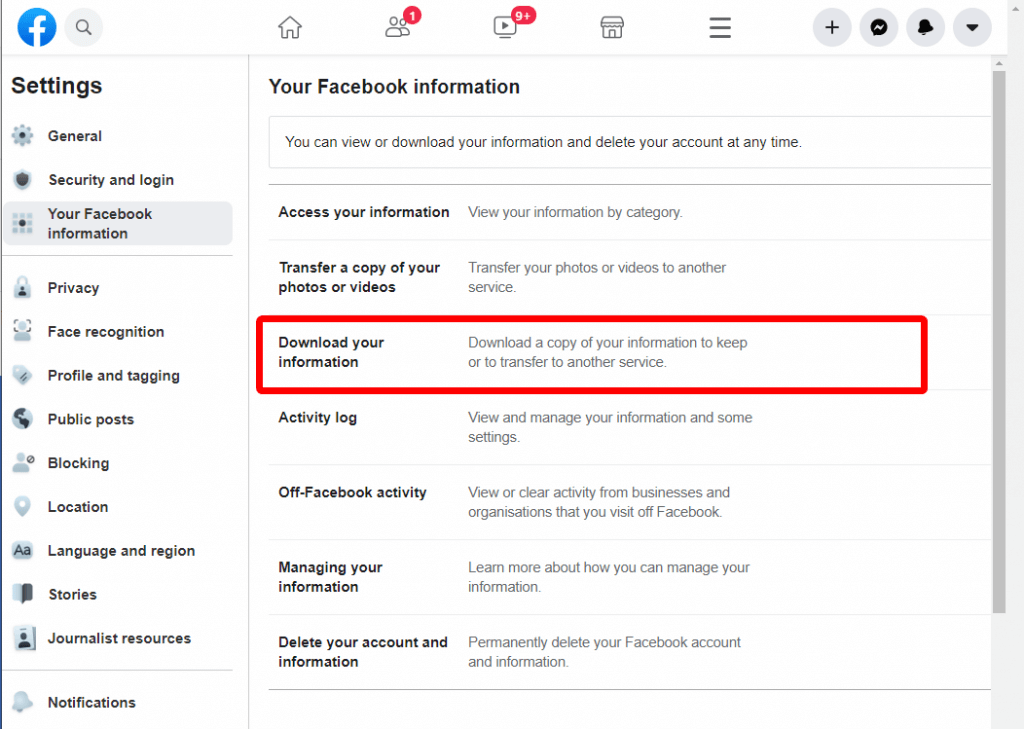 Thereafter, you will be redirected to the next page where you can download all information including all activities on your account, from the date you joined Facebook.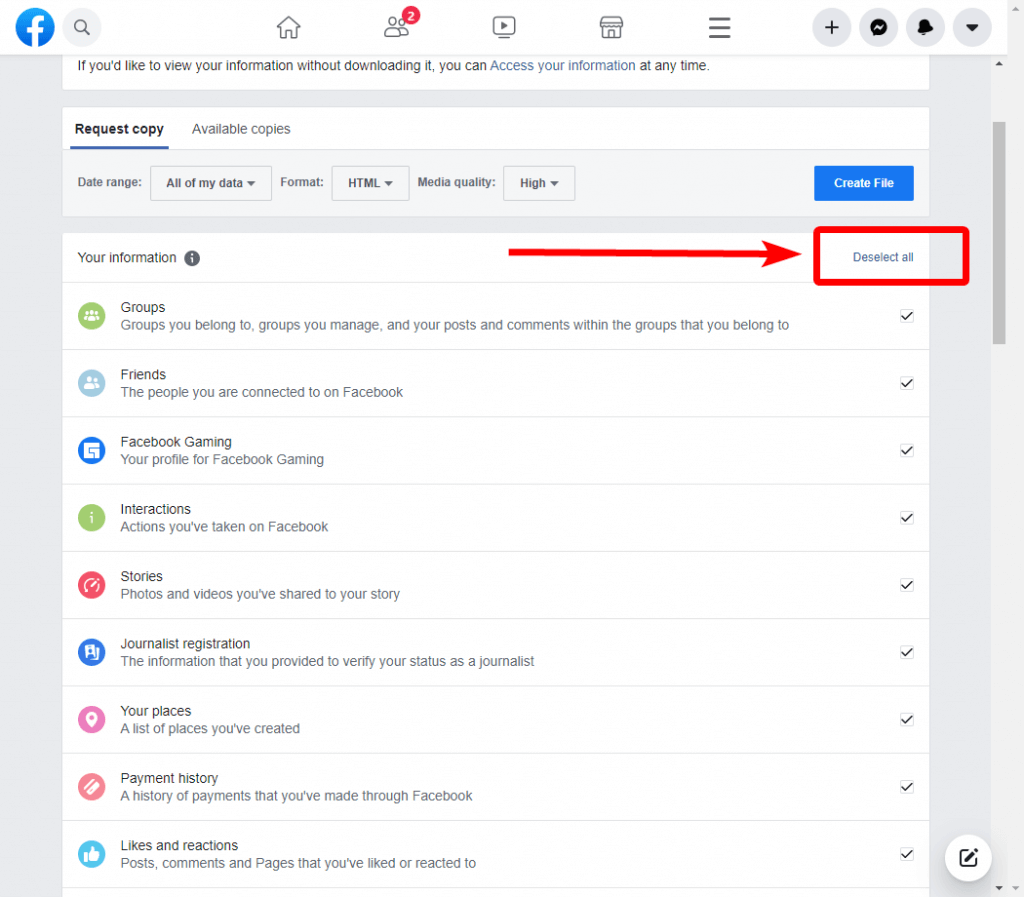 Here, if you want to free storage space, simply tap on Deselect All.
Now, check and tick mark on Messages to download. After that, tap on Create File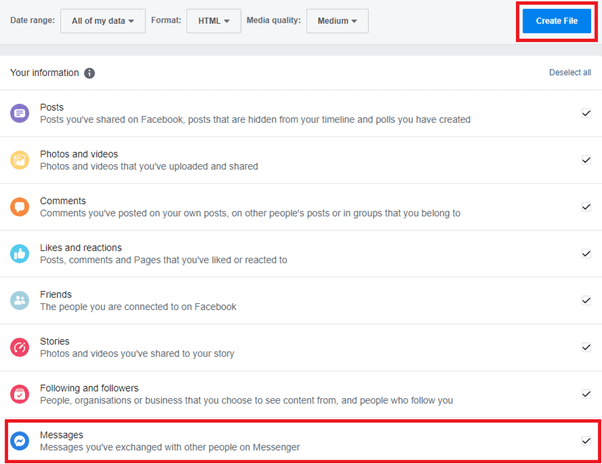 After tapping on Create File option, a message will display on your device screen showing the process of your files and you will be notified from Facebook after the process is completed.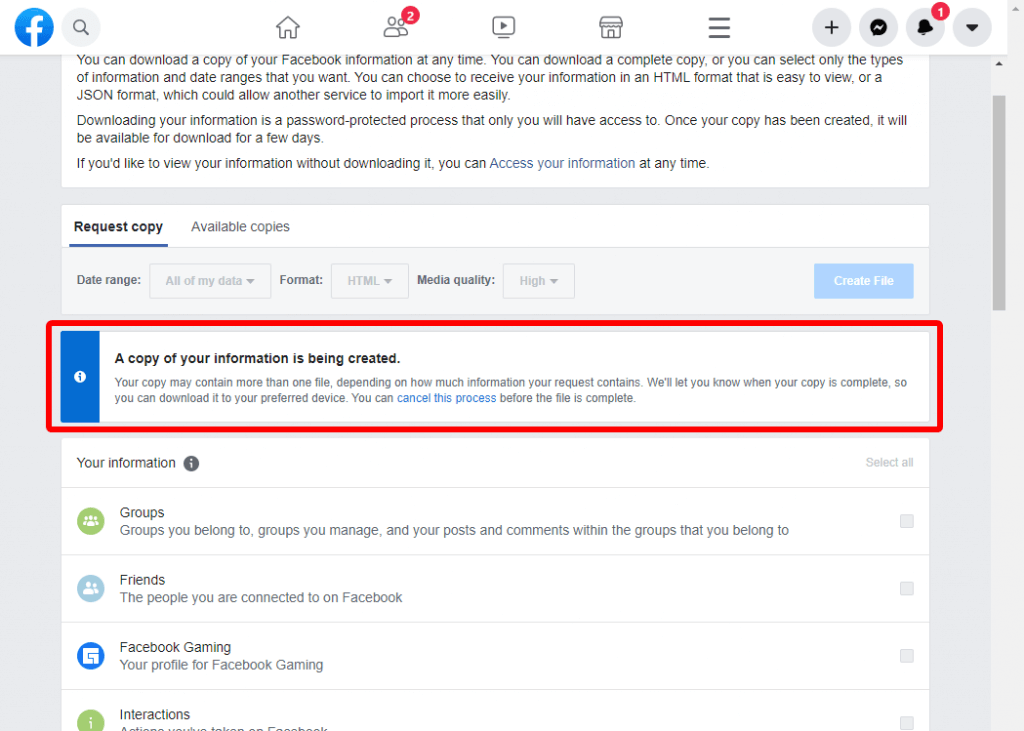 After the process completes, a download link will be sent to your registered email. Tap on the link and you will be redirected to Facebook's Download information page. Then, you need to put your Facebook Password for security reasons.
At last, click on the Download button to continue the process.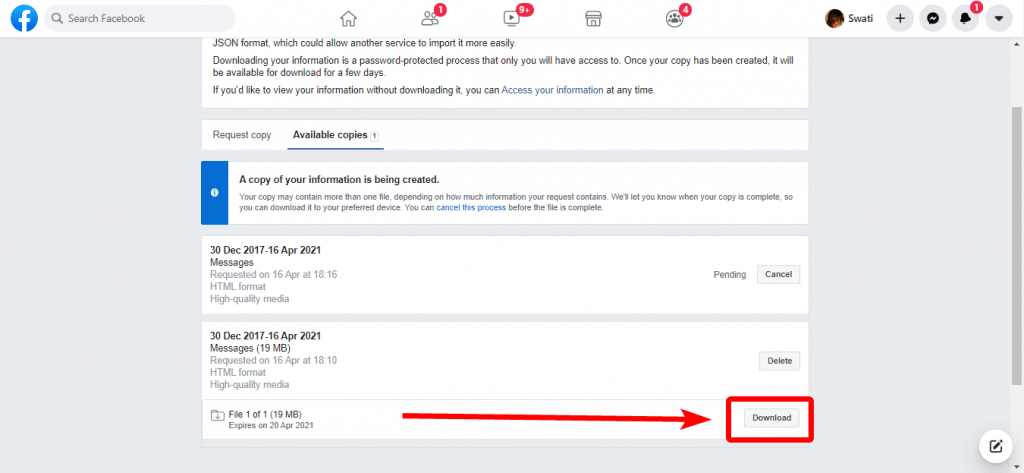 Now, unzip the folder and search the Index file which comprises your Facebook Data > Select Messages, you will see all the deleted Facebook messages.
Method 3: Find Deleted Messages On iPhone Using Unarchive Messages
If the above two methods didn't resolve your issue then follow this one to retrieve lost or deleted messages from your iPhone.
These steps will help you:
Click on Messages if you have started a new conversation and select your friend's name
Tap on the Actions option at the vertical three dots on the screen and click Unarchive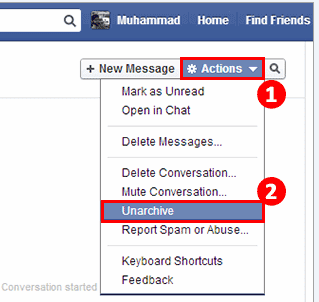 If you are unable to find Unarchive option on Facebook, you can follow the steps below:
Open Facebook Messenger on your iPhone
Put any friend's name in the search bar and you will see the archived conversation with your friend.
Now, write a message and click on Send After that, return back to the Home Page of the Messenger app and you will see your unarchived conversation.
Method 4: How To Recover Permanently Deleted Facebook Messages On iPhone Without Backup [Recommended]
If the above methods do not help you then it's better to use iPhone Data Recovery software. This professional software allows users to retrieve deleted messages from Facebook Messenger iPhone without backup. It has easy to use interface that does not require any technical skills to operate.
Not only Facebook messages but users can restore other data as well like contacts, photos, videos, documents, notes, music, WhatsApp chats, Kik messages, call logs, etc. It supports all iPad, iPod Touch & iPhone models like iPhone 13/12/11/X/XR/8/7/6 and iOS 15/14/13/12 versions.
Therefore, if you don't have a backup then it's time to download iPhone Data Recovery software and get back Facebook messages on your iPhone.
Here is the complete step-by-step guide to follow on how to use the software.
iOS Data Recovery- Worlds Best Data Recovery Tool For iPhone/iPad/iPod Touch
Get back lost or deleted iPhone/iPod/iPod Touch data without any backup and in a quick time.
Has the highest data recovery rate in the industry
Recovers several data like contacts, photos, messages, notes, videos, etc
Compatible with latest iPhone 14/14 Pro/13/13 Pro/12/12 Pro/11/11 Plus/XR & supports iOS 16/15/14/13/12

Bonus Tip- How To Archive Facebook Messages On iPhone
Instead of removing messages that you don't want anymore, you can archive them. The more important thing is that you can restore archived messages at any time.
Here is how you can archive your Facebook messages on an iOS device:
First, launch Facebook Messenger
Now, choose the Messages option
Find the conversation or message you want to archive
Next, click on that conversation
Finally, click on the Archive option to send messages to the archive and erase it from the messages list.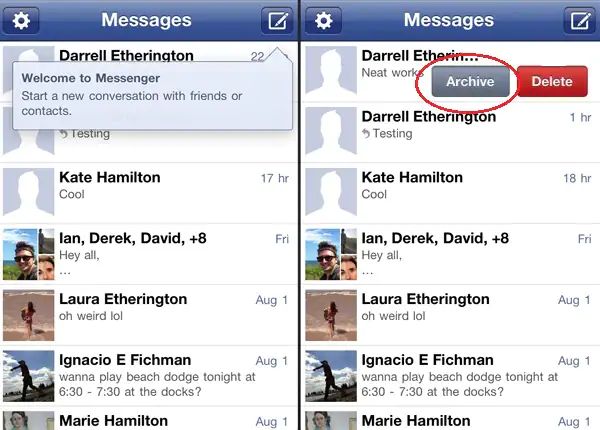 FAQs:
Can Deleted Facebook Chat be recovered?
Yes, the deleted Facebook conversations can be recovered from Settings by downloading the information you want. If not then you can use professional software like iPhone Data Recovery software that easily scans and restore Facebook chats and other data as well.
Are Facebook Messenger messages permanently deleted?
No, the messages from Facebook Messenger are not deleted permanently. Whatever messages are sent to anyone will show in a recent folder and can be restored easily.
How do I recover permanently deleted Facebook Messenger messages 2022?
If you are not able to restore lost Facebook chats via manual methods then it's better to use a software like iPhone Data Recovery. It will allow users to easily retrieve disappeared Facebook Messenger chats or messages without backup.
Conclusion
So I hope you have tried all the methods mentioned in this blog to recover deleted Facebook messages on iPhone. Sometimes, the chats or conversations get deleted due to several reasons but there are ways as well to restore them. If manual methods do not work for you then use iPhone Data Recovery software to retrieve Facebook Messenger messages with ease.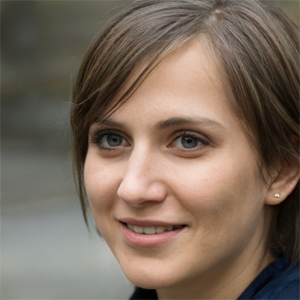 Kim Keogh is a technical and creative blogger and an SEO Expert. She loves to write blogs and troubleshoot several issues or errors on Android and iPhone. She loves to help others by giving better solutions to deal with data recovery problems and other issues.