Just imagine! If your Smartphone is dropped on a floor & its screen gets damaged……then what?
And the most irritating thing is when USB debugging is not working on your device. How you will extract your saved data from a broken phone without USB debugging?
Well, there are several users asking a similar question as seen above. Therefore, in this article, I have decided to provide different effective methods to recover data from broken Android phone without USB debugging.
Android Data Recovery- Recover deleted data from Android phones/tablets
The best and efficient tool to recover lost, deleted, disappeared, inaccessible data from Android phones/tablets. Some unique features include:
Directly recover various types of data such as photos, contacts, SMS, videos, WhatsApp, call logs, documents, notes, etc.
Recover data in any situation like accidental, water damage, unintentional, factory reset, formatting, virus attack or other reasons
Allows one-click option to "Recover" deleted files without backup

Is It Possible To Recover Data From Android Without USB Debugging?
Of course, it's possible to recover data from the broken screen Android phone even without using USB Debugging.
But how?
When the phone screen gets smashed, most of the users think that they have lost their precious data forever. But this is not true, those deleted data still present there and you can easily recover them by using the Android data recovery software.
Hence, this program will definitely help you to know "how to recover data from broken Android phone without usb debugging".
How To Recover Data From Broken Android Phone Without USB Debugging?
Below I have listed the possible ways to restore data from Android device without USB debugging. So, let's try them…
Method 1: Recover Missing Android Data Using SD Card
Nowadays, people are reducing the usage of the memory cards in their Android devices as the newest smartphones are coming with huge storage capacity (256GB, 128GB, or 64GB). However, some of the users were still using memory cards to save their essential stuff.
Thus, if you are also habituated to storing your important data in your SD card then you can easily retrieve your lost data from a broken screen Android phone via memory card. For that, you need to follow the below-given steps
Insert your memory card in the slot.
Now, open a folder inside the memory.
Then, select the files which you like to restore,
Here, you have to copy & paste them to your internal memory.
Must ensure that your memory card has enough internal storage, otherwise, your whole process will fail.
If this method fails to retrieve Android data from a broken phone without USB debugging then you just simply proceed towards the next manual solution.
Method 2: Recover Data From Broken Android Phone Via Google Drive
Well, Google Drive may be the conventional approach for recovering the lost files from the broken Android device. Google Drive offers free 15GB of cloud storage in order to backup all the important data in the cloud.
Moreover, it will enable you to access your data & recover the missing stuff whenever you need it. Thus, if you have already backed up your Android data in the Google Drive account then you have to apply the below easy steps:
Open your Settings app on your Android device
After that, select Backup & reset tab > Back up my data option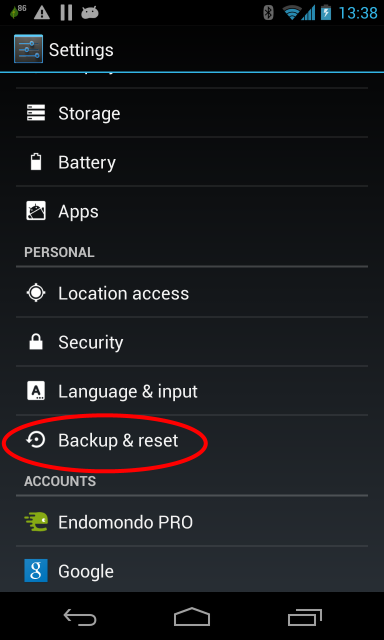 Then, again go back to a Backup & reset tab in order to ensure, whether your Google account is linked to a Backup account or not
At last, choose the Automatic Restore tab to retrieve your lost data on Android.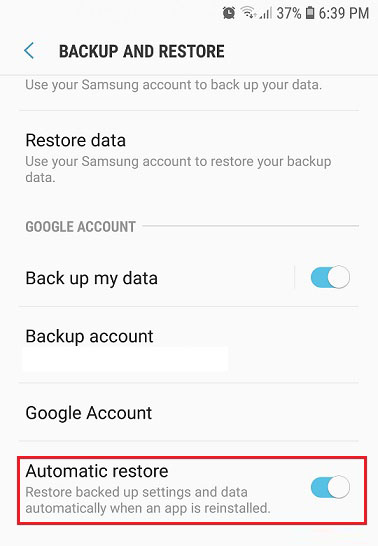 Drawback: The major disadvantage of this solution is that you must have a backup of your pre-existing data in your Google Drive. In case, you do not have the backup of those data, then you'll not able to restore your data whenever your phone screen breaks.
Method 3: Best Way To Recover Data From Broken Android Phone Without USB Debugging
Are you still unable to recover your lost data from your broken screen Android phone?
Don't worry because there is a possibility to recover your lost files without using USB debugging. For that purpose, you have made use of the professional Android Data Recovery software. This tool has the highest success rate of recovery that is why it is known as the best software.
This powerful program can retrieve all kinds of data such as contacts, call logs, text messages, photos, videos, audio files, WhatsApp chats & many more. It will help you to restore your data even after USB debugging failure. Including that, it has the capability to recover the lost data black screen, death screen, water damage screen, blank screen & many more.
Therefore, if you have come across a USB debugging failure, then just download & install the Android data recovery tool with ease & recover data from a broken Android phone without usb debugging.


FAQ (Frequently Asked Questions)
FAQ 1: How Can I Recover Data From A Broken Phone Without USB Debugging?
You can recover your lost data from the broken screen Android phone without USB debugging by simply using the most reliable Android data recovery tool.
FAQ 2: Why is USB debugging not working?
Do you know the reason behind – Why USB debugging refuses to work? Just read out all the possible causes when USB debugging might not working.
Make sure that your smartphone is unlocked & not sleeping when connected with the USB debugging
Ensure that the Android phone is enabled for USB debugging.
In some of the devices, you may verify whether the USB debugging is enabled by simply going to Settings or the Developer page.
Install a USB driver on your Android
FAQ 3: How to Recover Data from Broken Android Phone with OTG USB Cable & Mouse?
If you had a broken screen Android phone but it's still turning on & see its display also, in such case, you may utilize the OTG USB cable & the mouse to recover your lost data from the broken screen phone wirelessly. Before starting the process, ensure that an Android cell phone is equipped with the OTG feature.
Here is the step to step guide:
At first, connect your OTG adaptor on Android.
Then, link your mouse to the OTG adaptor.
After that, switch on your mobile phone.
With the help of a mouse unlock your phone.
Again, connect the Android phone to the Wi-Fi network or you can switch on your Bluetooth function.
Now, you can transfer your files from the Android device to a computer or any cloud service using Bluetooth.
Time to sum up
No doubt USB debugging mode is the most convenient way for transferring & accessing the data from the Android devices to a computer or vice-versa. Just like other devices, Android phones can also susceptible to damage & your data are at risk.
But, your data can be easily recovered by applying the correct approaches & programs mentioned above in this article. Hence, Android data recovery is one of the best programs that can help you to perform Android recovery without USB debugging easily.