Are your PRECIOUS photos deleted from the Keepsafe photo vault on Android or iPhone? Wondering why the pictures are lost and how to restore photos from Keepsafe?
Well, everyone wants their photos to keep safe and secure from others as they are sensitive. In this situation, the Keepsafe photo vault is one of the best options. It allows users to have complete control over their data like which one to show and which to share.
However, the app sometimes experiences some problems, and the pictures stored on it get deleted due to various reasons. So, if your photos are also lost from the Keepsafe album then this blog is for you. Here, you will know the best ways to recover photos from Keepsafe on Android & iPhone.
How To Recover Photos From Keepsafe On Android/iPhone
Without wasting much time, let us go through the recovery methods and do Keepsafe deleted photos recovery with ease.
Method 1: Recover Deleted Photos From KeepSafe Trash
Keepsafe has a Trash folder, where your deleted pictures are saved after deletion. From the Trash folder, you can retrieve your deleted pictures anytime. However, you can use this feature if you are a premium user. Keepsafe offers a recovery limit for its premium users.
However, a free user can upgrade to a premium user to recover deleted pictures.
On the other hand, if you don't have files in the Trash bin, you won't be able to recover them. Because when you delete your photos from the Trash bin, that time those photos also get deleted from Keepsafe's servers also.
Steps to restore your lost photos from the Keepsafe trash folder:
First, open and log in to the Keepsafe account on your iPhone or Android device.
Next, open Albums
Now, tap on the Trash/Bin sign which is at the top right corner. In the Trash folder, you will see a number that shows how many files are there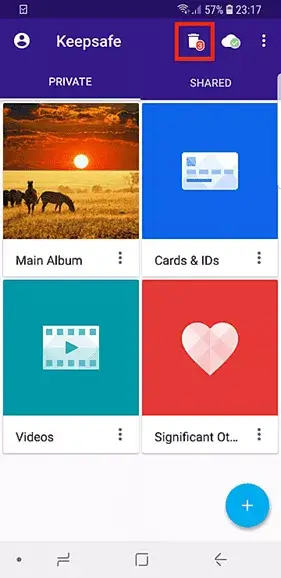 In the Trash folder, look for and choose the deleted pictures that you want to recover
After that, tap on the Restore option which is at the top left corner
Finally, choose the album to which you want to transfer your photos. Now, your lost photos will return to Keepsafe.
Method 2: Restore Deleted Keepsafe Photos Directly On iPhone Or Android
As Keepsafe offers its premium user to keep trash in the Trash folder and also users can restore them until pictures get deleted from the trash folder in the Private Cloud feature.
You just need to follow the steps to know how you can restore those lost photos from Keepsafe Private Cloud. Remember, the steps are similar for Android as well as iOS users.
Follow the below steps:
First, uninstall and re-install the Keepsafe photo vault. Then, log in to your Keepsafe account again.
Next, move to Menu followed by Settings, and tick the check box to turn on Private Cloud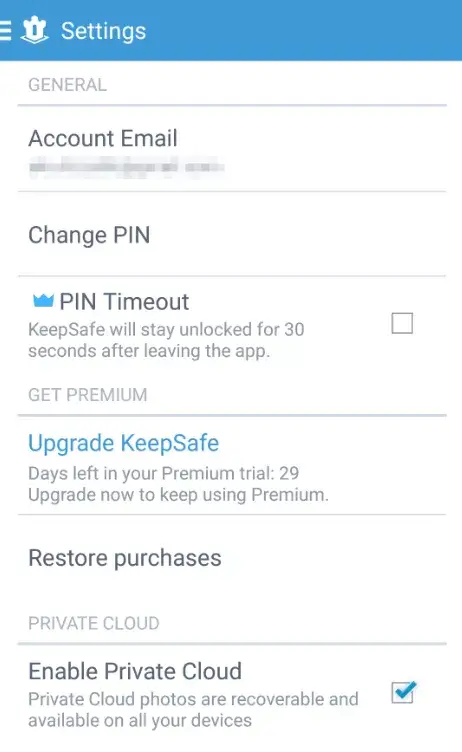 Click on the iPhone home button to close Keepsafe. Now, reopen Keepsafe and your deleted content should be retrieved. It may take some time but keep patience.
If your stored hidden items are on your iPhone Keepsafe, but you have not uploaded those contents to the Private Cloud then it will begin to upload at this time. You can disable the "Wi-Fi only" option to use mobile data to sync those contents to Your Private Cloud.
Now, shut down Keepsafe and open it again on your device. All your deleted Keepsafe pictures will be restored. If there is any issue while restoring pictures after installing the app again, please contact the Keepsafe support team at support@getKeepsafe.com.
Method 3: Best Way To Recover Deleted Keepsafe Photos On Android (Suggested)
Many users are not premium members. In such a situation, it's obvious to think of how to recover deleted photos from Keepsafe without premium. No need to worry as you can take the help of professional software like Android Data Recovery. This is the best Keepsafe deleted photos recovery program that easily retrieves every lost photo without backup.
It has a powerful scanning algorithm that scans your device for the disappeared files. It allows a preview of the data before recovery. Not only photos but this powerful software restores other data also like contacts, videos, documents, music files, WhatsApp chats, text messages, call logs, etc.
Therefore, there is nothing to wait for as you only need to download and install this amazing software to recover photos from Keepsafe after factory reset. Check out its complete user guide to know how to use the software.
Android Data Recovery- Recover deleted data from Android phones/tablets
The best and efficient tool to recover lost, deleted, disappeared, inaccessible data from Android phones/tablets. Some unique features include:
Directly recover various types of data such as photos, contacts, SMS, videos, WhatsApp, call logs, documents, notes, etc.
Recover data in any situation like accidental, water damage, unintentional, factory reset, formatting, virus attack or other reasons
Allows one-click option to "Recover" deleted files without backup

Method 4: How To Rescue Disappeared Keepsafe Pictures On iPhone/iPad
If you are an iPhone/iPad user and also pictures from Keepsafe then you also think of why Keepsafe pictures not showing iPhone and how to retrieve them. If this is the case, it's suggested to use iPhone Data Recovery software. This is a highly recommended program by professionals to restore deleted photos from Keepsafe on iPhone.
It is easy to use and allows users to rescue lost pictures with one click without backup. The iOS Keepsafe photo recovery software works in 3 simple steps. In addition to photos, other data are also restored such as contacts, call logs, iMessages, music, WhatsApp, Kik, Viber, videos, text messages, and others.
It does not matter what reasons have led to such incidents, using this amazing program easily restores every data from iPhone/iPad/iPod Touch. The program supports all iPhone models like iPhone 14/14 Pro/13/12/11/X/8/7 etc.
So simply download and use this recovery tool and get back your pictures to access them again. To use the software hassle-free, check out its complete user guide.
iOS Data Recovery- Worlds Best Data Recovery Tool For iPhone/iPad/iPod Touch
Get back lost or deleted iPhone/iPod/iPod Touch data without any backup and in a quick time.
Has the highest data recovery rate in the industry
Recovers several data like contacts, photos, messages, notes, videos, etc
Compatible with latest iPhone 14/14 Pro/13/13 Pro/12/12 Pro/11/11 Plus/XR & supports iOS 16/15/14/13/12

FAQ:
Can I recover permanently deleted photos from Keepsafe app?
Yes, users can easily recover deleted photos from Keepsafe on Android and iPhone. If the user is using the premium version or if it is in trial then the missing pictures can be restored from the Trash folder. In addition, if the private cloud option is enabled then also your disappeared photos can be retrieved.
Where are Keepsafe photos stored on iPhone/Android?
Generally, the photos on Keepsafe are stored on storage/sdcard0, mnt/flash, storage/emulate/0, mnt/sdcard etc. However, the location can vary from device to device. You can find the folder in your phone's root folder.
How do I access my Keepsafe cloud?
To access your Keepsafe cloud, follow the below steps:
First, open Google Play Store, look for Keepsafe Photos vault and download it.
Now, open the app and enter your email address
You will get a 4-letter code to verify it
When received the code, enter it into the Keepsafe app
And finally, you can access the gallery of Keepsafe
How do I get my pictures back from Keepsafe app?
When you fail to retrieve pictures from the app, then it's suggested checking its Trash folder. If not then uninstall the app and again reinstall it. Now, again open the Trash folder to get back your photos from the Keepsafe folder. Remember, this process will only work when the Private Cloud option is activated.
Is it possible to transfer Keepsafe photos to a new phone?
Yes, you can easily transfer your Keepsafe photos from one device to another. For that, you must have a backup of pictures in the Private Cloud. Simply install Keepsafe on your phone and log in with your email and password. Also remember to enable private Cloud option on both devices and also check that your data is synced 100%.
Conclusion
So this blog has come to an end where I have discussed the best ways to recover deleted photos from Keepsafe on Android & iPhone. Though it's true that the pictures can get deleted accidentally, formatting, or some kind of technical fault. Fortunately, there are ways to overcome the data loss situation.
For advanced recovery, go for Android Data Recovery if you are an Android user or go for iPhone Data Recovery if you are using an iPhone. These software work best when you don't have any backup of those precious moments.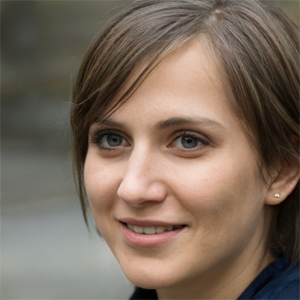 Kim Keogh is a technical and creative blogger and an SEO Expert. She loves to write blogs and troubleshoot several issues or errors on Android and iPhone. She loves to help others by giving better solutions to deal with data recovery problems and other issues.