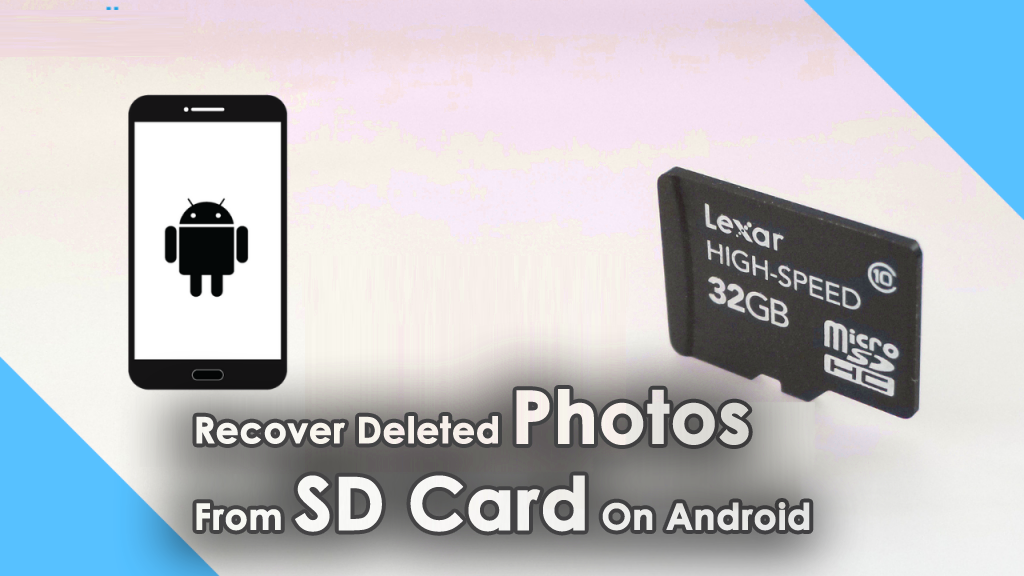 Have you lost your memorable photos from the SD card on your Android device?
Saved lots of your favorite images on that memory card?
If yes, then obviously you're passing from a very annoying situation. It may happen, due to virus attack your photos get lost or you may have formatted your SD card by mistake.
Don't panic! This usually happens with everyone, the deletion of photos from the SD card is very common. Well, whatever the causes or symptoms of losing images from memory card is, no matter.
Today, I am here with perfect solutions using which you can recover deleted photos from the SD card. But before knowing the solutions, first you need to know – how photos get deleted from Android SD card?
Android Data Recovery- Recover deleted data from Android phones/tablets
The best and efficient tool to recover lost, deleted, disappeared, inaccessible data from Android phones/tablets. Some unique features include:
Directly recover various types of data such as photos, contacts, SMS, videos, WhatsApp, call logs, documents, notes, etc.
Recover data in any situation like accidental, water damage, unintentional, factory reset, formatting, virus attack or other reasons
Allows one-click option to "Recover" deleted files without backup

How Photos Get Deleted From Android SD Card?
Well, photos or other stuff can be deleted due to the following unforeseen reasons:
Formatting the memory card in your Android phone/PC.
Unintentional deletion of the pictures from a memory card.
Continuously clicking the photos when memory card have less space.
Virus/malware infection in your SD card.
SD card is used in various devices may turn your card corrupt.
Possible Ways On How To Recover Deleted Photos From SD Card
Now, its time to walk through some of the practical ways that will better guide you on how to recover deleted photos from SD card.
So let's go ahead…
Way #1: How To Recover Deleted Photos From SD Card For Free
Android SD Card Recovery Tool is one of the best as well as recommended data recovery software. Thus, with the help of this tool, you should try to recover missing pictures from micro SD card. Moreover, this tool will not only help you to get back your deleted photos but you are also capable to retrieve audio files, videos, etc.
It doesn't matter why the photos are missing from the SD card, you will able to recover your lost data from the micro SD card in all consequences.
You can also recover files from other memory cards such as- mini SD card, micro SD card, SD, SDXC, SDHC, XD, MMC, TF, CF ETC. This tool will recover deleted photos from SD card fully safe & secure manner.
The best thing about this Android SD Card Recovery Tool that, it is accessible for both Windows as well as Mac operating systems. Apart from that, it is 100% safe & easy to use.


Way #2: Connect Your SD Card To The Computer
Whenever your important pictures get erased from your memory card, before proceeding toward any other solution, firstly you need to connect your SD card to the PC or laptop with the help of a card reader.
If the deleted pictures are started showing on your computer, it simply means that your photos are still available in your SD card only not showing in your Android phone.
Way #3: Recover Your Deleted photos Through Backup
If you are habituated of saving data on your daily life on the cloud or anywhere else, then it became much easier for you to retrieve the lost images from that backup. SD card is mostly used for storing large amount of data.
Therefore, you can make use any of the proper backup options such as- iCloud, Google Drive, internal or external hardware, iTunes, etc. It depends on you, which way you will choose to save backup is essential to keep the entire data safe in your Android phone, laptop, desktop, or other devices.
Way #4: Recover the missing picture from Internal Memory/Storage of your device
After the deletion of the photos, firstly you should look for photos at the internal storage/ memory of your Android device on Windows PC.
In order to recover photos from Android internal memory, you can try to restore the lost data from backup cloud option, Google Photos App, Bin or Recently Deleted Folder, Dropbox, Google Drive, and Microsoft OneDrive.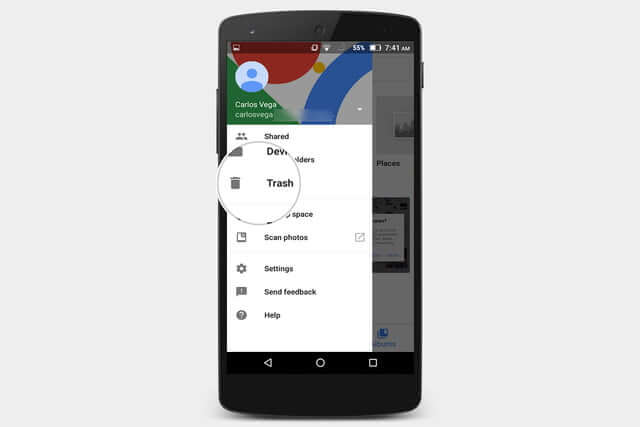 Tips To Avoid Losing Photos From SD Cards
While using, do not remove the memory card
Stop using one SD card on the multiple devices
Do not click any more pictures while it's showing memory card storage is full.
Always keep more than one backup of your images
Download anti-virus on your PC/ laptop
Keep your SD card in a safe place
Note: Stop storing new files on your memory card after photo deletion. Make sure you shouldn't overwrite your old data with the new one ever.
Is It Possible to Recover Deleted Data from Android Memory Card?
Yes, there is a possible chance to retrieve lost data from SD card with the help of the most powerful Android SD card recovery tool.
Whatever data you've saved in your SD card, if it cannot be accessed after the accidental deletion of photos, it doesn't mean that all the data have completely gone from your Android SD card. They still present in the memory card buy are invisible to you. You can easily recover your data using the Android SD card recovery tool.
How to keep your Data safe On your SD card?
After the deletion of photos from the SD card, some of the useful tips you should keep in mind to keep your memory card data safe. They are:-
Immediately stop using your memory card- After losing your beloved photos, you shouldn't use that memory card anymore, otherwise, you may lost your other data too presented on your sd card.
Do not use your Device showing Low Battery: If you want to keep your data safe, you should stop using the device in which the SD card is inserted, while it showing low battery.
Always use One SD Card for one Device only: Some people are habituated of using one memory card on several devices which may put your data at risk. So, try to make use of one sd card in one device only it may prolong your memory card life.
Use Superior Quality of Card Reader: Always try to make use of branded quality of memory card as well as card readers to prevent data loss in the future.
Always save Files backup: The most desirable solution to keep your data safe is- always save a backup of the data saved in your memory card.
People Also Ask:
Can You Recover Deleted Photos From SD Card?
Yes, you can recover lost photos from SD card. You have several ways to retrieve deleted data from memory card. First of all, you can use the option backup, in the second step start your file sync via cloud service, at the last but not the least, you can try the free Android Data Recovery. Hurry up to recover photo files from memory card!
Does Formatting Delete Everything?
Absolutely, if you will format your SD card, it will delete all the files & folders existing in it such as;- photos, audios, videos, and other documents will be erased from your SD card. But the exciting thing is that formatting action does not really delete the files completely. Still you can recover your important files or documents using Android Data Recovery Tool,
Final thoughts
In this section of the blog, I hope that by applying any of the above-given methods you are able to recover deleted photos from SD card. However, among all of them, the best solution to retrieve the missing images from the SD card using the Android SD Card Recovery Tool.
As I have discussed all the possible ways to get back the lost images, you only need to try out the solutions one after another as guided above.