Did you accidentally delete Viber messages on your Android phone? Are you wondering how to recover Viber messages on Android? If yes, then you are absolutely in the right place. This article will guide you on the best solutions to recover deleted Viber messages on Android.
As we all know that Viber messages are a very famous app, this app is just like the WhatsApp app. This app allows its users to send SMS, pictures, videos, etc. But there is only one difference between the Viber and WhatsApp apps that is the Viber app does not save a copy of your chat history to its servers like WhatsApp.
So, let's move through this article and see how to restore Viber messages on Android.


What Are The Reasons Behind Viber Messages Deletion?
Generally, there are many reasons behind the deletion of Viber messages.
Below I have mentioned the most common factors of Viber messages deletion on Android.
Accidental deletion of Viber messages
While formatting your Android Phone, all the data will be deleted
When the Android operating system will be crashed or damaged
Upgrading the Android operating system may remove the presented data
After knowing the most common causes of Viber message deletion, now it's time to know the perfect ways to recover Viber messages on Android.
How To Recover Deleted Viber Messages On Android- Effective Ways!
Now, it's time to walk through the best methods to retrieve deleted Viber messages on Android phones using backup and without backup options.
Method 1: Best Way On How To Recover Viber Messages On Android Without Backup?
In case, when you do not have any backup then you can simply go with the most amazing data recovery software which is Android Data Recovery software. This software is easy to use and allows you to recover Viber messages without backup.
Not only Viber messages but retrieves other lost media files like WhatsApp messages, text messages, contacts, call history, pictures, videos, audio files, documents, etc. No matter, how your Viber messages get deleted from Android phones, it will recover all your lost data so effectively.
This powerful software is also recommended by the experts and moreover, it doesn't require any kind of technical knowledge so anyone can operate this Android data recovery software.
It can make the recovery of data in almost all the brands of smartphones such as Samsung, Sony, Xiaomi, Lenovo, LG, Huawei, HTC, etc. So, just download, install, and try the step-by-step guide of this Android Data Recovery software and recover Viber chat history without backup Android.
Android Data Recovery- Recover deleted data from Android phones/tablets
The best and efficient tool to recover lost, deleted, disappeared, inaccessible data from Android phones/tablets. Some unique features include:
Directly recover various types of data such as photos, contacts, SMS, videos, WhatsApp, call logs, documents, notes, etc.
Recover data in any situation like accidental, water damage, unintentional, factory reset, formatting, virus attack or other reasons
Allows one-click option to "Recover" deleted files without backup

Method 2: Recover Viber Messages On Android Using Google Drive & Viber Backup
Another possible method to retrieve Viber messages on Android is by using Google drive.
So, let's start following the given steps one after another:
From Google Drive
Firstly, connect your Android phone to your Google Drive account.
After that, activate your Viber in it
Now, simply choose Restore Viber content.
From Viber backup
First of all, open the More screen & make click on the Settings
After that, select the Account& choose the Viber Backup
Now, you have to click on the Restore
Lastly, choose the Restore Now option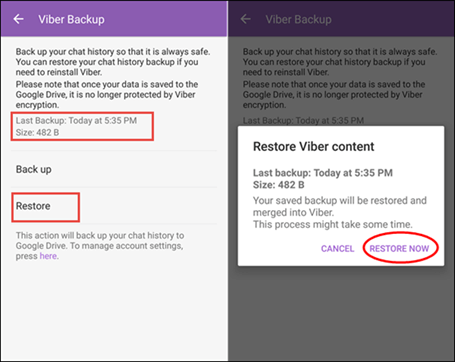 Note: Pictures and videos sent by you will not be recovered. You will get only the file messages in your chat but not the file content.
People Also Ask:
Where Are Viber Messages Stored On Android?
You will get the folder which contains your Viber data like photos, videos, and messages will be located in your phone's internal memory. From there, you can easily access it only if you have the Root rights or use a type of the Root explorer software.
Can I Recover Viber Messages After Reinstall?
The Viber does not offer any backup of a chat history from their servers. However, you can easily recover deleted Viber messages on Android using the reliable Android Data Recovery tool for free.
How Can I Save My Viber Chat History In PC?
You will be able to save your Viber chat history on the computer by following the simple steps as mentioned below: In the first step, you have to open your Viber app > After that, mail the backup of your Viber messages > Now, you need to download a Mobile Trans all on your PC > Again, connect the Android phone with your computer > You have to back up your Viber data from the Android phone > At last, simply export your data to your computer.
Conclusion
By going through the above-mentioned ways, now you must have learned how to restore deleted Viber messages on Android.
In this blog, I have discussed the causes of Viber deletion as well as effective solutions. But in case, manual solutions fail to work you can simply go with Android data recovery software. This software will restore deleted Viber messages on Android safely and securely.
Hence, if you have liked this post, do not forget to leave a comment in the below section of this blog.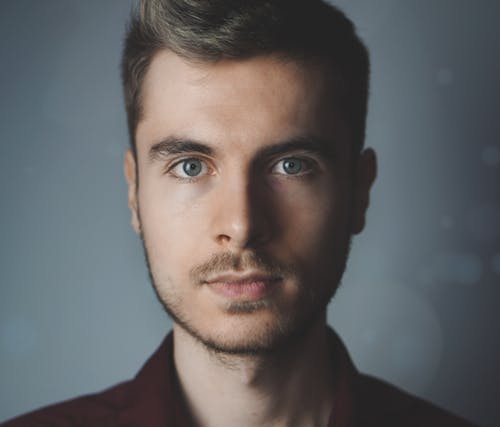 Steve Peterson, an SEO Expert as well as a technical writer. He loves to gather information about Android & iOS operating systems and write content about it. Whether its the matter of data loss situation, error or issues, broken or damaged problem, latest new going through, and several others. He guides to deal with all such things with his articles.