Did you ever come across a loss of photos from the Instagram app? Willing to know what to do and how to restore photos from Instagram app?
Well, if this kind of situation is troubling you then don't worry. In this tutorial, we will discuss several ways how to recover deleted Instagram photos on Android.
So let's read further.


Is It Possible To Retrieve Deleted Instagram Photos?
This kind of question is common from the user's end because nobody wants to lose any photos or other data from their devices.
Generally, we share our beautiful pictures and moments around the world on Instagram. But if you mistakenly lost them, the question arises in your mind can I restore them? The answer is 'YES'. Whatever data are deleted, they are not gone permanently. It means that they remain in the device's internal memory and can be restored using manual methods or by using the software.
How To Recover Permanently Deleted Photos From Instagram On Android?
Now, let us go through this blog and check all the possible methods to recover deleted Instagram photos on Instagram Android.
Method 1: Recover Instagram Photos From Recently Deleted Folder
If you have deleted Instagram photos mistakenly and are worried about whether you can recover them or not, then don't worry as they won't be permanently deleted from your device. You can retrieve them from the recently deleted folder.
Follow the below steps to recover them:
First, open the Photos app on your device
Now, in the album section, search the recently deleted folder
Here you will find deleted files of the previous month in the Recently Deleted. Now, choose photos you want to get back, and click on Restore.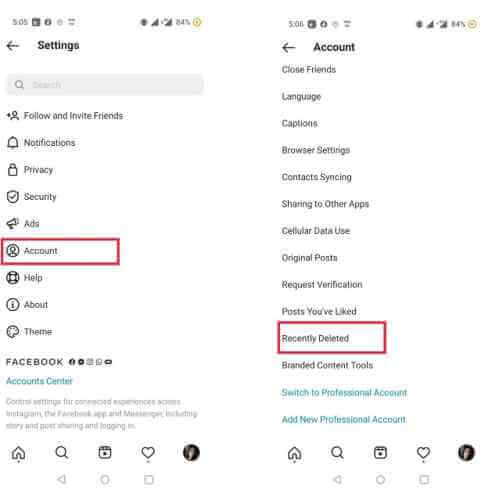 If you fail to restore the photos from this folder then move to the next method.
Method 2: Get Back Lost Instagram Photos & Videos From Instagram Album
If you are a constant Instagram user, you must know that all your media files such as photos, videos, reels, IGTV videos, and stories are saved in the Gallery app of your device under the Instagram Album. If you cannot find the exact Insta post in your feed, you can check the Instagram album to get back your lost file.
Here is how you can get back:
Open the My Files / File Manager app on your phone
Go to the Pictures option and find the Instagram folder.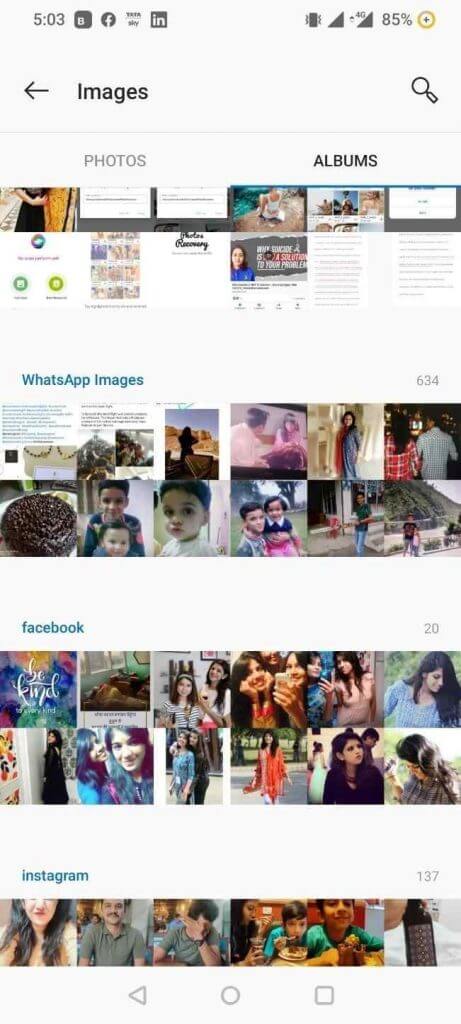 Check the folder carefully, there are chances to find deleted Instagram files. If you found them, move them to a safe folder or restore them from where you can find them easily.
Method 3: Restore Deleted Photos From Instagram Archive
Like Facebook, Instagram also has an Archive option, which helps its users to hide their posts from anyone. You can get back your lost photos from the Archive folder. But, remember if you have deleted your photos from the archive, there is no chance to get back them again.
By following way, you can do that:
Launch Instagram on your device.
Tap on Profile picture
Then tap on the Menu option at vertical three lines and choose Archive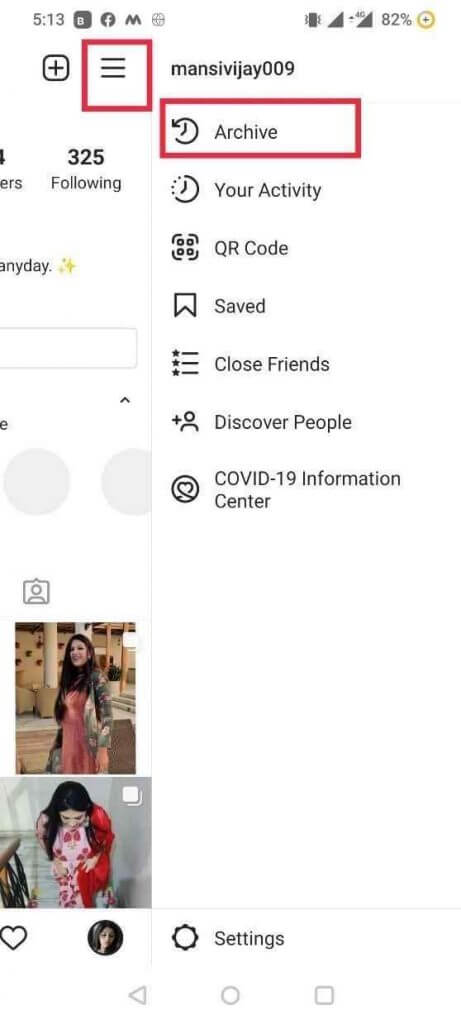 After opening the Archive folder, tap on the drop-down and choose from Posts archive, Stories archive, and Live archive options, from where you delete your pictures/videos.
Lastly, tap on the photos you want and then tap on three dots. Select Show on Profile Now you will get back your deleted pictures and videos in your feed.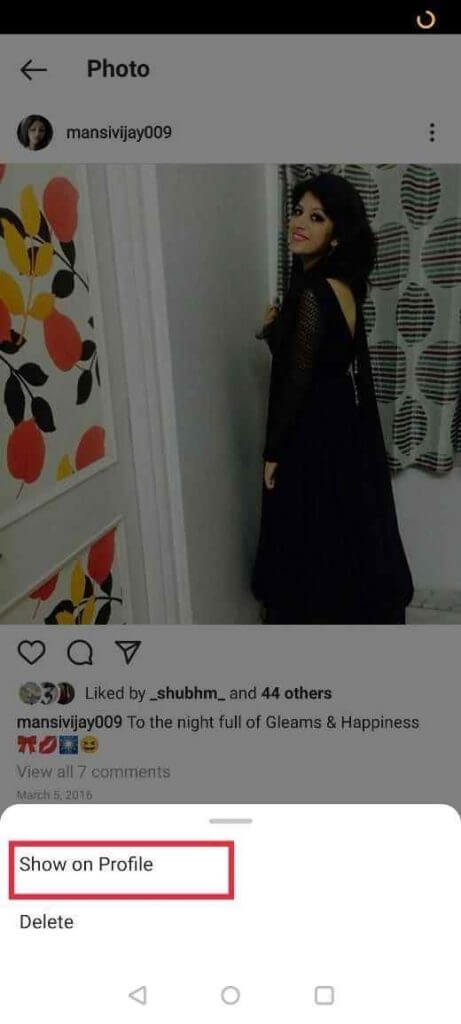 Method 4: Retrieve Instagram Files From File Manager
If still, you are unable to find your Instagram photos, retrieve them from the File Manager option on your smartphone. This is yet another useful way to recover deleted Instagram photos on Instagram.
Follow the below-given steps:
Open File Manager or My Files
Then click on Pictures.
Now choose Instagram If you discover deleted photos, select the Restore option.
Method 5: Review Google Photos & iCloud Storage
If you allowed Cloud storage services on your device, then this solution might help you. When you upload videos or pictures on Instagram or other social media platform, for Android users, Google photos, and for iOS users iCloud systematically take back up.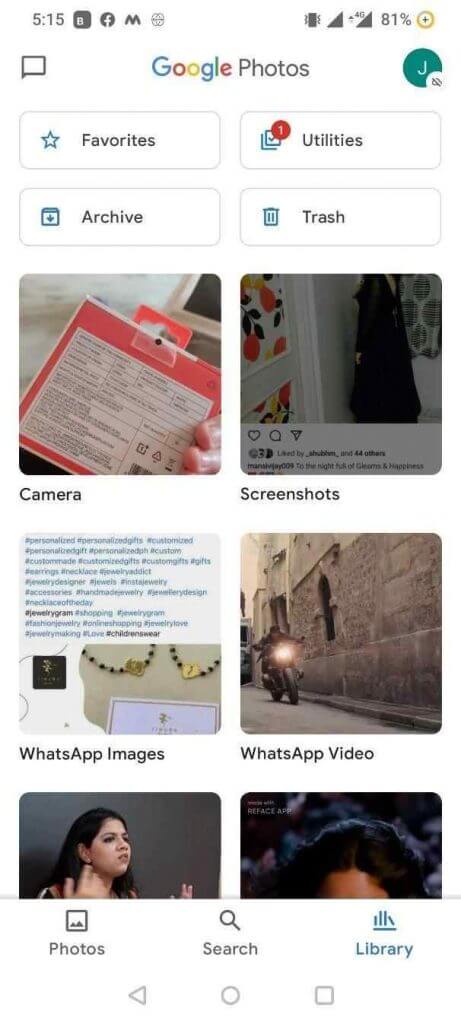 So, after following the above methods you are not able to recover deleted Instagram photos, you can try this method.
Method 6: Best Way To Recover Deleted Instagram Photos On Android Without Backup
If you still fail to restore the Instagram photos then it's suggested to go for Android Data Recovery. This professional tool helps to recover deleted photos from Instagram on Android. This is one of the best software that many experts suggest to restore lost data from Android phones without backup.
Not only Instagram photos and other data are also restored like contacts, pictures, documents, call logs, videos, notes, text messages, audio, WhatsApp chats, and others. It has a powerful scanning algorithm that scans the entire device to find the lost or deleted files from the Android phones.
So, it's time to download and scan this powerful Android Data Recovery tool to recover permanently deleted photos from Instagram.
Check the complete user guide to know how to use the software.
Android Data Recovery- Recover deleted data from Android phones/tablets
The best and efficient tool to recover lost, deleted, disappeared, inaccessible data from Android phones/tablets. Some unique features include:
Directly recover various types of data such as photos, contacts, SMS, videos, WhatsApp, call logs, documents, notes, etc.
Recover data in any situation like accidental, water damage, unintentional, factory reset, formatting, virus attack or other reasons
Allows one-click option to "Recover" deleted files without backup

FAQ:
How do I recover permanently deleted pictures from Instagram?
When your photos from Instagram are deleted then you can check them in your phone storage or wherever you have created a backup. If there is no backup then it's suggested to use Android Data Recovery software to recover permanently deleted photos from Instagram.
Does Instagram keep deleted photos?
Yes, your photos and other data are saved in Instagram for ninety days. In between this time, you can download your videos, photos and other data easily.
Conclusion
So this blog has completely described how to recover permanently deleted photos from Instagram on Android. There can be several reasons for the loss of photos on Instagram but no need to worry. I hope whatever methods are discussed will help you to restore Instagram photos on Android. If there is no backup then go for Android Data Recovery software.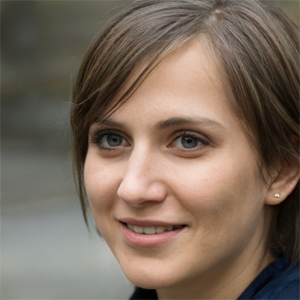 Kim Keogh is a technical and creative blogger and an SEO Expert. She loves to write blogs and troubleshoot several issues or errors on Android and iPhone. She loves to help others by giving better solutions to deal with data recovery problems and other issues.