Have you accidentally deleted or lost VITAL photos from iCloud? Want to know how to recover permanently deleted photos from iCloud on your iPhone? If you are seriously looking to restore those pictures then read this blog carefully.
We all know that for Android or iPhone users, photos are very important in every aspect. But users get worried when they delete those valuable images from their devices and don't know how to get them back.  Fortunately, Apple users have the option to recover them through iCloud.
Therefore, I have come up with this blog where you will know how to recover permanently deleted photos from iCloud.
So let's read further.
What Are The Reasons For Data Loss From iCloud
There can be various reasons for losing your valuable photos. Some of them are mentioned below:
Accidental deletion
Viruses or malware attack
Files are corrupted or damaged
Incomplete Updates of software
Conflict between apps
Let's go through the detailed solutions…
How To Restore Permanently Deleted Pictures From iCloud
Now, without wasting much time, it's time to check all the possible ways to recover permanently deleted photos from iCloud.
Method 1: Restore Deleted Pictures From Recently Deleted Folder
When you delete your photos from your device then they are not permanently removed from your device. These are stored in a recently deleted folder. So, you can easily recover them from that folder. But remember those stored files will be deleted automatically after 30 days.
Here are the steps to recover pictures:
First, launch the Photos app on your device
Click on Albums
Then, select the Recently Deleted folder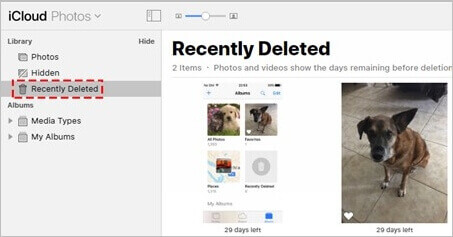 Next, click on the Select option at the top right corner
After that, choose Recover All, and choose photos individually
Now, tap on the Recover option
That's it.
Method 2: Retrieve Permanently Deleted Photos Using iCloud Backup
If your photos are not visible in the recently deleted folder, then you can follow this method to recover them. To use this method, you need to first create a backup of your data and store it on your device whenever you connect to a computer.
Here are the steps that you need to follow:
Open Settings and choose General to update your software
Then, head to Settings followed by General and tap on Thereafter, choose to Erase All Content and Settings
Thereafter, move to Apps & Data tab and click on Restore from iCloud backup. Now, log in to your account and choose the latest backup and tap on the Reset option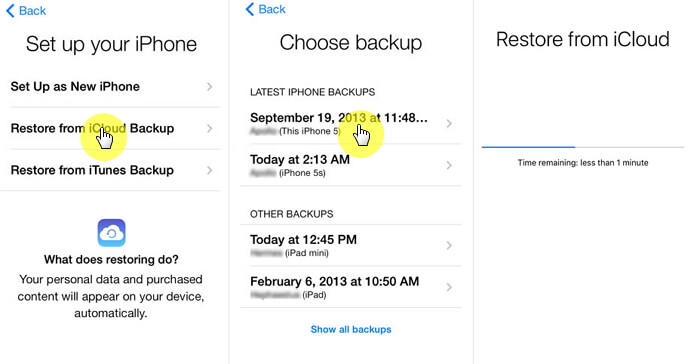 Method 3: Get Back Deleted Photos From iCloud Photo Library
Another way to recover permanently deleted photos from iCloud for free is by using the iCloud photo library. Like recently deleted folders, the iCloud photo library also gathers removed photos. Turn on this option by visiting Settings > Enter Your Name > tap on iCloud > tap on Photos.
Restore photos by following the steps:
First, open Settings followed by iCloud > then tap on Reset > Erase All Content and Settings to reset your device
Next, switch on your phone and follow on-screen instructions to move Apps & Data screen
After that, click on Restore and select the iCloud backup

Method 4: Retrieve Photos From iPhone Via iTunes Backup
Just like iCloud, iTunes is also a good option to restore your deleted photos on your iPhone.  But it can only be possible if you have created a backup of your files to iTunes before deleting them from your device.
Follow these steps to restore your photos:
First, connect your device to your PC and then launch iTunes
Next, tap on your iPhone logo
Then, tap on the Restore Backup option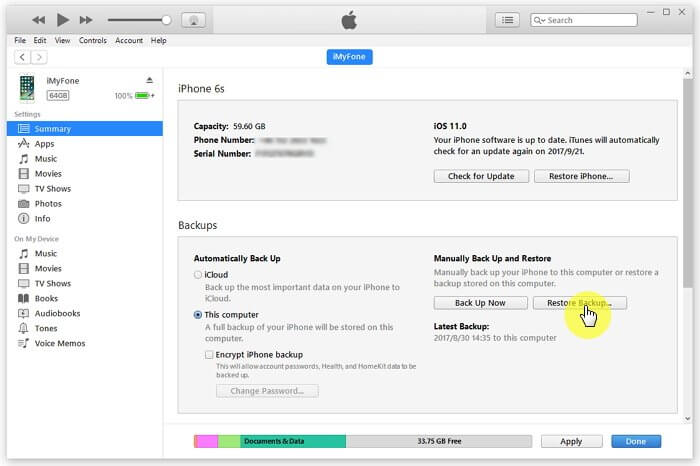 Lastly, select the photos you want to restore and tap on Restore
That's it
Method 5: Download Photos From iCloud Photo Library To PC
This method will only work if you have previously enabled iCloud photo library on your iPhone to use iCloud for Windows, then your photos might be backup on your PC.
Check out the steps to recover them:
First, install iCloud for Windows on your computer
After installing, click on Windows sign and select iCloud photos to open it
Then, click on Download Photos and Videos. For first-time users, you will have a popup 'wait for few minutes'. This pop-up indicates that your photos are not backed up to your computer. Wait for at least one hour for iCloud to download photos and videos
After available photos are on your account, tick the mark on the boxes next to the photos which you want to download and click on Download
Lastly, after completing the download, find the photos on your PC in the download folder
Method 6: Download Photos From iCloud Photo Library To Mac
There is a chance to restore deleted photos from iCloud via iCloud photo library to Mac.
Here are the steps to follow:
Click on Photos on your Mac and after that tap on Photos on the main menu. Then, from the drop-down menu, click on Preferences
Next, click on iCloud and sign in to your account if not yet. Make sure you use the same ID which you have used on iCloud Photo Library
Here, ensure that Originals to this Mac is turned on and then, close Preferences after completing the update
Now, click on Photos under the main menu, and then select the photos that you want to restore
Lastly, after selecting photos, click on File followed by Export, and then tap on Export Unmodified Original. Now, move to the folder and click on the Export option to shift all pictures to Mac internal storage
Method 7: How To Recover Permanently Deleted Photos From iCloud Without Backup
Apart from manual methods, you can also go for professional software like iPhone Data Recovery. This effective program allows users to recover permanently deleted photos from iCloud without backup. It is easy to use and lets users restore all types of data like contacts, videos, documents, notes, iMessages, music files, and many others including pictures.
This is the advanced method of recovering permanently deleted photos from iCloud. It supports all iPhone models such as iPhone 14/13/12/11/X/XR/XS/8/7/6 and iOS 16/15/14/13/12/11 versions. The software does not require any technical skills to operate and restores data with one click.
Therefore, it's suggested to use this amazing software to recover permanently deleted photos from iCloud on iPhone. You need to follow its complete user guide to know how to use the software.
iOS Data Recovery- Worlds Best Data Recovery Tool For iPhone/iPad/iPod Touch
Get back lost or deleted iPhone/iPod/iPod Touch data without any backup and in a quick time.
Has the highest data recovery rate in the industry
Recovers several data like contacts, photos, messages, notes, videos, etc
Compatible with latest iPhone 14/14 Pro/13/13 Pro/12/12 Pro/11/11 Plus/XR & supports iOS 16/15/14/13/12

The Bottom Line
All our photos are very precious and losing them is very painful. To avoid losing them, backup is highly suggested. In this post, I have guided you best methods to restore permanently deleted photos from iCloud on iPhone 14/13/12/11. If you don't have any backup then you have an alternate option of iPhone Data Recovery.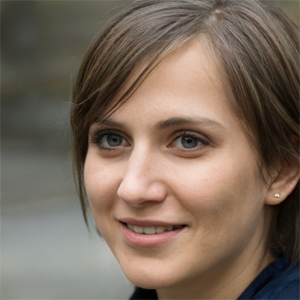 Kim Keogh is a technical and creative blogger and an SEO Expert. She loves to write blogs and troubleshoot several issues or errors on Android and iPhone. She loves to help others by giving better solutions to deal with data recovery problems and other issues.