Have you accidentally lost or deleted data from Oppo phones? Wondering what to do and how to recover lost contacts, pictures, text messages, etc from Oppo devices? No need to hesitate as in this blog, you will get some of the best ways to do Oppo Data Recovery.
We all save some or other data on our smartphones but never realize that they can get lost anytime. Unexpectedly, when data gets deleted then we don't get any way to restore them.
Therefore, I have come up with this article where you will get to know about the reasons for data loss and the best ways to recover deleted data from Oppo phones.


Possible Reasons For Data Loss On Oppo Devices
Here, I have mentioned some of the common causes of data loss from Oppo phones. They are:
Formatting SD card: if you are using an SD card on your OPPO device and format the SD card due to some reasons, then you might lose your data from the SD card
Accidental Deletion: some OPPO users accidentally delete some important data while deleting some other files
Viruses or Malware attack: when there will be any virus or malware attack on your OPPO device, it may corrupt your data and you may lose them
Factory reset: when you apply factory reset without having a backup of your data, you may lose your files from your OPPO phone
Apart from the above reasons, there can be also some other reasons behind the loss of data on OPPO devices. They can be forgetting the screen lock pattern, screen blackout, screen broken, etc.
Is It Possible To Recover Data From Oppo Phones?
There are many questions in the mind of OPPO users after data loss like is the data gone forever after deleting them? The answer is no!
When you delete something from your device, it does not get deleted permanently. The data is stored in an invisible place and can be recovered by a few methods. So, it is always suggested to avoid overwriting your data whenever you delete something.
Stop using your device and keep it aside. Do not connect your device to any Wi-Fi network or turn on mobile data to download updates. Then, use any powerful data recovery software to retrieve files from devices.
How To Recover Deleted Data From Oppo Phones
Now, without wasting much time, let us check out all possible methods to restore missing data like contacts, photos, documents, and others.
Method 1: Recover Deleted Data Via OPPO Cloud
You can easily retrieve your deleted data by taking the help of OPPO Cloud. OPPO device provides free storage space for its users to store their valuable data. Register yourself in OPPO Cloud and back up and restore your data whenever you want.
Here are the steps to follow:
Option 1: Backup your file to OPPO Cloud
Open the Setting menu on your OPPO device
Here, you will have two options OPPO Cloud Backup and Backup Now
Turn on OPPO Cloud Backup to take a backup of your files automatically on OPPO Cloud
Now, press Backup Now to take backup instantly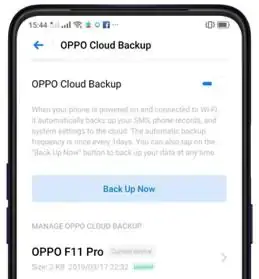 Option 2: Restore data using OPPO Cloud
Restoring files from OPPO Cloud is very easy. On your phone, link your existing OPPO Cloud account. In this way, you can recover your backup data. On the other hand, you can Sign in to your OPPO Cloud and start the recovery process.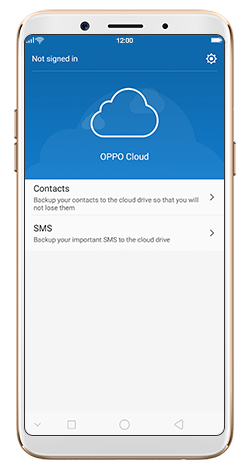 You can try any of the methods to restore lost data from an OPPO device.
Method 2: Recover Lost Oppo Photos Using Google Photos
Another method to restore your lost photos from the Oppo device is by taking the help of Google Photos. In Google Photos, you can back up your photos and restore them easily whenever required.
Follow the below steps to recover photos from Google photos on an OPPO device:
Launch Google Photos on your OPPO device
Tap on the Menu option at the top left of the app
Then, choose Trash Bin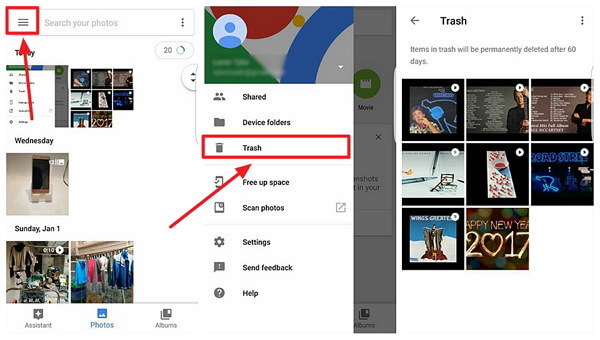 Now, locate the deleted photos that you want and retrieve them from your device.
Don't Miss: Oppo Reno Data Recovery – Retrieve Data From Oppo Reno Phones 
Method 3: Restore SMS Or Other Files From OPPO Through Local Backup
If you have copied your files on your OPPO device via local backup, then you have the option to restore them in OPPO from that backup folder.
Here is how to restore:
First, open Settings and go to Additional Settings followed by Backup and reset
Then, go to the Local backup option or choose Tools followed by Backup and Restore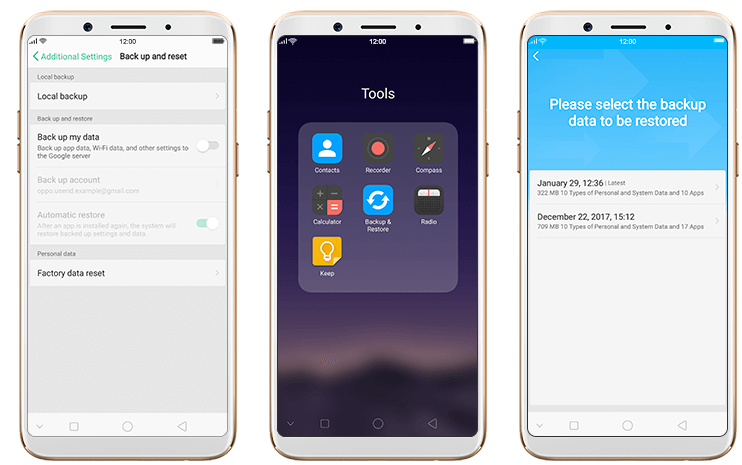 Now, you can choose your backup file to be recovered depending on the backup time
Method 4: Restore Lost Files Using Third-Party Apps
Another way to restore files is by using many third-party tools which are readily available in Play Store. These tools help to recover missing or lost files on OPPO and other Android devices. But there is one issue with those tools and that is they can overwrite the missing files with the new data.
Therefore, you cannot depend upon those third-party apps. So, it will be better to use OPPO Data Recovery Tool to recover lost files hassle-free.
Method 5: Best Way To Recover Deleted Data From Oppo Phone Without Backup
When you don't have any backup or your backup does not work then you are suggested to use Oppo Data Recovery software. This professional and highly suggested program easily restores deleted files from Oppo devices with one click. This is the best Oppo data recovery without usb debugging. It easily restores all types of data like contacts, photos, videos, documents, notes, WhatsApp chats, call logs, and several others.
The software supports all models of Oppo devices including Oppo Reno and it easily recovers data without backup. The data recovery software is easy to use and does not require any technical skills. Therefore, you need to download and install this amazing program to recover deleted files from Oppo phones. To use the software hassle-free, go through its complete user guide.
Android Data Recovery- Recover deleted data from Android phones/tablets
The best and efficient tool to recover lost, deleted, disappeared, inaccessible data from Android phones/tablets. Some unique features include:
Directly recover various types of data such as photos, contacts, SMS, videos, WhatsApp, call logs, documents, notes, etc.
Recover data in any situation like accidental, water damage, unintentional, factory reset, formatting, virus attack or other reasons
Allows one-click option to "Recover" deleted files without backup

Conclusion
So, in this article, I have shared the best methods to restore deleted Oppo data and I hope you have already recovered your deleted data such as photos, documents, videos, contacts, etc. If there is no backup then you should use Oppo data recovery software to retrieve files easily.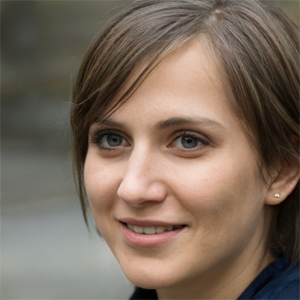 Kim Keogh is a technical and creative blogger and an SEO Expert. She loves to write blogs and troubleshoot several issues or errors on Android and iPhone. She loves to help others by giving better solutions to deal with data recovery problems and other issues.