Did you have accidentally lost important data like contacts, photos, videos, SMS, and others from iPhone 12/11/X/XR/XS Max/8/7?
Are you wondering what to do to recover data from iPhone after factory reset?
Well, if you are worried about the deleted data from iPhone 12/11 then don't panic, as I have the solution for you.
In one of my previous posts, I have briefly discussed how to recover permanently deleted photos on iPhone.
However, in this article, I am going to discuss how to recover lost data on iPhone with or without backup.
But before learning the effective solutions for recovering data from an iPhone, you should know – Why data gets deleted from iPhone?




Common Reasons Behind Data Loss From iPhone
There can be several reasons behind the data loss situation from iPhone.
Some of the common data loss scenarios are:
Due to some physical damage like – broken screen, water damaged, falling of phone from height, etc
Less storage space in phone
Due to malware or virus attack
Because of Jailbreaking of any device
Failure of iOS update
While replacing the battery of the iPhone
Due to a system crash
Forgotten pin/password or pattern
Because of some human error
Your phone has been lost or stolen
After knowing the major cause of iPhone data deletion, now it becomes easier for you to make the recovery of lost media files.
Now, it's time to get the most effective ways to recover lost or deleted data from iPhone.
Part 1: How To Recover Lost Data From iPhone Without Backup [Recommended]
As we know, there are numerous data recovery programs available in the market. Hence, it becomes difficult for the users to choose the best recovery tool among them. But, if you make a wrong choice once, your data will be at risk.
In this situation, I will suggest you use iPhone Data Recovery software. This is easy to use and allows to recover lost data from iPhone without backup. It does not require any technical skills to operate and all data like messages, MMS, contacts, pictures, movies, voice memos, videos, notes, documents & many more are restored easily.
The software has the highest success recovery rate in recovering lost or deleted data from iPhone. It supports all iPhone models including the latest iPhone 12/12 Pro/12 Pro Max, iPhone 11/11 Pro/11 Pro Max, iPhone X/XR/XS Max, iPhone 8/7/6/5, and many more. In addition, the software is compatible with all iOS versions like iOS 15/14/13/12/11, etc.
So, just download & install iPhone data recovery immediately and recover data from iPhone without backup.
iOS Data Recovery- Worlds Best Data Recovery Tool For iPhone/iPad/iPod Touch
Get back lost or deleted iPhone/iPod/iPod Touch data without any backup and in a quick time.
Has the highest data recovery rate in the industry
Recovers several data like contacts, photos, messages, notes, videos, etc
Compatible with latest iPhone 14/14 Pro/13/13 Pro/12/12 Pro/11/11 Plus/XR & supports iOS 16/15/14/13/12

Retrieve Lost Data From iPhone [Manual Solutions]
Apart from the automatic method, you can try out some manual methods as well. Here I have mentioned a few of them:
Solution #1: How To Recover Deleted Data From iPhone Via Recently Deleted Album
Whenever your valuable data get deleted from the iPhone, do not panic………take a deep breath.
I am saying this because the media files are not gone permanently. After the deletion, they are automatically moved to the recently deleted albums.
Now, you can go to this folder & get back your deleted stuff from there.
Follow the steps to know how to process it:
Go to the Photos app & select the recently deleted folder from the list.
After that, choose the select option from the top right corner of your screen
Here, you need to select the data you want to restore
At last, tap on recover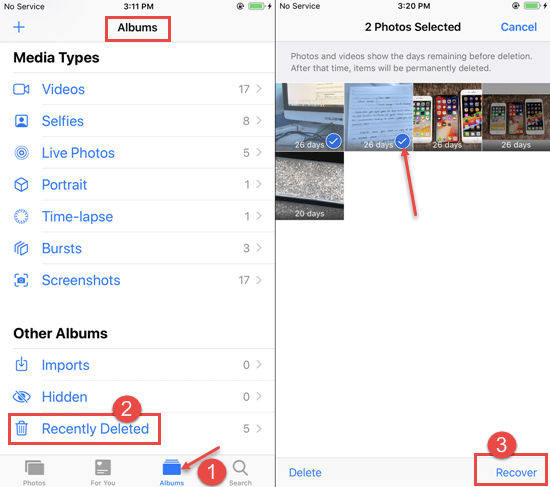 Now, you'll get that stuff in its original place (previously existing place).
Solution #2: Restore Erased Media Files On iPhone Using iTunes Backup
This is one of the easiest ways to get back the iPhone stuffs. If you've saved an iTunes backup then simply use that option on how to restore data from iPhone.
You need to follow the steps here:
Open the iTunes from your PC & connect the iPhone using a USB cable.
As your device is appearing on the left side, simply tap on it to overview the full screen
Choose the 'Restore' option & then on the recently backup file.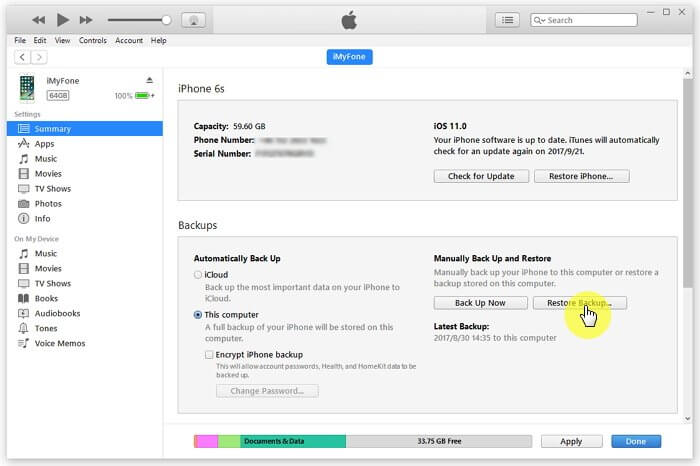 Now you've to wait for a while till the restoration process is completed.
Solution #3: Recover Deleted iPhone data from iCloud
Do you save the backup of your lost data to iCloud? If yes, just start applying the below steps:
Steps to recover the stuff from iPhone or iPad via iCloud
Go to Settings from your iPhone
Now, from the Apps and Data screen, hit on Restore from iCloud Backup
Simply log in to your iCloud account
You can choose the applicable backup from the given list & tap on Restore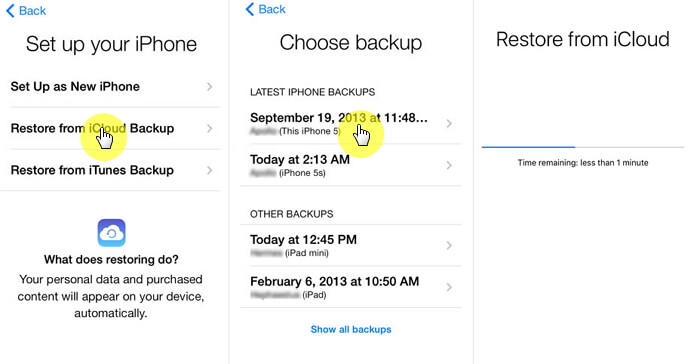 In case, you do not have iCloud backup then you can try out the next solution.
Solution #4: Rescue iPhone Media Files From Google Photos App
I've provided you a step-by-step guide to retrieve photos/videos on the iPhone using Google photos.
Go to your Google photo
Click on the menu option, which you can see on the top left side corner & select Trash.
Here, touch & hold the files & folders you need to restore.
Lastly, select the "Restore" option to recover your disappeared data.
Solution #5: Restore Lost Data From Your iPhone Via Dropbox
You can also recover the data from the iPhone via Dropbox option.
Here are the steps to do so:
From the home screen of the iPhone open the dropbox application
After that, sign in to your dropbox account
In this step, you have to choose the files you like to restore
Tap the Save option.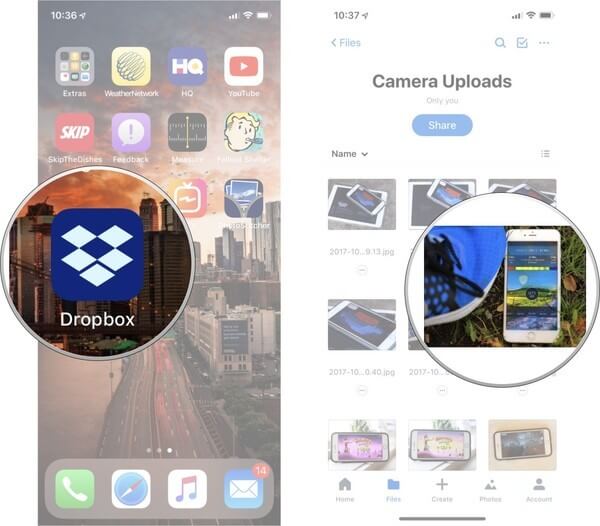 FAQ (Frequently Asked Questions)
Can iPhone data be recovered?
Yes, you can easily recover your missing data from your iPhone by using the most trustworthy tool – iPhone data recovery software. This tool will retrieve your missing files in no time. However, I have also provided some of the manual solutions to get those missing files back. If you want you can also make use of those manuals.
Are iPhone photos ever really deleted?
The answer to this question is a big NO, this is because when data gets removed from your iPhone, in actuality they are not permanently deleted. After the deletion, they simply move to your recently deleted folder/album but they exist there in a hidden way. Remember, this folder will keep those deleted data in it only for 30 days. If you're able to recover those disappeared media files within 30 days then it's good otherwise they will permanently be deleted from your iPad.
Why did my iPhone photos/videos disappeared?
Well, there is not only one reason behind the deletion of photos or videos. There can be several unknown reasons which can lead to iPhone data loss scenarios like – less storage space, accidental deletion, virus attack & many more. You can check out the above part of this article where I've mentioned all the possible reasons of data loss from iPhone.
Conclusion
So, these are some of the effective solutions using which you will be able to retrieve lost data from your iPhone/iPad.
But in case, if you do not have any backup of those missing data, you can try iPhone data recovery tool to recover lost data from iPhone without backup.
So, without wasting any more time, try out the given methods and recover data from an iPhone.
If this tutorial helps you anyway to make data recovery, do not forget to share with your friends, relative, or any family members.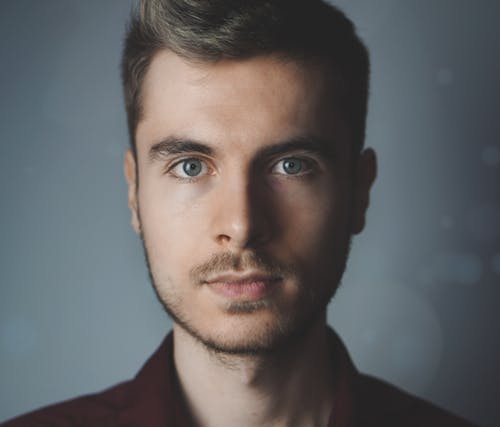 Steve Peterson, an SEO Expert as well as a technical writer. He loves to gather information about Android & iOS operating systems and write content about it. Whether its the matter of data loss situation, error or issues, broken or damaged problem, latest new going through, and several others. He guides to deal with all such things with his articles.