Have you accidentally deleted files from the Google Pixel phone?
Looking for some best ways to get back lost files from Google Pixel 5a/4/4a/2/3XL and others?
If yes then don't worry, this blog will definitely help you to deal with the situation.
Data loss is a common situation but it's very annoying. Lots of our daily use data like contacts, SMS, videos, photos, etc disappear due to several reasons.
If you are also dealing with such unwanted data loss problems then no need to worry.
Here, I will guide you with some practical methods on how to recover deleted data from Google Pixel phone with and without backup.


Common Reasons Behind Data Loss From Google Pixel Phone
Once data gets lost, users want to know why such an incident occurred?
I mean to say that many users like me want to know the reasons for data loss.
Here, I have mentioned a few of the causes for data loss on Pixel phones:
Unintentionally or accidentally deleting files
Virus or malware attack
While upgrading OS
Physical damage, ROM flashing, system crash
Forgotten password, PIN, pattern, etc
Water damage
Factory reset
Many more…
Is It Possible To Recover Deleted Data From Google Pixel Phone?
After data or files disappear, plenty of users want to know whether the files are recovered or not?
And obviously, it's a general thing that comes to mind of those missing files.
I would like to say that Yes, the deleted files are recoverable from Google Pixel phone. The logic behind it is very simple.
Whatever files or data are lost from the phone due to any reason they are not removed permanently. They are only marked as "unused" and in place of that, new data can be easily saved.
Even those files are not visible to the user, so here you may think that they are gone forever. Until the space is used by any new data or unless the deleted data is overwritten, you have a chance to restore files from Pixel phone.
To increase the chance of recovery, I will suggest you stop using your device anymore. This can stop the files from being overwritten. Also, turn off mobile data/Wi-Fi/Hotspot/Bluetooth or even switch off your phone.
How To Recover Deleted Data Or Files On Google Pixel Phone
After knowing the reasons for data loss, now it's time to go through the recovery methods to retrieve files from the Pixel phone.
So let's read further.
Method 1: Best Way To Recover Deleted Data On Google Pixel Without Backup
After your files disappear from your phone, you get confused about whether there is a backup of that stuff or not. If this is the situation with you, don't panic. Simply use Google Pixel Data Recovery software to recover missing data from the Google Pixel phone.
This is easy to use and allows users to restore deleted files from both internal and external memory without backup. It restores all types of data like contacts, photos, call logs, photos, texts messages, documents, WhatsApp chats, Viber messages, audio files, and many more.
The recovery tool works in data loss situations whether it's accidentally deleted, broken screen, water damage, malware attack, and others. Users can preview the data before recovery and all files are recovered with one click. You can easily recover data from broken Google Pixel via this amazing software.
Therefore, when you don't have any backup then simply download this powerful tool and recover data from Google Pixel phone hassle-free.
Check out the complete user guide to know how to use the software.
Android Data Recovery- Recover deleted data from Android phones/tablets
The best and efficient tool to recover lost, deleted, disappeared, inaccessible data from Android phones/tablets. Some unique features include:
Directly recover various types of data such as photos, contacts, SMS, videos, WhatsApp, call logs, documents, notes, etc.
Recover data in any situation like accidental, water damage, unintentional, factory reset, formatting, virus attack or other reasons
Allows one-click option to "Recover" deleted files without backup

Google Pixel Supported Devices:
Google Pixel 5a 5G, Google Pixel 5, Google Pixel 4a 5G, Google Pixel 4a, Google Pixel 4 XL, Google Pixel 4, Google Pixel 3a XL, Google Pixel 3a, Google Pixel 3 XL, Google Pixel 3, Google Pixel 2, Google Pixel 2 XL, Google Pixel XL, Google Pixel, Google Pixel C.
Method 2: Restore Data From Google Pixel Using Backup
Backup is very important for everyone and it can help you in difficult situations. Users of Google Pixel also get an option to back up their user data to Google account.
So if your data are backed up then it becomes easy to restore contacts, photos, data, and settings from your Google account.
Here are the steps to restore Pixel from backup after setup:
First, go to Settings on phone and click on Reset After this, click on Restart.
Now on the "Copy apps & data" screen, click on "Next" > then on "Can't use the old phone"
Next under "Copy another way" click on OK and then on "A backup from the cloud"
Here, you have to sign in to Google Account used to backup data from the Pixel phone
Then, select a backup and all those files that you want to restore and at last, click on "Restore".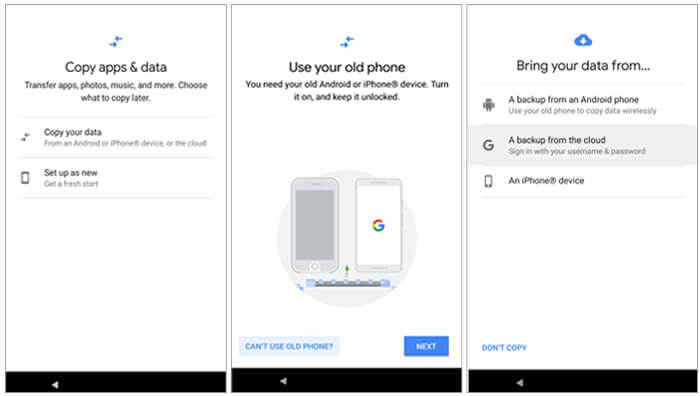 That's it. Now you have to wait unless all data are restored from Google Pixel.
Method 3: Recover Lost Data From Google Pixel Via Google Drive
Google Drive is yet another best way to retrieve deleted data from Pixel phone. Users can either sync their device to backup data or even manually upload files to create a backup.
So if your user data are stored in Drive then they can be easily restored.
Check out the below steps:
First, open Google Drive on your Pixel phone and then login with your backup Google account
After that, you can see the uploaded or synced data in My Drive
Select the data you want to access on your device and at last, click on the Download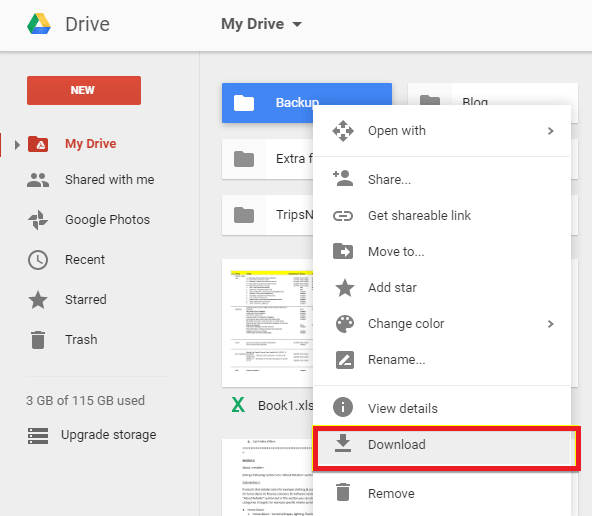 But, if your data are not present in the My Drive section then you have to check them on the Trash folder.
Follow the below-given steps:
Open Google Drive on phone and tap on Menu from the left side
After that, click on the Trash folder and all your deleted files will be seen here.
Just select them one by one and at last, tap on the "Restore" option.
Method 4: Get Back Pictures/Videos From Google Pixel Using Google Photos
If your pictures or videos are missing from the Pixel phone then you can check them on Google Photos. It stores all deleted photos that can be useful for you.
But remember, the photos from the Trash folder remain for 60 days and after that, they are removed permanently. It means that you have enough time to restore deleted photos from Google Photos.
Follow the given steps as guided:
Open the Google Photos app on your Google Pixel phone and sign in with the same ID used to backup
After that, tap on the horizontal bar and tap on the Trash option
Here all the photos and videos are available
Select them one by one and finally click on the Restore option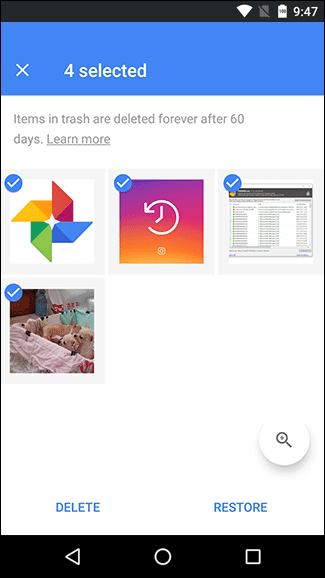 Doing this will restore all pictures and videos to your phone's gallery.
FAQ:
Can you recover data after factory reset Pixel?
Yes, the data from Google Pixel can be recovered after factory reset. All your Pixel data, content, and settings can be retrieved from your Google Account. Simply log in to it using the same user id and restore the backed up data to the device.
How to do Google Pixel recovery?
You can do Google Pixel recovery if your files are stored on Google Drive. You have to log in to Drive and all synced data will be displayed here. Just select a device to restore all the data and finally tap on the Restore option. Now, all your data will be accessible as before.
How can I recover data from a dead Pixel?
If your Google Pixel phone is dead or broken then you can use Android data recovery software to retrieve erased files. Follow the steps as guided: First, launch Android Data Recovery software on the computer and select the Data Recovery option > Now, select the files and allow them to scan them > Preview the data before recovery > At last, tap on the Restore option and all your files will be restored to your device.
Conclusion
Now it's time to conclude everything.
Google Pixel is a popular brand and it has many phone models. But when we concerned about its data, then they are not safe as well similar to other Android phones.
So in this blog, I have discussed several methods to recover deleted data from Google Pixel phone.
If manual methods do not work then go for a professional tool like Google Pixel Data Recovery to retrieve files without backup.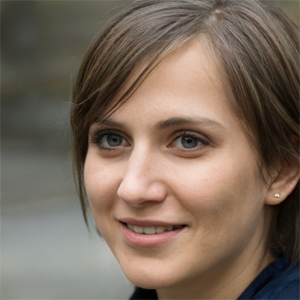 Kim Keogh is a technical and creative blogger and an SEO Expert. She loves to write blogs and troubleshoot several issues or errors on Android and iPhone. She loves to help others by giving better solutions to deal with data recovery problems and other issues.