Are your Google Maps displaying some kind of error messages like crashing or Google maps not loading Android properly? Fed up with why the map is not showing correct directions? We all users know very well that how useful Google Map is. In fact, it has become one of the necessary things for everybody.
Though this app does not show any kind of error usually but sometimes, it gets crashes and makes users tuck at one point. So for those users who have come such navigation app errors, this blog will help you.
Here, you will get some feasible solutions to fix Google Maps not working on Android along with its reasons.


Quick Listing of Solutions
:
Why Google Maps Is Not Working?
Well, there can be several reasons for Google Maps not working on Android.
Here are a few of them:
Bad network connection
Not having sufficient network
Corrupt cache and data on the device
The old version of Google Map is running
Many others may also lead to such issues. But don't worry as following the below methods will surely help you to fix Google maps not working in Android.
Part 1: One Click To Fix Google Maps Not Working On Android Phone
Remember that whenever you come across Google Maps not working or loading slowly then it is mostly because of a firmware issue. Some kind of firmware might go wrong and you are getting such an error.
To fix the issue, I will suggest you use Android Repair software. This is specially designed to fit any kind of errors or issues on Android phones. It has the ability to solve Google maps not working properly on Android with one click.
Not only this but using the software can solve other errors as well as Android stuck in headphone mode, WhatsApp keeps stopping, IMS services has stopped, and many more.
So, without any worry, you should download Android Repair software to get rid of the error instantly. To know how to use the software, check its complete user guide.
Android Repair- 1 Click Repair Tool For Android
Easily fix any kind of issues or errors on Android by 1 click repair tool. Fixes any Android error without hasslefree:
Ability to fix several Android system issues or errors like Black screen of death, apps keep crashing, stuck in boot loop etc.
Helps to make Android system back to normal without any skills required
Has the highest success rate to fix any types of Android errors

Part 2: Manual Ways To Fix Google Maps Not Working Android
Apart from the above-mentioned method, here I have gathered some manual fixes as well to get rid of the error.
So let's move ahead.
Method 1: Restart Your Phone
Whenever you come across any kind of problem on your device, I suggest you restart it once. This is one of the basic and instant solutions to run your device normally again.
Simply press and hold the "Power" button and then select the "Reboot" or "Restart" option.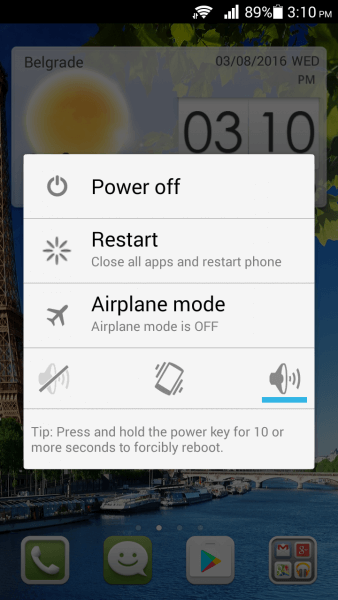 Once this is done, now check whether the app is working fine or not.
Method 2: Check Location Services
When restarting the device does not help you then I will suggest you check the location service on your phone as well as on Google Maps.
Most of the time, Google Maps itself notify to enable location but you have the option to check it.
Here is what you need to do:
First, enable the device's location from Settings
Now open Apps & Notifications and go to All Apps
After that, check for Google Maps and then Permissions
Next, enable the toggle for Location and set it to "Allow all the time"
Once done, open Google Maps and navigate to see if everything works fine.
Method 3: Check Internet Connection
As I have told you earlier that Google Maps need a strong internet connection to work properly. This is because the error you are getting might be due to a slow internet connection.
So, while using the app, turn off "mobile data" once and again enable it after some time where the network is good. Hopefully, now your navigation app will work better.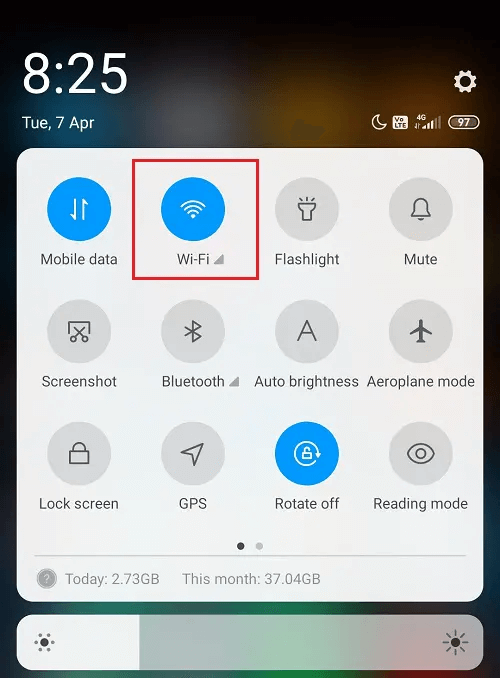 Method 4: Update Google Maps To Latest Version
When you use an old version of the app then it's a common thing to come across such errors. If you are still waiting to update the old version then do it immediately.
It will not take much time, Google Maps will be updated to the latest version, and the problem will be fixed.
Follow the below steps:
First, open Google Play Store on phone and move to "My apps & games"
Now from the list of apps, select "Google Maps" and click on the "Update" option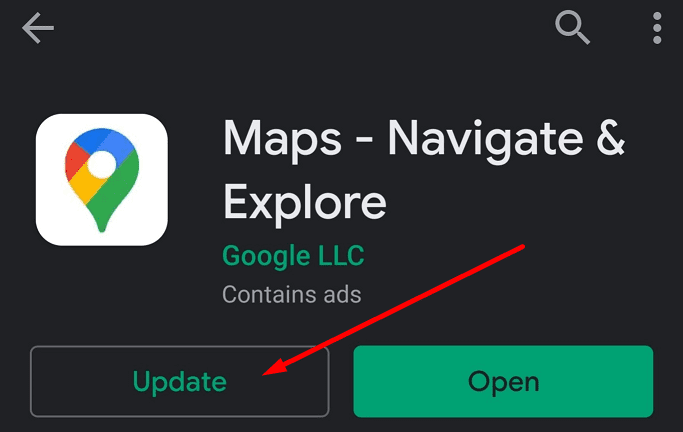 That's it.
Method 5: Check Network And GPS Settings
A network problem is yet another possible reason for Maps not working properly. The app will only work when you have a stable network connection on your device.
Follow the below steps to check network connection & GPS settings:
First, go to Settings > Connection > move down and click on Location > select Locating method > change to High accuracy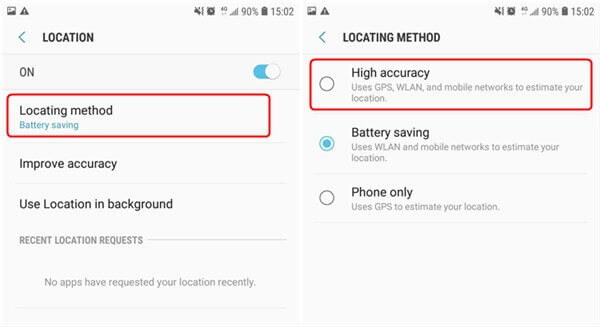 Go to Settings > Connection > Wi-Fi (cellular network). Now enable Wi-Fi connection or even can set to stable Wi-Fi.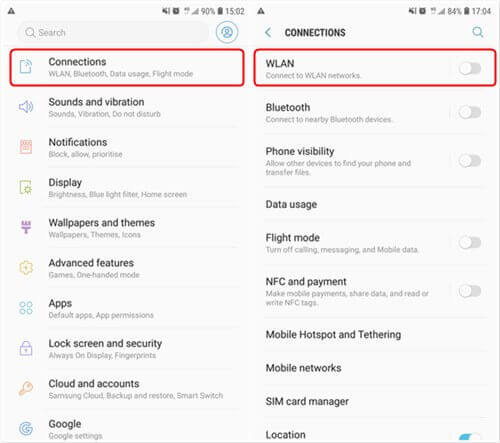 Method 6: Clear App Cache & Data
Most of the time, the cache creates issues in functioning some apps. In this case, also, it's better to clear cache and data once to see if the error gets resolved.
But remember that clearing the app data can result in data loss of all offline maps stored.
First, open Settings on the device and go to Apps or Application Manager
Now go to All Apps > Google Maps
Now, click on Storage and click on Clear Cache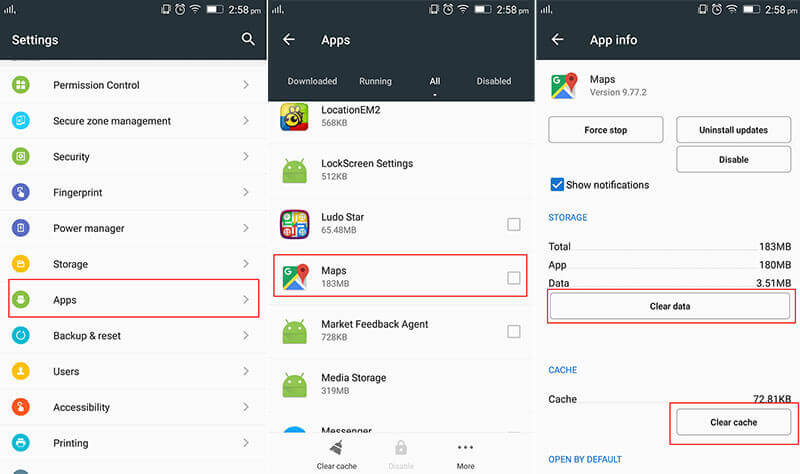 After this, open Google Maps and see if the error Google maps not working Android is resolved or not.
Method 7: Install Latest Version Of Google Play Services
To make your app work without any problem, make sure Google play services are running on the latest version. When Google Maps is showing an error then the latest version of Google play services can help to sort out the problem.
Here are the steps to follow:
First, open Google Play Store and then look for "Play Services"
Next to it, tap on the Update option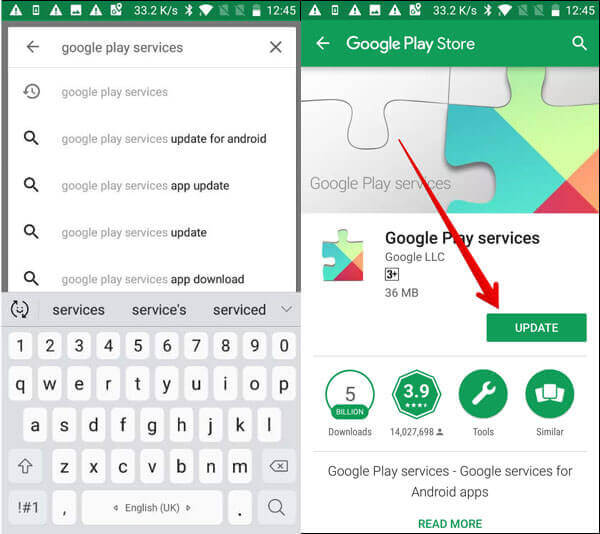 Method 8: Uninstall And Reinstall Google Maps
When the error continues then you should uninstall and reinstall Google Maps to get rid of the error. This is an easy-to-use method to solve Google maps not working Android.
First, open Google Play Store > My Apps and Games > select Google Maps > click on Uninstall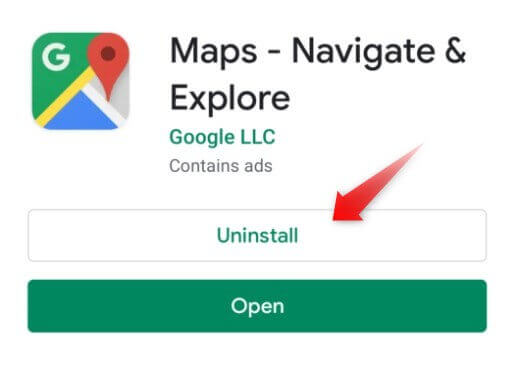 After this, again go to Play Store and search for Google Maps and click on Install
Once the app is installed successfully, reboot your device and see whether the app is working fine or not.
Method 9: Download An Older Version Of  Google Maps
If the same problem again occurs then I will suggest you download an older version of Google Maps. Though this will be a temporary fix it can work for you. Also suggested to install any apps from reputable resources so that no damage happens to your device.
Check out the below steps:
First, uninstall Google Maps on your Android device
Now download an older version of Google Maps (don't download older APK version more than two months old)
Here, you have to give permission to install apps from untrusted sources to install the .apk file
At last, install Google Maps .apk file and check whether the app is working without any problem
Method 10: Reset The GPS
Sometimes, an error occurs on your GPS and gives some wrong information. This becomes hectic as it fails to show the correct location and is stuck with the former location.
It also stops another service to work and Google Maps keep crashing. So in this situation, you are advised to reset the GPS and check whether everything works fine.
First, go to Google Play Store > download apps like "GPS Status & Toolbox" to reset GPS data
After that, click anywhere on the app and then tap on Menu > select "Manage A-GPS state" and at last, tap on "Reset"
When everything is over, go back to "Manage A-GPS State" and click on the "Download" option
Method 11: Factory Reset Android Phone
When all the above manual methods do not work then I will suggest you try the last option and which is doing factory reset. This is highly recommended but you should do it with care.
Because it deletes every data from your device, so you should backup all important stuff before you proceed further.
Follow the below steps to factory reset Android device:
First, open Settings on the Android device
Now look for Factory Reset or even you can click on the Backup and reset option
After that, tap on Factory data reset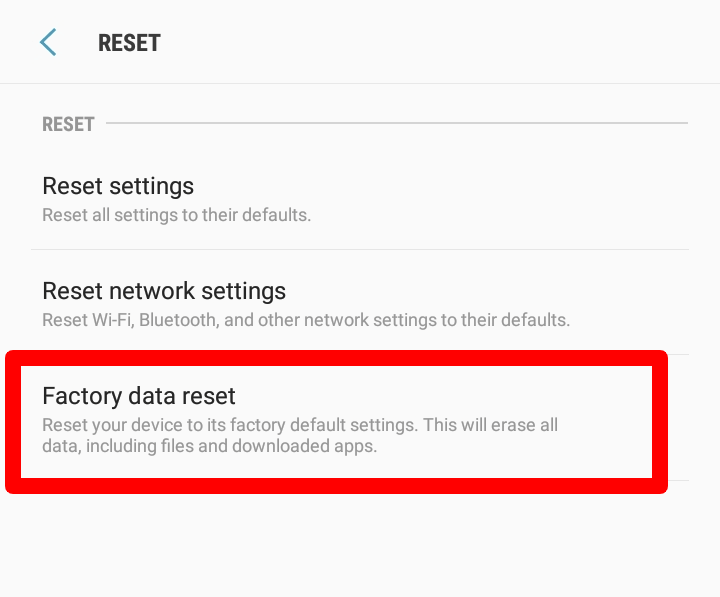 Next, tap on the Reset option
Once the reset is finished, restart your device and open Google Maps. Hopefully, it will work as usual.
Conclusion
So here, the blog comes to an end. In this article, I have discussed several useful methods on how to fix Google Maps not working on Android. Google Maps is one of the useful apps available on every Android device but sometimes it stops working.
For a quick and advanced solution, go for Android Repair software and fix Google maps not working Android without any hassle.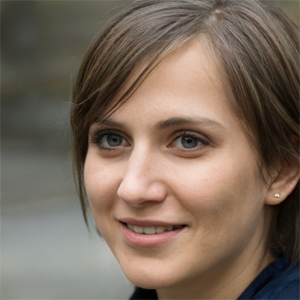 Kim Keogh is a technical and creative blogger and an SEO Expert. She loves to write blogs and troubleshoot several issues or errors on Android and iPhone. She loves to help others by giving better solutions to deal with data recovery problems and other issues.