Have you accidentally deleted your important photos from Android permanently? Willing to know if is it possible to recover permanently deleted photos from Android. Don't worry, it's not too late to retrieve deleted photos from Android. You still have a chance to restore those disappeared photos on Android.
The smartphone allows us to capture beautiful moments of our lives and we enjoy them later on when we see them. We all love to see our memories captured at that moment.
But at the same time, some consequence occurs in our phone where all the captured photos get deleted. What to do and how to recover deleted photos from Android is probably the topmost question in your mind. Simply use Android Data Recovery and get back permanently deleted pictures from Android.
Don't waste any time, just read this blog carefully. Here you will know how do I recover permanently deleted photos from Android.
Can I Get Permanently Deleted Photos Back?
After losing important pictures from Android, it's common to think "can we recover permanently deleted photos from Android"?
Yes, you can recover deleted photos on Android because actually the pictures are not permanently deleted. Though it's true that the photos disappear from Android's internal memory but they still reside inside.
The space where the photo was previously stored, now it's marked as "unused" and any new data can get stored in its place. If you save any new data, then it will overwrite the previous data and you will end up losing the pictures forever.
So here it is advised to remember a few things:
Don't access your phone after data loss happens as it can save new data and old data will overwrite, hence leading to permanent loss
Also turn off all data connections, Wi-Fi, and even Bluetooth so that no new data can get saved
Now, find out a recovery tool like Android Data Recovery to retrieve deleted photos on Android.
How To Recover Deleted Photos On Android With/Without Backup?
Now, it's time to walk through the methods that will answer all your questions on how to recover permanently deleted photos on Android.
So let's check them one by one:
Method 1: Best Way To Recover Permanently Deleted Photos From Android (Recommended)
One of the best ways to recover deleted photos from Android is by using Android Data Recovery software. I recommend this because it's a professional tool that helps you to retrieve deleted photos on Android without backup.
No matter in which conditions your pictures are lost or deleted, this amazing tool just works efficiently. Not only photos but effectively works to recover other useful data as well such as contacts, videos, documents, notes, WhatsApp, call logs, text messages, and others. It scans the internal as well as external storage to find out lost pictures from the phone.
Therefore, you don't have to worry when your photos disappeared accidentally from the phone. Simply Download Android Data Recovery and recover deleted photos on Android without any worry.
Android Data Recovery- Recover deleted data from Android phones/tablets
The best and efficient tool to recover lost, deleted, disappeared, inaccessible data from Android phones/tablets. Some unique features include:
Directly recover various types of data such as photos, contacts, SMS, videos, WhatsApp, call logs, documents, notes, etc.
Recover data in any situation like accidental, water damage, unintentional, factory reset, formatting, virus attack or other reasons
Allows one-click option to "Recover" deleted files without backup

Method 2: How To Recover Permanently Deleted Photos From Google Photos
Google Photos is very much popular among users that are developed by Google. It stores all your photos safely as it acts like cloud storage from where you can restore the items anytime. This is the best way to recover permanently deleted photos from Android without a computer.
Note– The photos remain in the Google Photos app for 60 days in its Trash folder. After that, the stuff is automatically deleted forever.
Here are the steps to follow to recover deleted photos from Google Photos:
First, open Google Photos app on your phone and then click on three horizontal lines on left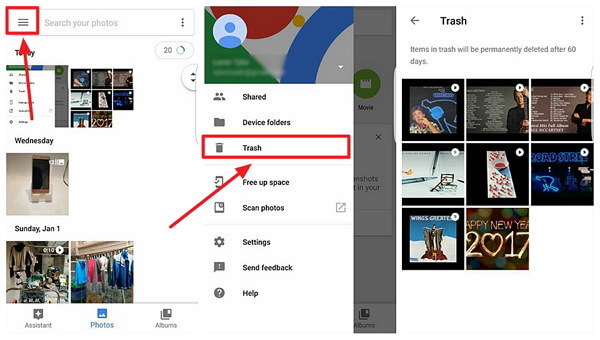 Now, click on the "Trash" option to open it
In this folder, you will see all the deleted images
Select the one you want to restore and finally, tap on the "Restore" option
Method 3: How To Recover Deleted Photos From Google Drive
If you have a backup habit then you also have used Google Drive to store your important photos. Most users use this cloud feature because users get 15GB of storage space to keep their data safe and secure.
Here is how to restore deleted photos from Google Drive:
First, open Google Drive on your Android phone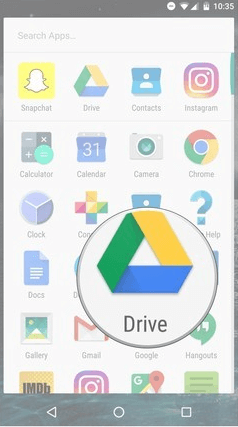 Now click on the My Drive section where you will see the listed stuff you have uploaded
Then, select the photos you want back and click and hold them
Next, right-click on particular items and tap on the Download option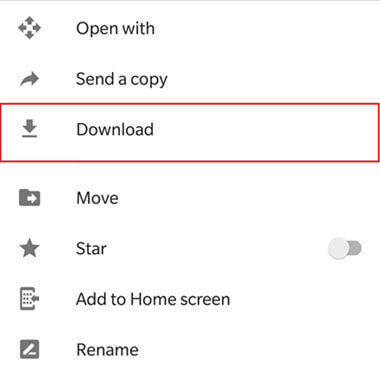 Method 4: Use Dropbox To Recover Lost Pictures From Android
Many users use Dropbox to back up their user data and pictures so that they don't have to deal with data loss situations in the future. If this is so then you can easily recover deleted photos from Android for free.
Just check out the below steps:
First, open Dropbox app on the phone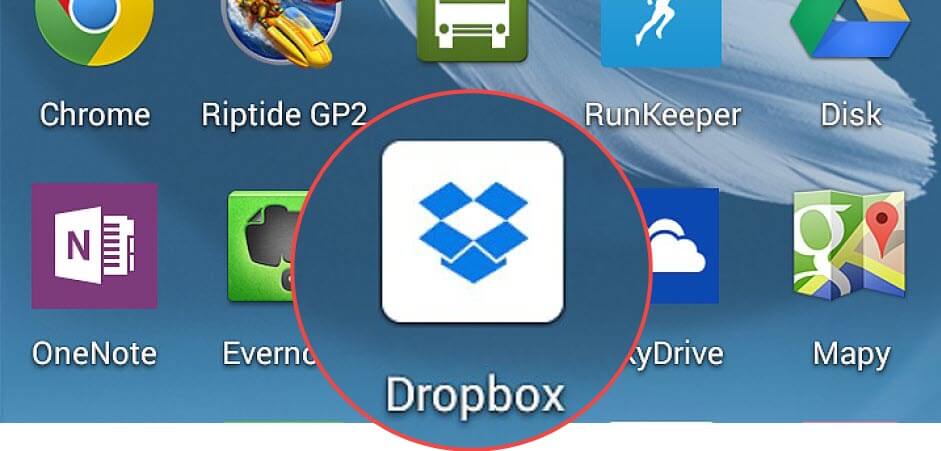 Now, move to Camera Uploads or any other folder where you have saved your pictures
From here, choose the photos that you wish to restore
Then, click on three dots (More) at the right corner and choose Save to Device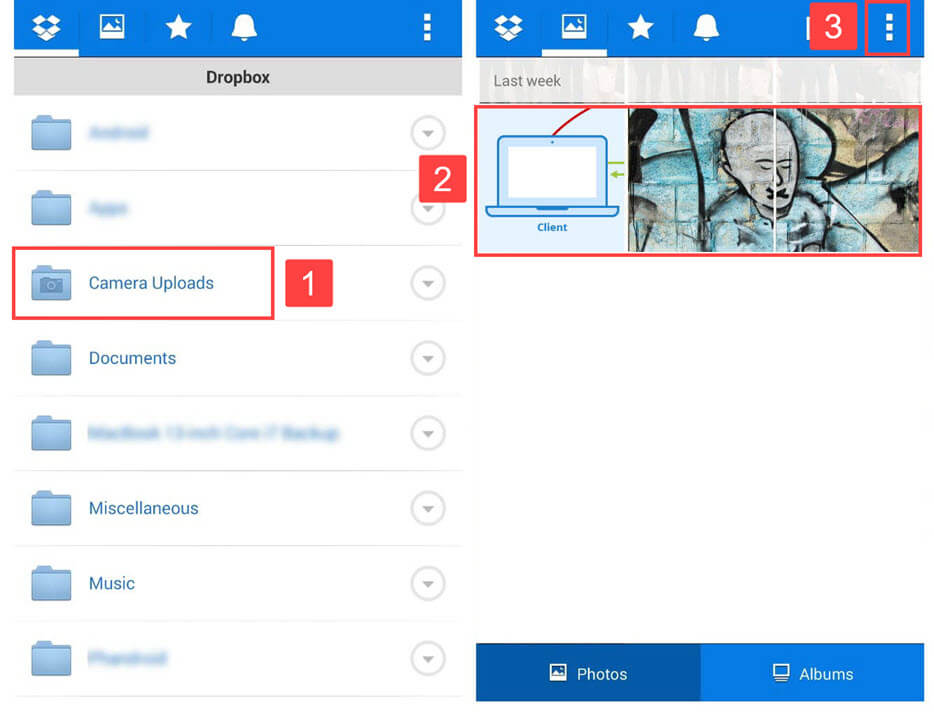 That's it.
Method 5: Use Microsoft OneDrive For Disappeared Pictures On Android
Microsoft's OneDrive cloud feature allows users to back up and delete photos automatically. It backup the picture from the phone and save it on the cloud and then deletes the photo from the device. All these pictures that are saved can be restored when they are lost on any device.
Steps to recover deleted photos on Android: 
First, open OneDrive app on an Android phone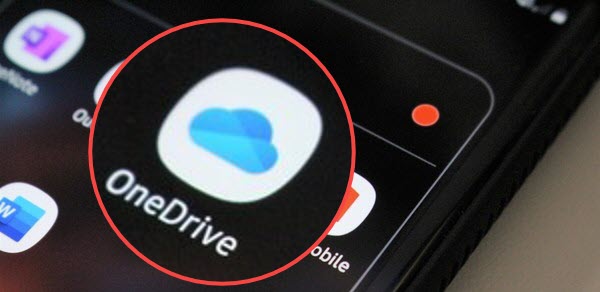 After that, choose the Photos option from the bottom menu
From here, choose the pictures you want back
Then click on three dots in the upper right and choose Save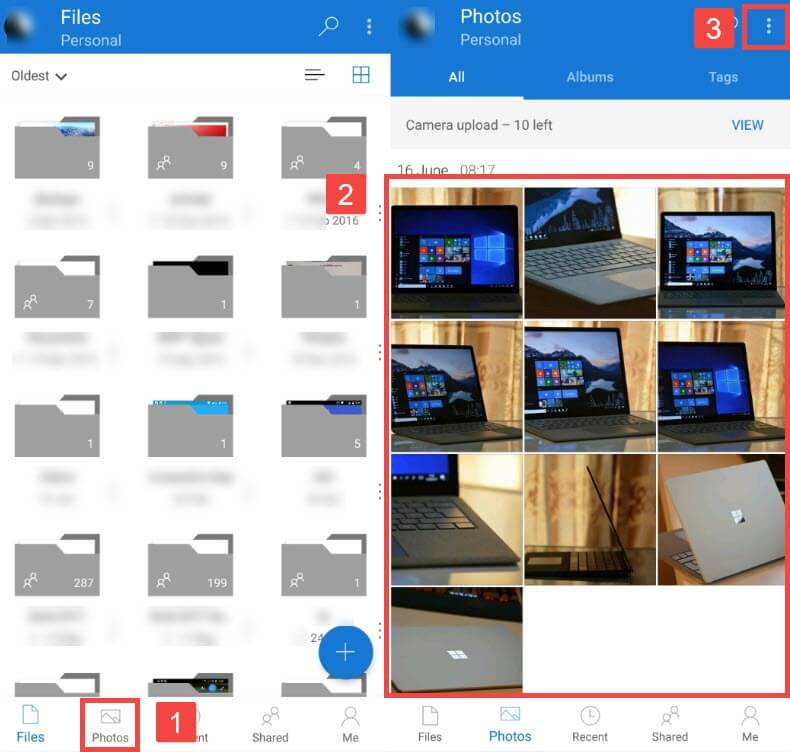 Method 6: Recover Deleted Photos On Android Using Android App
There are several apps available on Google Play Store that can help to retrieve deleted photos from Android. One such app is DiskDigger which allows you to restore photos from Android phones. You can easily get it on the Google play store.
Here are the steps to follow:
Now, launch the app and choose scan methods among two
Next, wait for some time until DiskDigger finds your pictures
After that, select the pictures you want to recover
At last, tap on the Recover option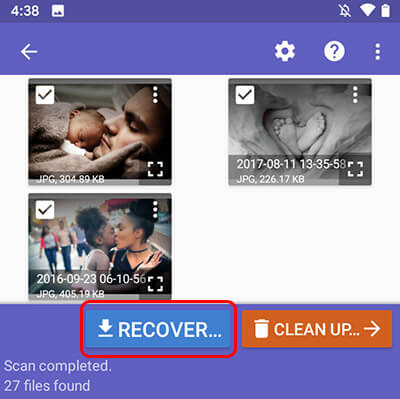 Method 7: Use Local Backup To Retrieve Photos On Android
If you have enabled the "sync" option on your phone then you have the option to recover deleted photos via the built-in backup feature.
In fact, for those users who are looking for how to recover deleted photos from Android without root, this method is for them. But remember that this option is not for all as many users have reported not getting the backup and restore feature.
However, if you have this option on your phone then you should check once for the deleted photos.
Follow the below steps:
First, go to Settings > click on Account
Then sign in with your account details if required
There look for an option for Backup and Restore
At last, click on Restore
Method 8: Recover Deleted Photos From SD Card
Most Android phone comes with an SD card slot where users can increase the space and save their data. If your phone supports the SD card and your store your data on it then you can get back lost pictures from the SD card as well.
Many times, you save your photos to the SD card without knowing but this can be helpful for you. Because you can use the SD card on the phone and check if those photos are available. Even you can use any software to recover lost photos from SD card on Android.
Method 9: Recover Permanently Deleted Photos Using Computer
If you regularly back up your content to keep them safe then I think the computer is the best. And most users back up their valuable data on the computer. This is easy to access and you can store a large amount of data including photos on computers.
If you have created a backup of photos on the computer then you can easily restore them from the PC. It's simple, connect your phone to your PC via a USB cable and access the folder on the computer where you have saved the pictures.
Now copy the photos from your PC and paste them into your phone's internal memory. After that, plug out your phone from your PC and access them as before.
Method 10: Other Alternatives To Recover Photos From Android
There are still some practical ways that can help you to bring back lost photos on Android. It's not necessary that you will get the photos back but once you should try it.
Way 1: Go through social networking sites
Generally, we don't share photos with the public via social media platforms because of privacy. But many of them upload photos to share with others. In fact, most relatives or friends also share photos of you on social platforms that you were looking for.
Therefore, you should once check them and if you are lucky, you can get back the disappeared pictures on Android.
Way 2: Check emails and messages
There are several mail services that allow you to attach files and mail them to anyone you wish. So you should also check if the pictures you are looking for are available in attachments that you have sent to anyone. They can be in your inbox from where you can easily download them.
Bonus Tip- How To Prevent Photo Loss In Future On Android?
You never know when your precious moments will disappear from the phone. And you also cannot believe every recovery method gives you a 100% guarantee to recover the files. In such a situation, it's better to do something rather than take risks.
So you should back up all your important photos to a safe place that can keep your data secure for a longer time. Such backup ways include Google Drive, computer, OneDrive, SD card or even you can use a professional tool like Android Backup & Restore.
Such a tool allows you to back up all essential data including photos and you can restore them whenever you want. It's an easy process and at the same time, your data is also safe.
FAQ:
Is there a Recycle Bin on Android?
Most of the users have this question in their mind. But sorry to say, guys, there is no recycle bin on Android. Well, many third-party browsers or apps provide this option to users and act as a recycle bin. Therefore, users should regularly back up their user data as Android phones do not have an option of recycle bin.
Where are deleted photos stored on Android?
Generally, after the photos are lost from the phone, they are still available on the device's internal memory but invisible to the user. Only with the help of a recovery tool like Android Data Recovery, it possible to find those pictures on Android.
Does Android have a recently deleted folder?
No, till now Android does not have come up with this feature like iOS of the recently deleted folder. After losing pictures from Android, the possible way to get back is by using a backup or a recovery tool like Android Data Recovery. With simple clicks, all your photos will be recovered without backup.
Conclusion
Everyone loves to capture their beautiful moments but never wants to lose them at any cost. However, some situation leaves us shocked like losing photos from an Android phone. So, I have explained every possible way to recover permanently deleted photos on Android in this article.
Just walk through them and try every method that will help you to retrieve those missing pictures. also recommended to use Android Data Recovery as it helps to restore all deleted photos without backup.
Further, for any suggestions or queries, you can contact us or comment below.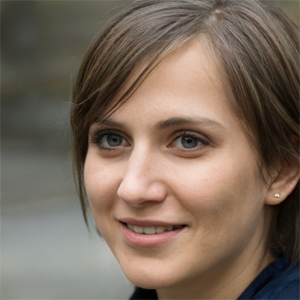 Kim Keogh is a technical and creative blogger and an SEO Expert. She loves to write blogs and troubleshoot several issues or errors on Android and iPhone. She loves to help others by giving better solutions to deal with data recovery problems and other issues.