Today, several Android users like to use the instant messaging app instead of the traditional messaging app such as Google Hangouts. A perfect messaging app includes SMS, instant messaging, VOIP, and Video chat.
But some users have reported data loss situations such as – deleting precious text messages mistakenly or losing them accidentally from Google Hangouts. Well, it's quite frustrating; this is because Google Hangouts do not store the deleted chats.
Here, in this tutorial, you will learn some free & best solutions on how to recover deleted hangout messages on Android along with the major factors that lead to hangout message deletion.
Why Did My Google Hangout Messages Disappear on Android?
So, before proceeding further towards its effective solutions, it's better to know the major reasons for the occurrence of this issue.
There are many factors that may cause the deletion of your important chat history. However, I have mentioned some of the common scenarios:
While uninstalling the Hangout app
When forgot the screen lock password
Accidental deletion of hangout messages
Performing factory reset on Android
Any kind of malware/virus attack
When your phones get damaged or fall in the water
Many others…
As of now, you are very well aware of the causes which result in Hangout messages deletion.
Let's discuss its different approaches on how to recover deleted conversations in Hangout on Android.
Is It Possible To Recover The Deleted Hangouts Messages?
YES, you can recover deleted Hangout chats from the Android.
Whenever the users lost any data from their mobile phones, the first question that arises in their minds is whether the deleted chats can be recovered or not?
This kind of situation is dreadful. This is because Google Hangout does not store any deleted conversations. It simply means that if once the chats are gone it means that they are permanently removed from the app.
In such circumstances, the users become a little bit concerned because at any cost they want their deleted conversations back but how to do so they do not have any idea.
To help you out, let's go through the useful methods.
How To Recover Deleted Hangout Messages On Android?
Though there are several reasons for deleting Hangout messages on Android, you should move ahead and check out the methods to recover them.
So let's walk through them one by one.
Method 1: Best Way To Recover Deleted Hangout Messages On Android Without Backup
One of the best, as well as the instant solution to recover deleted Hangout chats on Android, is – using a professional tool like Android Data Recovery. This program is very reliable and it is suggested by all the experts to retrieve the lost conversation from the Hangout.
The best thing about this tool is that – Android data recovery not only helps to recover the Hangout messages but also recover other types of data like – call history, Hangout pictures, contacts, videos, WhatsApp messages, text messages, etc.
It is known as the best Hangout message recovery tool, which is specially designed to help you in this kind of situation. This tool is very easy to use & does not need any technical knowledge to operate it. The software supports all Android phones such as Samsung, Google, Lg, Sony, Huawei, Lenovo, Nokia, Realme, OnePlus, Xiaomi, Vivo, Oppo, and many more.
Thus, without wasting much time simply Download Android Data Recovery & recover permanently deleted Hangout chats from Android without backup with ease.
Android Data Recovery- Recover deleted data from Android phones/tablets
The best and efficient tool to recover lost, deleted, disappeared, inaccessible data from Android phones/tablets. Some unique features include:
Directly recover various types of data such as photos, contacts, SMS, videos, WhatsApp, call logs, documents, notes, etc.
Recover data in any situation like accidental, water damage, unintentional, factory reset, formatting, virus attack or other reasons
Allows one-click option to "Recover" deleted files without backup

Method #2: Retrieve Deleted Messages From Hangout Via Gmail
Luckily, if you have activated your "Hangouts History" in the Gmail account then it will become easier for you to recover the deleted hangout messages.
As I have discussed above, Google automatically stores all your precious conversations in the cloud when your "Hangouts History" is activated.
In such a case, you have to sign in to your Google account & retrieve your archived conversations instantly.
Open your Gmail on a computer & sign in with correct authorizations.
On your menu bar, make a tap on "More" in order to expand a list of the Gmail labels.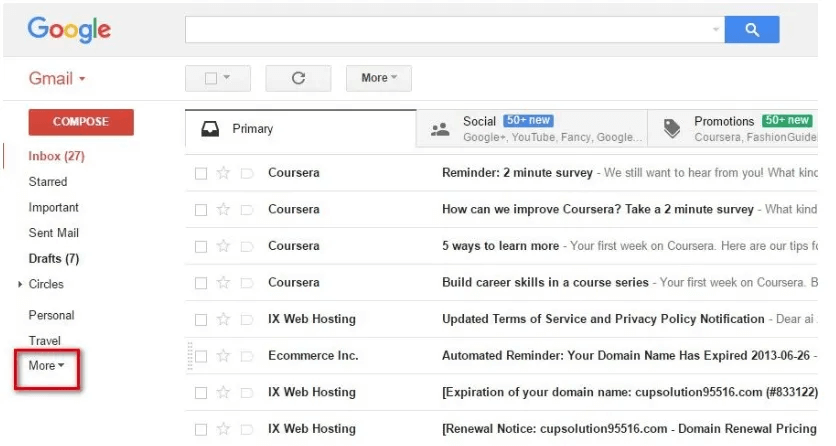 Then, again click on the "Chats" option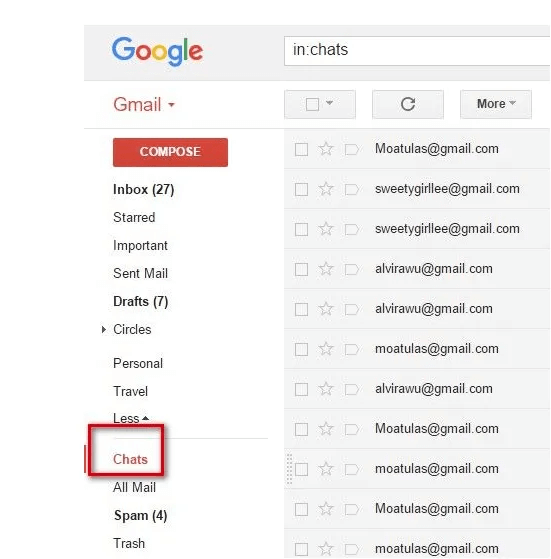 Now, you can see all your Hangout chat will automatically appear on the screen. Browse your conversations to trace the chats you need to recover.
Method #3: Get Back Lost Hangouts Messages On Android Online
There is another possible way you can use to retrieve your archived Hangout messages is – use your Hangouts app. This solution is very useful especially when you need to retrieve the archived conversations.
At first, go to hangouts.google.com on the connection with Google Account IDs.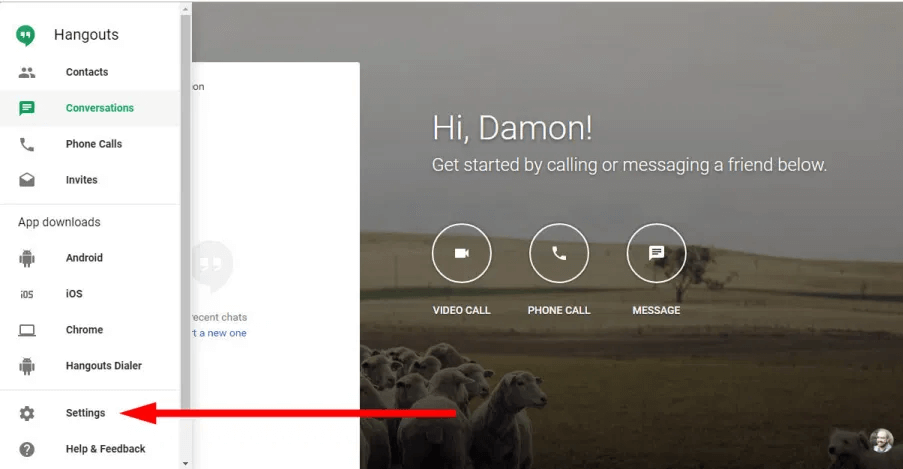 Here, you have to click on the "Menu" option at the upper left corner & choose "Settings."
Then tap on "archived conversations" & search the conversation you need to go to.
Choose the specific chat & click on "Unarchieved Conversation."
If once the messages are marked as un-archived then you will be able to see it inside the history of your Hangouts chat.
FAQ (Frequently Asked Questions)
How can I see the old Hangout conversation?
Well, you can see the old messages of Hangout on your PC. For that, you have to follow the guided steps: At first, go to the computer & tap Hangouts through google or in Gmail > Then, you have to click on Archived Hangouts > After that, tap on Conversation to see the messages you like to read.
Where are the deleted Hangouts chats stored?
The Hangout text messages get stored on the left side of your Gmail in the folder named Chats. Here, you will get your Hangout saved messages. Excepting that, you may also search them using the search bar by simply entering the chats & all history of the chats will be seen.
How to delete the Hangout chat history permanently?
Some of the easy steps are provided below, applying which you can delete your Hangout chat history permanently: Open your Hangouts by simply visiting hangouts.google.com on your computer > After that, select the conversation which you wish to delete > Then, tap on Settings which you can see at the top of your conversation window > Again, you need to choose the conversation in order to delete them > After making surety that you need to remove the particular chat, hit Delete
Bottom Line
In this specific post, I have discussed some of the effective solutions on how to retrieve deleted hangout messages on Android.
Nevertheless, if you want a direct Hangout messages recovery solution then you should go for Android Data Recovery Software.
Apart from that, you can even try other manual ways like Hangout recovery using Android online or Gmail. I hope all these methods will surely help you out to recover deleted hangout messages on Android.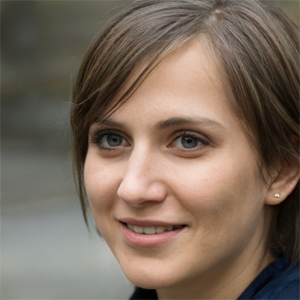 Kim Keogh is a technical and creative blogger and an SEO Expert. She loves to write blogs and troubleshoot several issues or errors on Android and iPhone. She loves to help others by giving better solutions to deal with data recovery problems and other issues.