Are you missing your VITAL pictures from your phone gallery? Worried about how to recover deleted photos from Android gallery? Well, if this situation is troubling you then don't worry as this blog will help you.
We all come across data loss situations some or the other day and photos are one of them. They are precious memories that we don't want to lose at any cost. However, for some reasons like accidentally or unintentionally we delete them and later on realize it.
If you are looking for recovery ways then don't panic, I will help you out. In this tutorial, I will discuss several methods on how to recover permanently deleted photos from gallery on Android easily.
Is It Possible To Recover Permanently Deleted Photos From Android Gallery?
Well, people actually don't know how their pictures are lost or deleted but they want them back. If you also have the same question about whether missing photos can be recovered or not then I must say Yes, it's possible!
Whatever data like photos when deleted from the phone, they are not permanently removed. Those data still reside in the device's internal memory in hidden form. Though they are not seen they are present until any new data overwrites them.
Therefore, if you have created a backup somewhere then its easy to restore but if not then you should follow some tips:
Stop using your phone immediately after data loss happens
Turn off all data connections like WiFi, Bluetooth, cellular data, etc
Look for any powerful Android Photo Recovery software to restore disappeared pictures from Android gallery.
How To Recover Permanently Deleted Photos From Gallery Android?
Now, let us read further and check all the possible methods that will allow you to retrieve photos from the gallery.
Method 1: Restore Lost Android Photos From Trash Bin
If you have accidentally deleted your photos from your Android device and are worried if you can recover them or not then don't worry. Because in Android devices, photos are not permanently deleted.
When you delete a photo, it directly goes to the trash bin folder of your device from where you can restore your deleted media including photos until you delete them manually from the trash bin folder. Your trash bin folder stores your deleted media only for 30 days. After 30 days you won't be able to find out your deleted photos.
Here is how can you do that:
Open Gallery on your device.
Click on the vertical three dots at the top right corner of your phone's screen.
Select the Trash Bin option that appeared on the screen, from there you will be redirected to the recently deleted photos and videos folder.
Select photos that you want to restore and click on Restore
That's it, now your photos will be visible in the Android gallery.
Method 2: Recover Deleted Photos Using Google Photos
If you have deleted your precious photos from the trash bin also, then another option from where you can recover them is Google Photos. If you have taken back up of your photos timely, then only you can recover them from there.
Like the Trash Bin folder in Gallery, Google Photos also store your media including photos for 60 days only. Thereafter your deleted photos will automatically get deleted from the Google photos trash folder.
Follow the below-mentioned steps to get back deleted photos from Google photos:
Launch Google Photos on your phone
Move to Main Menu, then select Trash
Now, select the photos you want to restore and tap on Restore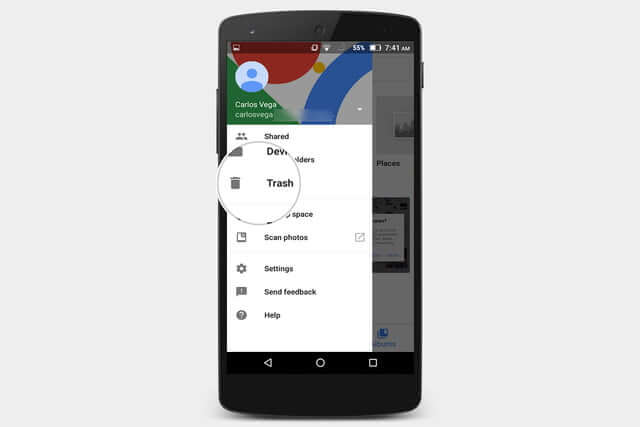 Method 3: Retrieve Missing Pictures From Google Drive
Still, your issue has not been resolved? Then this solution might help you. Here I am talking about Google Drive. If you are looking at how to recover permanently deleted photos from gallery for free then this is the best option.
Note: If you have taken back up of your photos earlier then only you can restore them in the following way:
Launch Google Drive on your phone
Tap on My Drive
Now select the required photos from the folder
At last, tap on the Download button to complete the action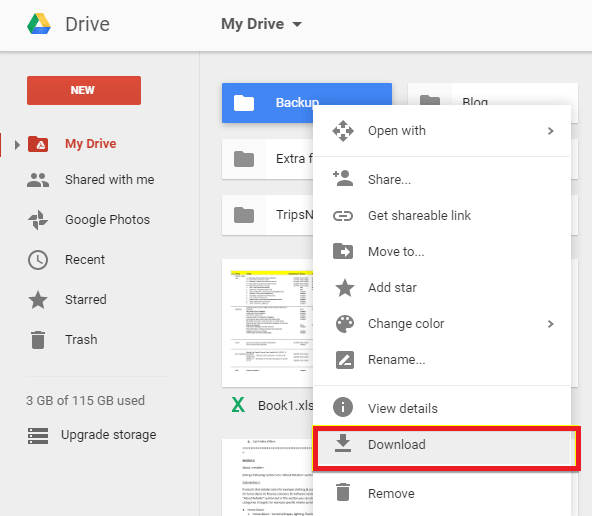 Method 4: Get Back Deleted Photos From Android Using Dropbox
Dropbox is also like google photos, where you can store and restore your important files including photos. It also comes with a trash folder of 30 days validity. To learn how can you retrieve them, check out the below steps:
First, Sign in to Dropbox from your PC/ Laptop.
Click on All Files to find your deleted files like photos, videos, etc.
Now, select those files and tap on Download
If you didn't get your photos in All Files, then go to Deleted files option, select the photos you want to restore, and tap on Restore.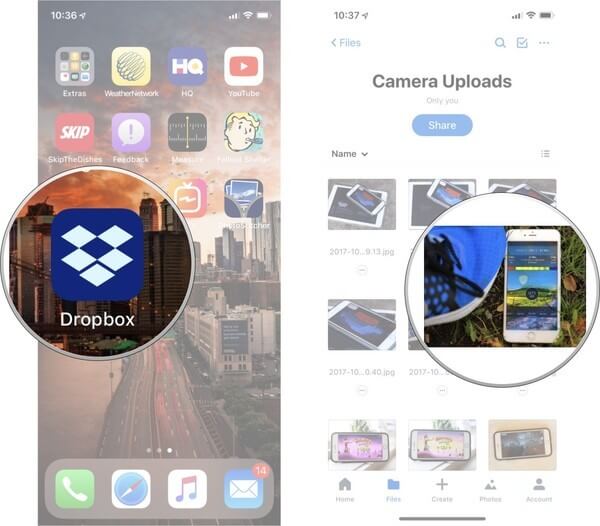 Method 5: Use Third-Party App To Restore Lost Photos
If still, your issues continue regarding recovering permanently deleted photos from gallery, then there is another option which is by using a third-party app. There are so many apps available on the internet today to help you retrieve your lost or deleted files. In this case, DiskDigger might help you to retrieve all your files including videos, and photos.
Follow the below steps:
First, open Google Play Store and download the app
Open the app to run a Basic scan
A basic scan might disclose most of the photos including deleted ones. If you run a full scan, all your pictures will be found.
Now, tap on the photo that you want to recover and select where you want to recover them.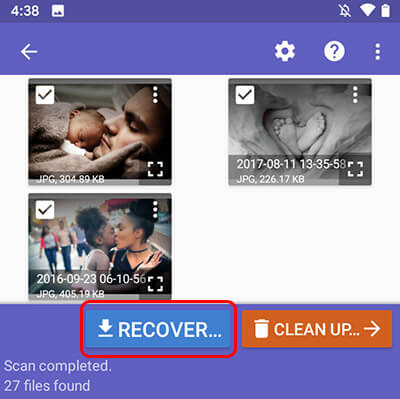 Method 6: How To Recover Permanently Deleted Photos From Gallery Without Backup (Recommended)
When you fail to get back your pictures manually then it's better to use a professional tool like Android Data Recovery. This software works effectively to restore lost photos from Android gallery without backup. It has a powerful scanning algorithm that scans the entire device to find the deleted or hidden pictures from internal memory.
Not only photos but restores other data as well like contacts, videos, documents, notes, WhatsApp messages, audios, call logs, text messages, and others. This software is highly suggested by experts as it has the highest recovery rate. It supports all types of Android devices like Samsung, LG, Sony, Lenovo, Nokia, Huawei, OnePlus, Xiaomi, Realme, Vivo, Oppo, etc.
Therefore, it's time to download Android Data Recovery software to recover lost photos from gallery. Follow the complete step-by-step guide to know how to use the software.
Android Data Recovery- Recover deleted data from Android phones/tablets
The best and efficient tool to recover lost, deleted, disappeared, inaccessible data from Android phones/tablets. Some unique features include:
Directly recover various types of data such as photos, contacts, SMS, videos, WhatsApp, call logs, documents, notes, etc.
Recover data in any situation like accidental, water damage, unintentional, factory reset, formatting, virus attack or other reasons
Allows one-click option to "Recover" deleted files without backup

Bonus Tip: How To Prevent Photos From Deleting On Android
If you don't want to lose your PRECIOUS MOMENTS then you should always create a backup of your data. This will help you to avoid losing them unexpectedly. Here is some advice to help you.
To create a backup of your photos/videos, connect your device to a laptop/PC and transfer all important files there.
Use the Google Photos app as a backup option where you can store pictures and videos unlimitedly and can restore them whenever required. Just go to Settings > Backup & Sync and select the time when you want to backup
There are other backup options like Google Drive, Dropbox, SD card, Mi Cloud, Samsung Kies, etc. where your data will be kept safe and secure
Conclusion:
So, I hope this article has helped you with how to recover permanently deleted photos from Android gallery. If you have created a backup then several methods are available to restore them. If there is no backup then go for Android Data Recovery as it restores photos and other data easily without backup.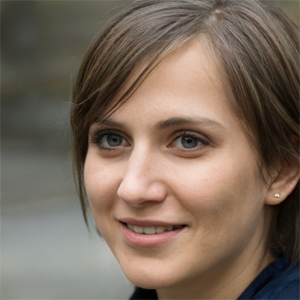 Kim Keogh is a technical and creative blogger and an SEO Expert. She loves to write blogs and troubleshoot several issues or errors on Android and iPhone. She loves to help others by giving better solutions to deal with data recovery problems and other issues.