Have you accidentally dropped your Samsung phone and lost all contacts from it?
Wondering what to do and how to retrieve contacts from phone with broken screen?
Well, this kind of situation can happen to anyone but no need to worry about it. It is possible that we sometimes drop our devices and the screen gets broken. Due to this, the phone becomes inaccessible and cannot access the data stored on it.
But there is nothing to panic about as the situation can be easily handled. I will suggest you read this complete blog and know how to recover contacts from Samsung phone with broken screen.
Is It Possible To Retrieve Lost Contacts From A Broken Samsung Phone?
After the screen gets broken on the Samsung phone, the lost contacts can be recovered or not is a big headache for lots of users. However, the fact is that the disappeared contacts are still present in the internal memory of the device.
But this is invisible and cannot be restored easily. Remember that whatever data is lost from the phone can still be recovered unless they are overwritten.
It means that only the space is marked as "unused" and if you are lucky then you can easily restore contacts from broken Samsung phones.
You have to use a powerful Android Contacts Recovery software that works effectively to recover contacts from broken phones. Read: How To Retrieve Pictures From A Broken Samsung Phone
Method 1: Best Way To Recover Contacts From Samsung Phone With Broken Screen Without Backup
Many users don't create a backup or forget to create a backup of contacts and other data. For them, the best way is to use professional recovery software like Samsung Data Recovery. This is one of the reliable and effective ways to do Samsung broken screen data recovery.
It is easy to use and allow users to restore disappeared contacts from Samsung phone without backup. Not only contacts but other data are also restored such as photos, videos, documents, notes, WhatsApp messages, audio files, call logs and others.
This Samsung data recovery broken screen software supports all types of Android and Samsung devices along with other brands like Oppo, Vivo, LG, Sony, Huawei, OnePlus, Realme, Xiaomi, etc.
It doesn't matter how contacts are lost as it works in any situation like broken screen, forgotten password, water damage, dead screen, and others.
Therefore, without any worry, just download this amazing Samsung Data Recovery tool and recover contacts from Samsung phone with broken screens.
Follow the complete user guide to know how to use the software.
Android Data Recovery- Recover deleted data from Android phones/tablets
The best and efficient tool to recover lost, deleted, disappeared, inaccessible data from Android phones/tablets. Some unique features include:
Directly recover various types of data such as photos, contacts, SMS, videos, WhatsApp, call logs, documents, notes, etc.
Recover data in any situation like accidental, water damage, unintentional, factory reset, formatting, virus attack or other reasons
Allows one-click option to "Recover" deleted files without backup

Method 2: Recover Lost Contacts From Samsung Via Google Account
If your contacts are deleted without your knowledge then you can retrieve contacts from broken Samsung using Gmail. This method will help you when you have previously synced the contacts on your phone.
Here are the steps to restore contacts via Gmail:
First, open Gmail on any browser on a computer
Now on the left screen where the Google logo is seen, tap on the drop-down arrow just beside Gmail and choose Contacts
Here, you will see the complete list of contacts that is backed up by Google
Next, tap on Mark All to choose all contacts or even you can select them individually. After that, move to "More" and go down and look for Restore Contacts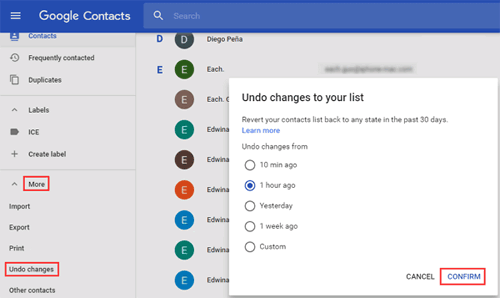 You need to choose the time-frequency to retrieve. You have the option to select from 10 minutes ago, 1 hour, Yesterday, 1 week ago or you can customize the date and settings of your wish
After doing all these, confirm the selection by tapping on the "Restore" option
That's it.
Method 3: How To Get Back Lost Contacts From Samsung Account
Samsung phone users get an extra advantage when data loss situations happen. Whenever your device is broken and contacts disappear then the Samsung account can help to restore them.
If you have created the account and using it for backup then this can help you to restore contacts from the Samsung phone.
Here are the steps to follow:
First, open Settings on Samsung > scroll down to "Personalisation" > tap on Accounts
Now, login to Samsung Account via email ID and password
At last, tap on "Restore" and then confirm the selection to recover deleted contacts from broken Samsung phone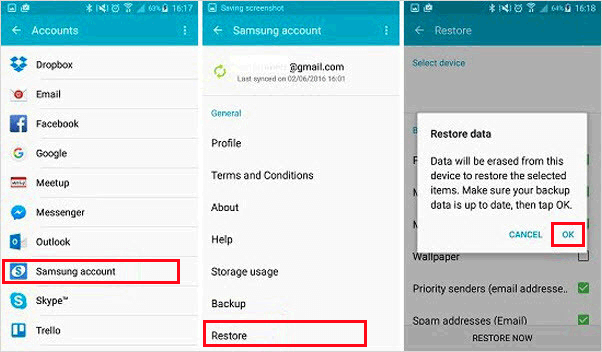 Method 4: Export Android Contacts Using Google Contacts
Remember, your phone is linked with a Google account and if the Sync option is enabled then you can find your contacts easily. From a Google account, you can easily export all contacts to a PC.
This method allows you to recover contacts from broken Android phone without USB debugging.
Check out the below steps:
You need to open Google contacts and enter all details after which you will get the complete list of contacts
Next, click on the More option and then tap on the Export option and you will get a small popup
It shows "This preview version of Google Contacts doesn't support exporting yet". Here you have to click on GO TO OLD VERSION to continue the export process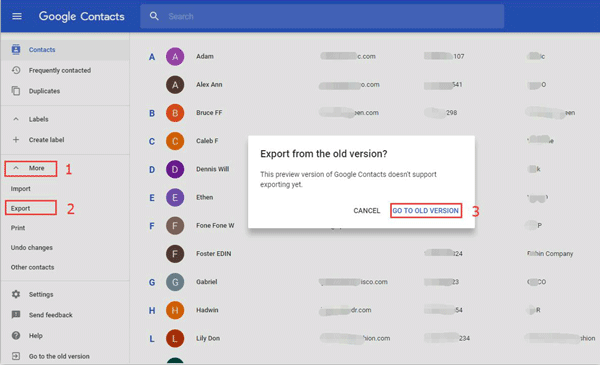 Once you do this, the old version will come up. Check all the contacts from here that you want to export and then click on More After that, click on the Export option to move ahead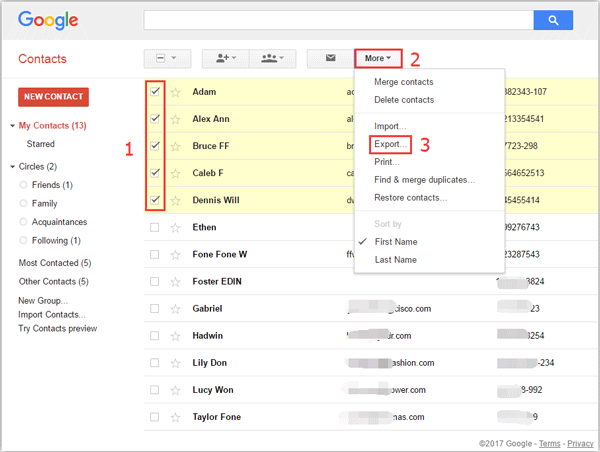 Now, the Export contacts screen will appear and you have to customize settings to export from two options: Which contacts do you want to export? and Which export format?
From here, you have to select between two options that you want and after that, click on Export so that all contacts can get exported to a computer.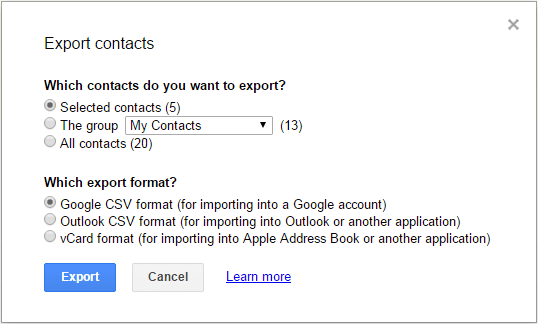 The Bottom Line
So, the blog ends here and I hope whatever is discussed has helped you to recover contacts from broken screen Samsung phone.
Losing data and contacts is a common scenario but no need to worry. I will suggest you follow all the methods suggested for you to recover deleted contacts from Samsung phone with broken screen.
For advanced methods, go for Android Data Recovery and retrieve contacts from Samsung without any backup.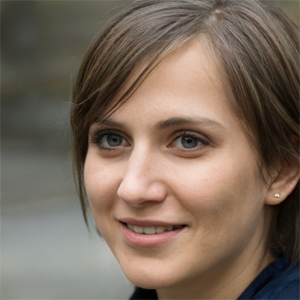 Kim Keogh is a technical and creative blogger and an SEO Expert. She loves to write blogs and troubleshoot several issues or errors on Android and iPhone. She loves to help others by giving better solutions to deal with data recovery problems and other issues.