Have you lost your important phone numbers on Android mistakenly?
If you did so, then you must be looking for some workable solutions to recover deleted contacts on Android. Well, you do not have to worry anymore, just be with us till the end of this tutorial.
This article will provide you the best ways on how to retrieve deleted phone numbers on Android? You just try out all the methods one after another. Among all of them, one will definitely help you to rescue your lost/missing phone numbers from Android.
So, let's find out the solutions.
Android Data Recovery- Recover deleted data from Android phones/tablets
The best and efficient tool to recover lost, deleted, disappeared, inaccessible data from Android phones/tablets. Some unique features include:
Directly recover various types of data such as photos, contacts, SMS, videos, WhatsApp, call logs, documents, notes, etc.
Recover data in any situation like accidental, water damage, unintentional, factory reset, formatting, virus attack or other reasons
Allows one-click option to "Recover" deleted files without backup

How To Retrieve Deleted Phone Numbers On Android?[Manual Solutions]
Method #1: Check The Contacts Are Actually Deleted Or Not
Before applying any other method, firstly you should check whether your contacts are actually deleted from your phone or not. This is because, in most of the cases it happens that, you think that the contacts are deleted from your device but it's not true, they still remain in it but in a hidden way.
Just follow the given steps and know how to do so:
Go to the "Contacts" app on your device
Then, tap on the menu button & choose "Settings" < "Contacts to display"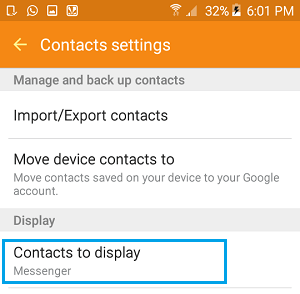 Now, you've to choose "All contacts".
From here, you can check whether the contacts are deleted or not
If you find that your contacts are really deleted from your device, simply move to the next method.
Method #2: Recover Your Deleted Phone Numbers Via Gmail
Well, it seems quite odd to search for your deleted contacts into Gmail rather than your device but as the contacts are precious, it's important to recover them. Whenever you add your contacts to a phone by using the Google service, the online servers to keep a record sync them up.
Since your device is synced with your Gmail account, you can easily restore contacts Android using Gmail.
These are the required steps you need to follow:
Sign in to your Gmail account which you have used to register the Android device.
Tap on a Gmail drop-down menu which is at the left corner & choose Contacts
Then, click on "More" & choose the "Restore contacts".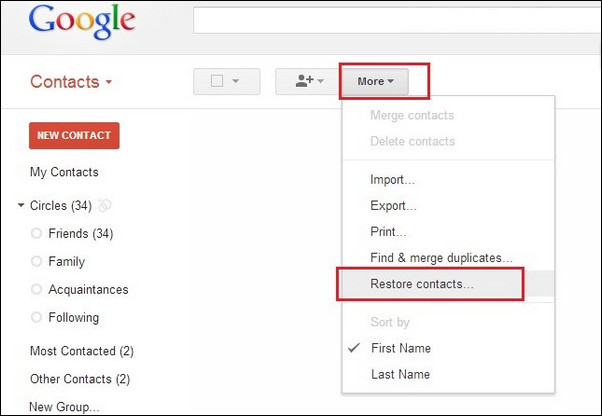 Here, you have to select a time period to restore your contacts or you may choose the Custom.
Method #3: Retrieve Contacts From Android Phone Using Samsung Account (For Samsung Users)
If you are using a Samsung phone and you've created a backup to your Samsung account then you can easily retrieve deleted phone numbers on Android without computer by using this way.
At first, go to the Apps & then Settings on Android phone
After that, scroll down & find out the option Backup and reset.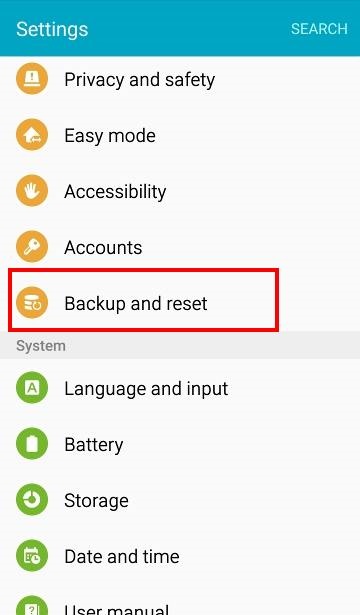 Now, you have to tap Restore under the Samsung account menu.
Here, you will get all your deleted items such as – phone logs, messages & more whatever you've synced to your account. Choose those data which you need to restore & hit the option RESTORE NOW.
Method #4: How To Recover Deleted Phone Numbers From The SD Card
If you have saved a backup of the deleted phone numbers on your external storage, then it will help you to retrieve lost contacts from the Android phone. For that, you need to insert your SD card that contains your entire phone contacts backup on your phone & import the ".csv" or "vcf" file. You may also import your contacts from the SIM card to a phone.
Start following the below-given steps to restore missing phone numbers on Android:
Insert the memory card to your mobile phone.
Then, just go to the Contacts app & tap on the "menu" button.
Here, you have to choose "Settings" & then make a click on "Import/Export" opt.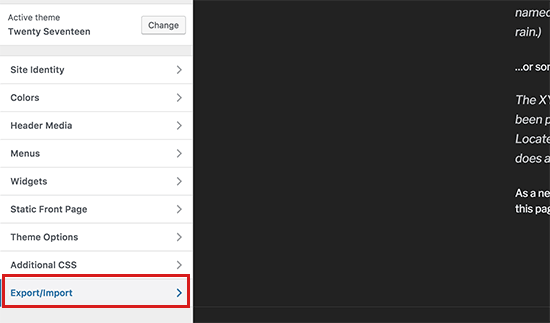 Again, choose "Import" to transfer your contacts from your SD card.
At last, choose the CSV/VCF files & simply import it to the phone.
Method #5: Get Back Deleted Contacts Via Samsung Smart Switch
Samsung Smart Switch is a media management utility, which synchronizes the contacts between devices & backup files locally. However, if you have created the backup on PC then restoring the deleted contacts is quite easy. By following the below steps, you can bring the lost contacts back from the Samsung Smart Switch:
Just run the Smart Switch on the PC & connect your phone through cable.
Then, click on the Restore >> "Select your backup data" option if you've more than one backup
Choose the backup in order to restore the files.
Now, choose the Contacts option in Personal content.
Make a tap on OK >> Restore now option.
After finishing these steps, your deleted contacts will be synced back to your phone.
How To Retrieve Deleted Phone Numbers On Android Without Computer [Automatic Solution]
Don't have a backup of your important phone numbers? Feeling worried? Oh! You don't need to be. This is because you still have a chance to get back your lost contacts. You can easily recover deleted contacts Android without root by using the most advanced tool – Android Data Recovery. This is known as one of the powerful tools because of its exclusive features. Since the tool has the highest success rate of recovery, it is recommended by every professional.
This powerful tool not only helps to restore deleted contacts on Android but it can recover all kinds of other data such as – contacts, call logs, videos, audio files, photos, WhatsApp chats, documents, voice recordings, notes & many more.
So, without wasting any more time, simply download the Android data recovery and retrieve deleted phone numbers on Android.


FAQ [Frequently Asked Questions]
Can I Retrieve A Deleted Phone Number?
Obviously, you can retrieve your deleted phone numbers from Android.
Still, the question remains unanswered…..how?
Generally, there are several Data recovery software are available on the market but among all of them, you have to select the correct one.
As I have discussed above, about the feature-loaded Android Data Recovery tool, yes you heard right! This software will help you to get back your missing phone numbers or contact. Just use this tool and make an instant recovery of your lost contacts.
Where Are My Contacts Stored?
As we know, Android is an innovative OS that allows you to store Unlimited Contacts in it as long as free storage is available. However, some people still face storage-related issues as they don't know that contacts can also be saved on Android by using the micro SD card also.
If you have the Google contacts application on your phone then you need to follow the steps listed below:
At first, open your Google contacts app and click on the menu option
Then, tap on contacts to display & choose Google
From there, your entire existing contact list will be saved on your Google account.
If you want to save the contacts on your SIM Card's memory or on the phone's memory then you've to apply the below-given instructions:
Make a click on the "Contacts" application of your phone.
Then, hit on "More" button which you'll see at the top of the right corner.
Now, here you'll see a drop-down menu
From that, you've to select "Contacts to Display" opt.
After that, the below-given option's list will appear on the screen of your Android device
All Contacts: Tap this option to display all the saved contacts.
Phone/Device: This option will display all those contacts which are saved on your Phone's Memory.
SIM: This option will show all the contacts which are saved on your SIM Card memory.
Google Account: Tapping on this will display those contacts which you've saved on the Google account.
Final Thoughts
The aforementioned manuals will prove helpful & useful for you but only when you have the backup of your lost contact. But, if you don't have a backup of those deleted contacts….then what?
You just simply go with the most powerful & successful Android Data Recovery software. This tool will scan your device and retrieve your deleted/lost contacts with ease in no time.
Therefore, I hope that you must have got the answer to your question "how to retrieve deleted phone numbers on Android". Apart from that, you will get each & every aspect which you need to know to restore contacts Android.