Are you receiving delayed text messages on Android? Well, no need to panic as there are several ways to get rid of it. It has been seen that many users were complaining of facing delays in receiving text messages on their devices.
There can be various reasons for such problems but there are solutions as well. If you are also frustrated with not getting text messages on time then this blog is for you. Here, I will tell you why are my text messages delayed Android and how to fix delayed text messages on Android.
So let's move ahead.
Why Are My Text Messages Delayed On Android?
There can be several reasons for text messages getting delayed on your Android device. I have listed below the most common reasons:
Your message box may be full
The sender or the receiver may be out of the network area
Your message app is frozen
You have switched off your device for a long time
Your heavy network is affecting the text message delivery speed
If your phone's battery is down, it may impact the delivery of messages
How Do I Fix Delayed Text Messages On Android – Best Methods
After going through the causes, it's time to follow the best solutions to get rid of delayed text messages on Android.
So let's apply them.
Method 1: Restart Your Smartphone
Your text message not delivered issue can be due to some bugs or glitches present in your message app. It can be fixed by just a simple restart.
 To restart your Android device:
Long press the Power key until options get displayed on your screen
Now, click on Restart/Reboot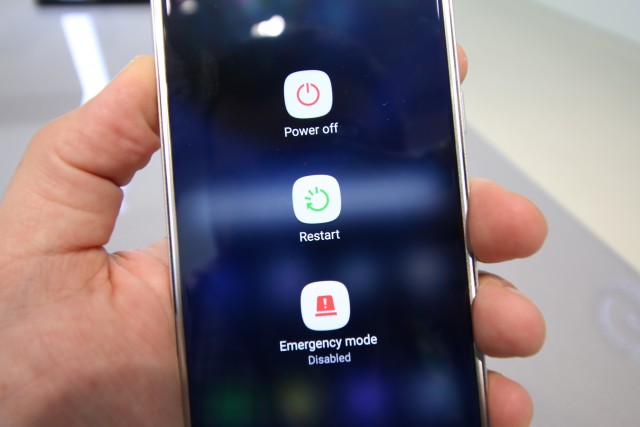 If restarting does not work to fix your problem, go to the next method.
Method 2: Delete Message App Cache
Caches are the files that stores data from the app to load the app faster. But when these files are corrupted, the process of loading the app may be delayed. If you are facing the same problem with your messaging app, clear out those corrupted files to fix it.
To clear corrupted files from your phone:
First, open Settings
Now, go to App
Then, look for Messaging app
Next, click on Storage
Then, click on Clear Cache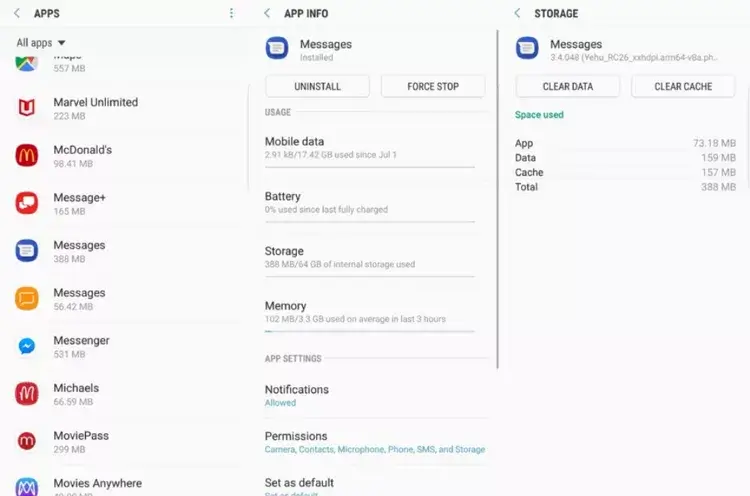 Now, restart your phone and open the messaging app again to see if the issue has been resolved now.
Method 3: Enable Cellular Data, Wi-Fi, And Background Data
You can fix the problem by turning on background data, cellular data, and Wi-Fi for the messaging app.
Follow the below steps:
First, navigate to Settings first and click on Data Usage
In System Apps, move to Messages and turn on Cellular data, Background Data, and Wi-Fi
Method 4: Turn Off Battery Optimization
When you turn on the battery optimization feature, you have restricted some apps not to consume the battery. If the messaging app is also included then it might disable notifications. To avoid this kind of error, you should switch off the battery optimization feature.
Here are the steps to follow:
First, open Settings on your phone
Now, select Device Maintenance. (If this point is not available on your device, move to the next step).
Next, choose Battery/ Battery Optimization / Battery Saver. Options may vary in different devices.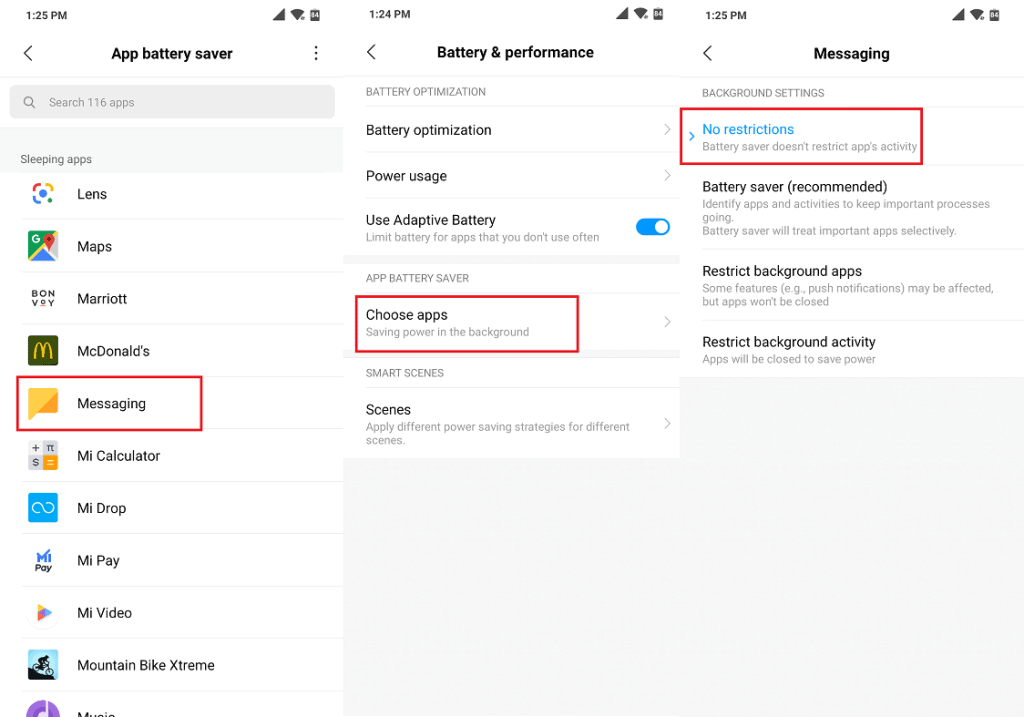 Now, scroll and choose Messages
Lastly, choose No Restrictions
Method 5: Remove Old Messages
If your message app is running out of space, you may encounter a delayed text messages error. It can be fixed by removing unnecessary messages from your phone. There can be lots of messages on your device that are of no use but still present.
So it's better to erase all those unused texts and free up some space for new messages.
Method 6: Enabled Unrestricted Data Usage
When you restrict data usage for some apps like the messaging app, it might affect the app to function properly and you may encounter delayed text message errors. The issue can be related to network or mobile data.
Therefore, if you have enabled some features that would save your data then it's time to disable them so that no restrictions occur while sending or receiving texts.
Follow the below steps:
Go to Settings
Move down and look for the Data Usage section from the list available
Now, select System Apps
Find the Message app from the app list
After choosing the Message app, switch on Mobile data, Wi-Fi, and Background data to give permission to the app to unrestricted data usage.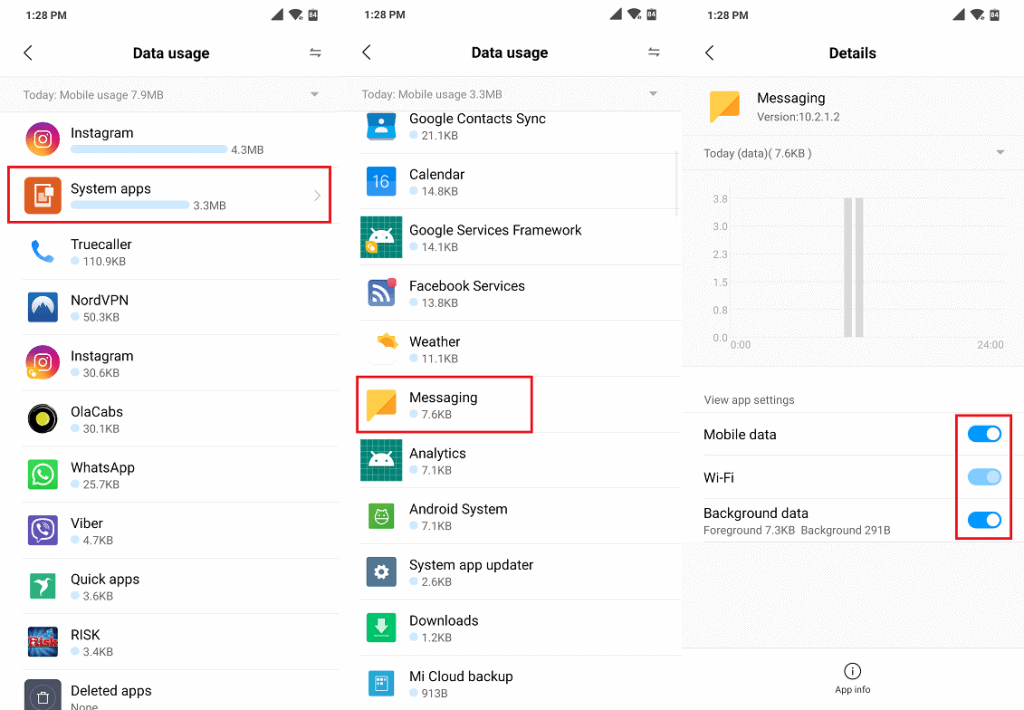 Method 7: Update Android Operating System
When you run an outdated version of the operating system on your device, it may affect your message app to work smoothly. As older versions may have a lot of bugs or glitches that prevent apps to function properly, an update of your operating system might fix it.
Here is how you can update your operating system:
First, go to Settings
Now, select System
Next, choose the System Updates option
Last, click on Check for Updates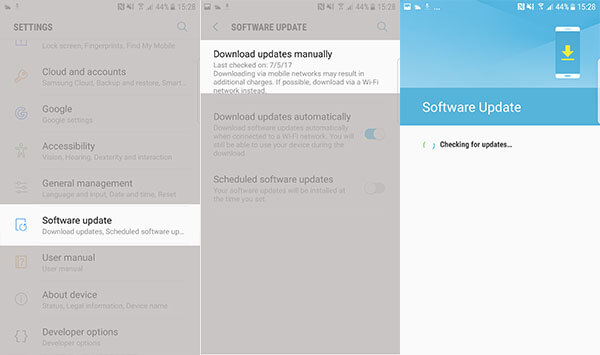 After tapping on check for updates, if updates are available, download & install button will appear on your screen. Update it and see if the issue is gone.
Method 8: Select Different Network Type
All devices have the option to switch different network modes according to your network condition. You can switch to 4G from 3G or 3G from 2G and some devices also offer LTE service for better speed and services. Adjust your network preference to avoid text message delayed issues.
Here is how to do it:
Open Settings menu
Go to SIM cards & mobile networks and choose the SIM card that has an issue with
Then, select the Preferred network type from the list
Now, choose between 4G, 3G, or 2G network only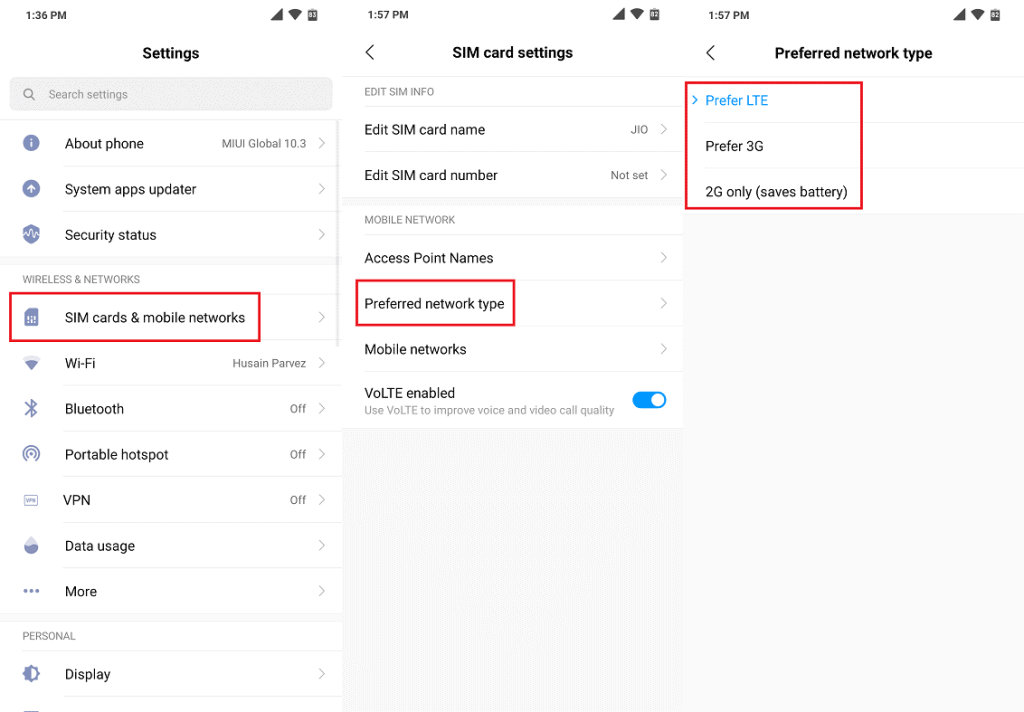 Method 9: Go For Standard Messaging App
Using a non-standard messaging app can create a lot of errors including delays in sending or receiving text messages. Always use the default message app on your device.
First, open Settings on your device
Now, choose Additional Settings
Next, choose Default Application
Now, reset the standard messaging app
Finally, restore your device again
Method 10: Reset Network Settings
Still issue not solved yet? Don't worry, you can reset the network settings of your device to get rid of the issue.
Steps to reset the settings of your network:
First, navigate to Settings
Move down and choose Backup & Reset under the Additional Settings section
Next, click Reset Wi-Fi, Mobile & Bluetooth option
Now, click on Reset Settings to confirm your action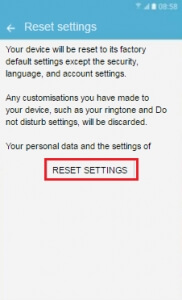 Your device will be switched off and remove all cellular data and Wi-Fi settings along with Bluetooth history also before restarting itself.
Method 11: Factory Reset Android Phone
This is the last solution for you if the above options failed to fix text messages get delayed issue. Don't forget to take a backup of your files before doing a factory reset on your Android device. After taking backup, follow the below instructions:
First, go to Settings
Then, select the Backup & Reset option
At last, click on Reset Device and confirm it by tapping on Erase Everything.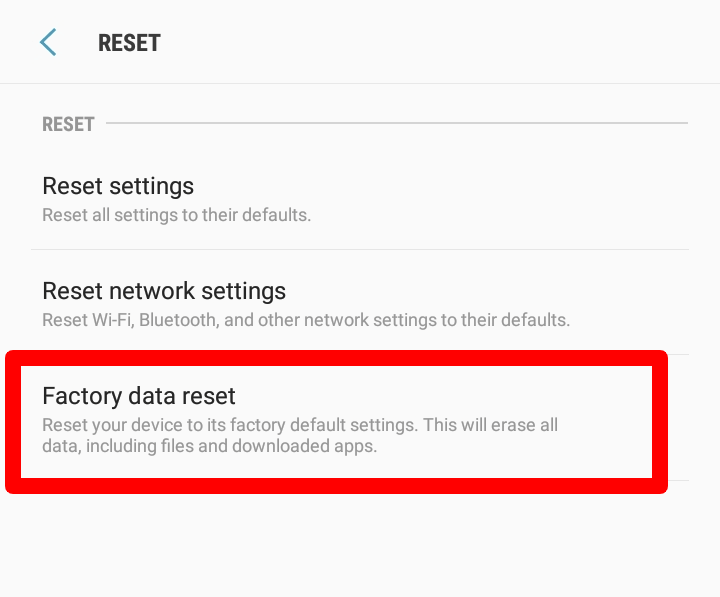 Put your password if any. Your phone will shut down itself and after completing a factory reset it will reboot automatically.
Conclusion
The issue of delay in receiving text messages on Android is a major concern for many users. However, there are tricks to get rid of it. In this article, I have guided some of the best ways to fix delayed text messages on Android phone.
I hope you have successfully solved the error and your messaging app is working fine for sending and receiving texts.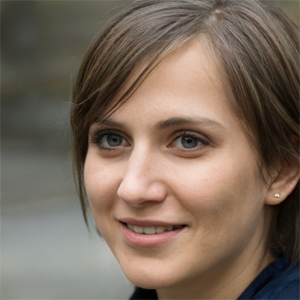 Kim Keogh is a technical and creative blogger and an SEO Expert. She loves to write blogs and troubleshoot several issues or errors on Android and iPhone. She loves to help others by giving better solutions to deal with data recovery problems and other issues.