Did you accidentally lose or deleted Emails from iPhone or iPad and wonder how to recover them? If yes then no need to worry much as there are ways to handle the situation.
We generally use Emails on daily basis to either send or receive texts, links, files, pictures, and others. It can be to anyone like friends, colleagues, family members, etc. An important thing is our email consists of lots of private data.
However, data loss is a common situation that occurs on daily basis. There may be several reasons for data loss but fortunately, there are ways to restore them. In this blog, we will discover a few best ways to recover permanently deleted emails on iPhone 11/12/13.
How To Recover Permanently Deleted Emails On iPhone With/Without Backup
Now, let us go through the below methods and knowledge to recover permanently deleted Emails from Gmail on iPhone 13/12/11.
Way 1: Retrieve Deleted Emails On iPhone/iPad Using Undo Feature
Apple has an amazing Undo feature, which helps its users to retrieve deleted or lost data. But most of the users are not aware of that. The Undo feature supports most Apple apps including Email.
Here is how you can retrieve your deleted emails on iPhone iPad using Undo feature:
First, run the Email app on your iPhone iPad, now choose an Email and click on the trash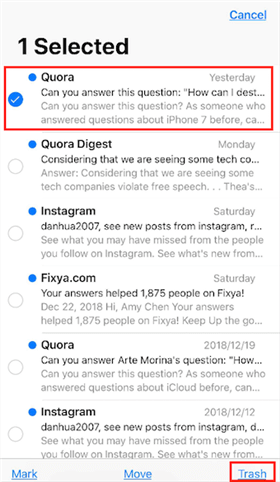 The moment you understood, you deleted the wrong email by mistake. Immediately shake your iPhone or iPad and a dialogue box will appear like picture shows. Simply click on Undo to get back the last deleted data.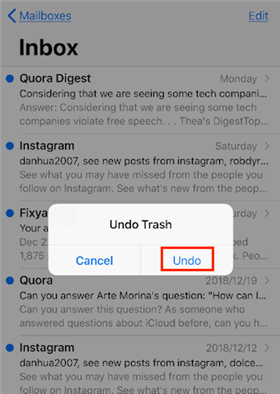 Thereafter, you will see your deleted email has returned to your inbox.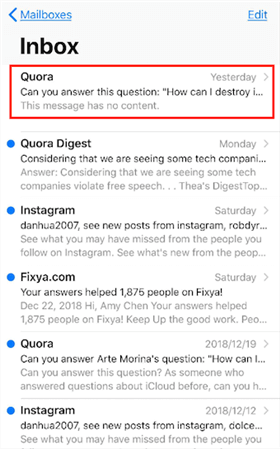 Finally, click on either inbox or close the Mail app and again reopen it to see the recovered email.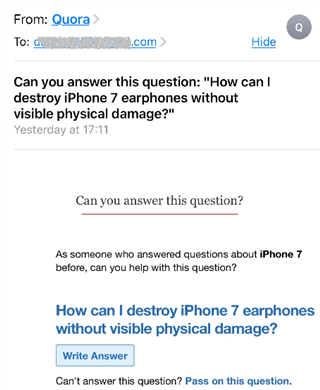 Way 2: Restore Deleted Emails On iPhone From Trash Bin
Whenever you have deleted an email from your iPhone, it is not permanently deleted from your device. It directly goes to Trash Bin and from there after 7 days it permanently gets deleted by default.
Here is how you can restore your deleted emails from the trash folder:
Open the Email app from your iPhone.
Click on Mailbox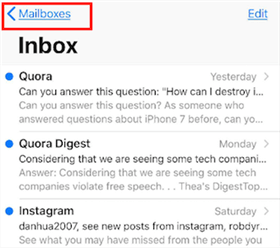 Choose the Trash icon and click on that.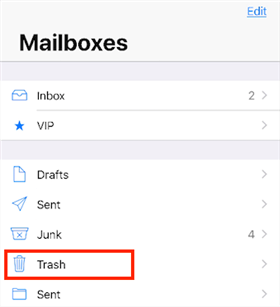 Now click on the Edit option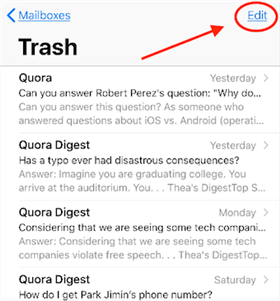 Choose the emails that you want to restore and tap on Move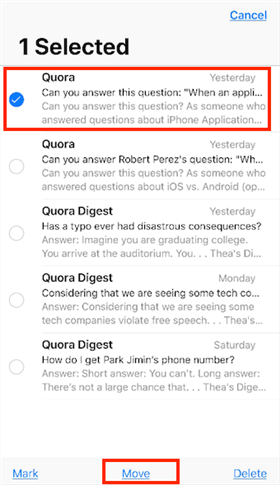 Finally, choose the folder where you want to move them and check them after that.
Way 3: Shake Your iPhone To Recover Deleted Email
iPhones have various amazing features. One of them is Shake to Recover. By using this feature, you can easily recover your deleted email without following the above-mentioned steps.
Simply shake your device and all your deleted email will return to your inbox or from where it gets deleted.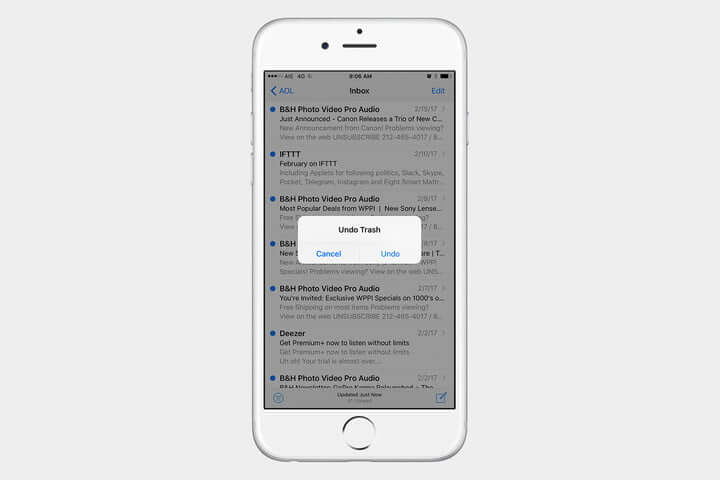 But there is a limitation to using this feature. Here you can only get back the first email that you have deleted and other emails will remain as it is in your trash bin.
Remember- This option is not suitable for you when you have deleted all the emails by mistakenly.
Way 4: Recover Permanently Deleted iPhone Emails By Using Archive Option
Another useful way that can help you to recover permanently deleted emails on iPhone 12 is by using the Archive option.
Follow the below-mentioned steps to recover deleted Emails from the archive:
First, launch Settings
Now, tap on Mail, Contacts, and Calendar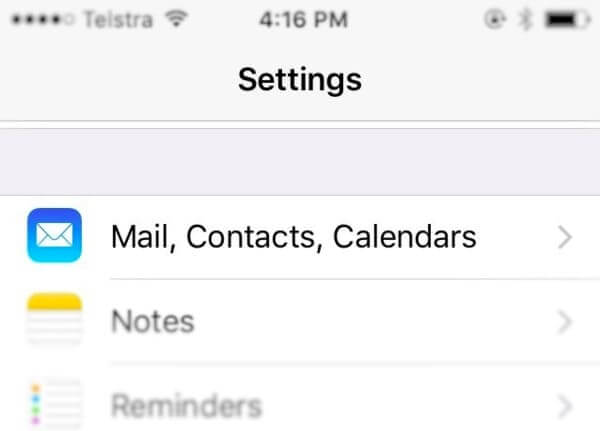 Choose an Account where you want to recover your Emails
Now, enable the Archive messages option if not enabled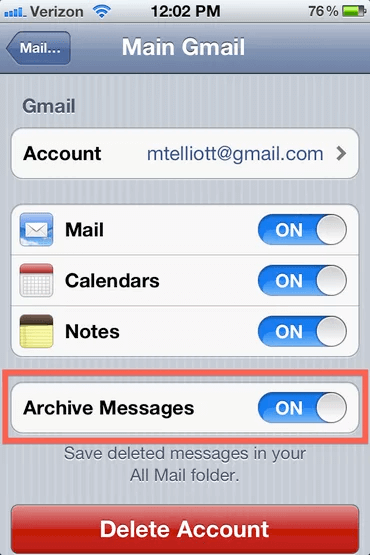 Here, all your deleted emails will be archived in the All Mail folder
Now, again come back to Settings and tap on the Mail app icon
After that, tap on the three-line icon
Select the Email account where you want to recover your emails.
After selecting the account, tap on the All Mail folder
Lastly, choose emails that you want to recover and transfer them to any other folder
Note– You can only use this method when your emails are archived in your iPhone.
Way 5: Restore Your Deleted Email From iPhone Using iCloud Backup
This is the easiest way to restore your deleted emails from your iPhone. If you have an iCloud backup from the time before you deleted your emails, then you will be able to recover permanently deleted emails from iCloud. Check to see if your last iCloud backup is before you deleted your emails.
Steps you need to follow: –
First, open Settings on iPhone
Click on the profile menu at the top
Now, click on the iCloud option
Then, tap on Manage Storage
At last, click on Backups
You will get a list of backup items and can tap on the one for your iPhone to see when it was last backed up.
Way 6: Recover Permanently Deleted Emails On iPhone Without Backup (Suggested)
In addition to manual methods, you can also go for the automatic methods to restore your lost emails. You should use iOS Data Recovery software that easily helps users to recover permanently deleted Emails from Gmail on iPhone. It does not matter whether you have a backup or not, this software easily rescue every lost emails from iPhone without backup.
Apart from Emails, the program can recover other data also like videos, photos, call logs, contacts, text messages, WhatsApp messages, documents, music files, etc. It supports all iPhone models including the latest iPhone 13/12/11 and iOS 16/15/14/13/12.
Check out the complete step-by-step guide to using the software properly.
iOS Data Recovery- Worlds Best Data Recovery Tool For iPhone/iPad/iPod Touch
Get back lost or deleted iPhone/iPod/iPod Touch data without any backup and in a quick time.
Has the highest data recovery rate in the industry
Recovers several data like contacts, photos, messages, notes, videos, etc
Compatible with latest iPhone 14/14 Pro/13/13 Pro/12/12 Pro/11/11 Plus/XR & supports iOS 16/15/14/13/12

FAQ:
What happens to permanently deleted emails?
Deleting a message in most email programs and web interfaces don't actually delete it. Instead, the message is moved to a special folder typically labeled 'trash or 'deleted items.' Most online services automatically delete emails from the trash after some amount of time — usually 30 days.
Are deleted emails gone forever on iPhone?
If you accidentally delete an e-mail using the Mail app on your iPhone, fear not: it's not gone forever. There are ways to get back those emails on iPhone. If there is no backup then one should use professional iPhone Data Recovery software.
Conclusion
Many users delete their emails generally and some may remove them accidentally. However, the good news is that they can be recovered. In this blog, I have guided you on some best and most effective ways to recover permanently deleted emails on iPhone 13/12/11.
If manual methods fail to restore emails from Gmail on iPhone then use iOS Data Recovery software.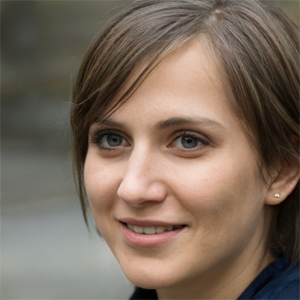 Kim Keogh is a technical and creative blogger and an SEO Expert. She loves to write blogs and troubleshoot several issues or errors on Android and iPhone. She loves to help others by giving better solutions to deal with data recovery problems and other issues.